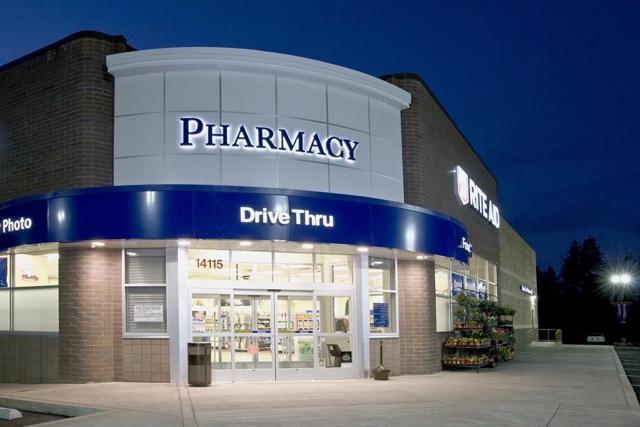 Rite Aid's (RAD) June 5th filing in connection to the merger with Albertsons presented much of the same thing. The pharmacy store argued that it will be better off as a bigger entity. Unfortunately, the stock is trading in a way that signals a merger will not win shareholder support. Stuck in the range of $1.50 - $1.80 a share, the upside, and downside case will depend on the outcome of the merger vote. Management did not set a date for a shareholder vote yet, which could signal a lack of shareholder support. Will the deal fall through? Should shareholders even entertain the argument for the merger?
Below: drug store stocks are out of favor.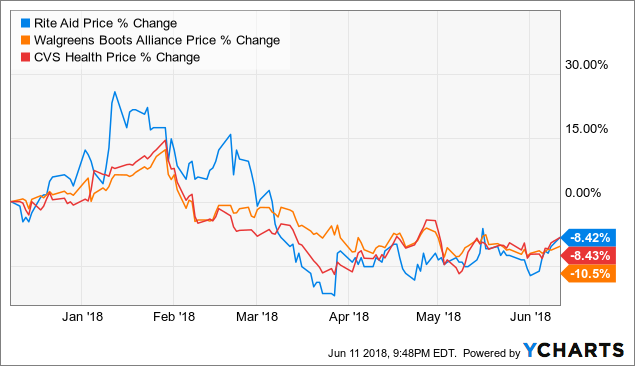 Rite Aid reported that its leverage improved, ahead of the merger. Net debt dropped to $2.92 billion, thanks to store sales to Walgreens (WBA). Yet the company could achieve an even better leverage on its own. It could sell more stores, continue cutting costs and striking exclusive deals with suppliers to gain better product pricing.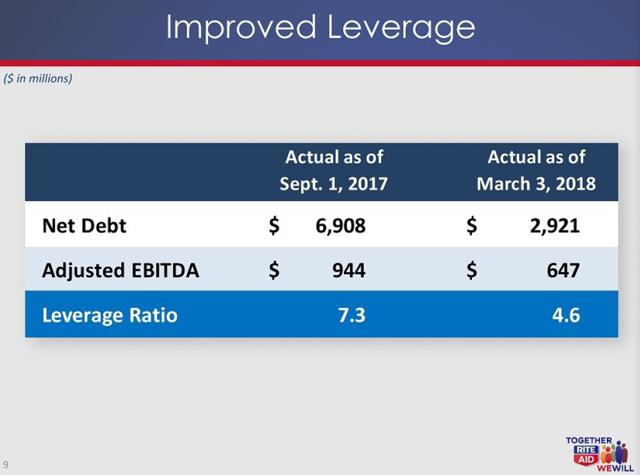 Source: Rite Aid
The company outlined strategic priorities that are typical of any firm. This includes a focus on its customers and patients, working with its payor partners, evaluating purchasing pricing, and streamlining operations. To reiterate, these goals are achievable without integrating Albertsons in the business.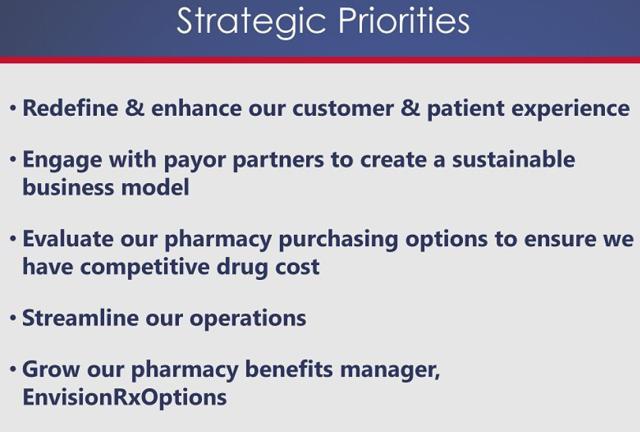 Source: Rite Aid
The drug store hinted on elements that may drive higher sales post-Rite Aid-Albertsons. This includes a private brand, multiple channels, and a renewed focus on wellness. Yet the wellness aspect of health care complements the drug store business, not the grocery store one. How the Albertsons business will integrate with Rite Aid's is still unclear.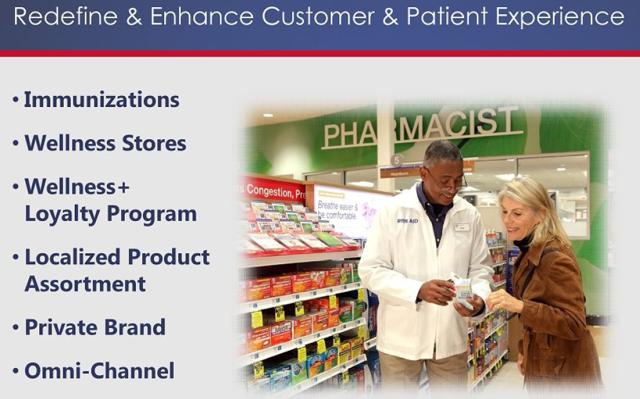 Source: Rite Aid
Rite Aid already spent over half a decade re-investing in its business. The renovation spend is up five-fold since 2012. This added to growth, albeit by just 173 bps in Q4/2018.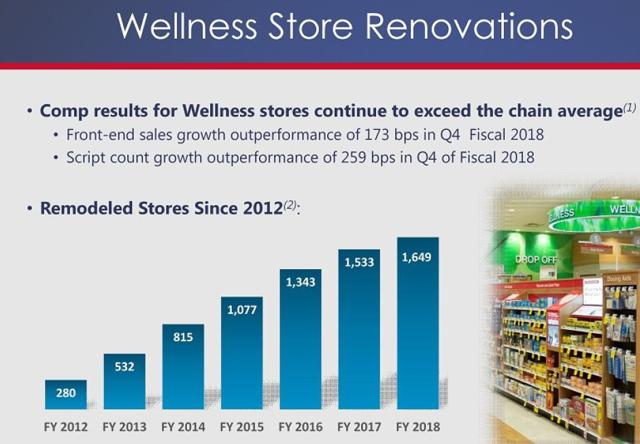 Source: Rite Aid
Its expectations for around $100 million in administrative costs are modest, as the slide below shows:

Rite Aid's PBM platform shows some promise in driving future revenue. In FY 2018, the full-service platform touched around 22 million lives and drew in $5.9 billion in revenue, along with $172 million in adjusted EBITDA. In the last three years, the business's CAGR was 11 percent for revenue and 19 percent for EBITDA.
Manageable Debt Profile
Just as Valeant Pharmaceuticals (VRX) carefully pushed out its debt obligations to a more manageable maturity schedule, Rite Aid said it will achieve better leverage post-transaction. Still, the merged firm is only pushing out around $2 billion in Albertsons debt due in 2020 to a later maturity year of 2023.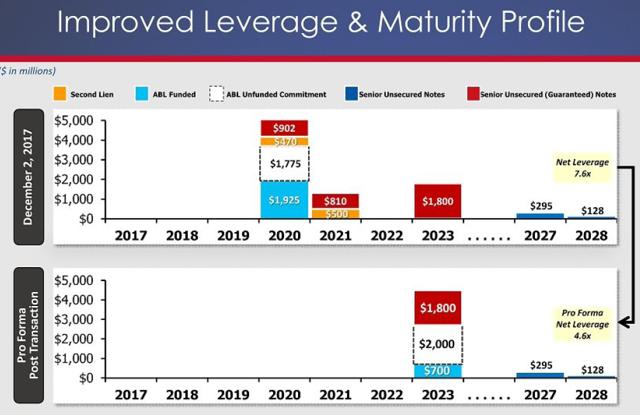 Outlook for 2019
Rite Aid forecasts sales will not change year-over-year, at $21.7 billion to $22.1 billion, while losses will be in the range of $40 million to $95 million. The company budgeted $250 million in CapEx for File Buys and Wellness-related remodeling.
The slide below shows one potential benefit as a combined firm: wider geographic reach.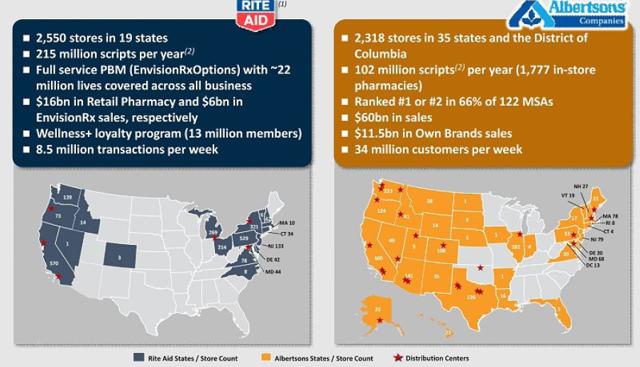 Source: Rite Aid
The firms could leverage each others' distribution centers and storefronts across the U.S. Still, integrating a drug store with a grocery is fundamentally challenging. The combined firm does not have the right management in place to bring the two cultures and business together. Raising the cash portion, but not the shareholder return, in the Rite Aid bid, does little to win votes. Financially, Rite Aid is worse off because the combined company is bigger and even more levered. Without higher positive free cash flow and lower operating costs, shareholders are worse off holding the newly issued RAD-Albertsons stock.
Takeaway
Rite Aid has a fundamentally higher value of around $4.60 (according to simplyWall.st and based on future cash flow) if it were to continue on its own. Shareholders must vote against the deal to realize this higher value. It also needs a change in management for the company to achieve the higher cash flow growth. The good news is that it looks like the company will not have enough shareholder votes to support the deal. If it falls apart, then the stock should go up because the company will not be saddled with Albersons' unmanageable debt levels.
Thank you for taking the time to read my article. Please [+]Follow me for a deep dive in value stocks on sale. Click on the big "follow" button beside my avatar. This Do-It-Yourself idea originate from the DIY Value Investing marketplace service.
Disclosure: I/we have no positions in any stocks mentioned, and no plans to initiate any positions within the next 72 hours.
I wrote this article myself, and it expresses my own opinions. I am not receiving compensation for it (other than from Seeking Alpha). I have no business relationship with any company whose stock is mentioned in this article.