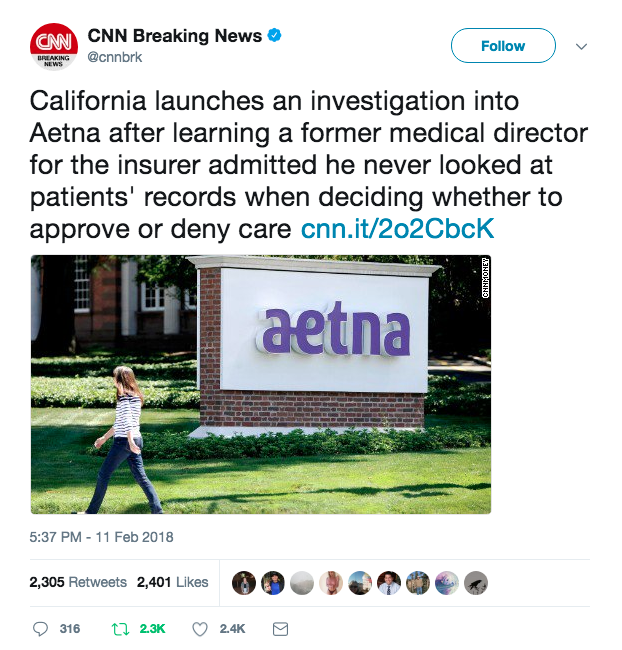 CNN's February announcement on Aetna (Credit: Twitter).
Considering Aetna Risks
Pseudonymous Seeking Alpha contributor DoctoRx made a case recently for buying both CVS (CVS) and the company it plans to acquire, Aetna (AET), but he also offered a warning:
As far as AET goes, all trading when a takeover is underway involves specialized risks. If the deal collapses, there is no clear bottom for AET in the short run, and one never knows on the long run.
In light of DoctoRx's general warning, I've posted a couple of updated hedges for Aetna below, but first I wanted to remind Aetna shareholders of a dog that hasn't barked in the last few months: the apparent lack of follow-up on CNN's report in February that the California insurance commissioner had launched an investigation into Aetna, after one of its former medical directors testified under oath that he never looked up a patient's health records before deciding whether to approve or deny care.
CNN's Aetna Report
The medical director in the CNN report is Dr. Jay Ken Linuma, who was Aetna's medical director for Southern California from 2012 to 2015. During a deposition as part of a lawsuit by a college student denied treatment coverage by Aetna, Dr. Linuma testified that he never reviewed a patient's medical records before deciding whether to approve treatments, instead relying on the recommendation of nurses who reviewed the cases.
He also testified that in not reviewing the records, he was following Aetna's training. In its article on this (linked to in the previous paragraph), CNN quoted physicians and medical ethicists it contacted regarding this, and they expressed astonishment:
Members of the medical community expressed similar shock, saying Iinuma's deposition leads to questions about Aetna's practices across the country.

"Oh my God. Are you serious? That is incredible," said Dr. Anne-Marie Irani when told of the medical director's testimony. Irani is a professor of pediatrics and internal medicine at the Children's Hospital of Richmond at VCU and a former member of the American Board of Allergy and Immunology's board of directors.

"This is potentially a huge, huge story and quite frankly may reshape how insurance functions," said Dr. Andrew Murphy, who, like Irani, is a renowned fellow of the American Academy of Allergy, Asthma and Immunology. He recently served on the academy's board of directors.
CNN also contacted physician and medical ethicist Dr. Arthur Caplan, who expressed similar shock:
Dr. Arthur Caplan, founding director of the division of medical ethics at New York University Langone Medical Center, described Iinuma's testimony as "a huge admission of fundamental immorality."

"People desperate for care expect at least a fair review by the payer. This reeks of indifference to patients," Caplan said, adding the testimony shows there "needs to be more transparency and accountability" from private, for-profit insurers in making these decisions.
Dr. Andrew Murphy, the allergist quoted above, said Dr. Linuma's admission raises questions about every case he reviewed for Aetna:
Murphy, the former American Academy of Allergy Asthma and Immunology board member, said he was "shocked" and "flabbergasted" by the medical director's admission.

"This is something that all of us have long suspected, but to actually have an Aetna medical director admit he hasn't even looked at medical records, that's not good," said Murphy, who runs an allergy and immunology practice west of Philadelphia.

"If he has not looked at medical records or engaged the prescribing physician in a conversation - and decisions were made without that input - then yeah, you'd have to question every single case he reviewed."
What has happened on this since February? Searching CNN's website for Aetna, the most recent article focusing specifically on the California insurance commissioner's investigation into Aetna's handling of claims in light of Dr. Linuma's testimony is this opinion piece by physician and journalist Ford Fox. More recent CNN articles mentioning Aetna have been about the pending merger, and the current environment toward mergers in general.
You see a similar situation on the California Department of Insurance's website. The most recent release on the investigation is the confirmation that it was opened, from February; the more recent release announces hearings on the merger to be held next week. Presumably, the investigation is ongoing. In light of the risk it imperils the merger, let's look at a couple of ways of limiting your risk below.
Adding Downside Protection To Aetna
For these examples, I'll assume that you own 500 shares of Aetna and are still bullish on the acquisition going through, but want to limit your risk in case it doesn't and Aetna shares fall. I'll assume further that you are willing to risk a decline of 17% but not one larger than that. The screen captures below come from the Portfolio Armor iPhone app.
Uncapped Upside, Higher Cost
These were the optimal, or least expensive, put options to hedge 500 shares of AET against a greater than 17% decline by mid-January as of Monday's close.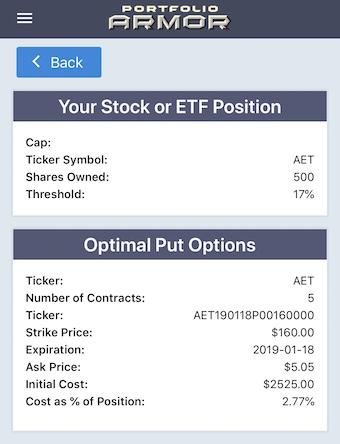 The cost here was $2,525, or 2.77% of position value (calculated conservatively, using the ask price of the puts).
Capped Upside, Negative Cost
On Monday, the highest upside cap at which you could eliminate the positive cost of hedging against a >17% decline over the same time frame with an optimal collar was 7%.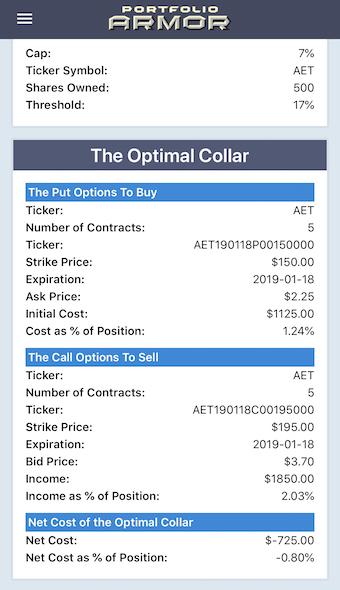 There are two things different about this hedge. The first is that, after an iterative process taking into account its net cost, the hedging algorithm was able to find a less expensive put strike - one that lowered the cost of the put leg to $1,125, or 1.24% of position value (calculated conservatively, using the ask price of the puts). The second is that cost was more than offset by the income of $1,850, or 2.03% of position value, generated from selling the call leg (calculated conservatively, at the bid).
So the net cost here was negative, meaning you would have collected a net credit of $725 when opening this hedge, assuming you placed both trades at the worst ends of their respective spreads.
Wrapping Up
If you're long Aetna, and concerned about downside risk, you ought to consider hedging it if you're going to stay long. If neither of these hedges looks right for you, you can try to adjust the parameters and see if there's one that fits your risk tolerance better.
Disclosure: I/we have no positions in any stocks mentioned, and no plans to initiate any positions within the next 72 hours. I wrote this article myself, and it expresses my own opinions. I am not receiving compensation for it (other than from Seeking Alpha). I have no business relationship with any company whose stock is mentioned in this article.