REIT Rankings: Single-Family Rentals
In our REIT Rankings series, we analyze one of the fifteen real estate sectors. We rank REITs within the sectors based on both common and unique valuation metrics, presenting investors with numerous options that fit their own investing style and risk/return objectives. We update these reports quarterly.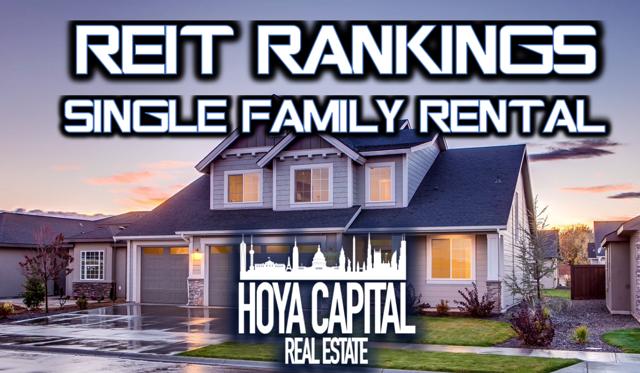 We encourage readers to follow our Seeking Alpha page (click "Follow" at the top) to continue to stay up to date on our REIT rankings, weekly recaps, and analysis on the REIT and broader real estate sector.
Single Family Rental Sector Overview
Single family rental REITs comprise 2% of the REIT ETFs (VNQ and IYR). Within the Hoya Capital Single Family Rental Index, we track the four SFR REITs which account for roughly $18 billion in market value: American Homes 4 Rent (AMH), Invitation Homes (INVH), and small-cap REITs Front Yard Residential (RESI) and Reven (RVEN). Not included in our index is Canadian firm Tricon Capital (OTC:TCNGF), which also owns a large portfolio of US SFRs within a diversified residential portfolio, including apartments and homebuilders.

Above we show the size, geographical focus, and quality focus of the four single-family rental REITs we track. These four SFR REITs own nearly 150k single-family homes and currently focus on markets that have experienced the strongest economic growth during this recovery. Many of these markets were hit particularly hard by the housing bubble, which allowed institutional investors to buy distressed properties in bulk. SFR REITs own a mix of affordable and middle-tier homes. Relative to apartment REITs, SFRs benefit from lower resident turnover rates but need to expend more per turn.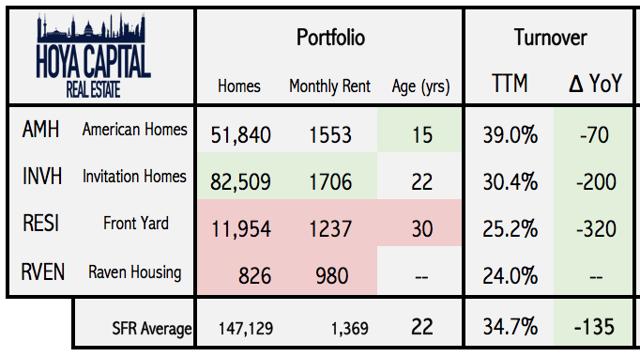 Single-family rental REITs are one of the youngest REIT sectors, emerging in the wake of the housing crisis. As home prices plummeted, large private investors purchased distressed homes and non-performing loans by the thousands, often sight-unseen from other financial institutions and foreclosure auctions. Through spin-offs and IPOs, a handful of these portfolios were spun into REITs, beginning with AMH in 2013. Initially, the business model depended on the continual acquisition and sale of distressed housing assets, and REITs used foreclosures as a primary source of new home acquisition. The business model ultimately evolved into a stabilized ownership model more akin to typical apartment REITs.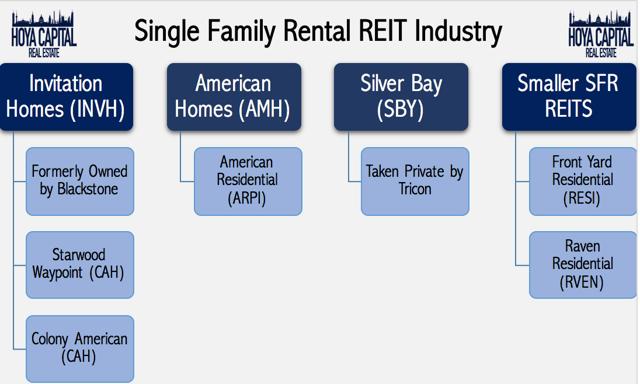 Density within markets is critical for SFR REITs. The industry has experienced a continuous wave of IPOs and consolidations over the past four years as these REITs recognized that, with the stabilized ownership model, market density was essential to achieving efficiencies in leasing, acquisition, and maintenance. We estimate that 500-1,000 units per market are needed to achieve minimum scale, but that 2,000 units or more are needed to reach a "critical mass" whereby the REIT can localize operations within that market and achieve cost efficiencies on-par with apartment REITs. INVH owns nearly 5,000 homes per market, while AMH owns 2,000 per market. The small-cap REITs and private portfolios have an uphill battle to achieve the necessary scale, as they have few local markets with at least 500 units.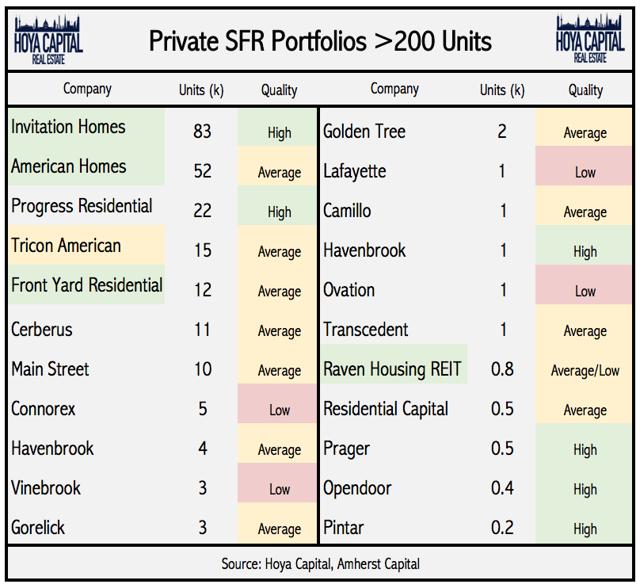 A highly fragmented market, the average SFR owner manages just 1-2 properties. Relative to apartment markets, this fragmentation makes it more difficult to acquire a substantial number of units to achieve scale. That said, there are several dozen institutional-quality portfolios and, considering the importance of scale, we expect continued consolidation among these portfolios and could see one or more additional portfolios covert into publicly traded REITs over the next several years.
The Bull and Bear Thesis on SFR REITs
Powered by economic and demographic tailwinds, the single-family rental sector continues to mature into a mainstream REIT sector. The macro tailwinds of favorable demographics, low supply, and homeownership unaffordability continue to power SFR demand. We are right in the middle of the demographic boom that is most likely to prefer rental living.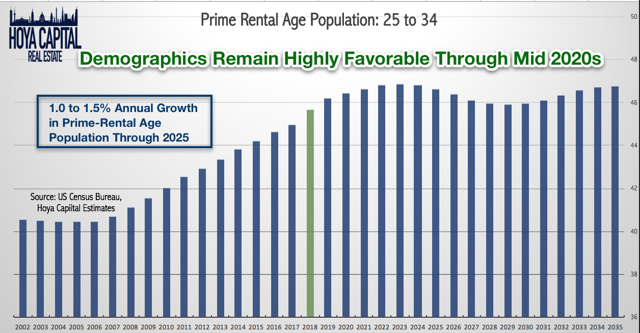 We continue to discuss home price affordability (or lack thereof) and how we believe that rental demand will continue to surprise to the upside as potential home buyers remain in the rental markets for longer than expected, a thesis confirmed by homeownership data and surveys of attitudes regarding housing preferences.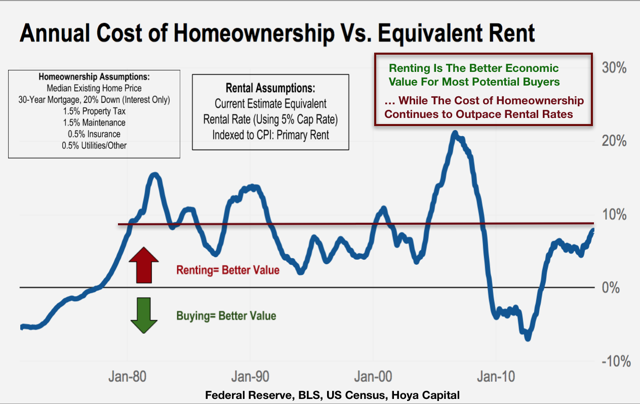 Additionally, as we'll discuss below, there is reason to believe that the two large SFR REITs are uniquely positioned to benefit from the broader trend of institutionalization within the single family housing industry. Below we outline the primary reasons that investors are bullish on the SFR REIT sector.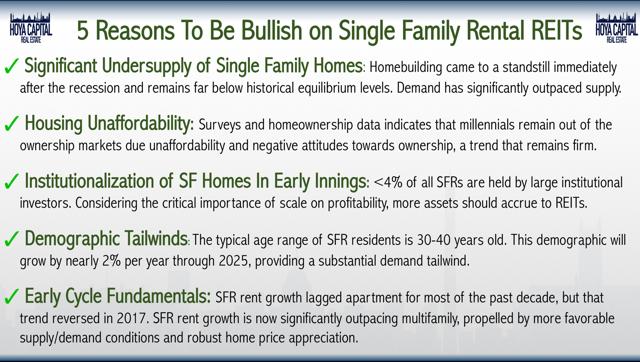 However, critics continue to question the long-term viability of the REIT model for SFR ownership, particularly if home price appreciation continues to outpace rental revenues. This can create a problematic situation for SFR REITs: Future acquisitions become less accretive as REITs are forced to pay higher prices for the same cash flow. Meanwhile, property taxes and other expenses tend to increase with rising home values. It remains to be seen whether SFR REITs can continue to grow accretively given the potential persistent NAV discount and lack of distressed homes for purchase. Below we discuss the five reasons that investors are bearish on the SFR sector.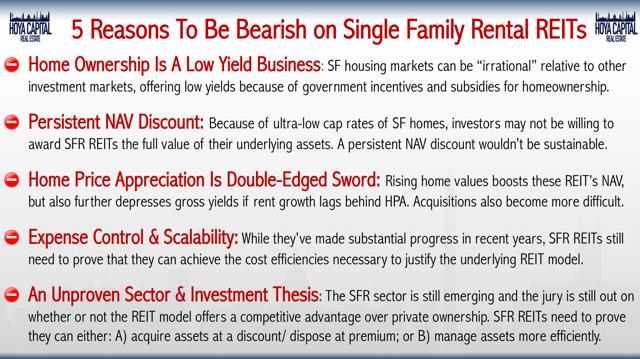 Recent Stock Performance
Single Family Rental REITs had a solid 2017, delivering a total return of more than 7% compared to a 5% total return on the broader REIT index. SFR REITs, however, have underperformed so far in 2018, dipping 5% compared to a 3% decline in the broader REIT index. Meanwhile, the Hoya Capital Housing Index, which captures a diversified snapshot of the investible residential real estate market, has dipped 3.6% as rising interest rates and mounting construction costs have added uncertainty to the single family housing construction recovery.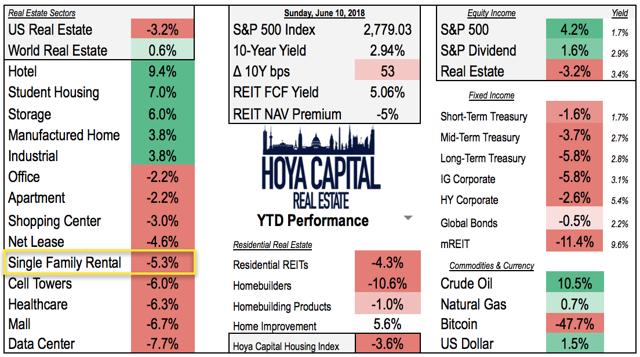 As we'll discuss below, the SFR sector dipped following mixed 1Q18 results that saw expense growth rise faster than expected. American Homes has been the relative outperformer in the sector so far in 2018, followed by Invitation Homes. Over the last quarter, Front Yard Residential has jumped more than 6% after solid 1Q18 results. The small-cap REITs, however, have underperformed the SFR average over the past several years but, given the relative lack of large institutional quality portfolios, may be attractive acquisition targets for either AMH or INVH during the next round of consolidations.

Recent Fundamental Performance
SFR fundamentals continue to be among the strongest in the REIT sector as rising home values, limited supply, and robust demand has produced rent and NOI growth near the top of the REIT sector. While SFR rent growth on the national level has moderated in synchrony with multifamily from the extreme levels seen in 2015, recent quarters have seen a solid reacceleration, particularly in the "growth markets" in which REITs are concentrated. SFR rent growth is outpacing multifamily rent growth by the widest margin since the recession, a gap should widen further in coming quarters given the far more favorable supply outlook in the single family markets.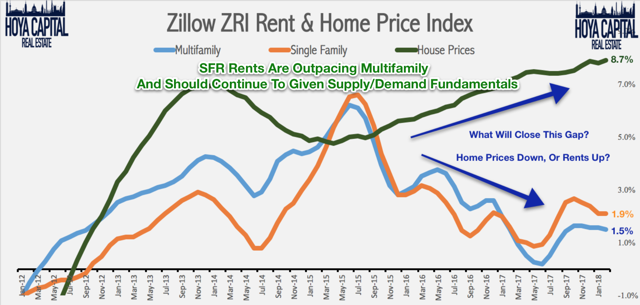 1Q18 earnings, however, were mixed as strong rental growth was offset by higher-than-expected expense growth. Same-store revenues grew a strong 3.6% YoY and blended rent growth continues to hover around 4%. Unsettling investors, same-store expenses were surprisingly elevated for both AMH and INVH, rising an average of 7.2% and pushing SS NOI growth down to 1.5%. Both INVH and AMH gave encouraging updates on rental and expense trends last week at REITWeek, indicating that the peak 2018 leasing season is shaping up to be stronger than projected. Blended rent growth rose an average of 4.9% in May, and even more encouraging was the jump in new lease rent growth and occupancy.

Same-store revenues slowed modestly in 2017 but is expected to reaccelerate in 2018. At 4.3%, same-store revenue growth would be roughly 200 bps higher than the apartment REIT average for 2018. Supply growth in the multifamily sector has been robust, pressuring rent growth and occupancy. Single-family housing markets, however, have seen far more moderate supply growth as a percent of existing stock.

Recent Developments And Emerging Themes
During earnings calls and the recent REITWeek conference, several key themes and recent developments are being discussed. In general, the tone of earnings calls and REITWeek continues to be positive as these REITs expressed confidence in the underlying fundamentals and the path for further growth. We analyzed the earnings calls and REITWeek commentary from INVH and AMH and present the three highlights.
1) Expense Growth was Related to One-Time Events
The focus for most investors remains on efficiency metrics, which have shown continued improvement in recent years as portfolio growth and consolidation has allowed these REITs to spread overhead costs over a larger sum of rental revenue. For that reason, this quarter's jump in same-store expenses and annual maintenance cost metrics were particularly surprising. The most-watched metric, Same-Store Core NOI margins, declined 120 basis points YoY to 64.3% while the annual "cost to maintain" jumped to $2,456 which was up more than 30% from 1Q17.

Both INVH and AMH asserted that expense growth in 1Q was unusually elevated because of one-time events and not part of a sustained trend or deferred maintenance. AMH blamed a combination of opportunistic capex upgrades and expenses related to record-cold winter temperatures. From the AMH earnings call:
Our increase in R&M and turnover cost when comparing Q1 2017 to Q1 2018 was driven in part by $1.5 million of non-comparable cost due primarily to winter freeze damages in certain of our Southeast and Midwest markets. The remaining increase this quarter relates to carrying costs on above-average levels of inventory and our expanded investment to cosmetically refresh the inventory prior to the spring leasing season... We still expect total maintenance-related expenditures for the year to come within our guidance.
INVH blamed an unusual uptick in routine repair spending related to deferred work related to the 2017 hurricane season as well as harsh winter weather. From the INVH earnings call:
A key contributor to this expense increase was elevated R&M expense, which was atypical in nature attributable to a timing delay in completing routine non-storm-related service requests in markets impacted by the September 2017 hurricane. Service across related to hurricane damage were prioritized in the fourth quarter of 2017 pushing noncritical routine service request that otherwise would have been resolved last year into the first quarter of 2018. Harsher winter weather in the first quarter of 2018 compared to the first quarter of 2017 also contributed to higher repair and maintenance expenses.
Encouragingly, both AMH and INVH reiterated full-year expense guidance at REITWeek, but shares of both REITs have yet to fully recover their post-earnings dip. Given their strong track record of operational execution, we give these REITs the benefit of the doubt but think that investors will need to see a quarter or two of moderating expenses to feel confident that this quarter's jump in expenses is not part of a sustained trend.
2) It's All About Scale
The "institutionalization" of the single family housing markets is still in the very early innings, according to REIT executives and many industry analysts at REITWeek. Large SFR portfolios were few-and-far-between in the pre-recession period as conventional wisdom asserted that the low-return profile of home ownership and operational difficulty of managing a disperse portfolio made the SFR market largely uninvestable to all but smaller "mom-and-pop" investors who were content with zero to low single-digit annual total returns. Moreover, homeownership was both desired and within financial reach for the majority of Americans, leaving SFRs as a niche segment catering primarily to lower-income individuals.
The recession dramatically changed the dynamics of the housing markets, facilitating the emergence of institutional-quality SFR portfolios. Given the lingering issues with homeownership unaffordability and the "rent-by-choice" attitude among households, investors are warming up to the notion that there may indeed be an economic rationale for institutional ownership of single family homes, which theoretically could manage these houses more efficiently and result in lowered aggregate housing costs.
The benefits of this efficiency, however, don't appear to kick-in until a portfolio reaches sufficient scale in particular markets. As discussed, a minimum of 500 homes per market is necessary to essentially "break even" from the additional overhead associated with a large portfolio, and the true efficiency begins at 2,000 units or more per market. As shown below, we believe that out of all of the institutional-quality portfolios, only AMH and INVH have achieved the scale necessary to justify the "buy-and-hold" institutional model associated with traditional REITs.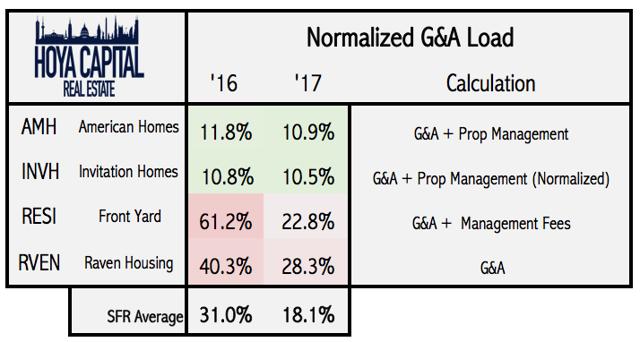 Without sufficient scale, portfolios like Front Yard and Reven are encumbered by substantial G&A and property management loads that essentially erase any economic benefit of the institutional ownership model. These metrics are undoubtedly far worse for smaller private institutional portfolios. We think that this gives AMH and INVH a substantial competitive advantage that will lead to further asset accumulation as private portfolios have few options but to consolidate amongst each other or sell to one of the two large SFR REITs.
3) Built-To-Rent Trend Accelerating
Home price appreciation has forced SFR REITs to get creative with external growth plans. AMH has pushed ahead with built-to-rent projects using internal development pipelines and partnerships with homebuilders. It sees 100 bps higher all-in yields from in-house development and 50 bps in incremental yield from built-for-rent purchases from homebuilders.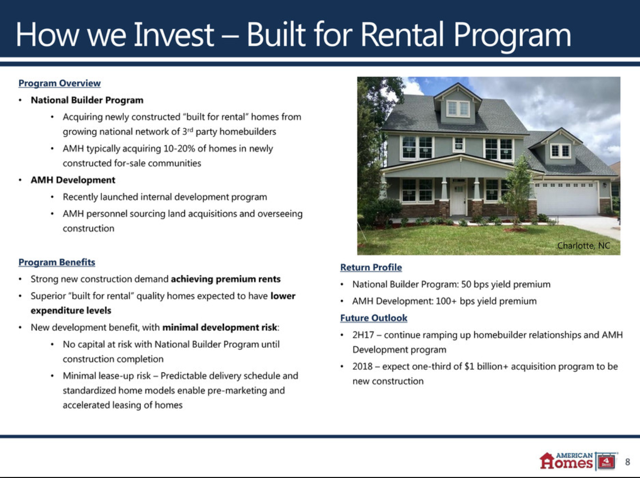 AMH plans to make these built-to-rent programs a larger percentage of their overall acquisition activity with $300 million in spending projected by 2019. The firm even went as far as to say that, if the program performs as well as expected that it could eventually negate the traditional external acquisition program. From last quarter's earnings call:
Yes, I would say we're still in the pilot phase of our own development. And if it worked out as well as I think it'll work out, it's possible that that's our only investment avenue.
AMH's move into new development is certainly noteworthy and, if successful, could blur the lines between SFR REITs and homebuilders and keep the external growth channel open, even as home price appreciation and persistent NAV discounts limit the traditional acquisition opportunities.
Valuation Of Single-Family Rental REITs
Relative to other REIT sectors, single-family rental REITs appear moderately expensive based on Free Cash Flow (aka AFFO, FAD, CAD). As it has for most of the past several years, the sector continues to trade at a modest discount to NAV.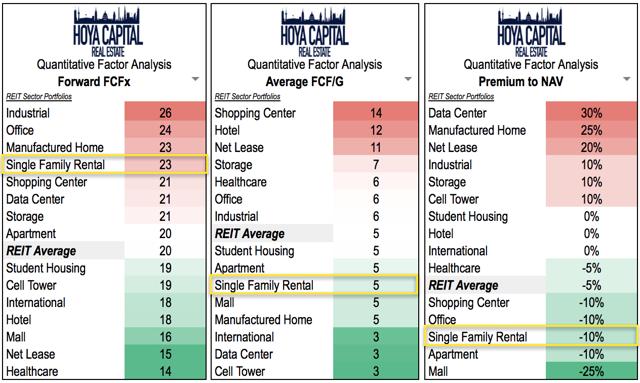 INVH has significantly outperformed AMH over the past quarter and now trades at a valuation premium to AMH. Given the limited disclosures and guidance of the small-cap REITs, valuations are difficult to estimate for RESI and RVEN.

Sensitivity To Equities And Interest Rates
SFR REITs are not particularly sensitive to interest rates nor equity markets. These REITs can serve as an effective hedge within a real estate portfolio against rising interest rates, as potential homeowners may be encouraged to stay in the rental markets for longer if mortgage rates rise.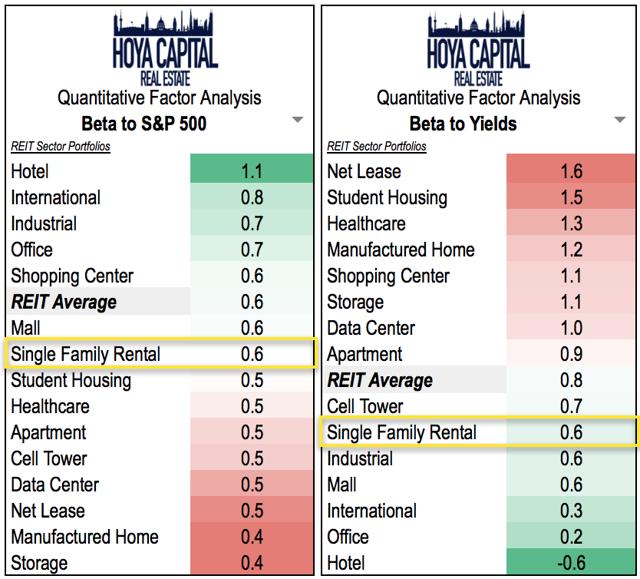 We separate REITs into three categories: Yield REITs, Growth REITs, and Hybrid REITs. (Click on each link to read more information about our methodology). As a sector, SFR REITs fall into the Growth REIT category.

Within the sector, we note that the small-cap REITs are highly leveraged to a strong economy given their unfavorable leverage profile and continued need for capital.

Dividend Yield And Payout Ratio
Based on dividend yield, single-family rental REITs rank at the bottom of the REIT universe, paying an average yield of 1.6%. They pay out just 55% of their available cash flow, so these firms have greater potential for dividend growth and reinvestment than other sectors.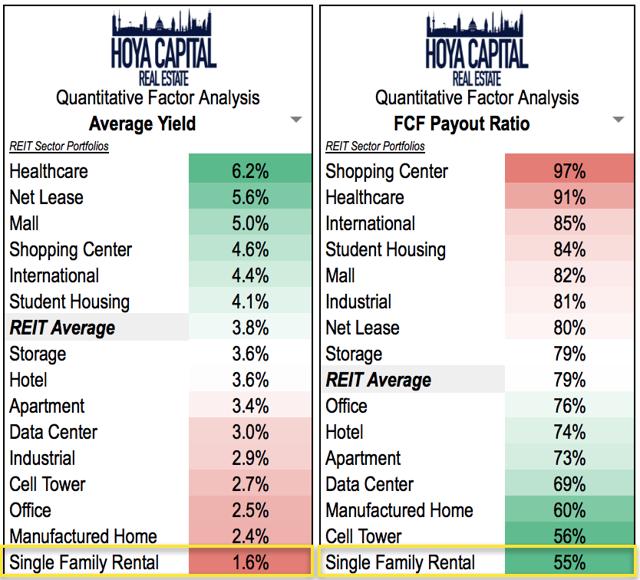 As these REITs mature, we expect their payout ratios to rise to levels in line with other REIT sectors.

Bottom Line
Powered by economic and demographic tailwinds, the single-family rental sector continues to mature into a mainstream REIT sector. Through consolidation, REITs have achieved cost efficiencies nearly on par with apartment REITs. Scale and focus on specific markets have allowed these REITs to keep capex and maintenance costs in check. Investors have applauded these REITs' focus on reaching a critical mass.
SFR fundamentals are among the strongest in the REIT sector. 1Q18 earnings, however, were mixed. Higher-than-expected expense growth unsettled investors, but AMH and INVH affirmed full-year expense guidance. Both INVH and AMH gave encouraging updates on rental trends at REITWeek. The macro tailwinds of favorable demographics, low supply, and homeownership unaffordability continue to power SFR demand. Home price appreciation has forced SFR REITs to get creative with external growth plans. AMH has pushed ahead with built-to-rent projects using internal development pipelines and partnerships with homebuilders.
Technology and productivity are the wild cards that may determine the fate of the institutional SFR industry. Logistically, managing portfolios of thousands of SFR homes was impossible less than a decade ago. If SFR REITs can continue to harness and develop cost-saving technologies that streamline the acquisition, disposition, leasing, and maintenance processes and be leaders in this field, we expect the SFR business to not only be sustainable, but for the SFR REIT model to exhibit a competitive advantage over smaller private equity players in the space.
We aggregate our rankings into a single metric below, the Hoya Capital REIT Rank. We assume that the investor is seeking to maximize total return (rather than income yield) and has a medium- to long-term time horizon. Valuation, growth, NAV discounts/premiums, leverage, and long-term operating performance are all considered within the ranking.

Given the critical importance of scale and the long-term fundamental tailwinds, we believe that AMH and INVH are the most attractively-valued names within the sector. Absent an acquisition or strategic consolidation with another large private portfolio, we find it difficult to see the pathway for the small-cap SFR REITs to achieve this necessary scale.
For further analysis on all fifteen real estate sectors and how they all stack up, be sure to check out all of our quarterly updates: Net Lease, Malls, Industrial, Data Center, Apartments, Shopping Center, Hotel, Office, Healthcare, Industrial, Cell Tower, Manufactured Housing, Storage, Homebuilders, and Student Housing.
Please add your comments if you have additional insight or opinions. Again, we encourage readers to follow our Seeking Alpha page (click "Follow" at the top) to continue to stay up to date on our REIT rankings, weekly recaps, and analysis on the REIT and broader real estate sector.
Disclosure: I am/we are long VNQ, INVH. I wrote this article myself, and it expresses my own opinions. I am not receiving compensation for it (other than from Seeking Alpha). I have no business relationship with any company whose stock is mentioned in this article.
Additional disclosure: All of our research is for educational purposes only, always provided free of charge exclusively on Seeking Alpha. Recommendations and commentary are purely theoretical and not intended as investment advice. Information presented is believed to be factual and up-to-date, but we do not guarantee its accuracy and it should not be regarded as a complete analysis of the subjects discussed. For investment advice, consult your financial advisor.