Since inception in January 2015, the IW Portfolio has produced compound annual returns of 35%+, with 90%+ of profitable trades.
This best-in-class performance has been driven by our core technological holdings, a select group of high-potential businesses bought at modest premiums over the value of zero-growth earnings power.
Value investing in search for asymmetric risk-reward in new technologies and business models. That's our territory. Our playing field. And it has served us well.
But the stock price appreciation responsible for that sort of returns can dramatically shrink the margin of safety of the individual holdings, increasing portfolio risk.
That's why we have spent the last few weeks reevaluating the tech positions in the IW Portfolio. The purpose: to identify potential divestitures to free cash for more compelling opportunities, re-positioning the portfolio for continuous outperformance.
Activision Blizzard: then and now
We went long Activision Blizzard (ATVI) in November 2016, at about $37/share.
The downside was limited by a large margin of safety, with intrinsic value mostly sustained by ongoing earnings power and a small profitable growth component.
With our proprietary IW MoS Box framework, ATVI was lying on the top-left cell, near the middle column, offering a large, if relatively uncertain margin of safety (due to it being partly sustained by future profitable growth).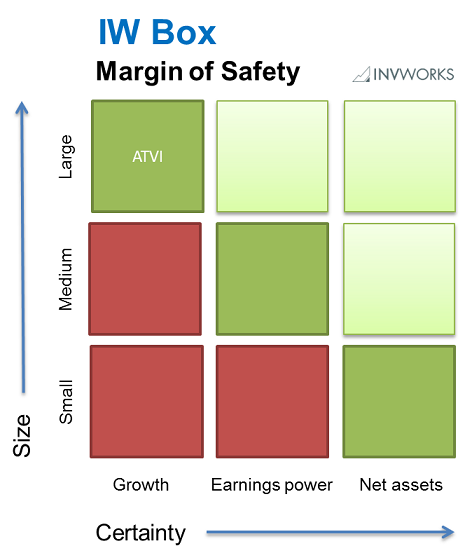 Placement of Activision Blizzard in the IW Box, as of November 2016 (source: Investment Works)
On the other side of the coin, the upside was sizable, thanks to a number of ongoing business trends and initiatives, including:
Transition from physical to (higher margin) digital sales.
Pick up in in-game transactions, content refreshments and expansions, increasing recurrent revenues and reducing dependence on hit releases.
The recent acquisition of King, with room for further monetization through in-app transactions and a potentially large video advertising business.
Growth opportunities within existing and future franchises.
Ancillary revenue from IP initiatives, including Activision Blizzard Studios.
A nascent e-sport industry.
Admittedly, those trends are very much still in play today, with several in their early innings.
The catch is that awareness in the financial community has become widespread, driving the stock price to the mid $70s, almost twice the price we paid less than 2 years ago.
The stock appreciation has increased risk and reduced the potential.
Today, we would be placing Activision Blizzard in the bottom-left cell of the IW Box: small uncertain margin of safety. And with smaller potential.
While Activision Blizzard was falling to the bottom of the box, we were adding more compelling risk-reward opportunities to the portfolio, as show in the diagram. In particular:
Taking gains on higher-risk lower-reward positions to make room for comparatively lower-risk higher-reward opportunities is what the game is about.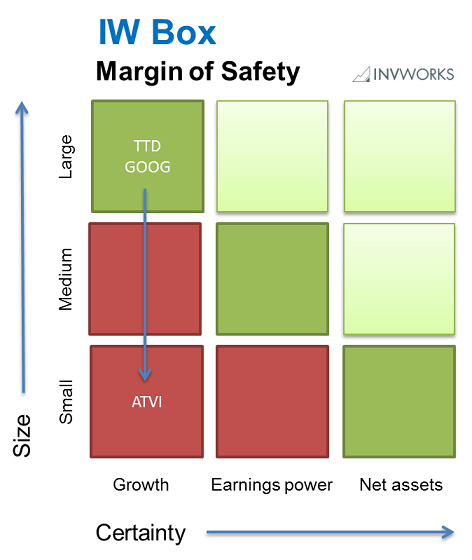 Placement of Activision Blizzard, and recent stock picks, in the IW Box, as of June 2018 (source: Investment Works)
Earnings Power Value
We estimate Activision Blizzard's zero-growth earnings power, or the hypothetical after-tax profit that the company could generate in perpetuity if it decided to stop investing in growth.
For a growing business with higher returns on capital (ROC) such as Activision Blizzard, that metric allows to calculate a conservative estimation of intrinsic value. Moreover, the valuation of tech businesses with comparable growth rates and ROC can be better compared on a zero-growth earnings power basis than based on more traditional (lazy) metrics such as P/E, EV/EBITDA, P/S or the infamous PEG ratio.
To estimate zero-growth earnings, we build our way from non-GAAP operating income. We adjust for stock-based compensation (a real recurrent cost of business), amortization of intangibles (an accounting fiction), product development, S&M and G&A expenses better seen as investments than as incurred expenses, and the fact that the acquisition of King closed on February 23 rather than January 1.
With a 20% tax rate, we estimate TTM zero-growth earnings of $2,103 million, or $2.73/share, based on 770 million diluted shares.
Net cash position is $860 million, or $1.1/share.
Using a 8% discount rate, Earnings Power Value (EPV) is $34.1/share (2.73/0.08). Adding distributable cash, the zero-growth value to equityholders amounts to $35.2/share.
That is about the price we paid for the stock less than 2 years ago, but less than half the current stock price.
The Google hurdle
In our recent research pieces on tech names, we have been comparing valuations on a forward zero-growth earnings power yield basis.
That is quite a mouthful, but it is nothing else than the ratio of the hypothetical next twelve-month earnings of the business if it decided to stop investing in growth to enterprise value. It can be seen as a minimum annual return on investment at the going stock price: the return the investor can expect if the business generates zero value from its growth initiatives.
Coming back to Activision Blizzard: assuming 15% earnings growth this year, forward zero-growth earnings will be $3.14/share (2.73*1.15).
At $75/share, enterprise value is about $74/share. Hence we estimate the forward zero-growth earnings yield of Activision Blizzard at 4.2%.
In our long thesis on Alphabet, with the stock at $1,000/share, we estimated its forward zero-growth earnings yield at 5.5% (and that, valuing the Other Bets division at zero).
We advanced this 5.5% as the Google hurdle, or the earnings yield that tech businesses with similar growth and ROC prospects would need to offer to be worthy of investment consideration. Today, Alphabet stock is trading some 14% higher, for an earnings yield of 4.8%.
But the fact remains that in the mid $70s, Activision Blizzard is priced at a premium to Alphabet, while, in our view, offering inferior and more uncertain growth prospects.
Alphabet is expected to grow at mid to high teens CAGR in the upcoming years.
Activision Blizzard, at low to mid teens. Actual CAGR may be some 500 pbs higher than that, propelled by the strong secular trends outlined before. But so car Alphabet's CAGR, bosted by the enormous potential of YouTube, Google Cloud, Waymo, and more generally, its AI leadership.
Takeaways and future coverage
Some readers will argue against the comparison against Alphabet, an animal with its own idiosyncrasies. But it is not just against Alphabet that Activision Blizzard, in the mid $75s, looks unfavorable.
This very week we have released bullish research on Palo Alto Networks (PANW), another of our tech holdings. After a significant price ramp-up, it trades at a similar earnings yield (4.3%), yet offers growth rates in the mid 20%. The Trade Desk, shown in the IW Box above, offers a lower ~4% zero-growth earnings yield, but is growing at 30%+ CAGR, twice the expected growth rate of Activision Blizzard.
Given all the above, we have closed our long position on Activision Blizzard at a 100%+ gain.
To reiterate: Activision Blizzard is a great business, no question. That is why we bought it in the first place.
Fundamentals are, if anything, better today than they were in November 2016. The business will continue nursing its current franchises and launching new ones, on its way to conquer a larger chunk of the humongous -and growing, interactive entertainment industry. The stock price may well climb much higher.
We just think there are better risk-reward opportunities in the market. And we have point you to some of them.
It has been an exciting ride these last 1.5 years. We will continue monitoring the name and the industry and may re-initiate a long position at more favorable risk-reward levels in the future.
Our best wishes to the Activision Blizzard team and shareholders who decide to stick to their positions.
If you have enjoyed the read, click on Follow at the right of our logo, and tick the Get e-mail alerts box to be make sure you don't miss any future stock picks.
We will update on our views on Activision Blizzard if there are significant fundamental or price developments. In the meantime, we will keep publishing research on potential stock picks and other positions in our portfolio.
Disclosure: I am/we are long TTD, GOOG, PANW.
I wrote this article myself, and it expresses my own opinions. I am not receiving compensation for it. I have no business relationship with any company whose stock is mentioned in this article.