Last week featured WWDC 2018, Apple's (AAPL) annual developers event that took place in San Jose, California. Amid a wave of interesting news and updates that included the launch of iOS 12 and AR Kit 2.0, one piece of information that I find very relevant to investors may have gone unnoticed: revenues earned by iOS developers have reached $100 billion inception-to-date (i.e. since the App Store's launch in 2008), according to CEO Tim Cook.
"So what?", readers may ask.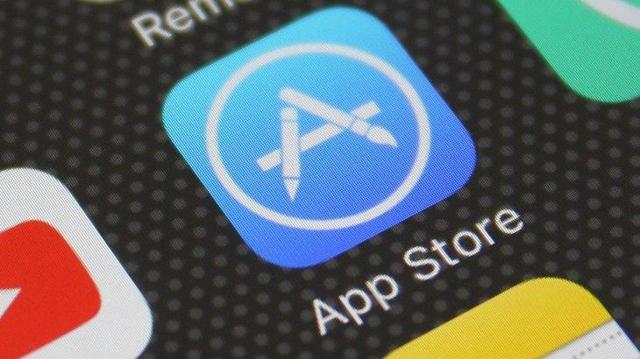 Credit: TechCrunch
Apple is primarily a device manufacturer that generates about 70% of its revenues from the sale of iPhones. But in the not-too-distant future, a very significant chunk of Apple's profits will come from high-margin sales of services and software to an increasing installed base - the total number of iPhones, iPads and other gadgets in operation increased to 1.3 billion in February 2018 from 1.0 billion only two years ago.
The updated developers' earnings figure of $100 billion suggests, per my estimate and relying on a couple of assumptions about revenue sharing arrangements, that App Store revenues are on track to grow at a healthy 33% pace this year. Should my extended projections prove accurate through 2020, the year by which Apple has committed to doubling Service revenues from 2016 levels, I believe App Store revenues to Apple (i.e. excluding the larger chunk that is passed on to developers) will come very close to $25 billion annually, in a clearly positive trend. See graph below.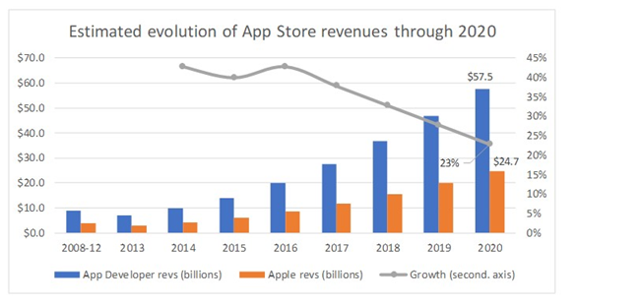 Source: DM Martins Research
The significance of this number to Apple's bottom line is material to say the least, considering that App Store margins have been estimated at a very rich 85% - as the table below illustrates. Assuming this rate is accurate and remains stable going forward, the $16.8 billion in net earnings generated from the App Store business alone in 2020, assuming no additional operating expenses and an effective tax rate of 20%, should represent a sizable one-third of Apple's total net income in the last fiscal year. App Store earnings growth, I estimate, will be roughly as large as the total company's was in 2017, measured in absolute dollar terms.
The figures above do not look bad at all, especially considering the emphasis that analysts and investors insist on putting on device sales today.

Source: Barron's
Services, led by the App Store, is Apple's rocket fuel
As much as Apple continues to tout the importance of service revenues to the company's future financial success, I am not sure that the investing community fully grasps the scale and relevance of this very important segment. When device sales stall, which they have in the past and may again in the future, high-margin (and in many cases recurring) revenues generated by the massive number of Apple device owners will carry the company forward, in my opinion.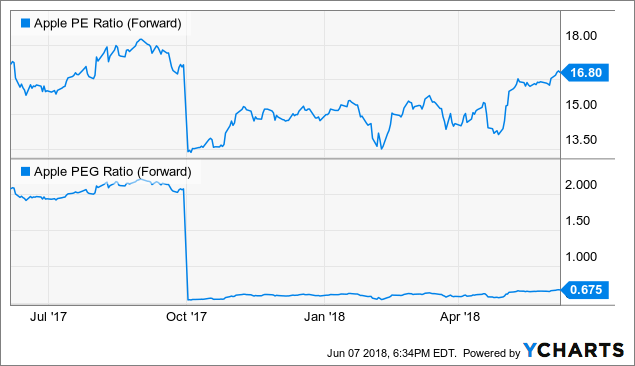 Even though I continue to include device sales in under-penetrated markets and cash distribution to shareholders as key pillars of my AAPL investment thesis, I am increasingly convinced that the fast growth of services will be the ultimate driver of Apple's earnings spike by the end of this decade. Being invested in AAPL today makes even more sense when shares trade at what I believe to be very attractive multiples (see previous chart).
For the reasons highlighted above, I continue to be an AAPL bull, and will likely hold on to my shares for quite a while before ever considering trimming my position.
Note from the author: Follow me as I build a risk-diversified portfolio designed and back-tested to generate market-like returns with lower risk. I call it the Storm-Resistant Growth portfolio. Take advantage of the 14-day free trial, read all the content written to date and get immediate access to the community.
Disclosure: I am/we are long AAPL.
I wrote this article myself, and it expresses my own opinions. I am not receiving compensation for it (other than from Seeking Alpha). I have no business relationship with any company whose stock is mentioned in this article.