Just over a year ago, I suggested in an article that the retail woes were overhyped, and while malls may never again have it as easy as they did pre-Amazon (AMZN) and eCommerce, the mall itself would not disappear but needs to evolve.
It didn't take long for the storyline to change and the fear to subside. With consumer spending increasing 3.8% in the fourth quarter, and total holiday sales rising 4.1% beating a decade old average of 3.5%, it became quite clear that people still want to shop.
The biggest takeaway I want you to have from this piece is not just the cyclical nature of retail but general stock sentiment as well. The hardest trick isn't to realize a certain equity or sector is undervalued but to what extent and how long the road to recovery may be.
The three stocks I highlighted have all outperformed over the past 12 months, to a rate I'm even surprised at: V.F. Corporation (VFC), Target (TGT), and Macy's (M). Let's take a look back at the hypotheses and see where we stand today.
VF Corporation
Sold out of position
Capital Appreciation 55%
Total Gain (including div) ~60%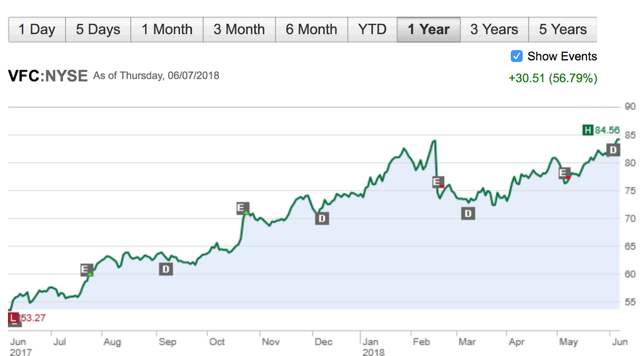 (Chart Source: Charles Schwab)
A company that has been around for 115 years with 19 national brands and a dividend aristocrat to boot, what's not to love about this stock. However, last year, the company was dragged in the mud along with most of the retail sector due to growing concerns around mall/retail feeling the Amazonian heat. The macro concern, coupled with their own lackluster sales performance, created a storyline people wanted to sell. Yet with sales in over 170 countries, as long as their brands remain relevant, people will buy them wherever and however they can - online or offline, Amazon or at the mall.
I sold out of the position at 82, not because I think the company is facing any major headwinds but because consumer spending can be cyclical and so can tastes in brands. Therefore, it's highly likely that VFC may continue to trade at its highs but, I'd argue, will not outperform over the course of the next year.
Target
Trimmed position by 10%
Capital Appreciation 41%
Total gain (including div) 44%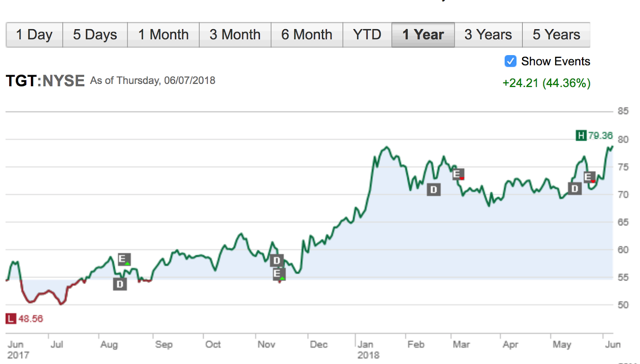 (Chart Source: Charles Schwab)
Target couldn't catch a break 12 months ago, and while CEO Brian Cornell believed he could "reimagine" Target through hundreds of remodels and opening up small format stores, the decline in profit margins sent jitters to most investors and drove the stock south of the equator. It goes without saying that every quarter Amazon did well, stocks like Target seemed to do worse, due to many investors' assumption that retail is a zero-sum game.
Target is showing promise in their omni-channel networks and focusing on the millennial consumer in the digital age. Last quarter, Target saw an increase of 29% in online sales, beating rival Walmart (WMT). And let us not forget, Target continues to do a great job at capturing the prized demographic (18-44) at around 58-62% of their customer base, beating out all rivals.
I trimmed my position slightly with Target. I'm impressed with its recent gain, and I think it still has more room to run. With my cost basis where it is, the dividends received give me enough upside to see if my gut instinct is right, and I can continue to see this company edge up into the next year.
Macy's
Trimmed position by 20%
Capital Gain 55%
Total Gain (including div) 61%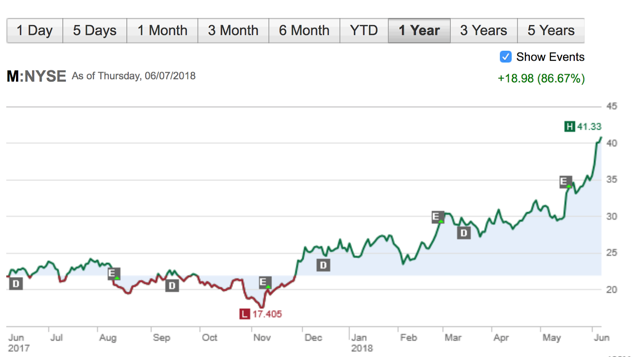 (Chart Source: Charles Schwab)
A place I've personally shopped at for years, although I must admit I have slowly replaced it with a combination of Amazon, Target, and whatever my significant other gets me for my birthday, was heading to Davy Jones' Locker no less than a year ago. I, unfortunately, did not pick up this falling knife after it hit the floor, but, with averaging down, my wounds healed nicely and turned out to be my most profitable knife of the bunch.
It was hard to imagine a company that was synonymous with holiday shopping and, as an anchor to hundreds of malls, could follow Sears (SHLD) to retail purgatory. After hitting lows not seen in over a decade, Macy's was on the ropes. But it was clear that new CEO, Jeff Gennette was ready to make the tough choices and planned on shutting down 100 stores last year and update their Macy's reward program. With sales up 4.2% last quarter, Jeff Gennette said,
"We exceeded our expectations and saw strong performance across all three brands - Macy's, Bloomingdale's, and Bluemercury[...] These positive factors give us confidence to raise both our sales and earnings guidance for the fiscal year."
I trimmed my position with Macy's and will continue to do so as it flirts with over 40$ a share. While Macy's could outperform over the next 12 months, all the bearish arguments for retail and brick and mortar did not just vanish overnight. Were they blown way out of proportion? - yes - but there are still long-term systemic issues at play in regards to competing with Amazon and the rise of millennial focused retail stores and eCommerce options.
Conclusion
It was hard not to get swept up in Retailocolypse last year. There was an article every day about the decline of American retail, and that malls were a dying breed. The reality was and still is that retail is in a transitional phase. Companies, like the three I mentioned above, have to evolve or die.
As a knife catcher, time is both my best friend and worst enemy. I acknowledge the dualities for a few reasons. While with any amount of research, be it fundamental or technical, and a larger macro-economic foundation, one can quickly surmise whether or not a stock has been badly beaten down for due course, and if that stock should get back up again. Therefore, given the right amount of time and the right market conditions, a stake in a knife that has fallen would surely be a great place to put some money. However, professional money managers and analysts, to retail investors, fear a down quarter more than anything, which would ultimately preclude them from these styles. Therefore, it provides investors like myself an opportunity to fill the void.
As the old adage goes, no risk no reward, or more apropos for a knife catcher ~ no pain no gain.
And Let Us Not Forget
While the economy seems to be growing at a steady clip, and the market getting back to all-time highs, I wouldn't throw caution to the wind and apply a "set it and forget it" methodology to any of your stocks in the retail sector. A recession is still predicted as a possibility within 24 months, whether due to the economy overheating, or geopolitical risks trickling down from trade imbalances and so on. Also, the continuing rise of income inequality has and will hurt general consumer spending and consumer confidence. So stay frosty my friends!
If you enjoyed this article, please scroll up and click on the "Follow" button next to my name to not miss my future articles.
May your falling knives never cut too deep,
Remy Kouffman AKA The Knife Catcher
Disclosure: I am/we are long M, TGT. I wrote this article myself, and it expresses my own opinions. I am not receiving compensation for it (other than from Seeking Alpha). I have no business relationship with any company whose stock is mentioned in this article.