Over the past twelve months, the shares of Entercom Communications Corp. (NYSE:ETM) are down about 35%, and this has put the company on my radar. I became intrigued after reading about the acquisition of most of CBS's radio properties last year. Like many investors, I was initially worried that "radio is dead", given what's happened to iHeartMedia. After a review, though, I think this company now represents an excellent investment at these levels. I'll go through my reasoning below by reviewing some of the financial highlights of the past few years, and by drawing a comparison between Entercom and iHeartMedia. I'll make the point that these are not the same animal. I'll model a reasonable future price based on my expectations about dividend growth, and I'll conclude with an appeal to authority. For those who can't stand the suspense, or my writing, I think the market is mispricing these shares based on a few faulty assumptions. I think investors would do well to follow some talented investors, and an insider and buy before price and value inevitably intersect.
Financial History
A quick glance at the financial history belies the idea that radio is dead. The company has managed to grow revenue at a CAGR of about 9% over the past five years, which, to my way of thinking, actually qualifies this as a "growth" company. Net income suffered in 2017, in large measure from merger and acquisition costs, and restructuring charges of $41.3 million and $16.9 million respectively. That said, net income was higher in 2017 as a result of a $257 million benefit. Stripping out these three, we can reasonably estimate net income in 2017 of about $26 million. This is down from 2016 (which saw a gain on the disposal of some assets, and a large reduction in merger related expenses), but not off trend.It seems that revenue growth is continuing in the first three months of 2018, obviously the result of the acquisition late last year. Revenue has absolutely ballooned, and the net loss from the same time a year ago, and the EPS loss has shrunk from the same time last year.
The greatest risk here, in my view, is the level of indebtedness the firm carries. The majority of this debt (~$1.3 billion) is in the form of the "B-1 Loan". This is a variable loan and, according to the company, if LIBOR were to increase 100 basis points, the interest expense on the loan would increase by $13.3 million. That would increase the interest expense the company currently pays by about 41%. In addition, the company has a $250 million revolver outstanding that comes due in late 2024. I will be keeping my eye on the level of debt here, and I'm glad to see that the debt load is actually down from the first quarter of last year to Q1 2018.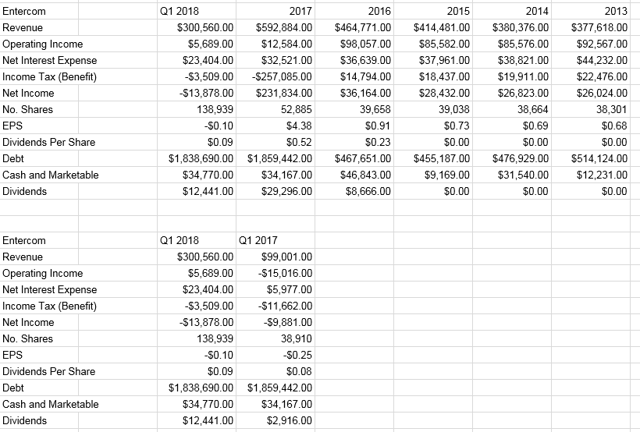 Source: Company Filings, 10-K, 10-Q
Although I'm concerned about the level of debt borne by Entercom, they seem like amateurs when compared to the now bankrupt iHeartMedia. I'm including some highlights (lowlights?) from their financial performance over the past five years to hopefully suggest that these two companies are not the same type of animal. A quick review of the financial history at iHeartMedia reveals the following:
Revenue that was generally in decline during the same period when revenue at Entercom was growing at a CAGR of 9%.

An interest expense that grew at a CAGR of about 2.5%, while Entercom's interest expense was dropping.

A long term debt level at iHeartMedia about ten times (!) greater than that of Entercom.
Thus, my message to the people who are shorting Entercom on the belief that it's "just another iHeartMedia" would be "do your homework!" The analogs are far more different than similar.

Source: iHeartMedia 2018 10-K
Modeling Future Price
As fascinating as financial statements are, we investors are obviously more interested in future price. With that in mind, I must spend some time shedding some virtual ink trying to come up with a reasonable forecast of future prices. As I've said elsewhere on this site repeatedly, the act of forecasting is itself challenging, so I need to keep it as simple as possible. The way I do this is by engaging in a ceteris paribus forecast, moving only the most relevant variable. I think the dividend is the key to value here, so I'll "move" it in my forecasts while holding all else (i.e. yield) constant.
The company has just started paying a common dividend relatively recently, so we don't have much of a history to go on. Further, the low payout ratio is arguably a function of the singular nature of 2017. Also, as I stated above, cleaning up the capital structure should be a focus here. For these reasons, I'll be quite conservative in my estimate of future dividend growth. Although dividends per share are up smartly over the past few years, I'm going to assume dividend growth of only about 4% over the next four years. When I perform this forecast, using this relatively conservative assumption, I estimate a CAGR for the shares of just shy of 9% over the next four years.

Source: Author estimates
Appeal To Authority
We must admit that not all investors are created equal. Some have that combination of training and emotional makeup that makes them good at this. Some investors are more successful buying a given company because they happen to know that company better than almost anyone else. They know the company better than anyone else because they happen to work for it. Whatever the reason, it only makes sense for us to pay attention to what more well informed investors are doing with their capital. At the moment, people who know much more about this business than I ever will are buying, and that gives me confidence in my bullish convictions.
Specifically, Mario Gabelli initiated a purchase last year, and now owns approximately 349,745 shares. Hotchkis and Wiley also initiated a purchase last year and now owns 150,615 shares.
In addition, founder Joseph Field has been on a buying frenzy for the past year (pushing his share count owned directly and indirectly from ~1.3 million shares last May to ~8.37 million shares as of the most recent filing). That is a great deal of conviction.
Conclusion
I think investors would do well with shares of Entercom Communications Corp. at these levels. The shares have been absolutely beaten up, perhaps based on fears that this is another iHeartMedia. As I hope I've demonstrated, it is not. The company consistently grows revenue, and, although debt is a concern, I think it's manageable and there are signs that it's heading in the right direction. Finally, some very talented investors are following the man who arguably knows this business best and are buying. In my view, investors would be wise to follow suit.
Disclosure: I/we have no positions in any stocks mentioned, but may initiate a long position in ETM over the next 72 hours.
I wrote this article myself, and it expresses my own opinions. I am not receiving compensation for it (other than from Seeking Alpha). I have no business relationship with any company whose stock is mentioned in this article.