EVIO, Inc. (OTCQB:EVIO) is a leading provider of quality control testing, consulting, and advisory services to the cannabis industry. The company owns nine laboratories serving five states in the US - California, Colorado, Massachusetts, Oregon, and Florida. The company is expected to benefit from sector tailwinds as the cannabis industry is set to double in size by 2012. We have initiated a coverage with a BUY rating will a $2.00 price target.
Investment Thesis
Our BUY rating is derived from the continued expansion of the cannabis industry. Because of the company's role as a tester, EVIO is expected to benefit from regulatory overhang unlike other companies in the industry. With mandatory testing of cannabis products gaining traction, we expect EVIO to expand their position on the industry. Substantial improvements and continued investments in new service offerings, equipment upgrades, and expanded geographic presence should support revenue and earnings growth over the next several years .
Despite healthy upside, failure to execute operations at new facilities and adverse regulation pose to threat to EVIO's long-term growth. Our BUY recommendation is based on an expectation that regulatory environment continues to remain favorable and the management can execute their growth plan.
Industry Outlook and Competition
Cannabis sales in the United States are expected to hit roughly $24 billion by 2025. Sales for 2016 stood at $7.2 billion; and through 2025 are expected to see a 15% cagr. Though cannabis testing only accounts for 5% of the overall industry, it's one of the fastest growing subsets. Growth is anticipated amid nationwide deregulation both medically and recreationally.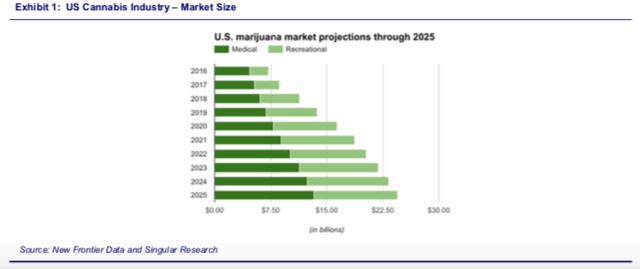 Marijuana, both recreationally and medically, will see a deregulation affecting people who want to use it but will experience an increase in regulation for industry players. Different types of companies, dispensaries, testing facilities, or medical companies are entering a new atmosphere of opportunity for cannabis. It's certain that companies will operate aggressively to obtain as much initial market share over the industry.
Canopy Growth Corporation (NYSE:CGC) is a major innovator in the cannabis industry; the company focuses on research, product development and innovative production capabilities. The company states that they do everything from "product innovation to market execution." Cannabis, both medical and and recreational, are developed by Canopy Growth are available through a variety of brands. Their market cap is $7.3 billion compared to the 20 million of EVIO, Inc. For EVIO to have any chance at competing with Canopy Growth, EVIO must nurture their reputation as a highly accredited cannabis tester and focus on that rather that branch out to different segments. Canopy Growth has a tremendous first mover edge on their competitors because of the variety of operations the company is involved in. Having control over different aspects of the production and development process will pose a big threat for smaller competitors, especially EVIO. The next several years are crucial as this will be the time that market share is easiest to obtain.
Another major competitor specializing in the medicinal segment is Aurora Cannabis Inc (ACBFF). The company specializes in producing and supplying the highest grade medical marijuana and to take the confusion out of the logistics of transporting it. Customers of Aurora will interact with their product online as opposed to going to a physical dispensary. Aurora's market cap is $3.61 billion and has drastically changed the way medical cannabis is perceived.
EVIO does not directly compete with Aurora because testing facilities and dispensaries have different segments within the industry. Aurora is the type of company that EVIO needs to develop relationships with because of the increased regulations regarding quality testing.
EVIO's Long Term Growth Strategy
EVIO continues to focus on a multi-state expansion plan which includes rolling out laboratories in new states. The company's initial focus is on California which is the largest single market for cannabis consumption but suffers from a shortage of testing facilities. In California alone, EVIO is expected to double their labs by the end of 2018 from their 9 current facilities. The cannabis testing market accounts for 5% of the total wholesale market; this equates to a market size of about $250 million by 2019. EVIO has access to gain substantial market share in the Californian market.
Because EVIO will likely experience an increase in demand as states continue to mandate cannabis testing, the company's dedication to attaining the highest of accreditation standards is a key element of the company's success. We believe the ISO accreditations offers significant competitive advantage to EVIO. Meeting this standard requires the consistent production of precise and accurate tests and the implementation of a rigorous quality management system, all validating EVIO's position as an industry leader. With expanding operations, equipment upgrades and new facilities will contribute to improved operating efficiencies.
Financial Results
EVIO announced subdued Q2:18 results with revenues decreasing 12.1% to $732,311 much below our estimates. However, we remain optimistic on EVIO's growth prospects amid the rollout of new laboratories and equipment upgrades at existing facilities. Favorable sector tailwinds (cannabis industry set to double by 2021) should drive growth as well. We maintain our BUY rating and our target price of $2.00 per share.
EVIO has debt-to-equity ratio of 28% which leaves room for balance sheet expansion. Common shares have grown from 5.1 million to 13.9 million at the end of Q1 of 2018, reflecting private placement as well as issuances of stock options and restricted stock as incentive compensation.

Disclosure: I am/we are long HBIO.
I wrote this article myself, and it expresses my own opinions. I am not receiving compensation for it. I have no business relationship with any company whose stock is mentioned in this article.
Editor's Note: This article covers one or more microcap stocks. Please be aware of the risks associated with these stocks.