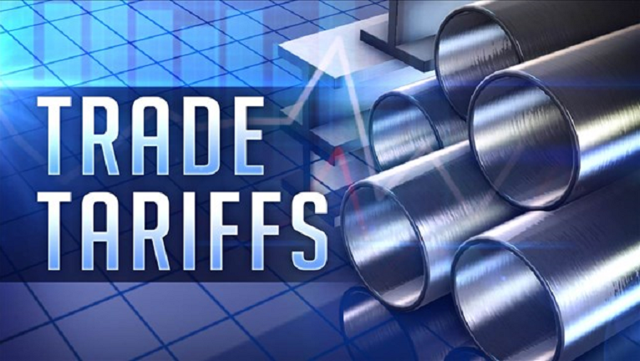 Image source: Agweb
Investment Thesis
The US and China announced tariffs on each other's goods. Tariffs announced by China appear to make the business environment more challenging for firms engaged in agricultural, motor vehicles, aircraft and chemicals industries. Economists believe the overall impact of tariffs on the US economy should be limited in the near term. Should a full-blown trade war ever to develop, it will not serve the best interest of the United States.
Whether the tariffs that the United States and China have levied on each other would lead to a full-blown trade war between the world's two largest economies is yet to be determined. Uncertainty around trade tensions remains. There was a material de-escalation after a Chinese delegation paid a visit to the US with the American Treasury Secretary Steve Mnuchin saying that the trade war had been "put on hold".
In this economic research, we will assess the scope and impact of tariffs on the US steel/aluminum industry. We will also examine the extent of trade tensions between the United States and China as well as some potential mitigating factors.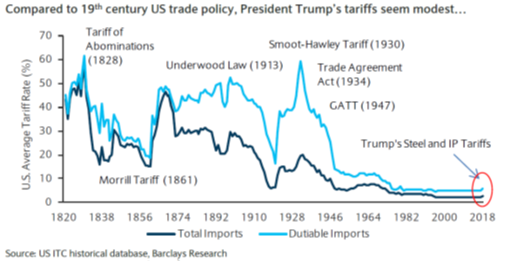 Source: US ITC historical database, Barclays Research
Metal Tariffs Rollout
The United States imported 34.5 million tons of steel products (or 2% of global steel demand) and 6.9 million tons of aluminum products (roughly 10% of global aluminum demand) in 2017. The US net imports of steel and aluminum products accounted for 25% and 61%, respectively, of its total demand.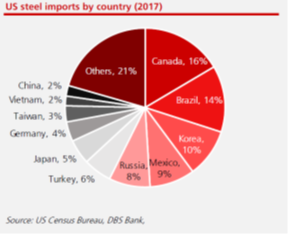 Source: US Census Bureau, DBS Bank
High tariffs on imported products should let US manufacturers to enjoy the benefits of sales volume growth. This is accompanied by stronger commodity prices and higher utilization rates. On the other hand, downstream industries such as aircraft, oil and automobile will face higher cost burdens. It would also dampen margins in these sectors or spur price hikes.
US steel tariffs represent only 0.33% of US imports, even excluding exemptions. The intellectual property tariff of 25% on $50 billion of Chinese goods is 0.5% of US imports. The threat of a 25% tariff on $100 billion of Chinese goods would be double.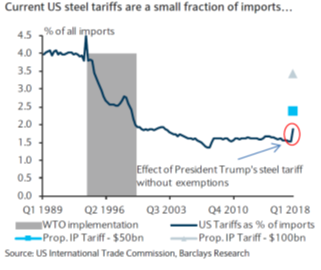 Source: US International Trade Commission, Barclays Research
Negative but Modest Impact
According to Barclays (BCS), product-specific trade disputes tend to have small direct effects. This holds true when applied to entire product categories like steel. Given that market theme, the overall macroeconomic effect will be modestly negative. Analysts have a consensus view that the adverse impact of tariff is insignificant for the following reasons:
The steel and aluminum sectors are small. These sectors account for only small shares of imports, employment and industrial production. All in all, it suggests limited direct macro effects. Iron, steel and aluminum together account for 3% of total US imports of goods and services. The exclusion of iron and other finished steel products lowers the share of the sub-categories targeted by tariff hikes to just 1.6% of total US imports.

Employment in these sectors has declined over the last several years. However, the 143,000 jobs in the iron and steel production sector and the 60,000 jobs in the aluminum production sector account for 0.1% and 0.04%, respectively, of nonfarm payrolls. The broader-fabricated metal products sector which is not restricted to steel and aluminum accounts for around 1% of national employment. Finally, the iron and steel, and aluminum primary metals sectors account for only 1% and 0.3%, respectively, of total industrial production.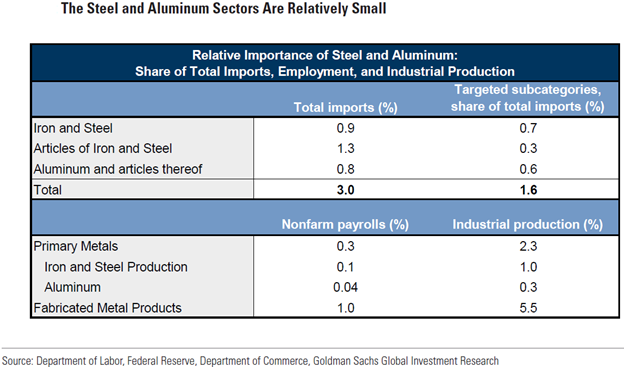 Source: U.S. Department of Labor, Federal Reserve, Department of Commerce, Goldman Sachs Global Investment Research
Steel Tariff
US steel prices would rise significantly unless there are broad exemptions. The econometric model of Goldman Sachs (GS) suggests that a "blanket tariff" of 25% on a given commodity (in a small open economy) increases the domestic commodity price by approximately 25% as well. This will prompt domestic producers to fully replace the imports at a marginal cost below 125% of the pre-tariff price.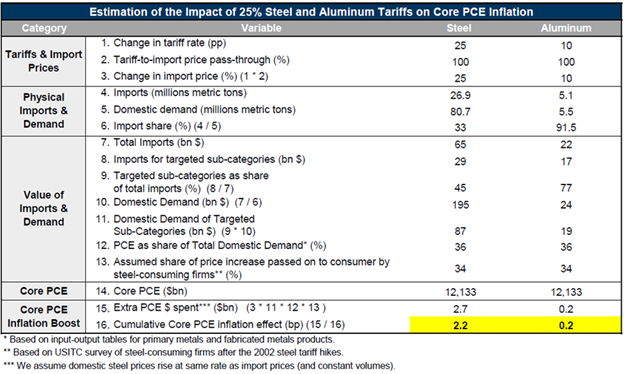 Source: Goldman Sachs Global Investment Research
Hence, economists believe that the United States will end up simply levying the tariffs on the higher quality imported metal. This is because the current capacity of the US is insufficient to completely replace the value-added steel imports without a huge increase in investment. This would be impossible given the level of uncertainty.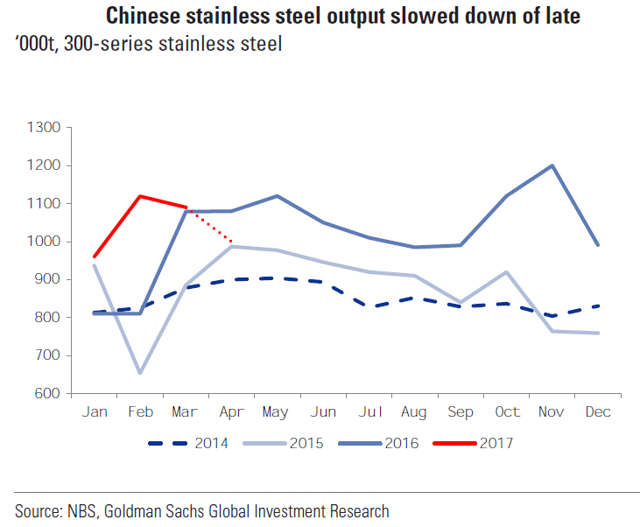 Source: NBS, Goldman Sachs Global Investment Research
Trade War & the Financial Markets
The trade war has also created some investor jitters in the financial markets. Since March 8, when the Trump administration announced that it would levy tariffs on imports of steel and aluminum products, the Wilshire 5000 stock market index has declined about 4% on balance.
Consequently, American households have lost about $700 billion in wealth via lower share prices. Absolutely, $700 billion is a small amount in terms of the $99 trillion of net worth that American households have. However, stock prices would decline even further if a full-blown trade war was to occur. Lower wealth could lead to slower growth in US consumer spending.
China holds more than $1 trillion worth of US Treasury securities. It represents almost 7% of the total marketable debt outstanding of the US government. China could start to unload these securities, or threaten to do so, which could cause the price of Treasury securities to weaken significantly. The corresponding rise in bond yields could also lead to slower economic growth in the United States.
My Takeaway
In my opinion, the decision of Trump to impose tariffs on aluminum and steel is no surprise. It appeared for some time that the Trump administration was still to determine whether some tariffs were really necessary, although there had been uncertainties regarding which countries would be subject to tariffs and when the decision might be announced. After all, it would be unusual for an administration already skeptical about the current trade policy to self-initiate an investigation only to find that the current situation does not require action.
Investors must not feel jittery about tariffs. Steel tariffs are not unusual. The steel industry has been a subject of more protective trade actions in the US than any other industry. However, I believe steel products are not subject to frequent regular tariffs. Most categories of steel products have a 0% standing tariff rate. However, steel remains to be the subject of frequent one-off remedies and constant trade investigations. All in all, around half of all antidumping and countervailing duty cases since 2000 have involved steel products, despite accounting for less than 2% of imports.
I believe that there is a number of mitigating factors to counter trade wars and commodity price risks. The US tariff policy was very active during the early periods of globalization. But large retaliations were rare. The Americans have a 70% success rate in resolving trade disputes historically by removing trade entry barriers, according to the World Trade Organization (WTO). The Trump Administration's drive for deregulation has the potential to encourage more services trade. It would mitigate the adverse impact of higher tariffs on Emerging Market countries given the persistence and the scope of the effects of the trade war.
I would still reiterate my positive view for US metal miners. I believe the outlook for these miners will be the strongest for many years to come. Capital expenditures are slated to climb. Investors can still expect significant free cash flow available to further lift shareholder returns. Although certainly I would expect that inflation would rise, I believe this along with larger capital expenditures can be favorable for commodity prices. It will contribute to rising cost curves, thus lifting up marginal cost support.
To wit, Glencore (OTCPK:GLCNF) can expect strong growth in commodities particularly copper and zinc with strong free cash flow supported by strength in thermal coal prices. Anglo American (OTCQX:NGLOY) maintained its strong balance sheet and is set to ramp up shareholder returns with the approval of Quellaveco mine in Peru. Despite the recent weakness in alumina and manganese prices, South32 (OTCPK:SOUHY) boasts of strong investor confidence predicated upon lower spot price for alumina (but still higher than consensus price estimate). Thermal coal has been the earning dark horse and has been very strong.
This article was written by Gold News business journalist Hans Centena. If you found this article to be informative and would like to hear more about my investment research, please consider hitting the "Follow" button above.
Disclosure: I/we have no positions in any stocks mentioned, and no plans to initiate any positions within the next 72 hours.
I wrote this article myself, and it expresses my own opinions. I am not receiving compensation for it (other than from Seeking Alpha). I have no business relationship with any company whose stock is mentioned in this article.
Additional disclosure: Gold News is not a registered investment advisor or broker/dealer. Readers are advised that the material contained herein should be used solely for informational purposes. Investing involves risk, including the loss of principal. Readers are solely responsible for their own investment decisions.