The 10Y US Treasury yield has fallen somewhat in the past weeks after briefly touching 3.11% in mid-May. Nevertheless, 10Y UST has risen by 22 bps so far in the second quarter and is 56 bps higher on a YTD basis. Moreover, the Fed's current tightening prospects and market expectations suggest that the Fed fund rate rise will continue in the coming period (see chart below).
Chart 1: Fed fund rate implied by Fed fund futures and FOMC projections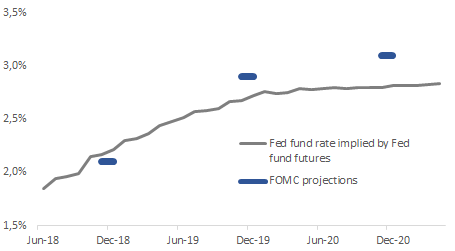 Source: CME group, Fed projections
Classical dividend discount model (DDM) of equity valuation states that a rise in interest rates should lead to a fall in equity prices, all else equal. In the model, the value of an equity is equal to the present value of perpetual stream of future dividends, which are sensitive/dependent to the discount rate. This leads to a very important question of US equities' coming performance.
S&P 500 recorded positive performance through the course of this year (+4.05% YTD) and is more than 5% higher through the course of second quarter so far. Since 1900, S&P real return significantly outperformed the UST 10Y real return while average inflation rate reached 3% (see chart below). Lower share prices are therefore not the inevitable consequence of higher inflation and interest rates.
Chart 2: Average yearly return on 10Y UST and S&P 500 (1900-2017)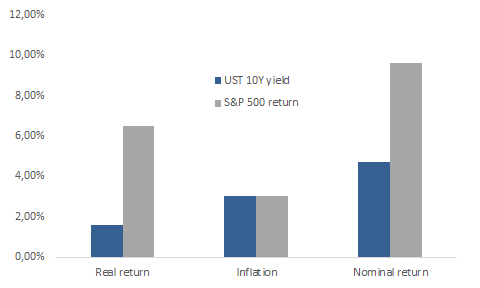 Source: Reuters
The actual impact of interest rate changes on equity prices seems to depend on the reason interest rates are rising. There are two main reasons for interest rate rise:
1) Interest rates rise predominately due to higher inflation expectations.
If interest rates are on the rise due to higher inflation expectations solely, companies' ability to pass on higher inflation to customers will largely determine earnings growth potential in the near term. On a longer-term horizon, customers are more likely to adjust their consumption level to the new price level which means that they might consume less which will lower companies' earnings potential.
The US 'core' PCE inflation (Fed's preferred measure of inflation) reached 1.8% yoy in April which is an acceleration of 0.4pp on a YTD basis. Big fiscal stimulus, tight labor market, higher oil prices, higher health care inflation and tariffs are all boosting US inflationary pressures. The latter poses certain risks to S&P 500 profit margins.
Chart 3: Core PCE inflation movements (yoy)

Source: St. Louis Fed
2) Interest rates rise predominately due to higher growth expectations.
If interest rates are on the rise due to higher growth expectations, companies' ability to increase earnings growth will offset valuation contraction that stems from higher interest rates.
While GDP in the Q1 increased by 2.2%, it seems clear that the US economy growth strengthened in the second quarter. After a brief period of softness in March and April, growth data is once again surprising to the upside and the Atlanta Fed GDP tracker is implying 4.6% yoy GDP growth in the second quarter.
Chart 4: Atlanta Fed GDP growth expectations (yoy)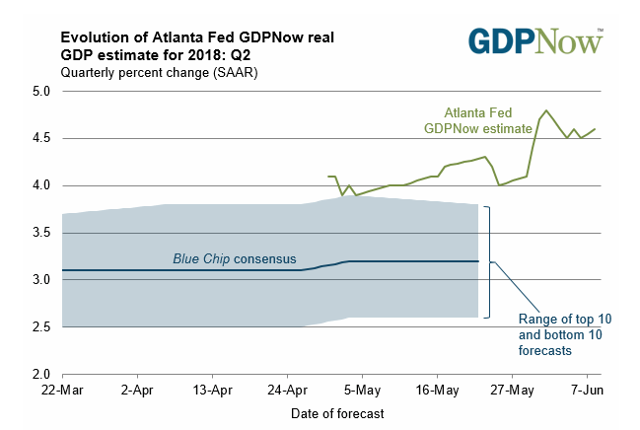 Source: Federal Reserve Bank of Atlanta
We are therefore having a situation where inflation is still slightly below the Fed's medium-term target and significantly below the long-term average. Wages are growing slowly and are therefore not posing risks of significant production cost increase for the companies while growth is stable and set to accelerate further. All this bodes well for US companies in the near term in my view.
Indeed, S&P 500 EPS faced 24% yoy increase in the 1Q18 and this is not solely due to tax relief as pretax earnings grew by 13% yoy in the same period. Furthermore, 75% of S&P 500 companies raised their common dividends so far this year with an average dividend increase of 11.4%.
Chart 4: EPS movements of selected US banks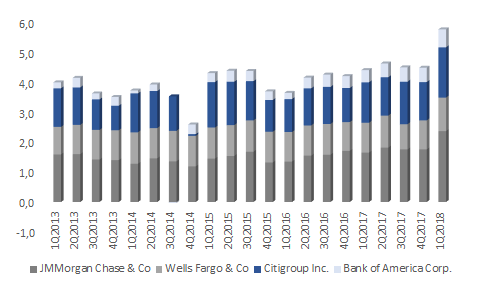 Source: Reuters
Financials typically outperform when 10Y UST yields rise (see chart above). As the long end of the yield curve rises, banks' investment and loan yields increase. Since the Fed began the current hiking cycle in December 2015, NIMs for the US banking sector have expanded by 22 bps (to 317 bps from 295 bps).
Despite all that, it seems that a large number of market participants are worried that the period of rising equity returns has passed. While I believe that the US equity market has not yet peaked, I would recommend being overweight financial sector stocks in response to rising interest rates.
Disclosure: I/we have no positions in any stocks mentioned, and no plans to initiate any positions within the next 72 hours. I wrote this article myself, and it expresses my own opinions. I am not receiving compensation for it (other than from Seeking Alpha). I have no business relationship with any company whose stock is mentioned in this article.