Are there any immediate news-related catalysts for a gold rally? That's the question metals traders have been asking of late. While there have been no shortage of headline-driven events recently which have justified at least a little safe-haven buying, none of these events (e.g. Italy, trade tariffs, North Korea) have sufficed to really whet investors' appetites for gold. With the absence of fear in news headlines, it may therefore be tempting to conclude that short-term prospects for a gold rally are virtually nil. That would be a mistake, however, as I'll explain here.
"Nowhere" is a word which best describes gold's progress over the last month. While the price of gold has trended sideways along its yearly low since last month, the white metals such as palladium (below) and even silver have been more lively. Even copper has shown recent signs of waking up from its multi-month slumber, and this despite the absence of any truly inflationary stimuli.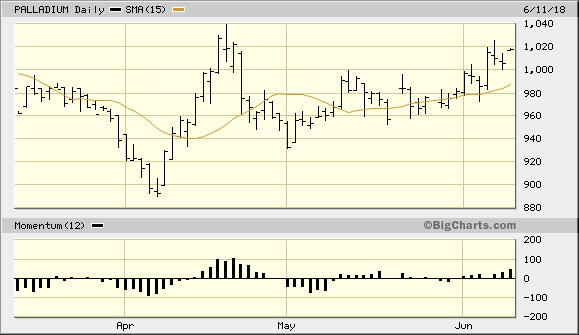 Source: BigCharts
Indeed, the U.S. dollar index (DXY), whose primary movements largely influence metals prices - and especially the price of gold - has remained near its year-to-date high. This is anything but inflationary since a weakening dollar is the normal accompaniment of even a short-term inflationary trend. Thus the other metals have rallied in the absence of accelerating inflation as well as a lack of a specific news catalyst.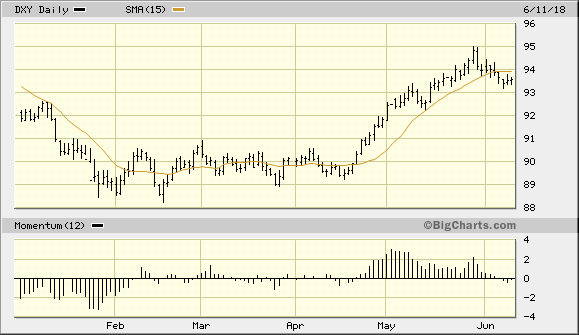 Source: BigCharts
The rallies in the other precious and industrial metals aren't without significance to gold's short-term outlook, however. Indeed, sustained upside moves in the metals mentioned above have often served as precursors for a gold rally in the past. This is because when an increasing number of metals prices show liveliness, the enthusiasm for trading anything shiny becomes infectious and traders will often look to other metals which are oversold or undervalued and buy those metals. It doesn't take much imagination to see that gold's current technical state easily fits this description.
Shown below is the daily graph of the iShares Gold Trust (IAU), my favorite gold trading vehicle. As can be seen here, IAU is coming off its low for the year to date and is trying to establish support above its technically important 15-day moving average. IAU has managed to close two days in succession above its 15-day MA, which is unquestionably a minor accomplishment but an accomplishment nonetheless - especially given that this marks the first time in two months IAU has managed to do this.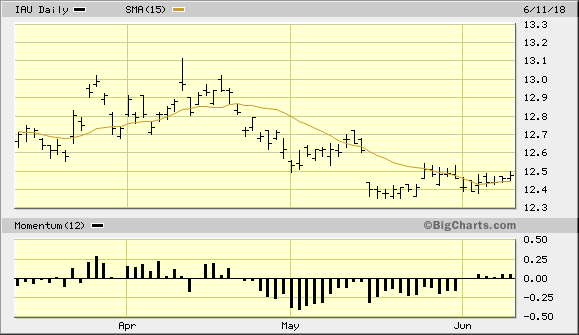 Source: BigCharts
The rules of my technical trading discipline allow for speculative purchases of the gold ETF to be made if it closes two days above the 15-day MA along with a corresponding pullback in the dollar index. Speculators with a micro-term (1-2 week) focus would be justified in taking a risk in buying some IAU here with a tight stop-loss as protection. However, I'm not yet ready to formally make any new trading recommendations in gold or the gold ETF. Before I do so, I maintain we need to see a definite sign that the short-term forward momentum behind the dollar index (DXY) has completely dissipated, thereby leaving it vulnerable to a sharp drop. Otherwise, the buoyant greenback will significantly limit gold's upside potential.
Any immediate-term weakness in the dollar from here, however, will create a most conducive environment for a gold rally. Already there are preliminary signs in place that gold is vulnerable to a short-covering rally, including the aforementioned upside moves in silver, palladium and copper. The copper price especially often serves as a harbinger of gold price strength in the short term. Copper's latest breakout (below) suggests that speculative interest in the metals as a group could increase as we head closer to the summer months.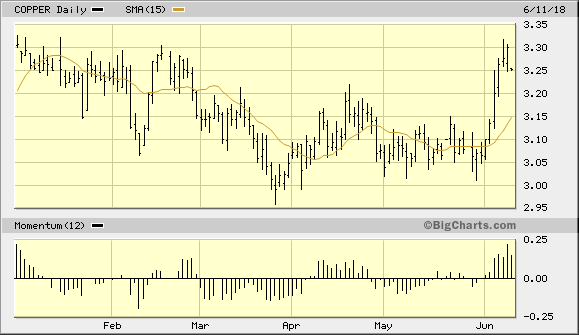 Source: BigCharts
One thing's for sure, and that is when gold finally starts moving higher, it's likely to quickly make up for the losses it suffered this spring. While the gold price doesn't need a headline-driven excuse to rally, it still needs something to light the proverbial fuse and ignite the short interest which has piled up in recent weeks. That something, as I've emphasized in recent reports, will likely come in the form of a dollar index pullback. For now, no new trading positions in the IAU are recommended.
Disclosure: I/we have no positions in any stocks mentioned, and no plans to initiate any positions within the next 72 hours.
I wrote this article myself, and it expresses my own opinions. I am not receiving compensation for it (other than from Seeking Alpha). I have no business relationship with any company whose stock is mentioned in this article.