Quick Take
Avrobio (AVRO) intends to sell shares of its common stock to raise $75.0 million from a U.S. IPO, according to an S-1/A registration statement.
The firm is developing lentiviral-based gene therapies with the potential to treat rare diseases in a single dose.
AVRO has a tightly-focused pipeline of lysosomal storage disease treatment candidates and a syndicate of supportive institutional investors.
Company & Technology
The Cambridge, Massachusetts-based clinical stage company was founded in 2015 to develop step-change cell and gene therapies targeted for patients with cancer and rare diseases.
Management is headed by President and CEO Geoff MacKay, who was previously a Founding CEO and Managing Director at eGenesisBio.
Avrobio has developed a gene therapy which employs hematopoietic stem cells extracted directly from the patient. These cells are then altered with lentiviral vectors to insert a functional copy of the defective gene in the target disease.
Below is a brief overview video of Avrobio's technologies:
(Source: Alliance for Regenerative Medicine)
Investors in Avrobio included Atlas Venture, SV Health Investors, Clarus Ventures, Aisling Capital, Cormorant Asset Management, Brace Pharma, Leerink Partners, Citadel and Eventide.
Below is the current status of the company's drug development pipeline: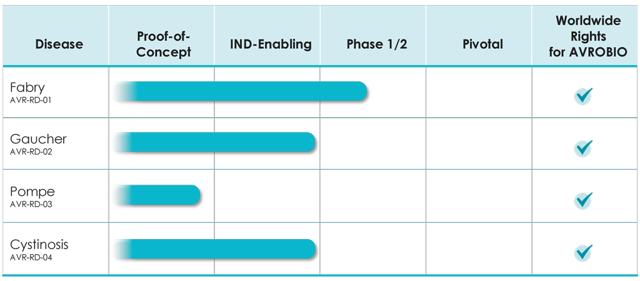 (Source: Avrobio)
Avrobio's lead product, AVR-RD-01, is focused on treating Fabry Disease. A Phase 1 trial is currently ongoing and enrolling patients in Canada. This trial will assess the safety and tolerability of injecting a patient with their own genetically modified stem cells. These cells will be expressing the enzyme α-galactosidase A [AGA]. A Phase 2 trial is expected to start in mid-2018 with the purpose of testing the safety and efficacy of AVR-RD-01.
The AVR-RD-02 is aimed at patients diagnosed with Type I Gaucher Disease. A Phase 1 trial is planned to assess patients' response to stem cells expressing glucocerebrosidase (GCase), an enzyme deficiency in Gaucher Disease.
Market & Competition
Fabry Disease affects about 1 in 40,000 to 60,000 males worldwide and is less frequent in females, according to a Transparency Market Research report.
A 2015 market research report by Pharmaceutical Processing forecasted that the sales of Gaucher Disease therapeutics will rise gradually from $875 million in 2014 to $1.16 billion by 2024 at a CAGR of 2.9%.
The main factor driving market growth is the increase in the number of people diagnosed with Gaucher Disease. This is due to companies' efforts to raise awareness of such a disease.
All seven major markets are expected to contribute to this growth, namely Germany, Italy, UK, France, Spain, Israel and US. Despite holding the smallest market share, Israel is expected to be the fastest growing seeing a CAGR of 8.4%. Nonetheless, the US will keep its market dominance controlling approximately 56.2% of the Gaucher Disease treatment space among the seven major markets.
Major competitive vendors that are operating in the Gaucher and Fabry disease treatment markets include:
Sanofi (SNY)
Shire (SHPG)
Juno Therapeutics(JUNO)
Altor BioScience
BlueBird Bio (BLUE)
Tocagen (TOCA)
Agenus (AGEN)
Novartis (NVS)
Genzyme
Amicus Therapeutics (FOLD)
Synageva BioPharma
JCR Pharmaceutical
Financial Performance
AVRO's recent financial results are typical of biopharma firms in clinical development stage in that there are no revenues and significant R&D and G&A expenses associated with advancing its pipeline.
Below are the company's financial results for the past two and ¼ years (Audited GAAP for full years):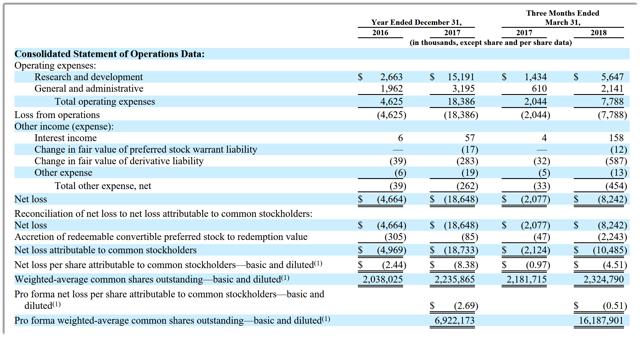 (Source: Avrobio S-1/A)
As of March 31, 2018 the company had $57.9 million in cash and $6.2 million in total liabilities.
IPO Details
AVRO intends to raise $75 million in gross proceeds by selling 4.4 million shares of common stock at a midpoint price of $17.00 per share.
Certain existing stockholders have expressed a non-binding interest to purchase up to an aggregate of $37.5 million worth of common stock at the IPO price. This is typical of life science companies that successfully float their shares and is a positive signal to prospective IPO investors.
Assuming a successful IPO, the company's post-IPO market capitalization would be approximately $379.3 million, excluding the effects of underwriter over-allotment options.
Management says it will use the net proceeds from the IPO as follows:
Approximately $13.4 million to fund expenses to advance our lead product candidate, AVR-RD-01, for the treatment of Fabry disease into Phase 2 clinical trials and to support the ongoing investigator-sponsored Phase 1 clinical trial;

Approximately $12.9 million to fund expenses to advance AVR-RD-02 for the treatment of Gaucher disease into Phase 1/2 clinical trials;

Approximately $3.2 million to fund expenses to advance AVR-RD-03 for Pompe disease further into preclinical development;

Approximately $5.4 million to fund expenses to advance AVR-RD-04 for the treatment of cystinosis, including to support the planned initial investigator-sponsored Phase 1/2 clinical trial;

Approximately $28.0 million to fund expenses for our external and internal manufacturing and process development activities related to the advancement of our product candidates;

Approximately $32.6 million to fund research and development activities that relate to all of our clinical and preclinical activities, including the cost of research and development personnel; and

The remainder for planned general and administrative expenses, the costs of operating as a public company, working capital and other general corporate purposes.

Based on our current plans, we believe our existing cash and cash equivalents, together with the net proceeds from this offering, will be sufficient to fund our operations into 2020.
Management's presentation of the company roadshow isn't available.
Listed bookrunners of the IPO are Morgan Stanley, Cowen, Wells Fargo Securities and Wedbush PacGrow.
Expected IPO Pricing Date: June 20, 2018.
An enhanced version of this article on my Seeking Alpha Marketplace research service IPO Edge includes:
- Valuation
- Commentary
- Opinion on the IPO
Members of IPO Edge get the latest IPO research, news, market trends and industry analysis. Start with a Free Trial.
Disclosure: I/we have no positions in any stocks mentioned, and no plans to initiate any positions within the next 72 hours.
I wrote this article myself, and it expresses my own opinions. I am not receiving compensation for it (other than from Seeking Alpha). I have no business relationship with any company whose stock is mentioned in this article.
Editor's Note: This article covers one or more stocks trading at less than $1 per share and/or with less than a $100 million market cap. Please be aware of the risks associated with these stocks.