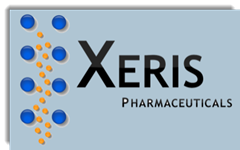 Quick Take
Xeris Pharmaceuticals (XERS) intends to raise $75 million in an IPO of its common stock, according to an amended S-1/A registration statement.
The company is developing a variety of injectable and continuous treatments for diabetic conditions.
XERS has had apparent Phase 3 trial success and is planning to ramp up commercialization efforts for the latter half of 2019.
Company & Technology
Chicago, IL-based Xeris Pharmaceuticals was founded in 2005 to develop and commercialize ready-to-use, liquid-stable injectables. The company's solutions are designed to address challenges of certain aqueous drugs such as solubility and stability.
Management is headed by Founder and CEO Steve Prestrelski. Prior to Xeris, Prestrelski served in two management positions with Amylin Pharmaceuticals from 2003 - 2011. Prestrelski also served as Vice President of Research and Development of AlgoRx Technologies from 2002 - 2003.
Xeris Pharmaceuticals' current focus is to assist diabetic patients suffering from severe hypoglycemia to address limitations of currently marketed emergency glucagon kits.
Investors in Xeris included Oxford Finance Corporation, Merieux Development, Silicon Valley Bank, Redmile Group, and Central Texas Angel Network.
Xeris' platforms, XeriSol™ and XeriJect™, offer certain benefits for injectables including eliminating the need for reconstitution and refrigeration, enabling long-term room-temperature stability, significantly reducing injection volume and allowing for a more convenient administration as opposed to intravenous infusion.
Below is a brief overview video of what causes hypoglycemia:
(Source: Dr. Eric Berg DC)
According to the S-1 statement, the platform XeriSol is best suited for peptides and small molecules that currently encounter formulation challenges. XeriJect is best suited for drugs and biologics consisting of large molecules, such as proteins, monoclonal antibodies and vaccines.
Below is the current status of the company's pipeline: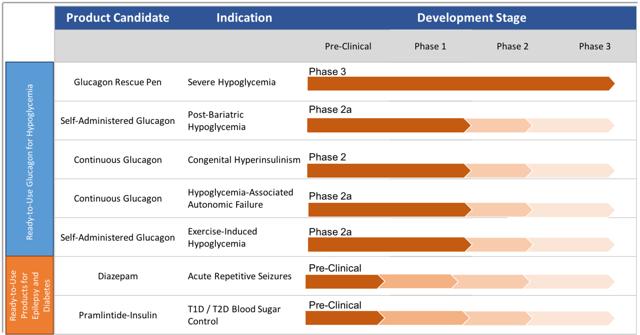 (Source: Xeris Pharmaceuticals)
Based on the attributes of the company's non-aqueous formulation technology platforms, Xeris has developed the Glucagon Rescue Pen. Xeris is sponsoring four active Investigational New Drug, or IND, applications for the pen and ready-to-use glucagon for the treatment of severe hypoglycemia and other conditions listed in the pipeline.
The lead product candidate, the Glucagon Rescue Pen, delivers ready-to-use glucagon via a commercially-available auto-injector for the treatment of severe hypoglycemia. Key features of the pen include:
Ready-to-use
Easy-to-use
No dose calibration required
No visible needle
Auto-retraction
Auto-locks
Two-year room-temperature stability
Three Phase 3 clinical trials have been completed for the Glucagon Rescue Pen. An NDA is expected to be submitted to the FDA in the third quarter of 2018. Based on approval, management of the company believes that Xeris Pharmaceuticals will have the first ready-to-use, room-temperature stable liquid glucagon formulation that can be administered without any preparation or reconstitution.
Market & Competition
According to a 2018 market research report by Markets and Markets, the global injection pen market was valued at $29.5 billion in 2016 and is expected to reach $41.4 billion by 2022 at a CAGR of 6.0%.
The main factor driving market growth is the increasing number of cases of diabetics. In addition, the market is further expected to grow during the forecast period due to the increasing number of approval and subsequent launch of injection pens by players in the market.
North America currently has the largest market share. This dominance is expected to continue over the forecast period. The Asia Pacific market is also projected to experience rapid growth.
Major competitive vendors that offer or are developing injection pens include:
Novo Nordisk (NVO)
Eli Lilly (LLY)
Sanofi (SNY)
Merck (MRK)
Ypsomed (YPSN)
AstraZeneca (AZN)
F.Hoffman-La Roche
Becton Dickinson and Company (BDX)
Owen Mumford
Novartis (NVS)
Pfizer (PFE)
Haselmeier
Management believes that Xeris' platforms offer certain advantages over existing formulations of marketed and development-stage products. The Glucagon Rescue Pen is also expected to be the first of its kind and has the potential to increase demand for emergency glucagon treatments among people with diabetes.
Financial Performance
Xeris's recent financial results include some grant income but otherwise are typical of clinical stage life science firms in that they feature significant R&D and G&A expenses associated with the firm's development of drug candidates and related devices.
Below are the company's financial results for the past two and ¼ years (Audited GAAP for full years):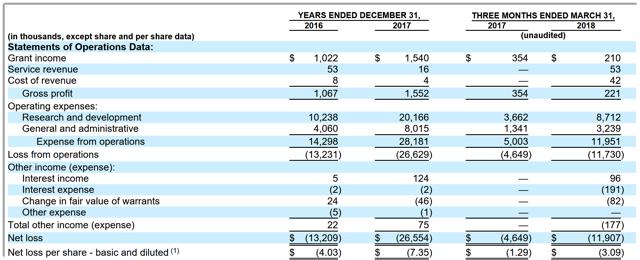 (Source: Xeris S-1/A)
As of March 31, 2018, the company had $58.1 million in cash & equivalents and $28.7 million in total liabilities.
IPO Details
XERS intends to sell five million shares of common stock at a midpoint price of $15.00 per share for gross proceeds of approximately $75.0 million.
Certain existing shareholders have indicated an interest in purchasing shares in the aggregate of $30.0 million. This is typical of successful biopharma IPOs and is a positive investor signal.
Assuming a successful IPO at the midpoint of the proposed price range, the company's post-IPO market capitalization would be approximately $286 million, excluding the effects of underwriter over-allotment options.
Management plans to use the net proceeds as follows:
approximately $40.0 million to support the expected commercial launch of our Glucagon Rescue Pen, including investments in sales and marketing, inventory and our commercial and medical affairs infrastructure;

approximately $40.0 million to advance our other pipeline product candidates, including conducting a Phase 3 clinical trial for PBH, Phase 2 clinical trials for HAAF, CHI and EIH and preclinical and clinical trials for ready-to-use diazepam and Pram-Insulin; and

the remainder for working capital and other general corporate purposes.
Management's presentation of the company roadshow is not available.
Listed bookrunners of the IPO are Jefferies, Leerink Partners, RBC Capital Markets, and Mizuho Securities.
Expected IPO Pricing Date: June 20, 2018.
An enhanced version of this article on my Seeking Alpha Marketplace research service IPO Edge includes:
- Valuation
- Commentary
- Opinion on the IPO
Members of IPO Edge get the latest IPO research, news, market trends and industry analysis. Start with a Free Trial.
Disclosure: I/we have no positions in any stocks mentioned, and no plans to initiate any positions within the next 72 hours.
I wrote this article myself, and it expresses my own opinions. I am not receiving compensation for it (other than from Seeking Alpha). I have no business relationship with any company whose stock is mentioned in this article.