It is very rare that an opportunity presents itself which immediately seems to be a clear signal for buying or selling. In my entire authorship only a few stocks have come close to being clear buys. XLMedia (XLMDF) in its current position seem to be one of those rare cases. The stock dropped 30% to 119 GBX / 1.19 Great British Pounds on the 11th of June (the current day of writing).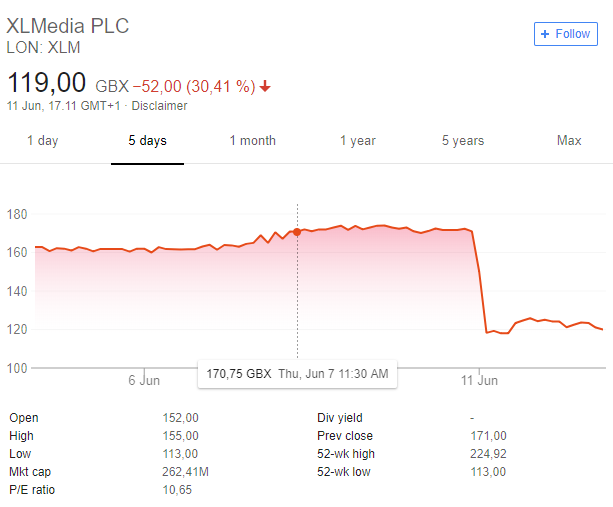 Source: Google.The price action was due to a recent press release. The price action resulted in both the CEO and CFO buying. Empirically CFO and CEO purchases carry the most weight when it comes to insider buying. We look at the trading statement and its underlying causes to ascertain whether the move was justified. If you are not familiar with XLMedia I refer you to my previous article: Guilty By Association While Moving Up The Quality Curve
XLMedia owns 2000 online media assets through which they advertise products. Money earned from product referrals is the primary source of income. The group has many different types of advertising and assets, but they primarily operate in credit cards, sports betting, and general gambling. This article will primarily be focused on recent events relating to the precipitous decline in stock price, but it is noteworthy that the supreme court of the United States recently struck down a sports-betting law. The legal ramifications seem to be a much larger market for XLMedia. In a recent interview with the CEO of peer Catena Media (OTC:CTTMF), PASPA was talked about in the following manner:
Moreover, should the US Supreme Court overturn PASPA, then surely the sky's the limit.
Now for the actual article.
Press Release Mayhem - Investor Bases
The following press release was put out today (06/11/2018):

The most important lines are:
Underlying trading in the year to date has been stable with the Group actively deciding to focus on higher margin business and ceasing certain lower margin media buying activities. The Group has also seen some impact from regulatory changes, namely the closure of the Australian market at the end of 2017 in addition to uncertainty regarding the regulatory status of certain European markets during 2018. These regulatory changes have triggered a re-alignment in how operators and marketers can work which should lead to a clearer and more functional environment. There has also been some reduction in SEO performance in few specific territories.
But specifically the following line is of importance:
As a result of these factors, the Board now expects to report lower revenues than expected of circa US $130 million with marginally lower adjusted EBITDA compared to the prior year, for the current financial year, with a corresponding impact on profit before tax.
Results will largely resemble that of 2017. To quickly reiterate the results for 2017 were 137.5 million in revenues and 47.1 million in adjusted EBITDA. With revenues of $130 (but accounting for margin enhancing business changes) EBITDA of $42.5-45 million seem to be "marginally lower" than current expectations while in line with historical numbers. The stock reacted violently to these news, dropping 30% from 172 pence to 119 pence. Assuming cash conversion is largely in line with historical numbers I expect FCF generation of ~35 million dollars. At a market cap of 350-360 million USD that amounts to a 10% free-cash flow yield. The stock is clearly extremely cheap, but for good reason. Results look to be disappointing after a material capital raise. Not only do the results imply that organic growth was negative on the legacy business, but also that 6-8 months of revenues from $40 millions worth of acquisitions weren't able to make up for it. The stock is priced for decline, because the recent results could be extrapolated into decline.
My View: A Bump in The Road Can Be Disregarded with Solid Assets and No Leverage.
Clearly XLMedia has hit a minor/major earnings bump due to regulatory changes in Australia and a few uncertainties in some European markets.
My view is the following: The growth runway on core assets seem to be not only intact, but enhanced. With the US liberalization and acquisitions performing in line. The growth runway on cyber-security and financial platforms is immense. The European Union hick-ups are not existential. The European Union has no new legislation that encompasses their entire jurisdiction and generally leaves the administration of online gambling to the individual nations. Seeing as ~55% of sales derive from the geography it would make sense if the drop was a result of all-encompassing supra-national legislation, but the reality is that a few "select" geographies have underperformed. That would be a risk if the company was teetering on the edge of profitability with operating leverage or if XLMedia was immensely leveraged. Neither is true. XLMedia is immensely profitable and capitalized as if by a paranoid doomsday-prepper. XLMedia could cover their outstanding debts with a few months' worth of profits. The reality is that XLMedia has over 2000 solid assets to produce income. Some will perform well, some will perform as expected, and some will perform badly either due to competition or regulation. The assets are the same as they were 3 days ago and the legislation isn't exactly new. So what was the actual bump? The best recap I found during my research was by Berenberg, linked here:
1) New consumer protection rights have forced operators to adapt their guidelines on how terms and conditions (T&Cs) are advertised to customers. This has created one-off delays to some affiliate advertising practices.

'2) Interim changes to XLM's payment model (i.e. a switch by some operators to revenue share from cost per acquisition) create lower short-term revenues but greater opportunity in the long run.

'3) XLM has selectively pruned some low-margin media revenue streams in an effort to refocus on higher-margin pushing work. The company is comfortable with a return to growth in 2019
All three issues are largely temporal and in no way existential. I have never written this before, but XLMedia is a clear buy to my eyes at current prices. I am not alone in this belief.
CEO Ory Weihs bought $400,000 worth of shares, adding to his already size-able position of ~6.5 million dollars.
CFO Yehuda Daran bought ~$80,000 worth of shares, doubling his minor stake of $170,000.I expect to sell at approximately 180-200 pence if the price moves within a year or simply letting the stock ride for a long-term expected CAGR of +15% if the stock takes longer to recover.
Disclosure: I/we have no positions in any stocks mentioned, but may initiate a long position in XLMDF over the next 72 hours. I wrote this article myself, and it expresses my own opinions. I am not receiving compensation for it (other than from Seeking Alpha). I have no business relationship with any company whose stock is mentioned in this article.
Additional disclosure: Limit order at 1.25 GBP for market open.