Note: This article was originally published on June 11, 2018, for subscribers of Harry's Retail Report.
As markets continue to inch upwards, many consumer staples have been left behind - or worse - throttled to the downside. There are valid reasons for this besides just rising rates. Slow growth and high leverage within the sector are also causes for concern. Even tariffs have been added to the list as a reason to hate consumer staples right now, as they were blamed for sinking food and beverage stocks a few weeks ago.
As a silver lining, I still think there are some quality food and beverage stocks out there that are now trading at much more favorable valuations after the decline. I have two companies that I think have been "thrown out with the bathwater" so to speak - along with many other companies in the food and beverage industries that are in much worse positions going forward.
The two companies are Hershey (HSY) and PepsiCo (PEP):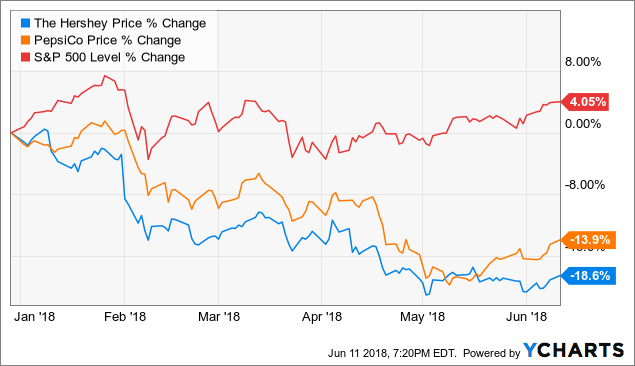 The Hershey Company
Starting with the most battered name first, I think Hershey offers value here, despite a sizable debt-load. Shares actually sold off after the company beat estimates and reported underlying growth of 4.4% on a constant currency basis. 2.4% came from volumes as well. This might not be the quickest growing company out there, but it's also a dominant player in the US with the largest share of the confectionery market. It also gushes cash flow.
There are some concerns here as well, such as rising input costs that are squeezing margins and complexity surrounding its commodity basket after acquiring its way into new markets with new products like Krave Beef Jerky and SkinnyPop. I doubt these brands have the same pricing power that the candy business does, but even if these acquisitions outside of its core business turn out to be "unforced errors" - much like the company's expansion efforts into China appear to be - the shares are priced cheaper than they should be, in my opinion.
Reviewing the firm's fiscal 2017 figures, I've reproduced the below charts and models from one of my previous articles covering the company over at Harry's Retail Report: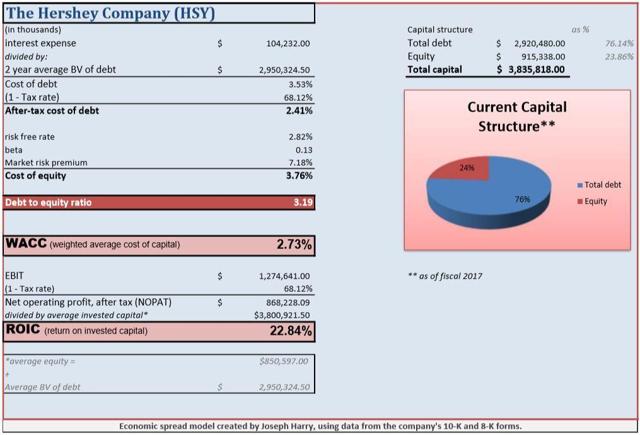 I put the company's ROIC at about 22.84% for 2017 versus a WACC much lower than that - even assuming a cost of equity as high as 20%.
I think this company has one of the widest moats out there, despite a management team that seems to be "asleep at the wheel" judging by its ugly international expansion efforts and recent acquisitions of brands that could end up being mistakes (but perhaps I'm too pessimistic on the Amplify acquisition, as the jury is still out).
So far, acquisitions haven't necessarily taken a toll on efficiency, at least judging by the firm's improved asset turnover over the past three years (although it did dip slightly year-over-year):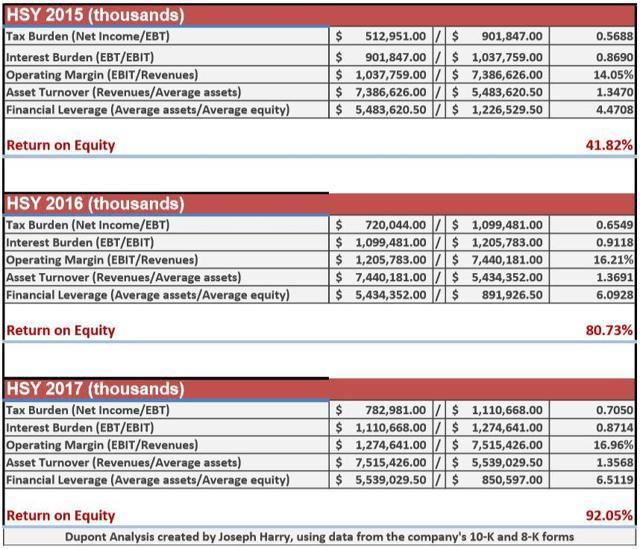 The company booked a one-time charge related to tax-reform of $32,467 (in thousands), so its tax burden was high in the 2017 section of the above Dupont, but it will continue to benefit from lower taxes going forward.
Margin expansion also continues to occur, and as previously noted, the firm's high usage of leverage dramatically magnifies ROE (but the dominant domestic market share and high cash flow make me less concerned about its debt load than I would be for more cyclical firms).
Taking a look at headline earnings-per-share and adjusted, non-GAAP earnings-per-share, we can evaluate the firm's valuations:

Shares are now trading under 20 times adjusted earnings, and only slightly above 17 times this year's expected earnings. Even if we throw out the numbers management thinks better reflect "economic reality" - shares might look pricey at 25 times earnings - but still trade below the firm's thirteen-year median multiple of 26.54 times earnings.
Wrapping things up, I'm also starting to doubt the current management team at the moment. Despite this, I believe that Hershey's is such a great business that I also think it would be nearly impossible for a management team to put a dent in its wide economic profits long term. Valuations are also very attractive here at less than 20 times adjusted earnings in my opinion.
PepsiCo
Pepsi is a blend of both food and beverage company, and like Hershey, is firmly in correction territory year-to-date. Also like Hershey, it earns wide economic profits and dominates its respective markets: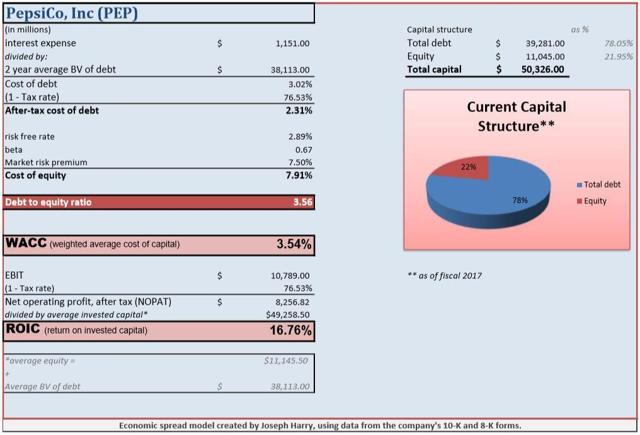 Depending on the equity cost we select from the above WACC chart, Pepsi's ROIC likely triples its weighted-average cost of capital in most scenarios.
The below Dupont analysis (using management's non-GAAP numbers from the 8-K forms that exclude charges and more recently, one-time items related to tax reform) shows another effect of Pepsi's significant financial leverage.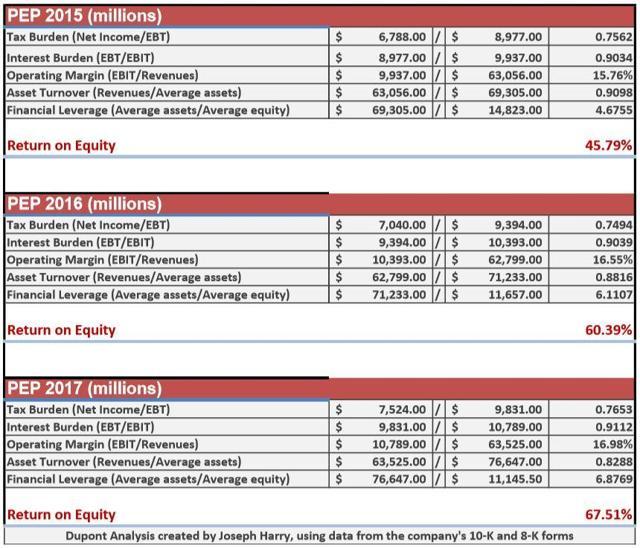 The firm has been increasing leverage (and therefore magnifying overall ROE) over the past three years, but it's also expanded adjusted margins along the way. The company's asset turnover continues to decrease, however, and unlike Hershey, its tax burden is already relatively low.
Despite being best known for its namesake beverage, I think its food business is actually more attractive, at least judging by its higher margins:

Like HSY shares, PEP shares also trade below 20 times earnings at the moment (roughly 19.73 times 2017's EPS) and only at around 18 times 2018's expected earnings. That's around the thirteen-year median multiple, but well below the five-year average of almost 24 times earnings. I think fears regarding things like rising rates and tariff implications have sucked a lot of the steam out of the firm's previously inflated multiple, leaving shares trading at a good value here with a higher-than-normal dividend yield.
Conclusion
Hershey will likely feel more of a tailwind from tax reform due to its mostly domestic footprint, but I think both firms will continue to earn above-average returns that are well in excess of their cost of capitals.
This is because of dominant market share and iconic brand portfolios that competitors can't really match in either heritage or size-and-scale. Both firms are trading at attractive valuations, especially for investors looking for dependable dividend income.
Hershey's doesn't have the dividend increase track record of Pepsi (since it didn't raise its dividend during the financial crisis), but both offer above-average yields at the moment when compared to history (especially when stripping out the outlier 08'-09' years):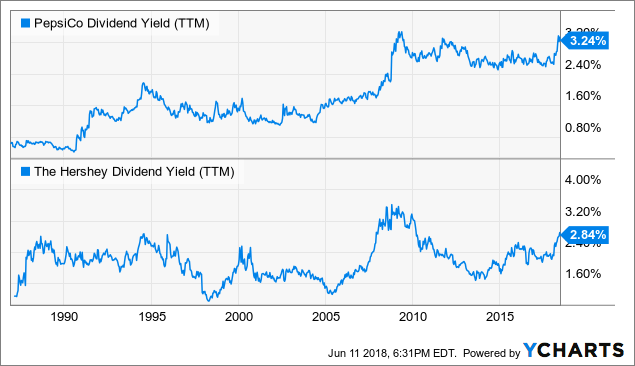 This is especially true for shares of Pepsi, which don't appear to cough up a yield this high very often. Sure, rising rates are a concern (as are rising input costs), but I think both companies have pricing power to offset the rising costs on their end (by passing it off to consumers over the long run). The Fed might not be that aggressive with rate hikes going forward according to some, either, but that's more speculative than anything. I think now is the time to consider both firms while the market seems to be shunning them, as they're both elite businesses trading at attractive valuation levels.
If you enjoyed this article and would like to receive further updates and articles in the future, please feel free to hit the "Follow" button at the top of the page next to my name. For even more exclusive content, please consider a free two-week trial to my marketplace service, Harry's Retail Report.
Disclosure: I am/we are long HSY. I wrote this article myself, and it expresses my own opinions. I am not receiving compensation for it (other than from Seeking Alpha). I have no business relationship with any company whose stock is mentioned in this article.
Additional disclosure: Articles I write for Seeking Alpha represent my own personal opinion and should not be taken as professional investment advice. I am not a registered financial adviser. Due diligence and/or consultation with your investment adviser should be undertaken before making any financial decisions, as these decisions are an individual's personal responsibility.