It seems like the market is overreacting once again. Bloomberg reported (paywalled) three weeks ago that Frontier Communication's (FTR) asset auction failed to generate an acceptable price and that it is now in talks with bondholders to restructure its debt. Surprisingly, this development triggered a downward spiral in the rural telecom stalwart's shares -- down by about 25% since the report was published. But this downtrend isn't necessarily justified. Rather, it's actually good news for Frontier shareholders that their company didn't indulge in a distress sale. Let's take a closer look to have a better understanding of it all.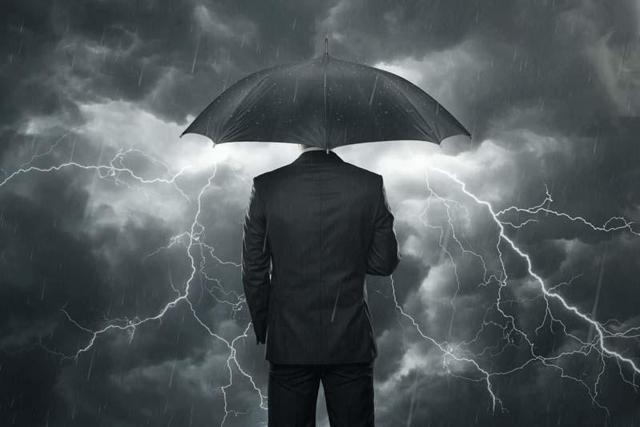 (Source: Bigstockphoto, Image license purchased by author)
Reason for trying to sell
Let me start by acknowledging the fact that Frontier does indeed have a mountain of debt which amounted to over $17.7 billion at the end of the last quarter. This is no chump change and is, in fact, enough to acquire several high-growth mid and small-cap companies from various industries.
Not to mention, every dollar of debt comes at a cost. In Frontier's case, it actually paid out $1.51 billion as interest expenses over the past twelve months, at an average 8.1% interest rate. The problem here is that Frontier isn't generating nearly enough cash to furnish its debt maturities comfortably.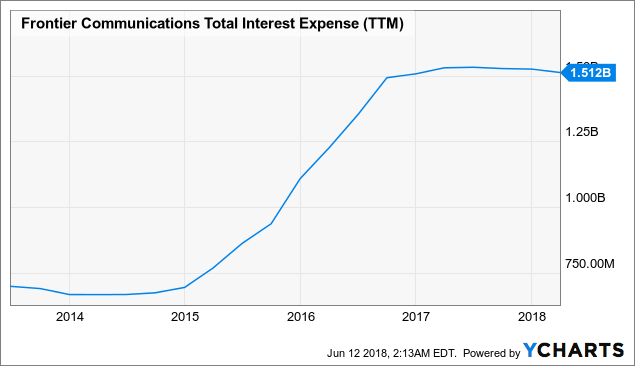 To put things in perspective, its gargantuan debt figure is actually over 27-times its trailing twelve-month free cash flow. This gives us an idea about the company's bleak financial position. Conventional wisdom would suggest that rising interest rates would wreak havoc on the company's net income.
But that's not necessarily the case here. Most of Frontier's debt has fixed interest rates. The rural telecom specialist even spelled this out in its last 10Q filing. So rising interest rates stand to negatively impact Frontier, but the impact wouldn't exactly be devastating for the telecom firm.
As of March 31, 2018, 81 % of our total debt had fixed interest rates. We had no interest rate swap agreements in effect at March 31, 2018. We believe that our currently outstanding obligation exposure to interest rate changes is minimal. Our objectives in managing our interest rate risk are to limit the impact of interest rate changes on earnings and cash flows and to lower our overall borrowing costs. To achieve these objectives, only $3456 million of our outstanding borrowings at March 31, 2018 have floating interest rates.
So why did Frontier hold an auction for its assets in the first place? While the company may seem capable of organically covering its debt, at least for the time being, the magnitude of its liabilities is so huge that Frontier may take over a decade to pare down its debt.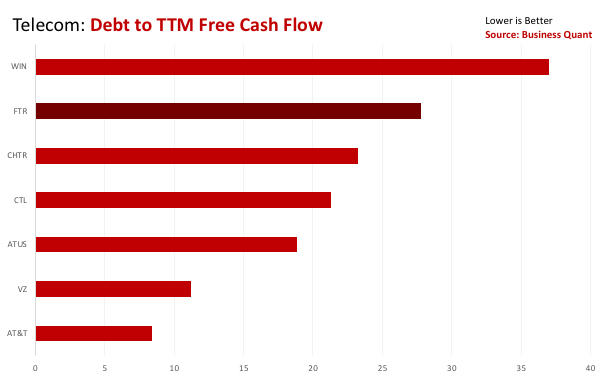 (Data from Ycharts, Compiled by Business Quant)
A lot can go wrong over the course of a decade. Even a small disruption in industry dynamics -- whether it's due to a change of consumer habits, competitors undercutting on pricing or cost of fiber deployments coming down dramatically going forward which render Frontier's copper network nearly obsolete -- could have a profound impact on Frontier's cash flow generation and it may severely impact its debt coverage.
So, Frontier's board/management was probably just being proactive when it held its auctions for Florida properties. Paring down debt would drastically improve Frontier's balance sheet, at least in the short-term. But the sale in itself doesn't make much long-term operational sense for the telecom stalwart.
Doesn't Make Much Sense
Generally speaking, if a company has a non-core business division that is distressed and its management is unable to turn things around, then it makes sense for the parent company to divest the vertical. After all, why continue holding on to distressed assets when there aren't any signs of improvement? But we can't say the same for Frontier's CTF properties, which consists of its Florida assets, at least not anymore.
There is no doubt that Frontier has lost subscribers at a rapid rate over the past several quarters. But fact of the matter is that its churn rate, especially in CTF operations, has come down considerably over time. I've attached a chart below for your reference. Granted that the CTF churn rate isn't exactly industry-leading by any means, but we can't disregard the fact that Frontier is making progress in the region. So, attempting to sell its Florida properties, at a time when CTF is rebounding, seems premature in my opinion.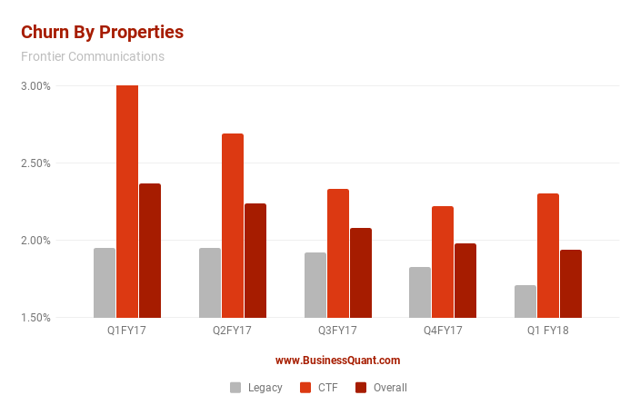 (Source)
Secondly, "professional" analysts aren't projecting an imminent bankruptcy risk for the telecom company. Even though Moody's is cautious about the company, it's open to upgrading Frontier's rating should its operating performance improve down the line. If Frontier was beyond saving, then Moody's would have given it a junk rating instead of B2. Moody's noted:
Moody's will consider a stable outlook if Frontier's operating metrics improve and EBITDA stabilizes. Moody's believes that management is taking action to reverse the company's negative trajectory, but the timeframe for tangible results is beyond the horizon to maintain the B1 corporate family rating.
So, I suppose that divesting assets at a time when it isn't absolutely necessary, isn't the best course of action. Unless the management believes that their operating performance is going to deteriorate even further down the line.
Besides, what would Frontier be left with if it divested assets unnecessarily? It's a telecom company after all. Sure, a sale and leaseback arrangement would temporarily free up some cash but the leaseback-part comes at a cost that's similar to interest on debt. I suppose bootstrapping its way out of its financial predicament is a far better option than divesting assets that are starting to show signs of a turnaround.
Silver Lining
I view this development as positive to neutral news. Frontier at least remains invested in CTF properties this way and continued recovery in the region is bound to positively impact its overall financials.
Also, the Bloomberg report noted that Frontier received multiple bids for its landline assets in Florida. This at least suggests that other telecom operators, or whoever was bidding for the assets, do not consider its assets to be in a state of terminal decline anymore.
These bidders view Frontier's Florida landline segment to be relatively stable, or at worst, mildly deteriorating but at the verge of turning around. Otherwise why would anyone bid for assets that are known to have extremely high churn rates in the past?
The telecom stalwart is starting to show signs of a turnaround and it'll be better off if it bootstrapped its operations rather than divesting its assets to unlock funds. Hence, I'm of the opinion that it's in the best interest of long-term growth investors that Frontier didn't sell its assets in distress. I believe the recent drop in its shares only presents a buying opportunity for long-term growth investors.
Author's Note: I'll be writing two more reports on Frontier over the next month. Make sure to click that "Follow" button at the top of this page to get a notification as soon as the reports go live. Thanks!
Disclosure: I/we have no positions in any stocks mentioned, and no plans to initiate any positions within the next 72 hours.
I wrote this article myself, and it expresses my own opinions. I am not receiving compensation for it (other than from Seeking Alpha). I have no business relationship with any company whose stock is mentioned in this article.