Warren Buffett ought to be happy right now, as should you if you're a shareholder of USG Corp. (NYSE:USG). After all, on June 11th of this year, the management team of the company announced that it agreed to be bought out by German rival Gebr. Knauf KG (just Knauf for simplicity's sake) in a transaction valued at nearly $7 billion. This transaction has brought an end to the disappointing performance Berkshire Hathaway (NYSE:BRK.A) (NYSE:BRK.B) has had to contend with from the firm, and it serves as a nice payday for shareholders of the enterprise. In all, this is a win for USG's investors, and it's one more bullish notch in Berkshire's long history of success.
Warren wasn't pleased
On March 15th of this year, Knauf made an offer to acquire the 89.47% of USG that it did not already own in a transaction valued at $42 per share, all in the form of cash. On March 26th, without having even sat down with Knauf, USG's board of directors issued a unanimous 'no' to the proposal, believing that the transaction, in light of recent "progress", was not in the best interests of the company's shareholders.
In the eyes of Buffett, this was a mistake. In an interview on May 4th, Buffett revealed that the reason behind the April 12th announcement that Berkshire would be voting against all four USG board nominees was because he believed, given the offer, that USG should have sat down with Knauf to discuss a transaction (just three days earlier, on May 1st, USG agreed to do just that). This is an unusual move for Buffett because he generally wants to retain as much ownership over his investments as possible and for as long as possible, even stating in the past that their ideal holding period is "forever".
USG, however, is a notable exception to the rule. Roughly 18 years ago, Buffett began acquiring an interest in USG, seeing its business, particularly centered today around gypsum-based wallboard and other types of surfaces. As you can see in the image below, 56% of the company's sales come from these operations, plus some of these operations are included in the 12% of sales that have been allocated toward its business in Canada. As a provider of goods and services to the residential and nonresidential construction space, the firm was understandably devastated during the last crisis and, in order to remain afloat, received an additional investment from Berkshire of $300 million.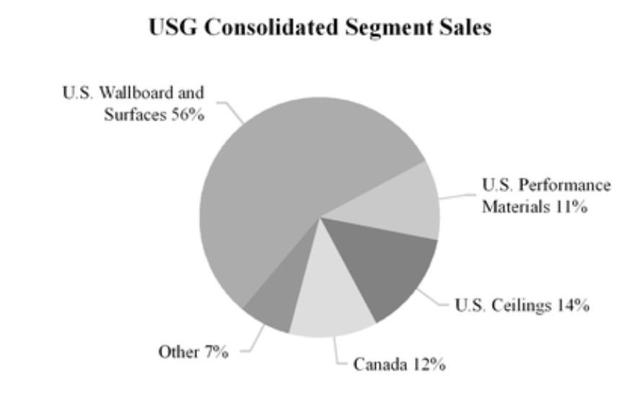 *Taken from USG
With Berkshire's smaller allocations (situations where the company owns around 10% or less of a business' stock), it's possible to sell off the shares if the value proposition changes, but in this case, Berkshire's ownership grew to 30.8%, or roughly 43.39 million shares if you include all of its subsidiaries. Divesting of such a sizable portion of stock, even if spread over a long period of time, would likely have had a material impact on the company's market value, leaving Buffett stuck with the units. I say stuck because earlier this year Buffett referred to his investment in USG as "disappointing".
A great deal has finally been reached
In light of the criticism from Buffett, the USG board finally agreed to sell off the business to Knauf in a transaction valued at $44 per share. This will take the form of $43.50 per share in cash at the time of closing, plus a special dividend of $0.50 per share. In all, this represents a premium over USG's March 23rd $33.51 closing price of 31.3%, valuing the equity in the venture at $6.14 billion. Including net debt, this figure rises to about $6.90 billion.
For Buffett and shareholders of Berkshire, I can only call this a win. The conglomerate's stake in the firm, at this buyout price, is valued at $1.91 billion, representing a gain of $455 million compared to where shares were trading for immediately prior to news of Knauf's intentions. Not only is it a nice ending to a nearly two-decade headache, but it should also be a great outcome for all other shareholders because, honestly, the price paid by Knauf is rich, to say the least.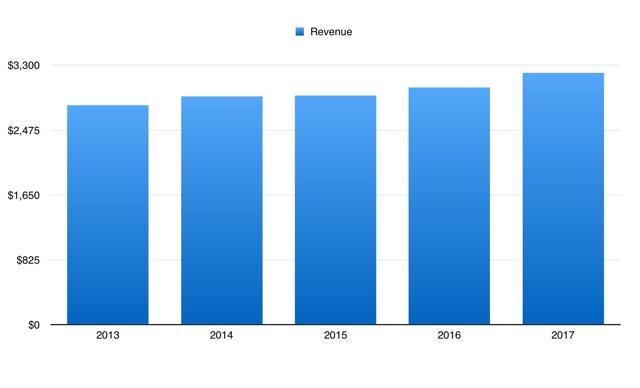 *Created by Author
If you look at the graph above, you would notice that sales generated by USG over the past five years have done quite well. As the construction industry recovered from the crisis, demand, in particular, for gypsum popped. This helped to drive revenue up 14.8% from $2.79 billion in 2013 to $3.20 billion last year. This is a great development, but what hasn't worked out so well is the bottom line. In the graph below, you can see both the net income and operating income associated with the business.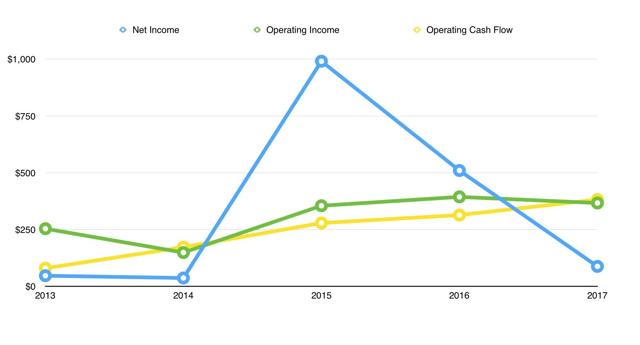 *Created by Author
Due to one-time charges, extinguishment of debt, and tax benefit fluctuations, net income has been a heck of a roller-coaster. Because of this, I would make the case that operating income is a more appropriate measure of the company's profit potential, but even over the past three years, the firm's results have remained more or less flat as margins contracted. Probably, the only strong indicator in recent years has been the business's cash flows from operating activities. Between 2013 and 2017, this figure has soared from $80 million to $382 million, each year better than the last.
This is great, but with an equity value of $6.14 billion at the buyout price, this represents a price/operating cash flow multiple of 16.1. That's certainly not expensive, but it's in the fair value to pricey range. By management's own figures, adjusted EBITDA today stands at $606 million, while EBITDA is $485 million. This values the firm, on an EV (Enterprise Value) to adjusted EBITDA basis of 11.4 (management stated 11.6 in their press release, so their current figures might be different than what is publicly-known), and on an EV to EBITDA basis of 14.2. To put this in perspective, the average EV / EBITDA multiple for building materials companies is 12.8, meaning that Knauf is paying a premium of 10.9% over what it would pay for the average player in this space.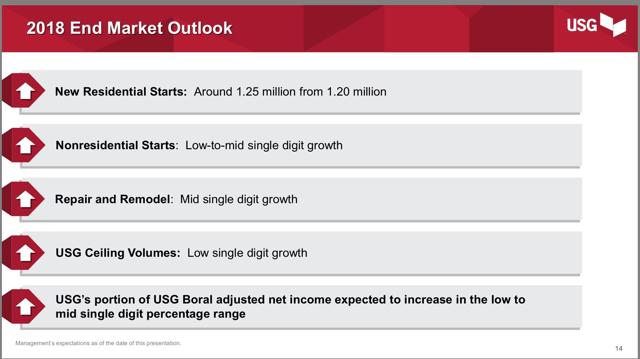 *Taken from USG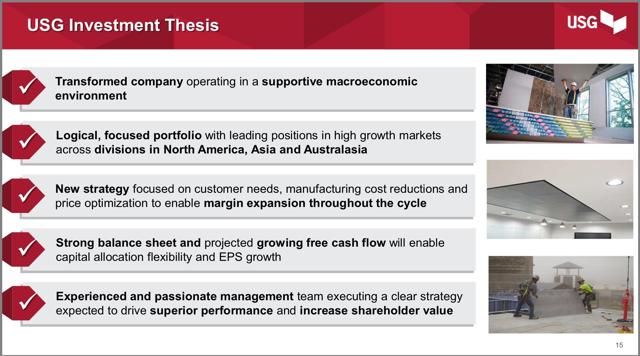 *Taken from USG
One critique that investors might have regarding my thinking is management's belief that the future will be materially better than the past has been. After all, as you can see in the images above, management expects 2018 to end up better than 2017 did, with growth across the board in the low to mid single digits. Not only that, but the subsequent image above illustrates management's thinking that better times are here. However, as we've already seen on the sales front, while operating cash flow has fared well, and while revenue has too, this has not translated into actual profits for shareholders. Even this year, the results have been lackluster.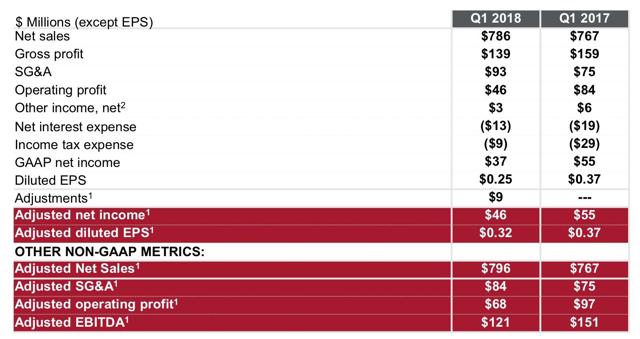 *Taken from USG
In the image above, for instance, you can see a summary of the first quarter of 2018 compared to the same time last year. Sure, sales increased, driven by a 9% rise in sales price for the business' wallboard, but volume fell 12% in response while input costs grew. By almost every measure besides sales, 2018 has so far been worse than 2017 was. And yet, even during this time, management is forecasting margin expansion between now and 2020 that's expected to grow the EBITDA run rate by $100 million. Management's statement, from April 26th of this year, can be seen in the image below.

*Taken from USG
Takeaway
Given the circumstances surrounding USG, I believe that Buffett was right to push the company's board to consider a sale, and I believe that the board was right to agree to the terms that they did. In my opinion, the price paid for shares of the business by Knauf is rich, and shareholders should be happy with the transaction. Sure, it's possible this could result in missed upside as management aims to improve its cost structure, but with the mixed performance generated by the business in recent years, I wouldn't want to play this "show-me" game for the next two-and-a-half years while a perfectly acceptable offer was staring me right in the face.
Disclosure: I/we have no positions in any stocks mentioned, and no plans to initiate any positions within the next 72 hours. I wrote this article myself, and it expresses my own opinions. I am not receiving compensation for it (other than from Seeking Alpha). I have no business relationship with any company whose stock is mentioned in this article.