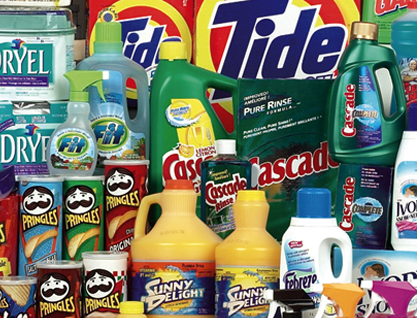 We've all heard the typical arguments for consumer staples stocks, "people don't stop brushing their teeth because they're afraid to lose their job," or "can't go without toilet paper," or "everyone eats." While these arguments are true, they might be a bit simplistic. Sure, we need toothpaste, toilet paper, and food, but that doesn't mean the companies that produce these goods are immune from competition, rising production and shipping costs, or stock market volatility.
The sector has taken a beating lately, down nearly 10% over the last 12 months, a period during which the S&P 500 rose over 14%, excluding dividends. Although the broader market had been outpacing consumer staples for some time, the sector's performance diverged materially starting in late January following the release of the January jobs report. The report, which showed strong job growth and a pick-up in wages, sent interest rates higher in anticipation of accelerated increases from the Federal Reserve. Volatility in stocks jumped, and a wet blanket was thrown on the record-setting start to the year. From that point to now, consumer staples have tumbled about 14% while the S&P has partially recovered.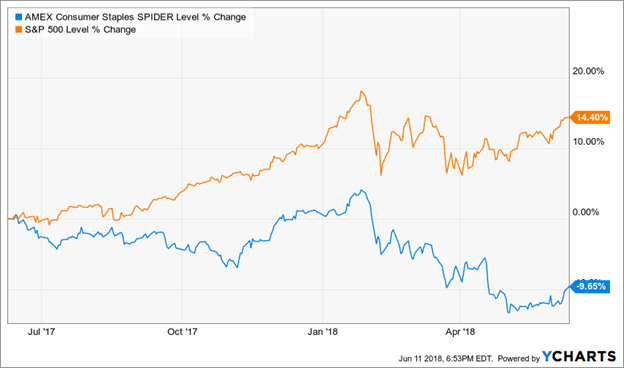 Competition and Amazon Spark Concerns
Several reasons have been suggested in the financial press regarding this decline in value including rising interest rates, margin compression due to competition, and rising input and trucking costs. Competition among the top companies is certainly a consideration, but most of the larger players in the space have been managing pricing, revenue growth, and margins, despite constant competition, for decades. Some analysts, including here on Seeking Alpha, have even suggested that Amazon (AMZN) has taken market share and put pressure on prices. While there is merit to the first set of causes, Amazon is generally not a direct threat to these companies. Amazon offers customers availability, attractive pricing, and convenience. What Amazon doesn't do is manufacture beverages, cleaning supplies, hygiene products, and other consumable household items.
For the most part, the large household name companies in the sector are in solid financial condition with steady returns on capital and free cash flow, allowing them to continue paying and growing dividends. While some appear stretched on valuation, including Costco (COST), Coca-Cola (KO), and Pepsi (PEP), others such as Kraft Heinz (KHC), Mondelez (MDLZ), and Molson Coors (TAP) seem to be bargains looking at forward P/E and relative price to book.
The tables below summarize metrics we track on a sample of consumer staples stocks. For our process, we focus on metrics that are characteristic to dividend sustainability and growth, profitability, balance sheet strength, and management effectiveness in generating returns on invested capital. Our full screening, scoring, and selection process include many more metrics and companies that we follow beyond what is shown below.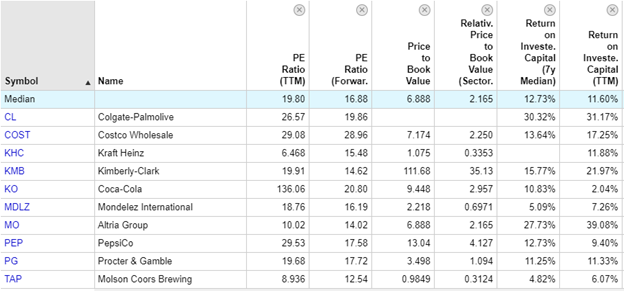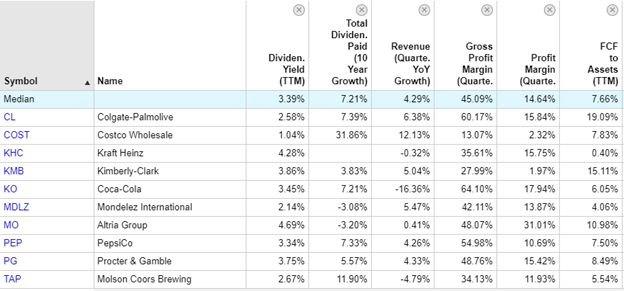 Short-Term Pain, Long-Term Gain?
Despite being the worst performing sector in the S&P year-to-date, many of these companies are important components to the overall economy and should be owned by investors at a market weight of about 7% of US equities. Although the recent weakness is hard to stomach, it has also created opportunities to reposition portfolios, generate tax alpha through tax-loss harvesting, and build exposure that will benefit from a recovery in the sector.
Consumer staples have historically outperformed the broader equity markets during downturns as investors seek safety in the stocks of companies least impacted by higher unemployment, lower wages, and greater economic uncertainty. While economic fundamentals continue to look strong, with unemployment now at 3.8%, positive wage growth, and household debt under control, a downturn seems unlikely in the immediate future. That being said, given the pain in the sector, now is a good time to take losses and reposition for either a rebound in the space or to put on defensive positions at attractive prices in anticipation of a broader future downturn. The chart below highlights the extreme example of the peak to trough of 2007 through 2009 in which consumer staples outperformed the broader market by more than 25%.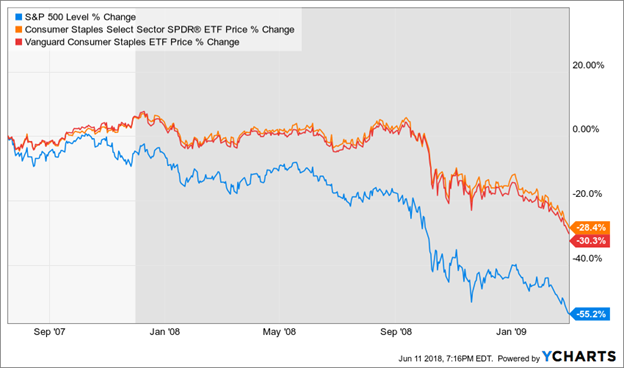 Dump the Losers
The sell-off presents an opportunity to generate tax alpha for investors with unrealized losses, while at the same time offering an attractive entry point for replacement names. This strategy is particularly advantageous for high income individuals with steep short-term losses that can reduce ordinary income. For those with long-term unrealized losses, this presents investors with the opportunity to rebalance portfolio holdings on a tax-neutral basis. Selling positions to match gains and losses avoids generating a tax liability on winning positions and provides liquidity for cash flow needs or to reinvest in alignment with target allocations. Conversely, the downturn in the sector presents long-term investors with the opportunity to take advantage of the current environment by adding to positions at depressed prices.
There is no shortage of companies that have felt the pain over the last 12 months. The following table shows the ten largest decliners within the consumer staples sector with market caps above $20 billion. With many of the names below widely held, combined with double digit declines within the last 12 months, many investors will be able to benefit from realizing losses and/or adding to current holdings at depressed prices.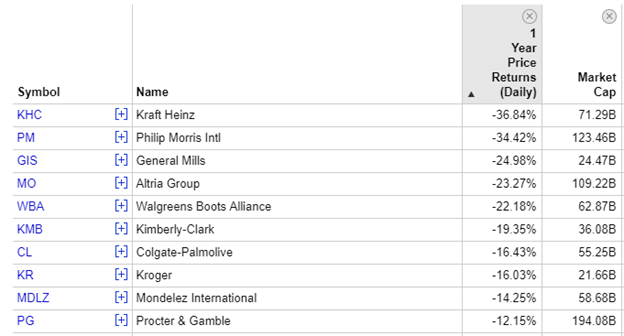 Tax alpha can be captured by dumping the losers and reinvesting the proceeds in one of two ways. The first is to reinvest the proceeds in like names, or at least ones with similar fundamentals. Obvious pairings include KO and PEP, Altria Group (MO) and Philip Morris (PM), KHC and MDLZ or Nestle SA (OTCPK:NSRGY), to name a few.
The second strategy is to reinvest the sale proceeds in a more broadly diversified consumer staples ETF. Two attractive options are the Vanguard Consumer Staples Index Fund ETF (VDC) and the Consumer Staples Select Sector SPDR Fund (XLP). A third, globally diversified option is the iShares Global Consumer Staples ETF (KXI). The iShares Global fund is invested approximately 50% in the United States and 50% across foreign developed countries. Going the ETF route allows investors to maintain their portfolio exposure to the sector, at a low cost, while benefiting from broader diversification.
Final Thoughts
The consumer staples sector is critical to sustaining the ease and convenience of our day-to-day lives. These are the companies that supply grocery stores with the products we use every day to maintain our health, cleanliness, and abundant caloric intake. Most people in this country take these companies, the products, and their availability for granted. But there are many people that do not have this luxury. Because I feel like there are things more important than saving a few bucks on taxes or making an opportunistic trade to take advantage of short-term conditions, I will donate 100% of the proceeds from this article to the Houston Food Bank. Because of the magnitude of the homeless and hunger problem in the city of Houston, the Food Bank has been able to scale its operations to the point where a $1 donation can provide up to 3 meals. I ask that you please like, comment, and share this article in an effort to raise the greatest amount possible. Thank you for your support and please feel free to ask any questions in the comments section.
Disclaimer
Please remember that past performance may not be indicative of future results. Different types of investments involve varying degrees of risk, and there can be no assurance that the future performance of any specific investment, investment strategy, or product (including the investments and/or investment strategies recommended or undertaken by Mosaic Advisors ("Mosaic"), including the author, or any non-investment related content, made reference to directly or indirectly in this commentary will be profitable, equal any corresponding indicated historical performance level(s), be suitable for your portfolio or individual situation or prove successful. Due to various factors, including changing market conditions and/or applicable laws, the content may no longer be reflective of current opinions or positions. Moreover, you should not assume that any discussion or information contained in this commentary serves as the receipt of, or as a substitute for, personalized investment advice from Mosaic or the author. Mosaic is neither a law firm nor a certified public accounting firm and no portion of the commentary content should be construed as legal or accounting advice. A copy of the Mosaic's current written disclosure Brochure discussing our advisory services and fees continues to remain available upon request.
Disclosure: I am/we are long PM, PG, KO, WBA, MO, KMB, PEP. I wrote this article myself, and it expresses my own opinions. I am not receiving compensation for it (other than from Seeking Alpha). I have no business relationship with any company whose stock is mentioned in this article.
Editor's Note: This article discusses one or more securities that do not trade on a major U.S. exchange. Please be aware of the risks associated with these stocks.