InterDigital (IDCC), an intellectual property company with patents in the field of wireless technology (3G, 4G, 5G, IoT) is currently available at a significant discount to its intrinsic value based on a valuation of its free cash flow generating power.
Around 68% of the current market price is supported by the existing research and patent assets and net-cash already in place.
The current market price offers all the potential growth for free.
InterDigital Investment Thesis
The investment thesis goes like this:
If the company decides to cease business immediately and just monetize its existing patent portfolio and investments in research and development, then the existing research and patent portfolio will be valued at approximately $1.96 billion. This provides a strong valuation foundation of 68% of the current market value of $2.9 billion.
If the company continues as usual without growth, then the free cash flow of $218 million annually, at a discount rate of 9% is valued at $3.2 billion. The current market price is at a 10% discount to the no-growth scenario.
If there is even a mild growth of 2%, the company is valued at $3.9 billion. Given the nature of the patents in high-growth fields, such as 4G, 5G, IoT, and consumer electronics, InterDigital is significantly undervalued (26%) under a growth scenario.
The last 2 years of cash flows have been closer to $350 million. If that is sustained with a small growth of 2%, then the undervaluation is much higher at nearly 50%.
One can decide which of the following 3 scenarios are likely:
wind-up with existing patent portfolio
no-growth and steady state cash flow, and
mild to high growth.
InterDigital Business Model
InterDigital is a technology company focused on developing patentable intellectual property in the arena of wireless communications. It employs nearly 190 engineers with majority of them having advanced degrees including significant number of doctorates.
The engineers develop the new technologies and patents are filed for these by the patent team. The key business model of the company is to own an important number of key patents, i.e. SEPs (Standard Essential Patents) which are designed into and accepted by the standards bodies. When the market starts producing actual equipment based on these standards, the patent team's job is to pursue the key users of these patents and enforce the patent rights and monetize them. This requires extensive litigation.
One of the largest expenses in the P&L is the "patent administration and licensing" with more than $100 million every year.
The second largest expense in the P&L is the "development" which is about $70 million every year. The largest component of this is the salary costs of the engineering team.
One can infer that while creating intellectual property through technological development is an important activity, patent administration and licensing is probably an even more important activity for the company's business model.
To summarize, InterDigital develops intellectual property through the efforts of its research and development team and these are patented during the early phase of the development of a technology. So far, the focus of InterDigital has been on wireless communication technologies.
When the technologies are commercialized-typically, years later - these technologies are licensed to third parties for a fixed fee or an additional per unit fees. Persuading third parties to pay licensing fees could involve significant litigation and legal costs.
Currently, InterDigital owns around 19,000 patents.
Recently, it has entered into a binding agreement with Technicolor to acquire 21,000 patents in the field of video.
A Strong Moat In Wireless Technologies (4G/5G) And IoT
InterDigital has been at the epicenter of the wireless technology ecosystem for decades, from its origins in 1972. Its engineers have contributed significantly to innovations in 2G, 3G, 4G, and IEEE 802.
Wireless communication or mobile technology has various SSOs (Standard Setting Organizations) which work on developing standards for a new technology. InterDigital through its contributions to these technologies manages to obtain important positions in the SSOs. This helps it to get its innovations incorporated as part of the standards being set. Most of these inventions are patented. This enables these innovations to become what is called standard-essential patents (SEPs).
The standards set by these SSOs have to be followed by all equipment manufacturers. Any manufacturer who produces these products is automatically using the patented inventions. The patent holder can then prove that the patent is being used and the manufacturer is required to enter into a licensing agreement with the patent holder. Further, these are not just single patents but patent clusters or families which are declared essential.
According to a recent study on patents, InterDigital is one of the top holders of SEPs along with Qualcomm (NASDAQ:QCOM), Nokia (NYSE:NOK), and Samsung (OTC:SSNLF).
This level of entrenchment in a fast-growing and essential communication technology creates a wide, durable, competitive advantage. Further, InterDigital has been entrenched from 2G and 3G days and many patents of future technologies build upon the earlier patents. InterDigital has SEPs in 4G, 5G, and IoT (Internet of Things), too. This keeps its patents relevant many years into the future.
Can InterDigital Monetize Its Patents?
Knowing that majority of the patents are never commercialized, one would be sceptical about the value of patents.
Typically, the SSOs require the participating members to commit to fair, reasonable and non-discriminatory (FRAND) licensing terms for their patents. This is beneficial for the licensees since they can license the SEPs on FRAND basis. But is also beneficial for the patent holders of the SEPs, such as IDCC, who have a ready market for their patents since all companies producing in compliance with the standards are potential licensees.
IDCC is able to monetize its patents in this manner. Further, most SEPs build on earlier patents in the related fields and IDCC being in the wireless and mobile technology for so long has a lot of prior art in the field. This helps it create patent families which are able to demonstrably prove its contributions in certain specific areas of the new technologies.
The expertise to not only develop new technologies, file accurate and defendable patents for it and then enforce its patent rights and monetize is something which cannot be taken lightly.
There are some who disparagingly label it "patent troll" who goes after weak adversaries, but the truth is that IDCC has been able to enforce its patent rights with the mightiest of them all, including Apple (NASDAQ:AAPL) and Samsung. Which means these are genuine, defensible patents.
The fact that InterDigital has earned revenues of more than $4 billion from its patent licensing proves that its research and patents are highly monetizable.
The Value of InterDigital's Patent Portfolio
The company's principal source of revenues is patent licensing and royalty fees. Let us look at the company's revenues over the last 10 years. It has earned a cumulative $4.3 billion over this period. This is proof enough that InterDigital's patent portfolio amounts to a significant value in the market.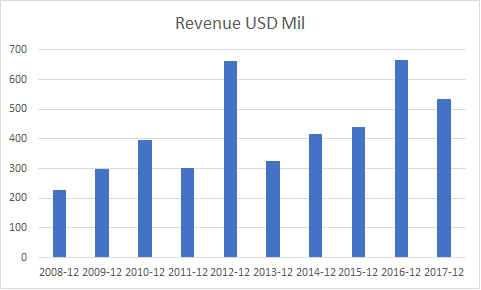 Source: OmniScience Capital, Morningstar
To get to a valuation of InterDigital's patent portfolio, we need to understand what InterDigital had to invest to earn these revenues.
Research and developments costs over the last 10 years are shown below.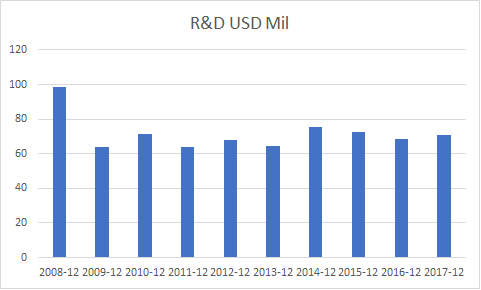 Source: OmniScience Capital, Morningstar
A cumulative total of $718 million was spent on research and development over the last 10 years.
Further, the patent filings and attorney fees are capitalized and shown as capital expenditure in the cash flow statement.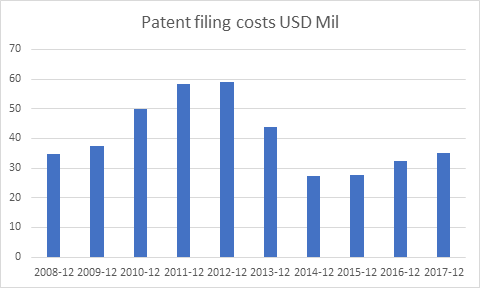 Source: OmniScience Capital, Morningstar
The cumulative capex on patent costs is $406 million.
The total expenditure in developing the technologies and obtaining the patents over the full period is the sum of the research and development costs of $718 million and patent filing costs of $406 million, i.e. $1.1 billion.
This $1.1 billion in research and patents resulted in $4.3 billion of revenues. We can infer that every dollar spent on developing a patented technology results in four dollars in terms of revenues.
To be more true to reality, the expectation is that the R&D investments would result in impact in revenues with a lag. We assume a 5-year lag in impact. With that assumption, the total spend on R&D and patent filings in the first 5 years are is $605 million. The revenue for the latter 5 years is $2.4 billion. This, too, is about 3.9 times.
For future, we can assume that $1 spent on R&D and patents typically results in $4 worth of revenue with a time-lag of 5 years.
Net Asset Value Of InterDigital
With that assumption, we can value the current R&D and patent investments. However, the R&D investments are not shown on the balance sheet but are shown on the income statement.
The total spends on R&D and patents in the last 5 years (from 2013 to 2017) is $518 million. This should result in revenues over the next 5 years in the range of $400 million per annum or $2 billion total.
Next, we need to address what shareholder value has been created with this $2 billion revenue?
If the company doesn't plan to grow further, the free cash flow would be about 64% of the revenues. This assumes that the company doesn't spend any further on new R&D, consequently, nor on patent filings. This result is $1 billion present value of the R&D and patent-related investments (or spending) which is already done by InterDigital.
If we add the $1.1 billion in cash residing in the company, that gives a total value of $2.1 billion.
Recently, InterDigital has purchased a portfolio of more than 21,000 global patent assets from Technicolor which will more than double its existing patent assets of around 19,000 patents. The patents will allow InterDigital to branch out into the field of consumer electronics, specifically, video technologies.
The agreement involves InterDigital paying $150 million to Technicolor and 42.5% of the future cash receipts from licensing the consumer electronics related patents bought from Technicolor. Technicolor has valued the present value of 42.5% of the future cash receipts, on "prudent assumptions", at $215 million. That means that the total present value of the future cash receipts is $506 million, prudently estimated. The 57.5% of present value which accrues to InterDigital can be prudently estimated at approximately $300 million.
The total asset value including this transaction will be $2.1 billion - $150 million + $300 million = $2.25 billion. The long-term debt is $289 million. Adjusting for the long-term debt, the total asset value currently can be estimated at $1.96 billion.
The current market value is $2.86 billion. The $900 million premium is for the company's potential to earn more beyond 5 years on the existing patents and R&D and earn above the "prudent estimates" for the Technicolor patent portfolio, for the capability of the company to create further wealth by investing the existing cash on the books and future discretionary cash flows.
Value Of InterDigital Based On The Free Cash Flow Without Growth
The average annual free cash flow over the last 10 years has been about $161 million. Using a 9% discount rate would value this free cash flow at $1.79 billion. Adding the $1.1 billion cash on the balance sheet and subtracting the $289 million long-term debt would value the company at $2.6 billion. This indicates that the current market value of the company is at a 10% premium.
However, we have seen earlier that the company's revenues have been growing over the last 10 years. We can look at the growth in free cash flows over the last 10 years as well.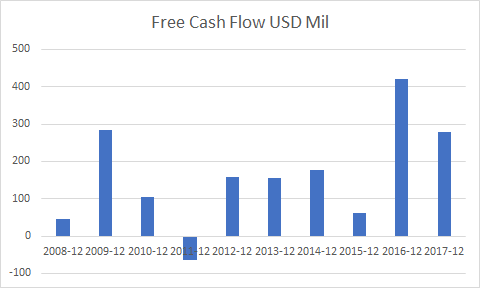 Source: OmniScience Capital, Morningstar
Although relatively volatile, the growth in free cash flows over the last 10 years is also visible. While the last 10 years averaged $161 million, the last 5 years averaged about $218 million. This results in a value for the company, including the $1.1 billion cash and reducing the $289 million debt at $3.2 billion.
The last 2 years cash flow has been about $350 million. This, including the cash on books, adjusted for debt, gives a total firm value of $4.7 billion.
Valuation Of InterDigital With Modest Growth
If we add even a modest element of growth to the models, it would result in a much larger value for the firm, $5.8 billion for a $350 million free cash flow with a 2% growth. The actual growth rate in free cash flow over the last decade (assuming the average of the first 3 years and the average of the last 3 years to normalize the fluctuating cash flows) has been more than 8%.
It is likely that given the high growth rates of 5G and IoT and futuristic consumer electronics of AR/VR, Drones, mobile and wearables, the growth rates in the free cash flow of InterDigital are quite high.
An Intriguing Undervalued Exposure to 5G and IoT
InterDigital is available at $2.9 billion where the existing patents and research investments provide a hard value of $1.96 billion, while the free cash flow-based valuations range from $2.6 billion to $5 billion. The growth-based assumptions take the value even higher to nearly $5.8 billion.
From an extremely skeptical perspective valuing the company on the average free cash flow generating prowess of last 10 years, the stock is valued about right or a slight premium of 10%. But a perspective giving even slight weightage to more recent cash flow generating prowess over the last 5 or 2 years would result in an inference of severe undervaluation.
To be able to get exposure to such high growth fields as 5G and IoT at a valuation which does not require even paying for recent free cash flow generating power, and definitely nothing for growth, is an unlikely opportunity.
While there are always some uncertainties in any undervalued opportunity, the time to act is when it is cheap precisely because of the uncertainty. However, the realistic long-term downside is limited due to the strong patent portfolio of SEPs. It is unlikely to remain available at such market valuations for long without being spotted by savvy investors.
This could be worth considering as part of a diversified portfolio of 20-25 stocks composed of asymmetric situations.
Disclaimer: This is not a buy or sell recommendation. Readers should do their own research and analysis or consult a registered investment adviser from their jurisdiction before taking positions in any stocks or sectors mentioned above. Equity markets can cause complete loss of capital.
Disclosure: I/we have no positions in any stocks mentioned, and no plans to initiate any positions within the next 72 hours.
I wrote this article myself, and it expresses my own opinions. I am not receiving compensation for it (other than from Seeking Alpha). I have no business relationship with any company whose stock is mentioned in this article.
Additional disclosure: We are likely to go long the stock in client portfolios at some point in the future, since it's part of our Scientific Alpha baskets. This is subject to fundamentals and valuations not changing substantially unfavorably from the current situation.