Over here in Europe, we generally have two brands of ATM's used by financial institutions: the Diebold ATM's and the Wincor Nixdorf ATM's. When both companies announced Diebold would be acquiring Wincor and become Diebold Nixdorf (DBD), I initially was pretty enthusiast (the best comparison would be a Mastercard-Visa merger where two strong parts of a duopoly/oligopoly combine forces).
Unfortunately my initial enthusiasm appeared unwarranted, and I'm glad I didn't initiate a long position as Diebold Nixdorf's share price has fallen by almost 50% in just 12 months. An opportunity? Or a death spiral?
Q1 was weak, very weak
In the first three months of the current financial year, Diebold saw its revenue decrease by almost 4% to$1.06B. Whereas the revenue from services and software increased by almost 4%, the revenue from the systems division fell by in excess of 15%. Fortunately the systems division is also very scalable, and Diebold's operating expenses fell by a relatively similar percentage.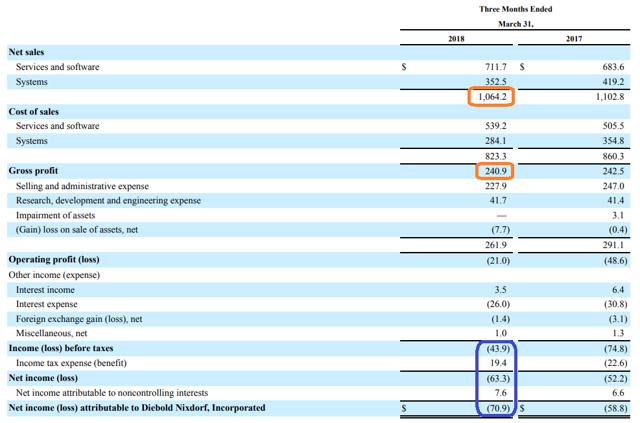 Source: SEC filings
Although the cost of sales associated with the services and software increased by 7%, the gross profit fell by just 0.5%, which isn't too bad at all. Diebold also made an additional effort to cut the SG&A expenses (-$19M) and that's how it was able to reduce its operating loss from $49 to $21M. But indeed, a loss still is a loss, and what's perhaps even worse , is that an operating loss isn't even including taxes and interest expenses yet.
And as Diebold has quite a bit of debt on its balance sheet, the $26M in interest expenses are pretty painful, as this resulted in a pre-tax loss of $44M, and a net loss of $71M. That's substantially worse than the attributable net loss of $59M in FY 2017, as Diebold was hit with a tax bill rather than a tax credit (like last year).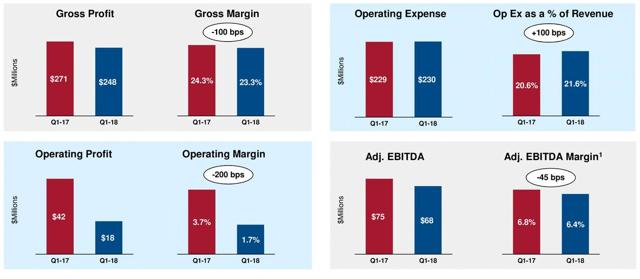 Source: company presentation
The only hope was to see a substantial disconnection between the net income and cash flows. That's always possible, as sometimes the existing depreciation schemes are resulting in a much higher annual depreciation charge than what's needed to keep a business afloat. Unfortunately this doesn't seem to be the case as Diebold reported a negative operating cash flow of $142M. Even after adjusting this result for changes in the working capital position, the adjusted operating cash flow of a -$10M (or +$8M if you take the deferred income taxes into account), so not only is Diebold unable to cover its own capex bill ($20M), it also effectively has to borrow (or to be more precise: sell investments) to pay its quarterly dividend.
And this isn't due to seasonal effects: a comparison with last year
One remaining explanation could have been seasonality, a phenomenon that's clearly visible in the annual results of soft drinks and beer producer. Although I didn't really think banks ordering ATM's would be season-dependent, I decided to check it anyway by comparing the quarterly results of last year with the full-year performance.
Considering the Q1 revenue was approximately 24% of the full-year revenue, it indeed doesn't look like there are any seasonal effects that have an impact on the financials. In fact, the adjusted operating cash flow was even positive in Q1 2017 and looking at the full-year results, the adjusted operating cash flow in FY 2017 was a very respectable $104M.
So although there doesn't appear to be any seasonality when you compare the revenues, it is interesting to see how the first quarter contributed less than 8% of the full-year operating cash flow. This doesn't mean the issue of the weak cash flows and net loss will solve itself.
The new CEO of the combined entity realizes that something has to be done, and is pointing at the SG&A expenses as the main culprit of the weak performance. From the Q1 conference call:
Correspondingly, the cost structure needed to support this model still reflects attributes of the legacy companies. Each dimension of the matrix has its own support resources, sales, finance, marketing and IT, which drives higher SG&A costs. These groups compete with each other for scarce resources including management attention.
Whilst streamlining the corporate structure won't solve everything, but it will be a welcome addition to Diebold rolling out its new business model. Diebold Nixdorf will split its assets and revenues in a banking segment and a retail segment, and will start more detailed reporting on both segments from this quarter on. This should give investors a better idea of how fast the retail division is growing, and by how much the banking division is really slowing down.
For FY 2018, Diebold is guiding for a GAAP EPS loss of $0.50-0.80 per share. However, this includes $0.40 attributable to restructuring expenses and an additional $2.05/share in acquisition expenses and purchase price accounting adjustments: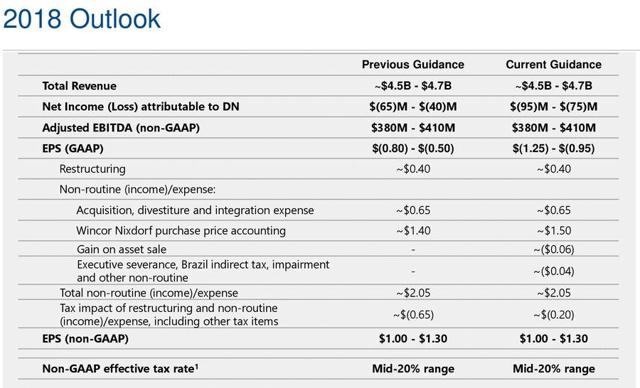 Source: company presentation
Investment thesis
With the share price currently trading at $12.60, giving Diebold a market capitalization of $930M, I would be inclined to give Diebold the benefit of the doubt as the risk/reward ratio seems to be acceptable at the current market capitalization. The new CEO seems to be leaving a good impression, and as Diebold has always said it would only fully benefit from the anticipated $240M in annual cost savings from 2020 on, I think it's too soon to judge. I will keep an eye on how Diebold is evolving, and expect/hope to see a substantial improvement from 2019 on as more cost savings initiatives will gain traction.
But one thing is for sure: Diebold needs to do something about its gross debt and net debt. Diebold has $450M in cash and investments, but also almost $1.8B in gross debt (and a pension liability to the tune of $260M). The net debt had a price tag of $97M last year (thanks to a $20M net interest income), so by solving its debt problem, Diebold will automatically solve its cash flow problem as well.
Consider joining European Small-Cap Ideas to gain exclusive access to actionable research on appealing Europe-focused investment opportunities, and to the real-time chat function to discuss ideas with similar-minded investors!

Disclosure: I/we have no positions in any stocks mentioned, and no plans to initiate any positions within the next 72 hours.
I wrote this article myself, and it expresses my own opinions. I am not receiving compensation for it (other than from Seeking Alpha). I have no business relationship with any company whose stock is mentioned in this article.