Shares of independent E&P company Apache Corp. (APA) were up ~6% yesterday as the result of a bullish upgrade from Argus. The analyst there, Bill Selesky, thinks Apache has 35% upgrade and he has a price target of $56. Selesky cites rising oil prices and the company's decision to allocate nearly 70% of 2018 capital to the Permian Basin as the investment catalyst. And he may be right. Certainly, a bullish case can be made for Apache. But I for one have my doubts.
In September of 2016, Apache announced its world-class "Alpine High" discovery and it received much fanfare in the press. At the time, Apache estimated there was 75 Tcf of rich gas and 3 billion barrels of oil in the Barnett and Woodford formations alone. Apache said it also saw significant oil potential in the Bone Springs and Wolfcamp formations as well. Those are big numbers. And the estimates have gotten bigger as time has rolled on.
That said, it appears as though the Alpine High field is primarily a wet-gas play, and overwhelmingly so: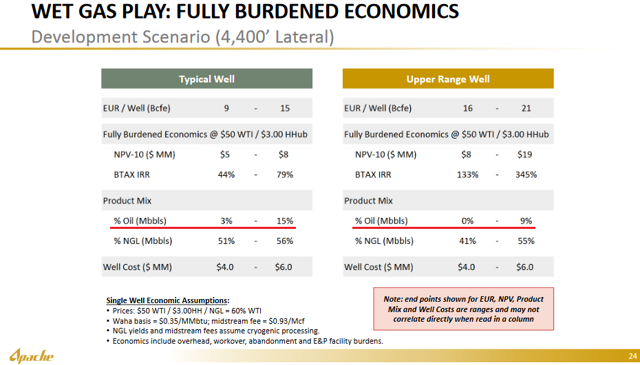 Source: June Presentation
Specifically, note the very low oil split of 15% (or less...) of a typical well's production. And while NGLs contribute ~50% of the production, that still leaves 35% (or more) of the split to dry gas. That's one thing we don't need a whole lot more of - especially in the Permian Basin where dry gas prices already are below NYMEX.
As a result of these wet-gas wells, much of Apache's capital spend this year will go toward pipelines and midstream processing assets needed to handle all the anticipated wet-gas production. This includes 70 miles of a massive 30-inch pipeline through the heart of the Alpine field: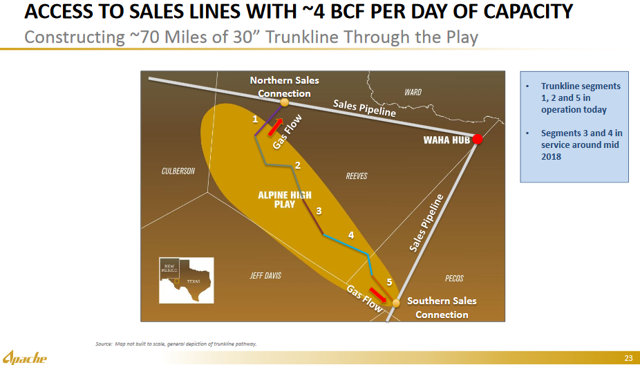 Source: June Presentation
Now over half of that mainline has already been completed, including connections to two pipelines, giving Apache direct sales access to the Waha Hub. Also, Apache has to process its wet-gas and split it up into its dry and liquid components:
Through Q1, the company says it has already invested $815 million in midstream infrastructure - which includes the building and planning of five processing facilities. It is evaluating additional funding options - including a midstream unit.
Meantime, note the strip for Waha Gas is not bullish by any means: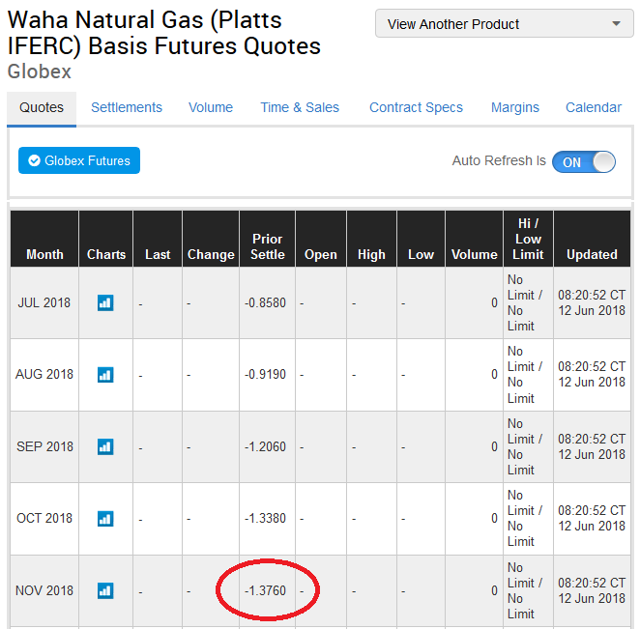 Source: CME Futures
That is, the contract actually goes even more negative as time goes on and the current April 2019 futures contract is -1.60.
What about all those NGLs? A blog on RBN Energy today (see Magical Mystery Tour - Soaring NGL Supplies May Soon Overwhelm Mont Belvieu Fractionation Capacity) points out that NGLs "don't do anyone much good until they are fractionated into "purity products" like ethane, propane, normal butane..." and that the existing fractionation plants in Mont Belvieu are running flat-out to keep up with already burgeoning production.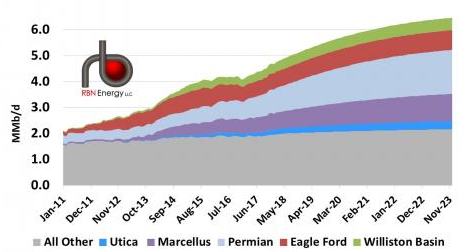 Note that domestic NGLs production has roughly doubled over the past seven years and is likely to grow by another 2 million bpd over the next five years. So the question is, who is going to fractionate these additional 2 million bbls, much of it coming from the Permian Basin? And even if there was adequate capacity to fractionate all this new production (a big "if"), what would that do to the realized prices of propane, butane, and ethane?
These questions appear to be central to the investment thesis in Apache's Alpine field. After all, if prices for the end product decline, one can only assume that would be reflected back and lower the price of NGLs for the producer. Meantime, it would appear that several companies with large-scale chemical operations were ahead of Apache in terms of NGLs. These include CPChem (a 50/50 JV between Phillips 66 (PSX) and Chevron (CVX)) and Exxon Mobil (XOM). CPChem and Exxon already have dramatically increased their fractionation capacity and associated chemicals operations on the Gulf Coast. And note that PSX, through its MLP Phillips 66 Partners (PSXP) and partial ownership in DCP Midstream (DCP), has a working interest in the massive Sand Hills NGLs pipeline from the Permian to Mont Belvieu. The Sand Hills pipeline already is in operation and on the Q1 conference call PSXP said:
The Sand Hills Pipeline capacity was close to 400,000 barrels per day at the end of the first quarter. Further expansion of the line to over 450,000 barrels per day is anticipated to be completed in the second half of 2018.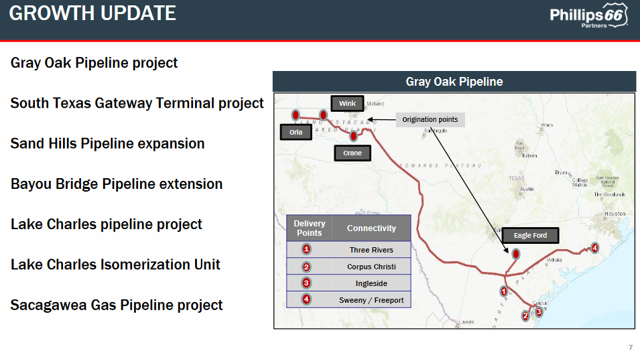 Source: PSXP Q1 Presentation
PSXP owns one-third of Sand Hills, with DCP Midstream and Enbridge (ENB) also owning one-third of the joint venture.
Also, Phillips 66 has been exporting propane from its Freeport terminal for some time now. These companies have likely already locked up long-term supply contracts. In the case of Phillips 66, it is probably getting much of its feedstock from its mother company ConocoPhillips (COP), which is pumping the heck out of the Eagle Ford shale these days.
Summary and Conclusion
Apache certainly has a world-class asset in the Alpine Field and it is taking a methodical and logical approach in terms of exploiting the resource. However, the truth is Alpine is a wet-gas field and the short- and mid-term future realized price outlook for dry-gas and NGLs coming out of the Permian basin is questionable at best. In addition, while Apache came upon the issue of wet-gas processing out of necessity (i.e. the Alpine discovery), it would appear that several large-scale chemical companies foresaw the explosion in NGLs production and have the jump on Apache while also already taking advantage of integrating higher supplies of NGLs into their chemicals operations.
Apache is a good company. But for investors wanting an independent E&P firm, they might consider its larger peer ConocoPhillips instead. ConocoPhillips is much more levered to higher Brent pricing than WTI, and its Permian production is minimal. Not to mention the CEO recently said the company was intentionally ramping up slowly in the Permian. High acreage prices, price inflation for services, low gas prices, and large discounts to WTI as a result of inadequate pipeline capacity are all reasons that likely influenced COP's decision to put a lower priority on the Permian. Meantime, COP is certainly allocating capital to the Eagle Ford - which is geographically much closer to Mont Belvieu and Gulf Cost chemical plants. In addition, EF condensate was recently fetching a $5/bbl premium to WTI (instead of the discount many Permian producers are seeing in Midland). In addition to the Eagle Ford, ConocoPhillips has excellent oil production that fetches Brent crude pricing, some significant new discoveries in Alaska, as well as LNG operations in Australia that are realizing nice prices even in the current "off-season."
I'll leave with a chart comparing the stock prices of Apache and ConocoPhillips over the past five years. Note that COP has been significantly outperforming APA even since the Alpine discovery was announced in 2016.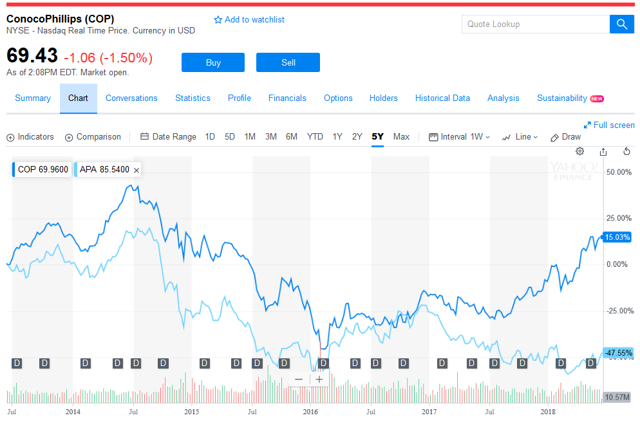 Disclosure: I am/we are long CVX COP PSX XOM. I wrote this article myself, and it expresses my own opinions. I am not receiving compensation for it (other than from Seeking Alpha). I have no business relationship with any company whose stock is mentioned in this article.
Additional disclosure: I am an engineer, not a CFA. The information and data presented in this article were obtained from company documents and/or sources believed to be reliable, but have not been independently verified. Therefore, the author cannot guarantee their accuracy. Please do your own research and contact a qualified investment advisor. I am not responsible for investment decisions you make.