Many investors dream of the day they will retire and live off their dividend payment only. There are plenty of great BDCs and REITs offering you 7-8% yield and promising you a comfy retirement. When you run your calculations with those numbers, you may forget to include inflation. Many high yielding stocks (7%+) also forget about it and leave you dry when it comes to dividend increases. You won't feel it for a few years, but it could lead to disastrous results if you let them go for a while. Here are some inflation calculations for your reading pleasure.
I am currently building a retirement-friendly portfolio. I'm searching the dividend world to find companies meeting three crucial factors:
#1 A yield high enough to be considered a source of income (over 4%+).
#2 A dividend payment growing faster than the inflation (annualized dividend growth rate over 2%).
#3 Growth vectors to make sure my paychecks will continue to grow.
I also conducted further research to find great companies at a great price. On top of a robust dividend, it wouldn't hurt to get some share price appreciation, right? Here are three stock I found that should be on your buy list if they are not part of your retirement portfolio already.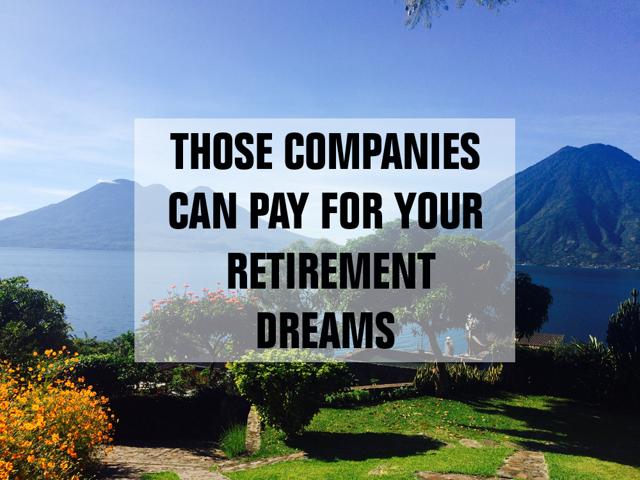 Duke Energy (DUK): 4.94% yield, 2.67% 5-year dividend CAGR
Duke Energy is the 7th largest electric power company in the United States. An investment in a utility stock is usually made on the classic thought of buying a sustainable source of income. As most of DUK projects are working under state regulations, it is easier to predict future income stream.
The company shows a strong business model and a focus on stable revenue sources. You can expect your dividend growth to be like clockwork. Best of all, your yearly paycheck increase will beat inflation year after year. DUK is a perfect match for any retirement or conservative portfolio.

Source: DUK investors presentation
Management currently expects an EPS growth of 4 to 6% over the next 4 years leaving even more room for future dividend raises. This utility expects to invest an additional $36-37B ($25B in grid modernization and $11B in clean energy) through 2026. I like that DUK offers a strong focus on renewable energy. This will improve DUK productivity and energy volume for the next decade.
National Health Investors (NHI): 5.20% yield, 6.35% 5-year dividend CAGR
NHI is a high-quality healthcare REIT that owns a diversified property portfolio in more than 30 U.S. states. Its cash flows are safe and regular as its tenants are engaged in providing healthcare services and senior living assistance to a large and growing older generation in the U.S.
I've used modest dividend growth numbers with the dividend discount model and I still get strong upside for this REIT. While this REIT shows a 6.35% CAGR over the past 5 years, I've used a 5% rate for the first 10 year and reduced it to 4% afterward. Even then, NHI is attractively valued.
Input Descriptions for 15-Cell Matrix

INPUTS

Enter Recent Annual Dividend Payment:

$4.00

Enter Expected Dividend Growth Rate Years 1-10:

5.00%

Enter Expected Terminal Dividend Growth Rate:

4.00%

Enter Discount Rate:

9.00%

Discount Rate (Horizontal)

Margin of Safety

8.00%

9.00%

10.00%

20% Premium

$135.41

$108.00

$89.75

10% Premium

$124.12

$99.00

$82.27

Intrinsic Value

$112.84

$90.00

$74.79

10% Discount

$101.55

$81.00

$67.31

20% Discount

$90.27

$72.00

$59.83
Please read the Dividend Discount Model limitations to fully understand my calculations.
There was an overall rut around the healthcare REIT sector fueled by some tenants' financial difficulties and general concerns about the future of the healthcare structure in the U.S. When evolving in such uncertainties, you may want to pick one of the best managed REITs of the group. Over the past 6 years, NHI shows dominant FFO growth compared to its peers.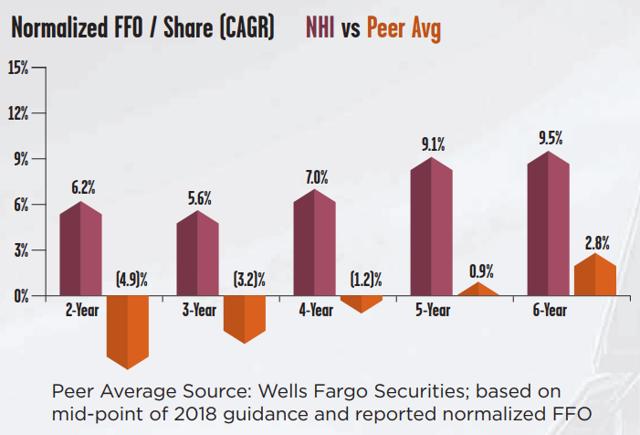 Source: NHI investors presentation
The REIT achieved such good FFO growth standings through a well-diversified business model. NHI shows a great balance between senior housing need-driven (33%), senior housing discretionary (35%) and medical properties (31%) with 32 different operating partners. As the population ages, NHI will continue to enjoy strong demographic tailwinds for years to come.
Enbridge (ENB): 6.25% yield, 16.33% 5-year dividend CAGR
My final pick is the most attractive in term of both yield and dividend growth. However, it is also the most volatile. Enbridge owns and operates an impressive network of liquid (oil) and natural gas pipelines. ENB is able to transport energy from coast to coast, from north to south. While this Canadian company shows 22 years with consecutive dividend increases, there are some concerns about its future. On top of the Line 3 replacement saga, the company recently announced it will simplify its structure buy integrating its partners into one corporate structure. This created lots of uncertainties around the stock, but I think it is a unique opportunity to buy a strong dividend grower for years to come.
The company intends to fuel its future growth through $22B worth of projects to be completed by 2022: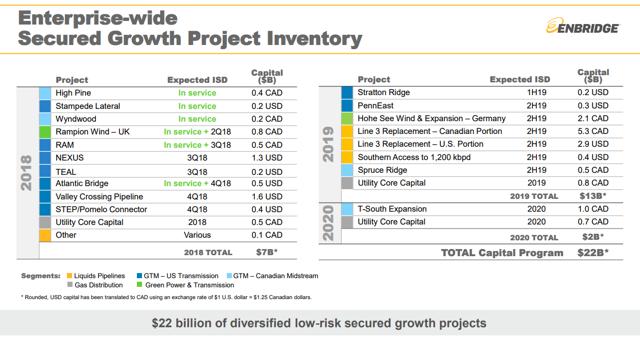 Source: ENB investors presentation
To finance its growth, management has announced the sale of CAD$10B of non-core assets where $3B worth of assets were sold during the latest quarter. Management is confident it will succeed with its Line 3 replacement project and maintain its 10% dividend CAGR through 2020.
Final Thoughts
I think one key point while building a retirement portfolio is not to concentrate most of your holdings in a single sector. I know many REITs and Utilities seem attractive, but you don't want to get cut in a major down cycle in a specific sector. I'll continue my search to find other companies in various sectors to build the strongest retirement-friendly portfolio possible. What's your favorite pick?
Seriously, if you made it this far, it's because you liked what you read. Don't be a stranger; leave a comment and tell me what you think! I'm asking you one more thing: Click on the "follow" button (it's orange, you can't miss it!) and you will get notified each time I write a great piece like this one.
Disclaimer: The opinions and the strategies of the author are not intended to ever be a recommendation to buy or sell a security. The strategy the author uses has worked for him and it is for you to decide if it could benefit your financial future. Please remember to do your own research and know your risk tolerance.
Many investors focus on dividend yield or dividend history. I respectfully think they're making a mistake. While both metrics are important, aiming at companies that have and show the ability to continue raising their dividend by high single-digit to double-digit numbers will make your portfolio outperform others. When a company pushes its dividend so fast, it's because it is also growing their revenues and earnings. Isn't this the fundamental point of investing - finding strong companies that will grow in the future? If you are looking for a great combination of dividend and growth, check out my picks at Dividend Growth Rocks.
Disclosure: I am/we are long OMI. I wrote this article myself, and it expresses my own opinions. I am not receiving compensation for it (other than from Seeking Alpha). I have no business relationship with any company whose stock is mentioned in this article.
Additional disclosure: I do hold OMI in my DividendStocksRock portfolios.