Yesterday, I commenced a series titled "Panning For Gold" in which I explained that "the increased demand of capital flowing into the REIT sector has prompted a growing mandate for REIT research". I added that part of my job, as a REIT analyst, is "to become intimately familiar with the niche-based sectors like prisons, timber, casinos, infrastructure, and cyber-security".
Many of these lesser-known property sub-sectors are appealing, and investors can enhance portfolio returns by screening for these uncovered gems. And for that reason, I decided to launch a series called "Panning For Gold", in which I will explore the specialty categories in an effort to deliver precisely what this website wants: Alpha!
Yesterday, I wrote on the specialty Lodging REIT, Ryman Hospitality (RHP), in which I concluded that shares aren't cheap (anymore), forcing me to cool the jets and hit the HOLD/TRIM button. I explained,
"I would wait on a pullback. As my subscribers know, we initiated a Hold, and this means there's not much glitter with my first "panning for gold" article, but I'll certainly keep digging..."
I'm now panning for gold in a different property sector, and this time it appears that the prospects are promising. Instead of Lodging though, I'm now digging deep inside the Infrastructure arena, but the lines are also a bit blurred, as it seems I am also encroaching on the commercial mortgage and net lease sectors.
As you know, the best deals are found in the less obvious places, and while mainstream investors are screening for stocks that everyone can own, I am busy mining for gems that are often overlooked and/or easily misunderstood. Get your shovel ready and let's start digging…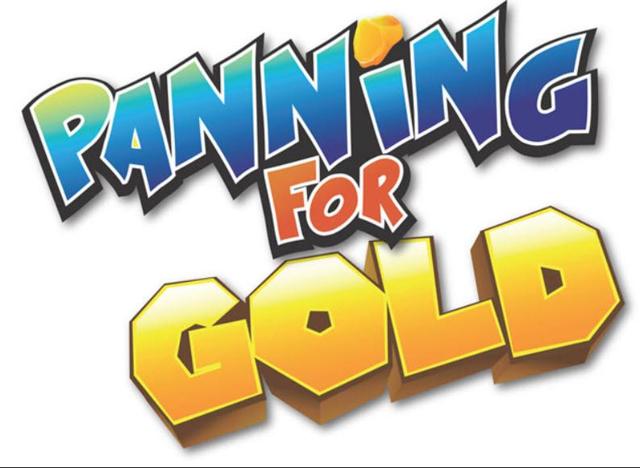 'Strong Buy' When Others Are Despondently Selling
As you know, in a recent article, I described Hannon Armstrong (HASI) as a Strong Buy and part of my bullish sentiment for this REIT is based on the company's conservative balance sheet policy. I explained that "HASI's management team opted to focus on the long-term balance sheet by fixing debt levels and creating a higher quality dividend (less interest rate risk)". However, the market was less enthusiastic as HASI's shares have continued to slide.

Several bearish writers have weighed in on HASI recently, one author said, "One of the only ways that they [HASI] can possibly grow from here is through stockholder dilution", and another analyst said, "at the current price, considering the extraordinary complexity and low interest coverage, we have dialed back to a slight negative".
While these two writers are negative on the name, I remain bullish and I am maintaining my Strong Buy recommendation. In fact, the pullback appears to provide an even better buying opportunity.
As I said, one of the challenges with HASI is to understand the value proposition of the business model. The company listed shares in April 2013 (over 5 years ago), just in time for the IRS to issue a notice of proposed rule-making (May 2013) clarifying the definition of real property for REITs (REG - 150760 -13), in which it provided clarity as to what constitutes real property for REIT purposes.
The ruling states that land and improvements to land qualify as real property, and it specifies that improvements to land comprise inherently permanent structures and their structural components as follows:
"Other inherently permanent structures include the following permanently affixed distinct assets: microwave transmission, cell, broadcast, and electrical transmission towers; telephone poles; parking facilities; bridges; tunnels; roadbeds; railroad tracks; transmission lines; pipelines; fences; in-ground swimming pools; offshore drilling platforms; storage structures such as silos and oil and gas storage tanks; stationary wharves and docks; and outdoor advertising displays for which an election has been properly made under section 1033[G](3)."
What makes HASI unique is the fact that the company aggregates assets in multiple categories, all pertaining to clean energy real estate projects. For example, it invests in the following target asset classes: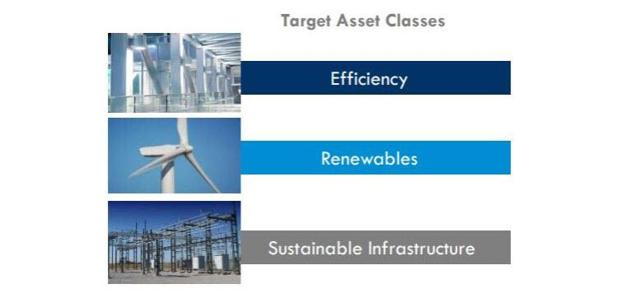 HASI participates in three large market segments, and its unique operating model provides the company with this competitive advantage: the company provides debt and equity focused on providing preferred and senior-level capital to established sponsors and high-credit quality obligors for assets that generate long-term, recurring and predictable cash flows.
The market opportunity continues to grow in the overall sustainable infrastructure markets; however, Hannon Armstrong "sees greater market opportunity in assets that are behind the meter as opposed to grid connected assets such as power plants."
As illustrated below, HASI's portfolio size is $2.0 billion with an average deal size of $11 million. The portfolio consists of solar (46%), wind (27%), efficiency (22%), and sustainable infrastructure (5%).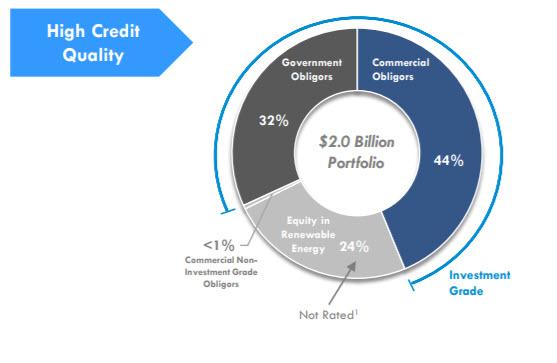 As you can see (above), HASI's focus is on high credit quality assets and that is reflected in the portfolio, which, excluding equity method investments, consists of 32% of assets from government obligors and 44% of transactions from commercial investment grade obligors, with 24% of contracts not rated (equity in renewable energy).
There are only two projects representing less than 1% of assets (or $8 million) not considered investment grade. The remainder of the transactions or equity method investments which we do not rate. The average life of our portfolio is approximately 12 years.
I want to make this point now because one of the other writers failed to mention that the majority of HASI's portfolio is comprised of investment grade obligors. The potential for default is extremely low and of course you would expect the yields to be lower on higher quality revenue sources.
In addition, HASI's portfolio is widely diversified with over 175 separate investments with an average investment size of $11 million. The portfolio is also diversified across markets, technologies, obligors and geographic regions with a strong credit quality profile.
Our government portfolio at 32% and our commercial portfolio including our real estate portfolio at 44% are all considered investment grade, with only two projects representing less than 1% of our assets or $8 million not considered investment grade.
One of the tricks with HASI is where to include the company in terms of the peer group. We have decided the best bucket for that is the commercial mortgage REIT sector, but at the end of the article I will explain my rationale for also comparing this REIT to both Infrastructure REITs and Net Lease REITs.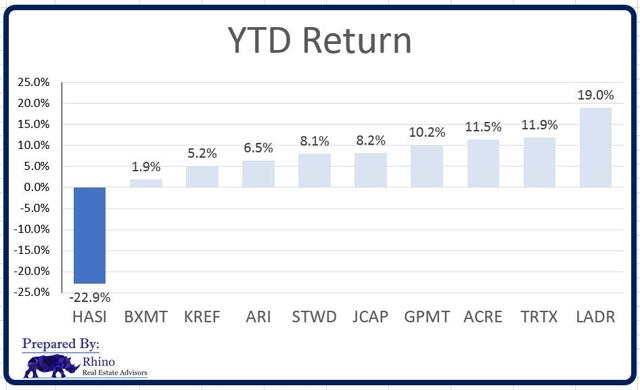 Commercial Mortgage REIT Data Set
Consider this REIT a Bond-Laddered Investment
HASI's business model, which is building a balance sheet of a diversified set of relatively small and uncorrelated assets with long durations and attractive risk-adjusted returns, is working.
HASI is somewhat of a hybrid specialty finance REIT focused on lending to the alternative energy space. The business model blends spread income created in the REIT and fee income generated through its origination/capital market business, which occurs inside a taxable subsidiary.
The flexibility of the model is highlighted by HASI's ability to hold and sell, which diversifies its funding base and enhances its profits. While HASI is a specialty finance focused REIT, its cash flow stream should be substantially more reliable than traditional consumer/corporate lending. (That's why I like using the Commercial mortgage REIT peer set).
HASI uses less leverage because underlying asset yields are higher than comparable fixed income assets. The company's depth in the space is evident by its strong partnerships - Fortune 1000 companies and some of the largest players in their respective industries such as Johnson Controls (NYSE:JCI), Siemens (OTCPK:SIEGY) and Honeywell (NYSE:HON).
These projects focus on increasing energy efficiency, providing cleaner energy, positively impacting the environment or making more efficient use of natural resources. HASI's REIT structure allows it to participate in the energy efficiency sector in a tax-efficient manner and without having to rely on tax equity financing. This allows HASI to function more efficiently than C-Corp. structures.

HASI is also internally managed, and internally-managed pass through vehicles typically have superior valuation relative to their externally-managed peers. For example, internally-managed REITs trade at a 30% premium to externally-managed REITs in terms of price-to-book value, and internally-managed BDCs trade at a 40% premium to externally-managed BDCs.
As noted above, I like comparing HASI to the Net Leas REITs because they are all "bond-laddered" investments. HASI is continuing to book solid assets, locking in valuable spreads. Furthermore, as rates continue to rise, HASI should be able to increase spreads, thus maintaining its bond-laddered investment strategy.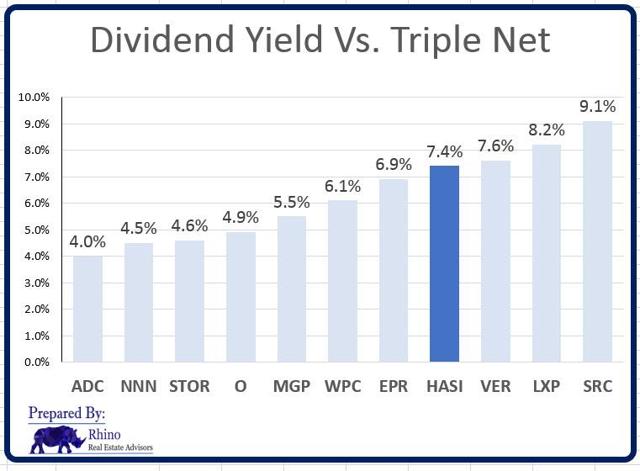 Net Lease REIT Data Set
Spread Investing Model
Arguably, HASI is a spread investor and this means that the way to determine the sustainability of the business model is to address the inner-workings of the balance sheet and income statement. Let's start with the balance sheet:
Given the flattening of the yield curve and overall increasing rate environment, HASI opted to fix out rates on substantially all of its liabilities. It increased liquidity and also increased the proportion of assets securitized relative to the portion put on the balance sheet.
This flexibility to increase the fee-generating securitizations as an alternative to adding assets to the balance sheet is the strength of HASI's business model and allows the company to largely offset the higher costs of fixed-rate debt and increase liquidity.
By shifting to relatively more securitizations, HASI is able to grow the balance sheet portfolio by approximately 25% year over year and remain widely diversified across transactions. Longer-term, higher rates generally mean higher spreads and better returns on equity for HASI (like 2008 and 2009).
Keep in mind, HASI could have been less proactive, and the market would have likely been a lot more forgiving; however, and as the CEO explained:
"a flat yield curve which we've seen several times in our corporate history suggests we are better off securitizing for gain on sale of fee income using our traditional and some new sources of institutional capital. It will make our quarterly core earnings a bit lumpier, but it is a better economic choice for us."
HASI highlighted the evolution of the company over the last four years by illustrating that the business model of building a balance sheet of a diversified set of uncorrelated assets with long durations and attractive risk-adjusted returns is working.
Since 2014, HASI has more than doubled the size of its balance sheet portfolio and generally maintained forward-looking yields (despite some historically low interest rate periods nearly doubled the amount of fixed rate debt) while growing core return on equity to 10.2%.
One of the bearish writers said that "what concerns me about their portfolio is that the average yield on their portfolio is 6.1%, which is pretty far under the 7.1% current dividend yield." The writer is not factoring in HASI's use of leverage and more importantly the targeted 10%+ ROE.
You see, HASI can afford to pay out a 7.1% dividend when it generates 10% ROE. If the company does what it says, it's still making a spread and generating stable and predictable returns for investors.
HASI's business model has always been to target investments in the 6% range (un-levered) and with an attractive cost of debt (~3%), there is plenty of margin for the company did pay out healthy dividends.
Also, the increased level of securitizations provides HASI with more capacity. As illustrated below, HASI generates nice arb fees and ongoing management fees that mitigate risk (powerful tool with long-dated assets).

On To Earnings…
In Q1-18, HASI's total revenue grew 17% to $27.9 million from $23.8 million in the same quarter in 2017 as a result of portfolio growth and higher revenue due to increased levels of securitizations.
Interest expense grew to $18.7 million from $13.8 million in Q1-18 because of the increase in fixed rate debt in 2017 used to fund portfolio growth. Based on the current mix of fixed rate debt and using the ending average debt cost at the end of Q1-18 compared to the average cost in Q1-17, HASI estimates these decisions to reduce risk cost approximately $0.02 in the quarter.
HASI's core earnings in Q1-18 were $0.27 per share and the company expects earnings to increase significantly over the next several quarters and forecast that the 2018 core earnings should grow at the guidance level of between 2% and 6%, with the midpoint being equal to a $1.32 per share.
HASI expects to pay dividends at that same $1.32 level in 2018 and the CEO explained on the latest earnings call,
"As we grow earnings in 2019 and 2020, we will consider growing the dividend perhaps at a lower growth rate than the growth in core earnings."
It's important to note that although HASI has only been public for just over five years, the company is 37 years old, and the management team has a great deal of experience in many political and economic cycles (including several of the big downturns in the industry as well as in the broader markets). As the CEO said, "we have continued to prosper through these and are well positioned to grow earnings over time."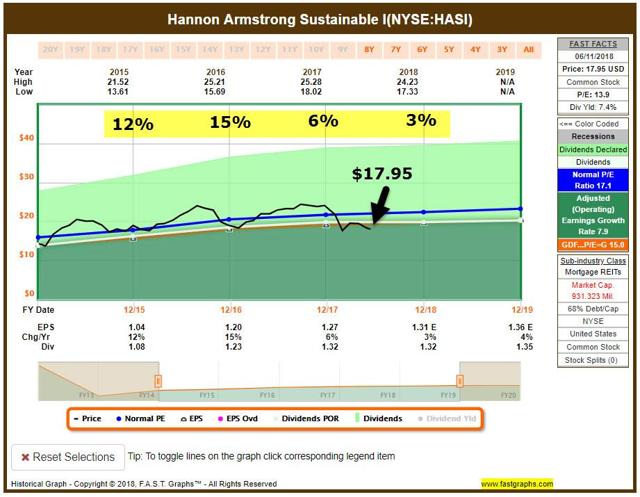 As you see (above), HASI has historically grown core earnings by double digits in previous years (12% in 2015 and 15% in 2016), and using the mid-point guidance range (of $1.31), the company is expected to grow earnings by a more modest rate of 3% in 2018. While the dividend was not fully covered in 2017, the company is expected to cover the dividend this year.
The Sustainable Infrastructure REIT
Before investing in any publicly-traded stock, one of the first questions one should ask is if the dividend is sustainable. Although HASI's earnings model has slowed down a tad, the company has shown that it can play offense and defense to put points on the board.
Sure, I would like to buy shares in any stock that offered me a safe 7% dividend yield with double-digit earnings growth forecasted. However, HASI is showing us (or at least the bulls) that it can manage risk by protecting its dividend for the long term. I consider the noise a temporary speed bump and I am happy to stay in the driver's seat for now.

Now let's compare HASI's core earnings growth profile with other commercial mortgage REITs: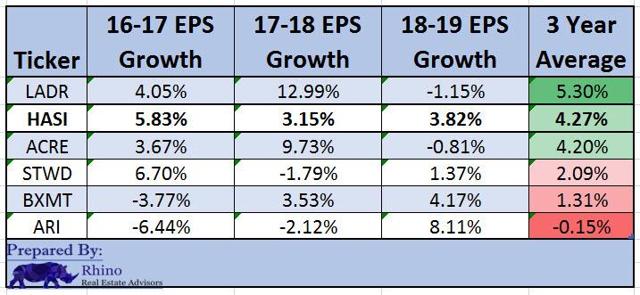 As noted, dividend growth in 2018 has stalled, but the analyst estimates suggest the company will begin to crank it back up again in 2019 (again, modest growth):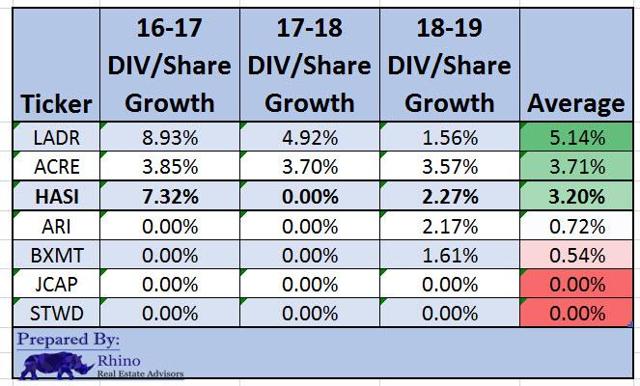 Compared with the commercial mREIT peers, HASI is "cheap":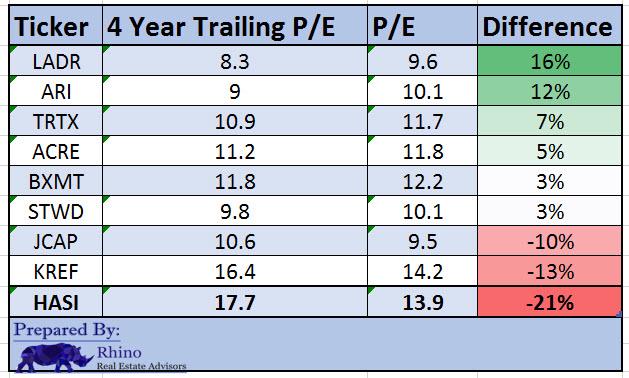 Now let's compare HASI's yield with the other commercial mREITs. Keep in mind, HASI has a more predictable growth profile with a more diversified revenue model with a majority of investment grade obligors.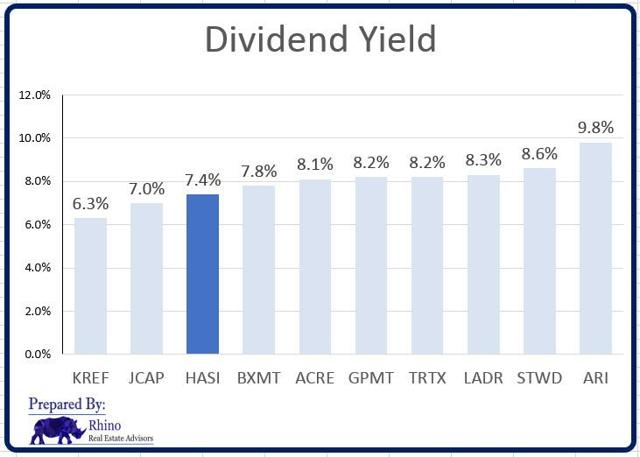 Have I confused you yet? Maybe this helps,
"If it looks like a duck, walks like a duck and quacks like a duck...?"
What is Hannon Armstrong?
Maybe the problem is that nobody really knows… but I can tell you that this REIT is a Strong Buy, and while the earnings growth is not as robust as years' past, I am confident that the company can source deals and continue to generate attractive investment spreads… and cover the dividend in 2018. Most importantly, the company has built a nice niche within sustainable infrastructure and the market does not recognize the strong credit backing the dividends.
As I recently explained, it could take 12-24 months for a STRONG BUY thesis to play out, and while I'm not playing the market timing game, I am perfectly content waiting on Mr. Market. Eventually, HASI should begin to "walk like a duck and act like a duck" such that Mr. Market will fully understood the value behind the business model.
A big part of the selloff, in my opinion, is due to the fact that nobody really understands the Hannon Armstrong business model. By carefully analyzing the business model and the closest peers, an investor can begin to recognize the importance of predictable income and a wide margin of safety. As Benjamin Graham wrote in The Intelligent Investor, the value investor's purpose is to capitalize upon "a favorable difference between price on the one hand and indicated or appraised value on the other."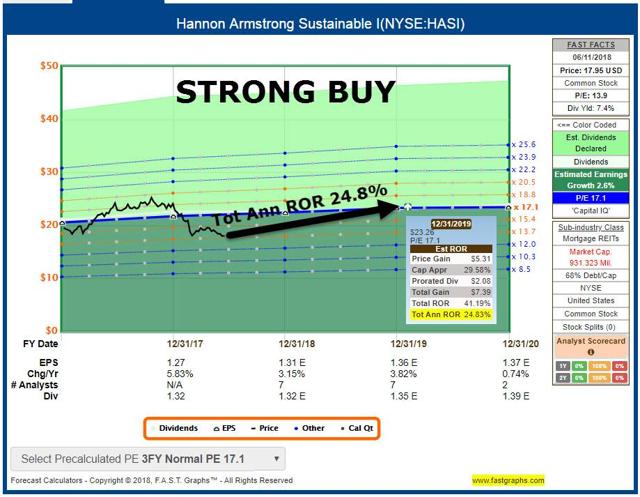 All Strong Buy picks can be viewed in my Marketplace service (The Intelligent REIT Investor).
Note: Brad Thomas is a Wall Street writer, and that means he is not always right with his predictions or recommendations. That also applies to his grammar. Please excuse any typos and be assured that he will do his best to correct any errors if they are overlooked.
Finally, this article is free, and the sole purpose for writing it is to assist with research, while also providing a forum for second-level thinking. If you have not followed him, please take five seconds and click his name above (top of the page).
Source: F.A.S.T. Graphs and HASI Investor Presentations.
Other REITs mentioned: (KREF), (JCAP), (BXMT), (ACRE), (GPMT), (TRTX), (LADR), (STWD), (ARI), (ADC), (NNN), (STOR), (O), (MGP), (WPC), (EPR), (VER), (LXP), (SRC).
Disclosure: I am/we are long ACC, AVB, BHR, BRX, BXMT, CCI, CHCT, CIO, CLDT, CONE, CORR, CTRE, CUBE, DEA, DLR, DOC, EPR, EXR, FRT, GEO, GMRE, GPT, HASI, HT, HTA, INN, IRET, IRM, JCAP, KIM, KRG, LADR, LAND, LMRK, LTC, MNR, NNN, NXRT, O, OFC, OHI, OUT, PEB, PEI, PK, PSB, PTTTS, QTS, REG, RHP, ROIC, SBRA, SKT, SPG, STAG, STOR, TCO, TRTX, UBA, UMH, UNIT, VER, VNO, VNQ, VTR, WPC. I wrote this article myself, and it expresses my own opinions. I am not receiving compensation for it (other than from Seeking Alpha). I have no business relationship with any company whose stock is mentioned in this article.