With 192% revenue growth in 2017 and an aggressive acquisition strategy, Puxin Ltd. (NYSE:NEW) is quite interesting. If we add that the offer price seems substantially undervalued compared to the peers, the stock becomes a "must-follow."

(Source: Form F-1)
The fact that Deloitte is the auditor and that remarkable underwriters are running the IPO should, in my opinion, seduce investors. Have a look at the list below:

(Source: Form F-1)
Business Model: Strong Growth through Acquisitions
Headquartered in Beijing, Puxin Ltd. operates in the after-school education industry in China.
Through an acquisition strategy, the company has been able to put together a total of 397 learning centers across 35 cities in China as of March 31, 2018. The business growth has been explosive.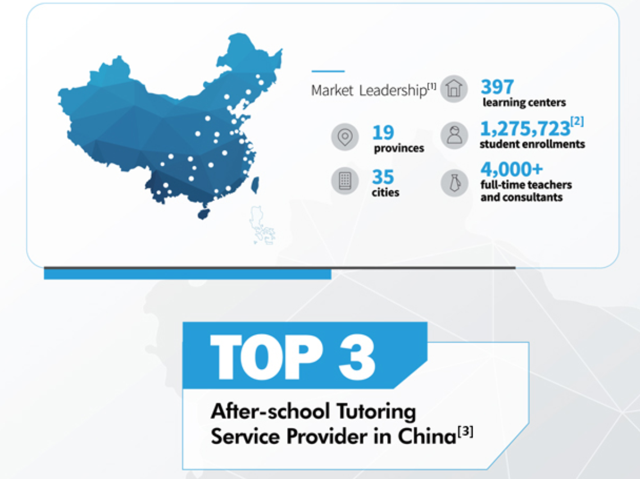 (Source: Form F-1)
Bear in mind that the company was founded in 2014. In only four years, NEW was able to enroll 1,275,723 students in 2017. Frost & Sullivan noted the incredible growth in a recent report, which marked NEW as the fastest-growing operator among major after-school education service providers in China.
What are the services provided? The following words about the services were given in the prospectus:
"We offer a full spectrum of K-12 and study-abroad tutoring programs designed to help students achieve academic excellence, as well as prepare for admission tests and applications for top schools, universities and graduate programs in China and other countries. In addition to classroom-based tutoring, we have also developed online and mobile applications to increase students' after-class exposure to our services and enhance their learning experience." Source: Form F-1
Market Opportunity: A Fragmented Market, and Growing
In my view, the growth figures of NEW could have not been possible without the current conditions in the China's after-school education market. According to Frost & Sullivan, in 2017, its total market size was RMB483.4 billion (~ $72 billion), and it is expected to be RMB804.9 billion (~$120 billion) in 2022.
With that, the market is also highly fragmented, which is perfect for NEW's acquisition strategy. Read the following in this regard:
"We believe that this large and fragmented market presents an attractive consolidation opportunity for us to leverage our acquisition and operational expertise, strong teaching quality, brand and reputation." Source: Form F-1
Frost & Sullivan noted that as of December 31, 2017, there were over 100,000 K-12 after-school tutoring service providers in China. Additionally, the top five market leaders only account for less than 4% market share in 2017.
Employees and Facilities
I want to remind readers once again about the foundation year of NEW, which is 2014. With that in mind, now learn that as of December 31, 2017, the number of employees was equal to 8,882. This means that in four years, or 48 months, the company has hired a large number of employees - 185 new employees per month. Doesn't seem incredible?
From the information provided by NEW, I saw that 51% employees are teachers and 27% are working in sales. I appreciate that the number of sales personnel is not that significant. In my view, it shows that the company does not need to contact many potential clients to generate revenues. Have a look at the following table:

(Source: Form F-1)
What about the learning centers? The following table shows the increase in the number of learning centers. Additionally, it shows that NEW prefers to acquire existing schools over building new ones. In 2017, for instance, the company acquired 155 learning centers, constructed 46 learning centers, and closed 32 learning centers. In addition, the number of centers increased by 73% in this time period. Check the following information provided by NEW:

(Source: Form F-1)
Revenue Growth and Cash Generation
On the revenue front, the business growth is even more clear. Net revenues have increased by 192% in 2017, amounting to $204 million. Additionally, gross profit also increased by 169% y/y, amounting to $77 million. Have a look at the image below: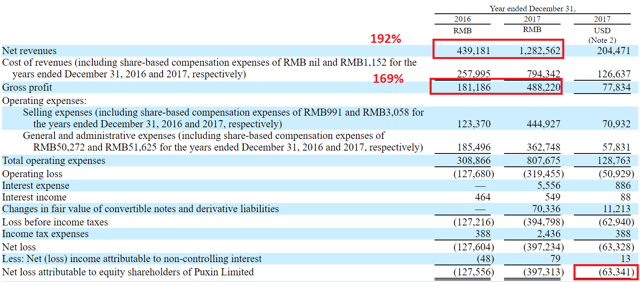 (Source: Form F-1)
What's my take on the operating losses? In my view, NEW's income statement looks like that of other emerging companies; large revenue generation, but poor operating performance and net losses. I don't really care, and in my opinion, most investors will not either. In my view, what matters the most is growth. If growth continues, traders will appreciate this name.
In addition, there is another thing to like very much here. The net cash generated from operating activities is positive, worth $12.7 million, and the depreciation and amortization do not look that significant.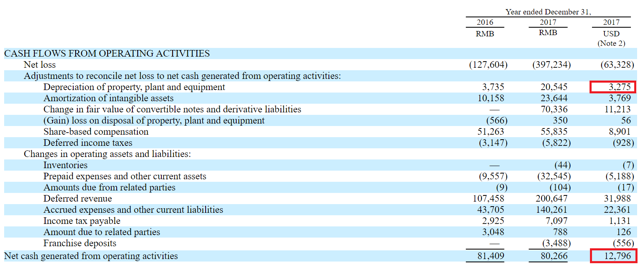 (Source: Form F-1)
Assets: Goodwill represents 57%
Taking into account the large number of schools acquired, it makes sense that the goodwill accumulated is significant. As of December 31, 2017, the total amount of goodwill was equal to $183 million, which represents 57% of the total amount of assets. Additionally, the number of intangibles is also large - $38 million. See the following image:

(Source: Form F-1)
What's my view on these assets? I believe they could represent a fantastic opportunity. Think about it. If the company is able to integrate the new teachers and learning centers well, it could return cash soon.
With that, I also need to mention that there is a large risk. If the goodwill amount is diminished, the number of assets could decrease, which could lead to big share price declines. To sum up, be sure to monitor the remaining goodwill in the following quarters. Its value and revenue growth will determine the share price direction.
Liabilities: Increase in Deferred Revenue, Convertible Notes and Promissory Notes
The liability side is the part of the balance sheet that I appreciate less. NEW increased its deferred revenue by 203% in 2017, amounting to $144 million. When you say to investors that your revenue is increasing at a high pace, mentioning that your deferred revenue has also increased is not ideal. In addition, in 2017, the company obtained large amount of convertible notes, promissory notes, and derivative liabilities. Have a look at it in the image below:

(Source: Form F-1)
It is also critical to understand that most convertible notes will be converted after the IPO. In my view, the balance sheet will remain quite clean after these transactions. The following are the preferred shares and convertible notes that will be converted:

(Source: Form F-1)
The following table is also quite useful to understand the amount of debt to be remaining after the conversion of convertible notes and preferred shares:

(Source: Form F-1)
Will NEW use money from the IPO to repay debt? No, the company expects to use the money to finance new acquisitions. That's great news, since it means further growth can be expected:

(Source: Form F-1)
Valuation
There will be 187.4 million shares outstanding after the offering. Each ADS represents two ordinary shares, thus the company is proposing $17-20 per ADS, or $9 per share. With these numbers in mind, I obtain a market capitalization of $1,686 million. Adding $55 million in debt and subtracting $118.8 million in cash from the IPO and $26 million, I get an enterprise value of $1,596 million. Taking net revenues of $204 million and using revenue growth of 75% for 2018, I obtain forward revenues of $357 million and EV/2018 forward revenues of 4.47x.
In my view, 4.47x seems quite low as compared to peers. The company notes TAL Education Group (NYSE:TAL) as a direct competitor, which trades at 12.36x with a small amount of net debt. Additionally, New Oriental Education & Technology Group Inc. (NYSE:EDU) is also trading at more expensive levels - 5.3x its sales.

(Source: Form F-1)
Conclusion
With impressive revenue growth and cash generation, in my opinion, the company at the current valuation is a serious opportunity. As mentioned earlier, if revenue growth continues and goodwill is not impaired, traders should push the stock up. I will be ready to buy ADSs at $20, but also at $25 and maybe at $30 if the revenue keeps growing. Be ready to assess the next quarters. In my view, they will determine the future of the stock in 2018 and 2019.
Disclosure: I/we have no positions in any stocks mentioned, and no plans to initiate any positions within the next 72 hours.
I wrote this article myself, and it expresses my own opinions. I am not receiving compensation for it (other than from Seeking Alpha). I have no business relationship with any company whose stock is mentioned in this article.