On Wall Street, it is said of Italy that it is too big to be allowed to fail, if the euro is to survive in anything like its present form. However, it is also said that Italy is too big for Europe to bailout in the sense that it would be too large a drain on the eurozone's resources.
As if to highlight this latter point, the European Central Bank's (ECB) most recent Target 2 Accounts show that capital flight from Italy is now picking up pace. They also show that Germany's creditor position in the ECB's Target 2 Accounts has risen to well above its 2012 level at the peak of the eurozone sovereign debt crisis.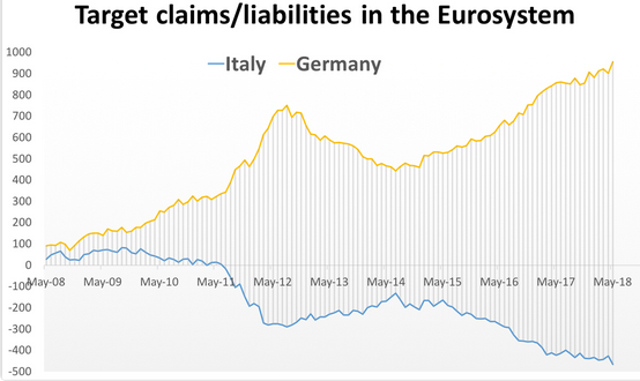 According to the ECB data, in May 2018, capital flight from Italy amounted to some EUR 40 billion. This took the country's debit balance in the ECB's Target 2 accounts to an all-time record of some EUR 465 billion. That capital flight is picking up from Italy is hardly surprising given the country's unstable politics and the installation of a populist government in Rome committed to rolling back economic reforms and to flouting the eurozone's rules on budget discipline.
Unlike in the emerging market economies, when capital flight occurs in a eurozone member county, it generally does not lead to a banking crisis in that country. That is because the ECB automatically replaces the liquidity that might have drained out of that member country's banking system through its Target 2 system. However, the Italian government would be making a grave mistake if it thought the ECB would allow the Target 2 system to operate automatically if Italian capital flight were to reach very high proportions.
A reason for thinking the ECB could interrupt the operation of its Target 2 system for Italy is the potential for very large capital flight from Italy. This is particularly the case considering the size of the Italian banking system is almost EUR $4 trillion.
It is also the case considering that any further significant outflow from Italy could raise Germany's creditor balance well beyond the highly politically sensitive EUR 1 trillion mark. If that were to occur, there would be little appetite in Germany to engage in the large-scale bailing out of a country that flagrantly flouted the eurozone's rules of the game.
One would hope that Italy's growing Target 2 debtor balance, together with the country's rising government borrowing costs, will concentrate the mind of the new government in Rome not to embark on an economic policy adventure that could fuel capital flight. With political opposition rising in Germany against future bailouts of countries in the eurozone's economic periphery, the last thing that Italy can afford is a major pick-up in capital flight that could bring on a full-blown Italian banking crisis.