Introduction
Over the last few months, most of you have noticed our increased activity in closed-end funds, as the inflow of volatility finally shook them up and created various arbitrage, and directional, opportunities for active traders such as us. Now that these products have our attention, we are continuously monitoring most funds by sector and will reinstate our Weekly Review, publishing a recap of the groups of interest.
The News

Source: Yahoo News, Preferred Stock Closed-End Funds News
Over the past week, we did not have any important news, which could affect the sector.
The Benchmark
Over the past week, the price of the iShares US Preferred Stock ETF (PFF) skyrocketed. The main benchmark continued its positive performance with an increase of $0.32 on a weekly basis. Since the end of May, we observe a shift in the market sentiment. The panic has vanished and we saw a rally in the preferred instruments. Of course, we should be careful especially in this environment of rising rates.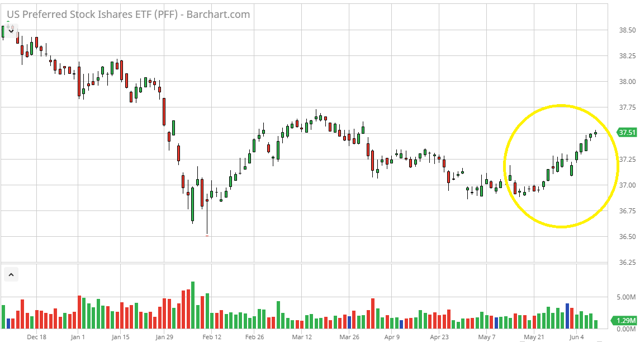 Source: Barchart.com - US Preferred Stock iShares ETF
To explore the relationship between the preferred sector and U.S. Treasury bonds - considering them the risk-free product - with maturities greater than 20 years: the iShares 20+ Year Treasury Bond ETF (TLT), I will use the statistical comparison, which is provided by our database software. As you can see, recently the preferred sector is outperforming.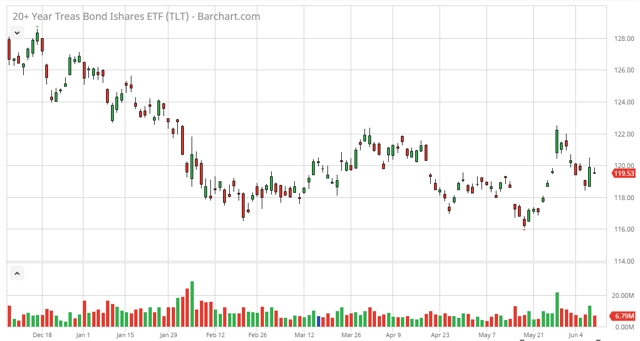 Source: Barchart.com - iShares 20+ Year Treasury Bond ETF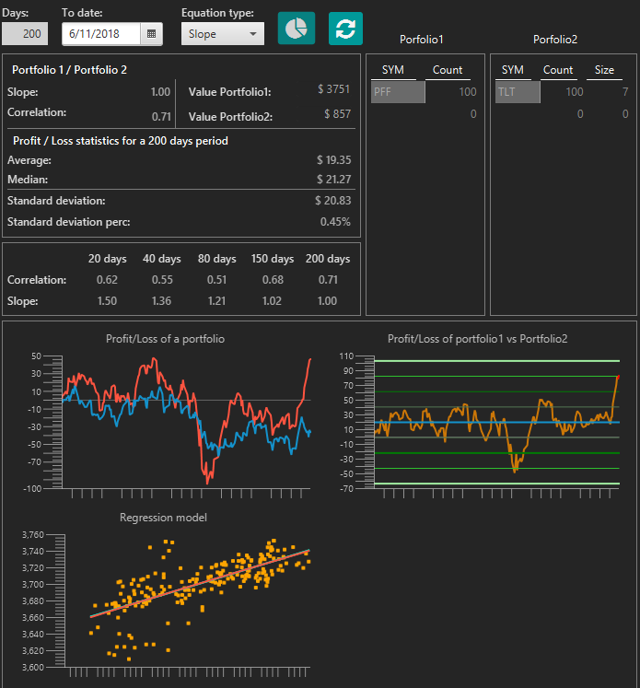 Source: Author's software
1. Sorted by Z-Score: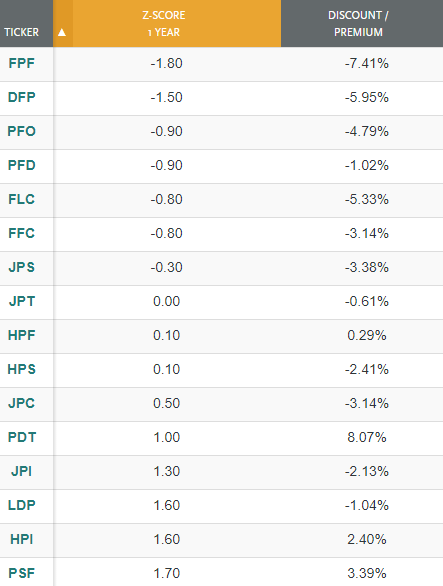 Source: cefconnect.com
We use the Z-score to find statistically undervalued or overpriced funds in the sector. If the value of Z-score is negative, it signals a "Buy" opportunity. Reversely, if you are looking for a "Sell" candidate, you should be interested in a positive Z-score value.
The above observation is showing us that we can find interesting opportunities in the sector. Ideally, as additional support of our logic, we would like to combine the statistical edge with a reasonable discount or a premium.
From the above table, I am interested in the First Trust Intermediate Duration Preferred & Income Fund (FPF). The fund is traded at a 7.41% discount and it provides us with the lowest Z-score in the sector.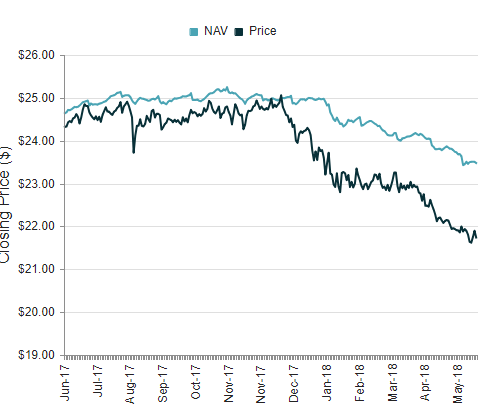 Source: cefconnect.com, First Trust Intermediate Duration Preferred & Income Fund
2. Baseline Expense:

Source: cefconnect.com
Here, we can observe how much the fund charges to manage our portfolio. Definitely, the charges seem pretty high and it is difficult to find a reasonable explanation for that.
3. 5-Year Return On NAV: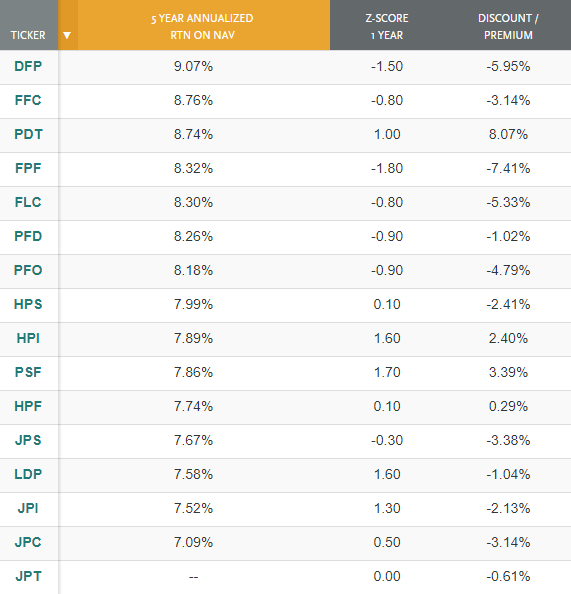 Source: cefconnect.com
Above, we have plotted the returns on net asset value for the past five years. The Flah & Crum Dynamic Pref & Inc. (DFP) is our weekly leader and I think it is worth it to review it. The fund is traded at a discount, which is accompanied by a statistical edge. Based on these characteristics, I think it could be a potential "Buy" candidate.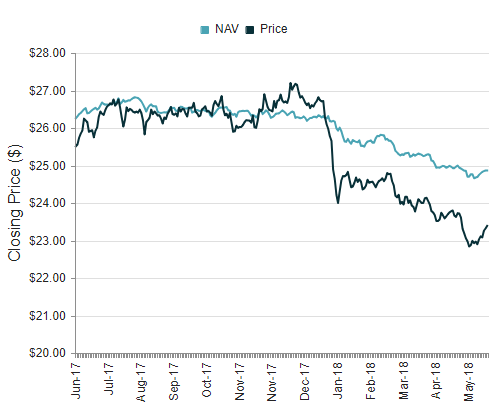 Source: cefconnect.com, Flah & Crum Dynamic Pref & Inc.
4. Discount/Premium: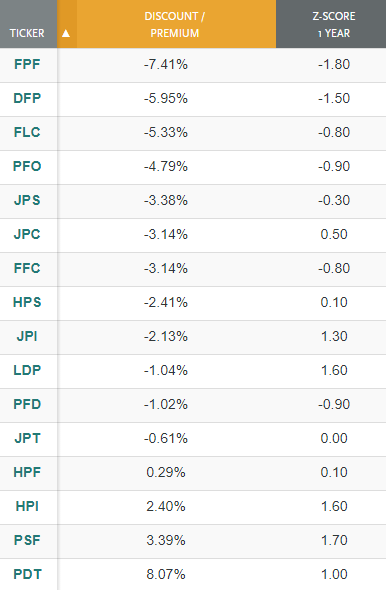 Source: cefconnect.com
Currently, most of the funds from the sector are trading at a discount. The current market conditions are favorable for expansion of your "Long" positions. As we have already discussed, the Flah & Crum Dynamic Pref & Inc. and the First Trust Intermediate Duration Preferred & Income Fund caught my attention based on their spread between net asset value and price and the statistical edge.
5. Effective Leverage: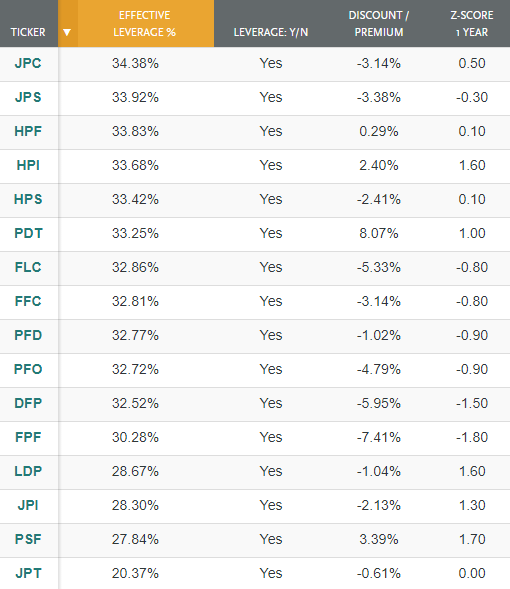 Source: cefconnect.com
Most of the fund use similar effective leverage. The usage of leverage is a more constant characteristic and we do not have so many changes in the ranking on a weekly basis.
6. Distribution Rate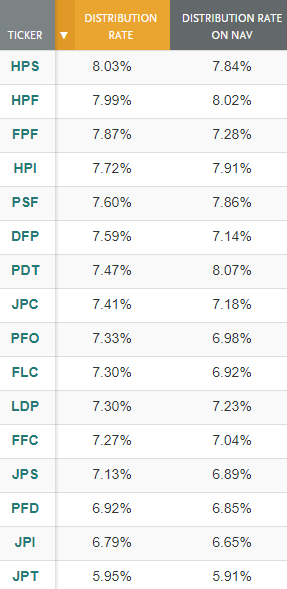 Source: cefconnect.com
Like I have said before, for me, this is not the most important criteria that we should look at. The return on the net asset value is way more important to examine when we do our research on closed-end funds rather than just gazing at the distribution rate. It just makes no sense.
Conclusion
Without a doubt, the potential of the sector has deeply fallen asleep. We hope that the benchmarks will get ''healthier'' and return to the bull side. Of course, it is above our pay grade to determine where the sector is headed and for how long it's going to last. Before jumping the gun and attempting to be the "early bird" in any preferred stock CEF, we want to see further strength by the related indices or an upswing in the NAV.
Note: This article was originally published for our subscribers on 6/11/2018 and some figures and charts may not be entirely up to date.
Trade With Beta
At 'Trade With Beta' we also pay close attention to Closed-end Funds and are always keeping an eye on them for directional and arbitrage opportunities created by market price deviations. As you can guess, timing is crucial in these kinds of trades, therefore you are welcome to join us for early access and the discussions accompanying this kind of trades
Disclosure: I/we have no positions in any stocks mentioned, but may initiate a long position in FPF, DFP over the next 72 hours. I wrote this article myself, and it expresses my own opinions. I am not receiving compensation for it (other than from Seeking Alpha). I have no business relationship with any company whose stock is mentioned in this article.