One of the most active stocks in the semiconductor industry last week was Lam Research (LRCX) as a note from analyst CJ Muse of Evercore ISI made waves. Judging by the 5.4% drop on very heavy volume, you'd expect there was some detrimental conclusion and price target cut. But, it wasn't very bearish at all. In fact, it's probably the best news for the industry as a whole and for Lam as well.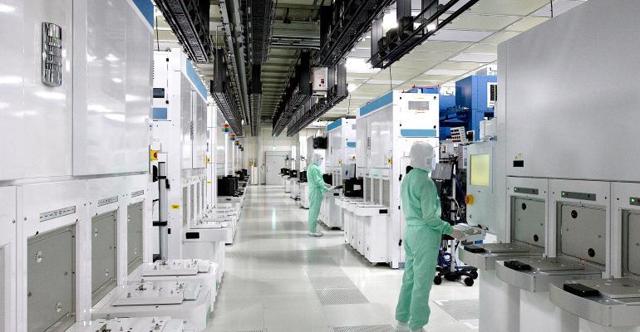 (Source: electronicdesign.com)
Muse had a few key points in his note which may be the key to an opportunity to pick up shares and calls on this weakness.
Evercore ISI analyst CJ Muse said his recent checks suggest risk to Lam Research's near-term shipments due to pushouts from memory makers. He reduced his estimates for Lam, stating that calendar 2018 EPS is now tracking 7% below consensus, but added that he views this pause as only temporary and does not see this changing his long-term thesis given he expects a recovery in NAND memory capex into the end of the year and first half of 2019 timeframe. Muse thinks downside risk is limited and would be an "aggressive buyer" of Lam shares if this issue prompts a pullback, he added. He keeps an Outperform rating and $300 price target on the stock
This raises an interesting point about NAND as the pricing market has seen some weakness in the last several months. However, it's important to remember the NAND market is highly elastic and while NAND prices have softened a noticeable amount, it's important to keep in mind the adoption and attach rates for SSD (solid state drives) moves higher as it becomes economical to replace mechanical drives (HDD). In support of this is a recent note from Cascend Research which pivots the flattish NAND pricing against the increase in volume and attach rates.
Furthermore, Micron (MU) supports this notion as it has recently talked about at its Analyst Day:
...NAND demand continues to be strong driven by client SSDs, replacing hard disk drive and notebook computer, as well as the value propositions of SSDs in the enterprise and data center space. We project the CAGR of demand growth from 2017 to 2021 timeframe to be in the 40% to 45% range.
But let's not forget node transitions require more steps to complete a wafer for each new technology; there is more equipment needed for the newer technologies. This means more clean room space for the added equipment. Clearly a win for Lam Research and it's competitors like Applied Materials (AMAT).
But wait it get's better.
Because these transitions produce less bit output (supply) on a manufacturing clean room square footage basis (not per wafer but rather less wafer output altogether) there is a need to offset the loss. This requires more wafer starts by DRAM and NAND suppliers in order to offset this output loss. This means additional expansion of clean room space, space which is going to take more equipment - truly a double whammy (good whammy) for equipment suppliers.
But don't take my word for it, Micron is very open about this:
As Scott talked about the increasing complexity of technology I think this is been talked about a lot before by Micron and others in the industry that nodes -- advanced technology nodes of DRAM and NAND are growing in complexity, just to process one wafer requires more process steps, more process steps means more equipment and more equipment means more clean room space, more clean room space really needed just to maintain wafer output at the same level. You can see both for DRAM and for NAND over the last several generations increasing requirement for clean room space just to maintain wafer output at the same level." - Manish Bhatia of Micron during Micron's 2018 Analyst Day
All this to say NAND (or DRAM) is not going out of style anytime soon. Getting back to Muse's point about a "pushout from memory makers" makes sense as shipments of equipment is not being cut but rather shuffled according to clean room expansion timelines and node transition ramps. Perhaps some of the major NAND manufacturers are still awaiting clean room space or have not brought yields up to satisfactory levels. Now of course these suppliers must take possession of equipment well before the equipment can be ramped for production yields, but as I've talked about in other articles, particularly on Micron, there is a certain discipline being applied to supply and bit growth and this, too, plays a factor in timing of bit output and bit growth. Not to mention the heavy growth in capex requirements needed for each architecture transition.
Muse ties this shipment timing issue into the bullish part of his note which is expectations of a recovery in NAND capex as the year closes. Again, all signs point to life with NAND and the elastic nature of this market. So while NAND suppliers moderate their respective expenditures, Lam Research is going to be in a position to continue its output of equipment as the need for equipment will not diminish but rather modulate throughout the year.
We now arrive at the opportunity. LRCX finds itself in an interesting position as its valuation has remained compressed like many of its semiconductor peers - quite notably because of the expectation of a historical cycle pattern continuing. More so after this recent note and selling.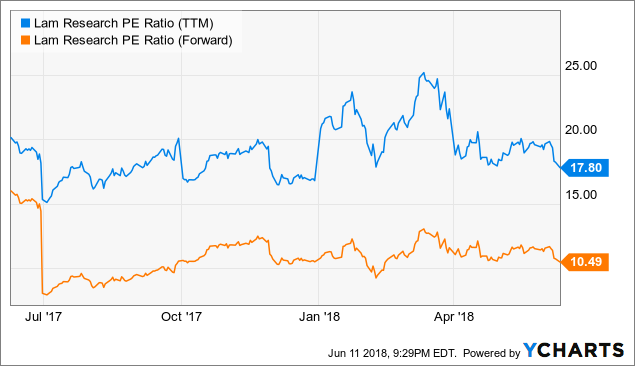 Once trading for higher multiples just three months ago, compounded with upside guidance each quarter for at least the last year being ignored, the market has given LRCX no benefit of the doubt. Given the outlook for DRAM and NAND has continually proven weak in foresight, the truth is there is no end in sight in demand and disciplined supply. Therefore, a more fair valuation is a forward P/E of at least 13 - where it traded for only a quarter ago. This would value the shares at $228 based on consensus for $17.52 in 2018 earnings - upside of 24%.
What's the downside you say?
Besides the fact we are at a multiple compression closer to the bottom, there isn't much in the way of downside. If the market somehow values the company at a 9 forward P/E there is less than 14% downside. But as I mentioned, guidance has continually been raised each quarter - on top of an earnings beat in each of those quarters.
But to be a little more diverse and thorough, let's break out the chart and see what the technicals say the downside and upside is.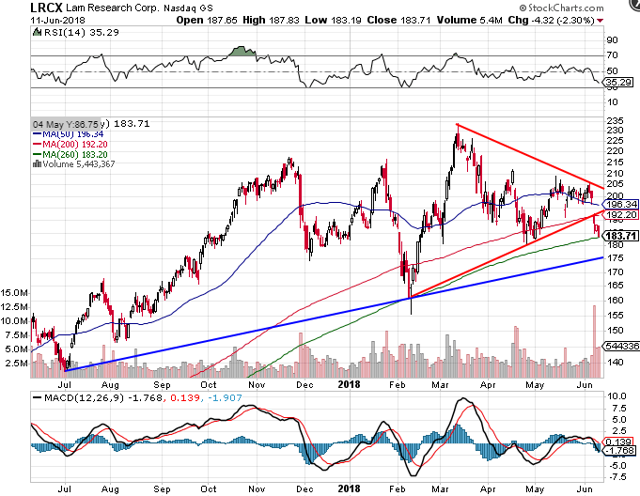 There is nice support at both the 260-day moving average as well as the blue support line I've drawn. Back in February, the stock tested both of these simultaneously. Today, the stock is testing the 260DMA which is at $183.20. The second support stands at $175. Therefore, the downside as I see it is limited to 6%.
Now as you can see above the stock has broken out of the red triangle pattern I've drawn. Let's zoom in a bit and analyze something I'm seeing a bit more.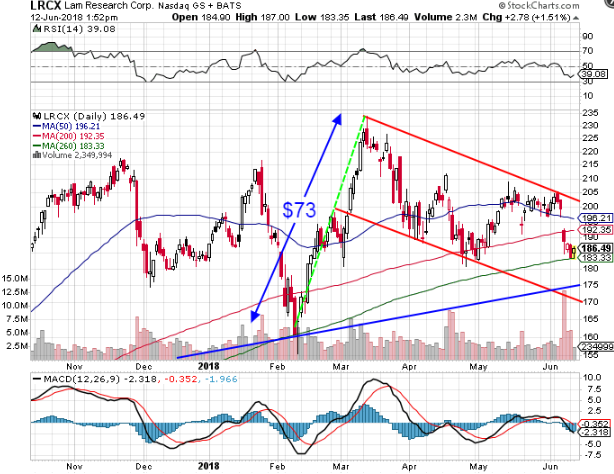 In the last three months a bullish flag has emerged after the run-up to the latest highs. Right now it's at an interesting point since there is a lot of support areas right below where the shares are; the 260DMA, the long-term support line at $175 and the bottom of the flag at $170. Let's extend our downside to $170 - or 9%.
On the upside, the run-up into the flag pattern was very close to a $73 run. When the breakout occurs it usually mimics the rise into the flag. With a low in the flag right around $183, we add $73 and get $256 - or 37% upside. At $256 the valuation would represent a forward P/E of 14.5 - a little above my 13 estimate but still wholly conservative for a time when semiconductors and the memory market are the strongest they have ever been - again, due primarily to the amount of capex required for each node transition, all while bit growth continues to be muted because of the technology generations providing less and less gains.
Based on technical indicators and fundamentals, the downside of LRCX is limited to 9%-14% while the upside is 24%-37%. The downside is protected by great industry fundamentals, the business operating well, and three different points of technical chart support - all very close to each other. The consolidation in the chart will drive the next leg of upside and appears to be making its way to a breakout this month. All indicators seem to agree Lam Research has small downside risk versus the rewarding upside potential.
Oh, and did I mention Muse never changed his share price target? It's still $300.
If you'd like to be made aware of my opinion and analysis in the future on Lam Research and other tech companies, then I encourage you to follow me by clicking the "Follow" link at the top of this page next to my name.
Subscribers Got The First Look And Strategy

I told my subscribers about this opportunity in Lam Research through my service's chat room as well as a subscriber only article before this public article was published. Not only were they aware but they also were given the strategy to capitalize on it, something I don't share with my public readers in articles like the one you just read. To be made aware of opportunities like this, along with the strategy to profit from it, you need to join me in my service, Tech Cache. My service discusses tech and tech-related companies and the opportunities therein because the growth your portfolio needs is in tech. Right now, you can try it risk-free with a 2-week free trial!
Disclosure: I am/we are long MU.
I wrote this article myself, and it expresses my own opinions. I am not receiving compensation for it (other than from Seeking Alpha). I have no business relationship with any company whose stock is mentioned in this article.