With a stable revenue and stable income from the operations, U.S. Xpress Enterprises (USX) is interesting since the management seems to be very positive about the future performance of the company. That's my conclusion after finding out that the number of vehicles owned has increased in 2017. With that, the current debt and the company's EV/EBITDA multiple are my biggest concerns for this IPO.
Business
Founded in 1985 and headquartered in Chattanooga, Tennessee, U.S. Xpress casts itself as fifth largest asset-based truckload carrier by revenue in the United States. The company provides services throughout the United States but focuses mainly on the eastern half of the country.
There are two business units, Truckload and Brokerage. The first one provides asset-based truckload services. The latter is focused on non-asset-based freight brokerage services. The truckload unit is the most important in terms of revenues; this activity represented 88% of the total 2017 annual revenue. The brokerage business unit is responsible for the remaining 12%. The following chart was provided in the prospectus:

Source: Prospectus
A total of 9,288 employees work for the company, including 6,900 drivers, 404 technicians, and 1984 office employees:

Source: Prospectus
Additionally, as of March 31, 2018, the company's fleet consisted of 6,800 tractors and 16,000 trailers, with 1,300 tractors provided by independent contractors. In the last two years, U.S. Xpress has reduced the amount of contractor tractors from 824 in 2016 to 794 in 2016. At the same time, it has increased the number of average tractors from 6,185 to 6,228. The following table contains more detailed information:

Source: Prospectus
U.S. Xpress seems to be transforming its operations. In 2016, the number of tractors owned was equal to 27.8%, and in 2017, this figure was equal to 61.4%. This means that the company is making more investments, which, in my view, will be appreciated by new shareholders:

Source: Prospectus
What's being changed? The most recent changes are explained with the following words in the prospectus.
"For much of our history, we focused primarily on scaling our fleet and expanding our service offerings to support sustainable, multi-faceted relationships with customers. More recently, we have focused on our core service offerings and refined our network to focus on shorter, more profitable lanes with more density, which we believe are more attractive to drivers. Over the last three years, we have recruited and developed new executive and operational management teams with significant industry experience and instilled a new culture of professional management." Source: Prospectus
Who are the customers? The company has good relationships with remarkable Fortune 500 companies like Amazon (NASDAQ:AMZN), FedEx (NYSE:FDX), or Walmart (NYSE:WMT). The following lines contain more information about the company's customer base:

Source: Prospectus
Market Opportunity: U.S. trucking industry sub-segment forecasted to grow at a CAGR of 5.4%
The company operates in a sub-segment that generated $720 billion in revenue in 2017. Additionally, according to ATA, it is expected to show 5.4% CAGR growth from 2017 to 2023.
Income Statement: Stable Revenue and Stable Income from Operations
The company did not exhibit large revenue growth in the last three years, but the revenue line and the income from operations were quite stable. In 2017, the total operating revenue and income from operations were $1,555 million and $28.6 million, respectively. If you check those statistics in 2016 and 2015, you will see that they are approximately the same: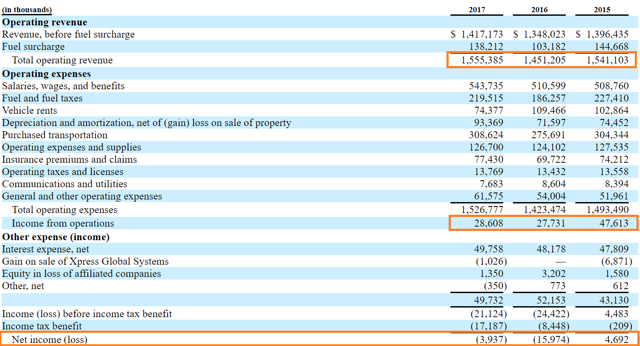 Source: Prospectus
In my view, if the company is able to restructure and reduce costs, the net income should creep up in the following years. While I did not find restructuring costs in the prospectus, in my view, the recent acquisition of assets and the goodwill recorded will lead to some cost cutting:
"As of March 31, 2018, we had recorded goodwill of $57.7 million and other intangible assets of $30.3 million primarily as a result of certain customer relationships connected with certain acquisition-related transactions and trade names." Source: Prospectus
Balance Sheet
As of March 31, 2018, U.S. Xpress showed a total amount of assets equal to $830 million, with $200 million in customer receivables, $457 in property and equipment, $57 million in goodwill, and $30 million in intangible assets. The fact that the company is getting paid late is what is worrying. Having said that that, USX has a good number of remarkable customers that should pay back. Regarding the goodwill and intangible assets, in my view, many investors will see it as an operating risk. If these assets are impaired, share price declines can be expected. The following figure provides more information regarding the list of assets: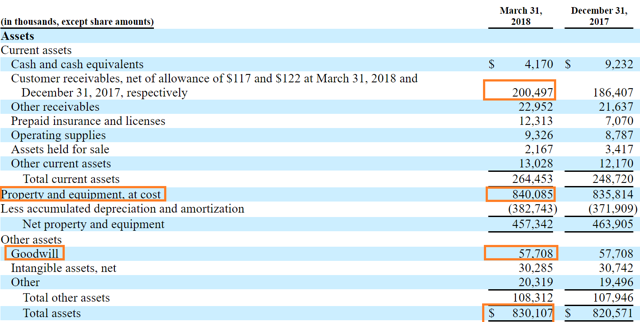 Source: Prospectus
On the liability side, the image is no better. The company shows net long-term debt of $461 million and $151 million in current maturities of long-term debt:

Source: Prospectus
What are the interest rates being paid? In my view, the debt is not that expensive given its size. The company is paying between 4.8% and 6.99% for the debt. There is 13% note payable, but it is not that significant, only $26 million. Additionally, the term loan agreement requires payment of LIBOR plus 10% to 11.5%, but the company expects to pay this loan with the proceeds from the IPO.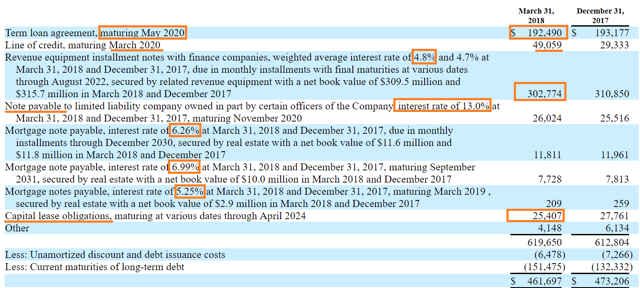 Source: Prospectus
The most worrying factor is that the company will need to make large amount of payments soon. In less than one year, it will need to pay $445 million. Furthermore, in the next one to three years, USX will have to pay $616 million. Have a look at the chart below:

Source: Prospectus
The proceeds will be mostly used to pay the debt. The following lines are a good read:

Source: Prospectus
Share Classes
The following figure shows the capitalization of USX. Note that there are no convertible securities, but there are two share classes, A and B: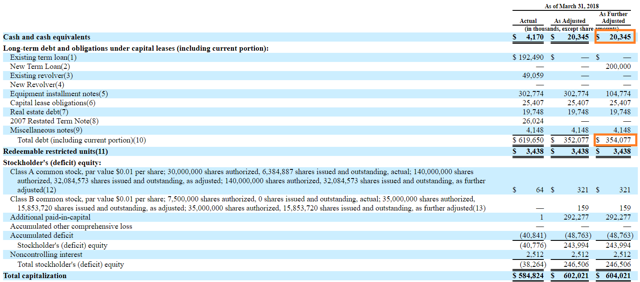 Source: Prospectus
Class B common stockholders have the right to five votes per share, while class A common stockholders have the right to only one vote:

Source: Prospectus
In addition, class B common stock holders can convert each share into one class A common stock.

Source: Prospectus
In case of liquidation, both class A and B stockholders are treated in the same manner:

Source: Prospectus
Valuation
The following table shows Adjusted EBITDA for 2015, 2016, and 2017. I will use the figure of 2017, $130 million, for the valuation of the company.

Source: Prospectus
The following is the list of peers given by the company in its prospectus. Their EV/EBITDA multiples range from 4.38x to 14.46x. Their size is similar to that of USX. Taking into account the company's EBITDA of $130.3 million, the implied EV should be between $570 million and $1,884 million.

Source: Prospectus
Given the debt of $619 million, $20.3 million in cash, and proceeds of $292.7 million from the IPO, I obtain net debt of $307 million. Now, taking into account 48.2 million shares - including class A and class B - at $19 per share, I get an expected market capitalization of $916 million. Adding the net debt, I obtain an expected enterprise value of $1223 million and an EV/EBITDA of 9.4x.
What's my take on this valuation? I believe that 9.4x is not expensive, but it is not cheap either given the current debt of USX. I will not be a buyer of the IPO until I see how the income statement evolves in 2018. With that, I will remain alert on the IPO day. If the share price declines, we could have some opportunity.
Independent Board of Directors
The following was said about the independence of the Board of Directors. In my opinion, it is a beneficial feature for new shareholders:

Source: Prospectus
Shareholders, Low Float and volatility risk
Have a look at the list of shareholders before I provide my opinion in this regard: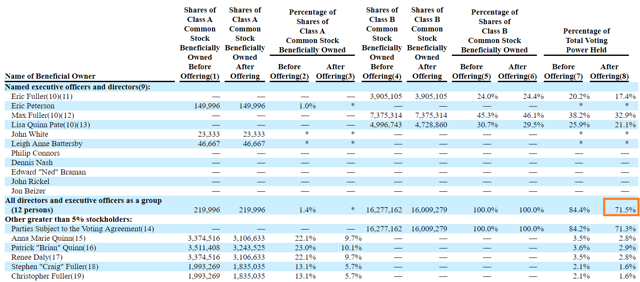 Source: Prospectus
A large amount of shares is owned by insiders and directors. With this in mind, I will be checking very closely what they do with their stake. If they acquire or sell shares, their actions will be, in my opinion, very important for the market.
Additionally, I need to point out that since the float will be reduced after the IPO, there is serious risk of share price volatility. Be sure to understand this risk before trading these shares.
Conclusion
USX is increasing the amount of vehicles owned, which means that the management is positive about the future performance of the company. In my view, this is the most beneficial feature to note here.
However, the company has large amount of debt, and the proceeds will serve to pay part of it. Investors will not appreciate this fact. Finally, the EV/EBITDA multiple of 9.4x does not seem cheap if we take into account the financial risk of USX.
Disclosure: I/we have no positions in any stocks mentioned, and no plans to initiate any positions within the next 72 hours.
I wrote this article myself, and it expresses my own opinions. I am not receiving compensation for it (other than from Seeking Alpha). I have no business relationship with any company whose stock is mentioned in this article.