Wheaton Precious Metals (WPM) has announced the purchase of a cobalt stream from Vale (VALE). According to the contract, Wheaton Precious Metals will receive 42.4% of cobalt production from Vale's Voisey's Bay mine, until the delivery of 31 million lb. After 31 million lb cobalt is delivered, Wheaton's share on production will decline to 21.2%. Wheaton will purchase this stream for an upfront payment of $390 million and ongoing payments of 18% of cobalt spot price until the value of the upfront cash consideration is reduced to 0; subsequently, the ongoing payments will increase to 22% of cobalt spot price. The cobalt stream should be effective from January 1, 2021. It is expected that the volume of cobalt delivered to Wheaton should be approximately 2.6 million lb per year over the first 10 years and 2.4 million lb for the life of mine. Wheaton Precious Metals intends to finance the upfront payment from its outstanding revolving credit facility.
According to the news release, proven and probable reserves of 32.6 million lb cobalt and inferred and indicated resources of additional 10.6 million lb cobalt should be attributable to Wheaton Precious Metals, based on the December 31, 2017, Voisey's Bay resource estimate.
This deal will have an important impact on Wheaton Precious Metals. It will not only boost Wheaton's production volumes but also diversify its production mix. During the 2018-2022 period, Wheaton Precious Metals is expected to "produce" 370,000 toz gold and 25 million toz silver per year on average. From 2021, 2.6 million lb cobalt also should be added (picture below).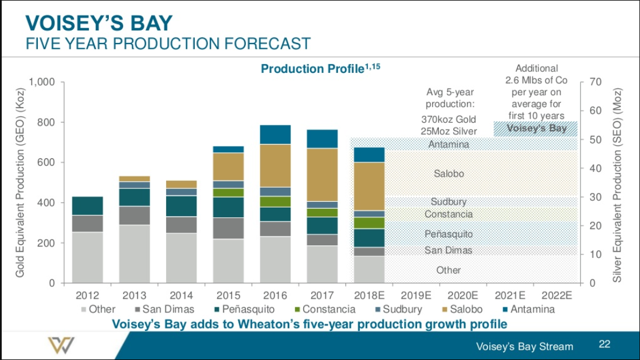 Source: Wheaton Precious Metals
Wheaton Precious Metals should generate revenues of approximately $997.9 million in 2021 and 2022, at the current metals prices of $1,295/toz gold, $16.85/toz silver and $37.5/lb cobalt. The cobalt stream represents $97.5 million of this amount. Approximately 48% of revenues should be attributable to gold, 42.2% to silver and 9.8% to cobalt streaming contracts.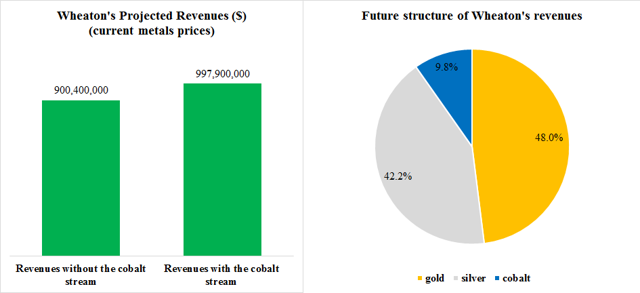 Source: own processing, using data of Wheaton Precious Metals
However, it is quite possible that cobalt will generate a substantially bigger part of the revenues. Although the cobalt price has experienced an impressive growth over the last two years (chart below), as it increased from the $10-15/lb range to the current levels around $40/lb, it is highly probable that it will keep on growing in the foreseeable future. However, probably a little slower. The reason is simple. Cobalt is important for the battery industry, as it expands the lifetime and improves the stability of rechargeable batteries.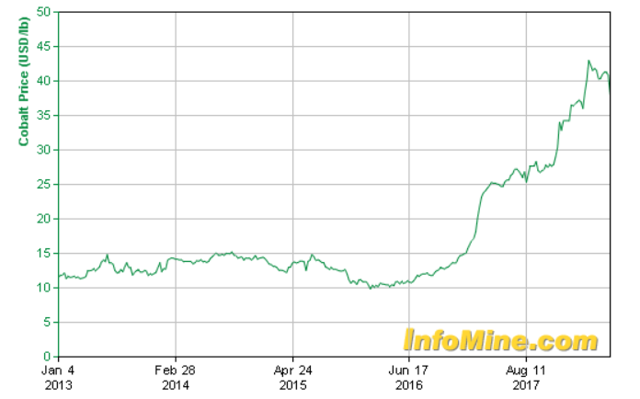 According to the Global Energy Metals Corp. (OTCQB:GBLEF) data (chart below), slightly more than 50% of cobalt is consumed by the battery industry, 20% is consumed for the production of superalloys, 8% for the production of ceramics and pigments and the remaining approximately 20% share is attributable to other uses. However, the estimates show that by 2020, the battery industry should be responsible for 62% of the global cobalt consumption. And this number should keep on growing even after 2020.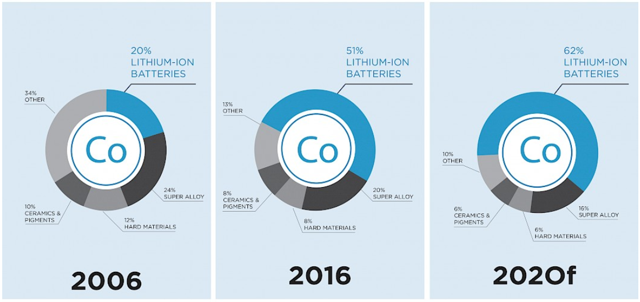 Source: Global Energy Metals Corp.
According to Clean TeQ (OTCQX:CTEQF) data (chart below), the electric vehicle-related demand for cobalt is expected to grow from 77,600 tonnes in 2018 to 215,000 tonnes in 2025. It is important to note that the global cobalt production was only 110,000 tonnes in 2017. It means that the global cobalt production must increase almost by 100%, only to meet the expected 2025 EV-related demand. It creates a significant potential for further price growth.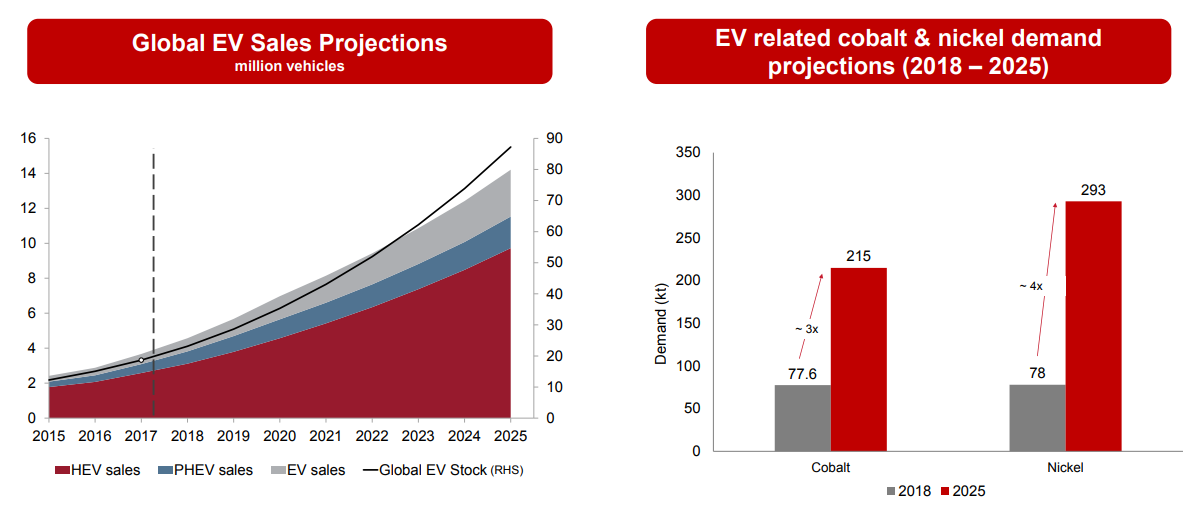 Source: Clean TeQ
Moreover, the cobalt market has several potential catalysts also on the supply side. According to the USGS data (chart below), 58% of the global cobalt supply came from the Democratic Republic of Congo in 2017. Congo is a poor and politically unstable country. Moreover, earlier this year, the Congolese government adopted a new mining code that raised the cobalt mining royalties to 10% and it also introduced a 50% super-profit tax. New presidential elections are scheduled for December of this year, after two years of delays. If the president decides to delay the elections again, it may lead to a significant political crisis with hardly predictable impacts on the whole mining sector of the country.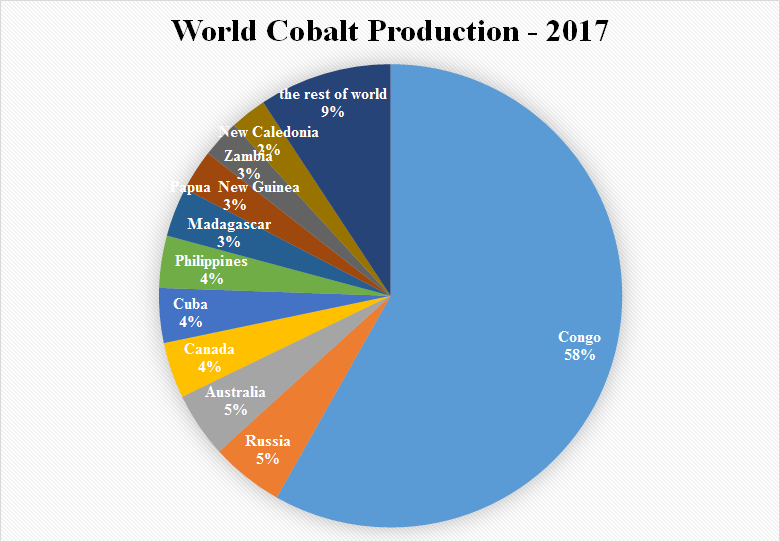 Source: own processing, using data of USGS
All in all, Wheaton Precious Metals' newest stream has several advantages. Not only is the cobalt market outlook very interesting, but this stream is closed with a mining giant Vale, which means only a very limited risk of the counterparty. The ongoing payments are very low. The payment of 18% of the cobalt spot price equals to $6.75/lb (at the current cobalt price). It's an equivalent to payments of $233/toz gold or $3.03/toz silver (at the current gold and silver prices). Moreover, the cobalt will be mined at Voisey's Bay, one of the biggest and lowest cost nickel mines in the World. Voisey's Bay is located in Labrador, Canada. It means a mining-friendly and politically stable jurisdiction, which is in a huge contrast to the Democratic Republic of Congo that secures 58% of global cobalt production nowadays. Any major issues in Congo will push the cobalt prices significantly higher which will be a great news for Wheaton's Canadian cobalt stream.
Conclusion
I liked Wheaton Precious Metals (former Silver Wheaton) when it was a pure or almost pure silver streaming company. The orientation on silver differentiated it from its peers such as Royal Gold (RGLD) or Franco-Nevada (FNV). This is why I didn't like when Wheaton acquired sizeable gold streams and its portfolio started to be more similar to its peers. This is why I like the acquisition of the cobalt stream. Cobalt will generate a big part of Wheaton's cash-flows; moreover, it is a metal with a very interesting upside potential. And it helps to distinguish Wheaton Precious Metals from its peers once again. This deal may turn out to be very profitable for Wheaton's shareholders.
Disclosure: I/we have no positions in any stocks mentioned, and no plans to initiate any positions within the next 72 hours. I wrote this article myself, and it expresses my own opinions. I am not receiving compensation for it (other than from Seeking Alpha). I have no business relationship with any company whose stock is mentioned in this article.