If you think your IQ is 160 but it's 150, you're a disaster. It's much better to have a 130 IQ and think it's 120. - Charlie Munger
Trading Analytics
Welcome to the edition of Integrated BioSci Rounds Report for June 12, 2018. As usual, we'll elucidate notable trading analytics for the day, recent insider transactions, and interesting market developments. Without further ado, let's take an overall assessment of the bioscience space. As follows, the iShares of NASDAQ Biotechnology Index (NASDAQ:IBB) traded up $0.93 (+0.85%) at $110.91. Moreover, the SPDR S&P Biotech (NYSE:XBI) exchanged hands $1.04 higher at $93.96 (for +1.08% gains). It's likely that investors were trading with an overall positive sentiment for the day. Regardless of the daily inclination, there are substantial prospects in the bioscience sector: one that delivers hope for patients while rewarding supporters with substantial wealth in the long haul.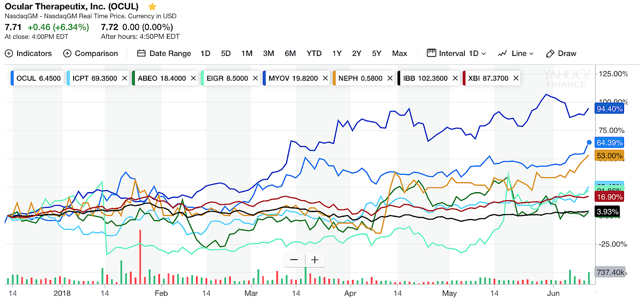 Figure 1: Notable BioSci movers. (Source: Yahoo Finance)
Moving to specific equities, Ocular Therapeutics (NASDAQ:OCUL) won the highlight spot of the day. Accordingly, the stock appreciated by $0.46 to close the session at $7.71 for over 6.3% profits. Since our initial recommendation back on Jan. 20, the stock has posted over 23% profits for subscribers. The strong appreciation is based on its extremely robust fundamentals. That being said, we'll go over the underlying fundamentals of this company.
Headquartered in Bedford, Massachusetts, Ocular Therapeutix is commercializing and innovating medicines to service the ophthalmology market. The company has one approved product, ReSure (as shown in figure 2). Being the first of its kind for sealing the clear corneal incision following cataract surgery, ReSure is prepared and applied promptly after surgery to protect the incision (in the immediate postoperative period) when the wound is most vulnerable. Interestingly, there is no need for ReSure removal due to its biodegradable quality of the hydrogel technology.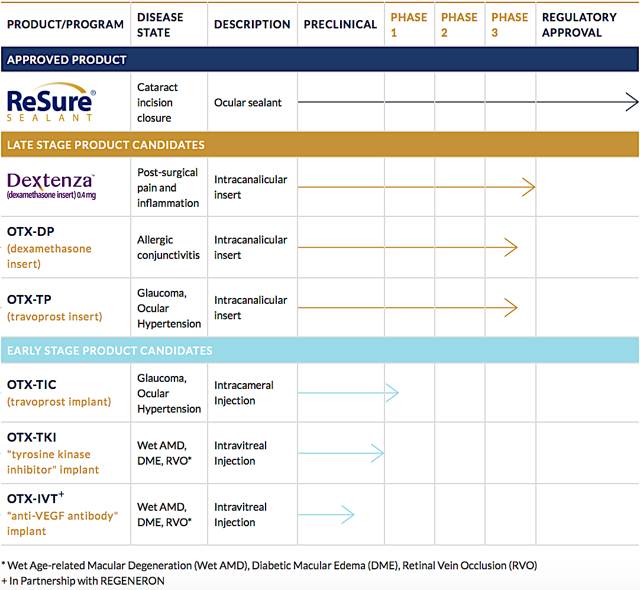 Figure 2: Therapeutic pipeline. (Source: Ocular Therapeutix).
Similar to ReSure, other molecules in the pipeline utilize the hydrogel technology that is biodegradable while allowing for the extended delivery of various drugs (as shown in figure 2). Accordingly, there are three late-stage therapeutics, including two dexamethasone insert (Dextenza and OTX-DP), and travoprost insert (OTX-TP) indicated as the potential treatments of post-surgical pain and management, allergic conjunctivitis, and ocular hypertension relating to glaucoma, respectively. Of all early-stage molecules powering Ocular, we are most interested in the long-acting hydrogel version of aflibercept intravitreal injection (OTX-IV) which is in its preclinical development. Ocular was able to secure a highly favorable deal from Regeneron (NASDAQ:RGEN) for OTX-IV development. We noted in the prior research,
The global market for anti-VEGF (aflibercept) is assessed over $7.5B, which took accounts of three disease segments: wet AMD, RVO, and DME. Characterized by vision loss caused by degeneration of the central portion of the retinal of the eyes, wet AMD is the leading cause of blindness in people 50 years or older. RVO is due to the blockade of the vein carrying blood to the retina, thus causing the leakage of blood (and fluid) to result in swelling of the macula. Tends to occur in patients suffering from obesity and uncontrolled diabetes, DME affects over 30% of people with long-standing diabetes (at least 20 years old). As previously mentioned, this market is gargantuan and is currently dominated by Eylea as well as ranibizumab (Lucentis) of Novartis (NYSE:NVS) and Roche (VTX:ROG). Accordingly, the chances are highly favorable that OTX-IVT will be able to cut into this niche).
Bioscience Catalysts
On June 12, 2018, the FDA Commissioner (Dr. Scott Gottlieb) issued a new guidance to assist the medical community as well as antibiotic innovators (to tackle the increasing problem of antibiotic-resistant). Dr. Gottlieb outlined the challenges facing the antibiotics innovators. The key point that was mentioned is that new antibiotics are reserved for the severe infections. So even after approval, the sales are usually not strong. The underlying rationale is that the more we use an antibiotic, the greater the chances that bugs will evolve to become resistant. Hence, the hospitals reserve new antibiotics for use only when other options are exhausted. This is a major sales hindrance of new antibiotics and thereby the market has quoted down the shares of these companies.
In response, the FDA is working with Congress and created various programs. Under the new incentive program, a hospital can get the new drug under a licensing fee. This way, the company can generate significant revenues (regardless of how much of the drug is being used). That aside, there is the "qualified infectious disease product ("QIDP") designation. New drug applications designated as QIDP can receive the fast track designation, priority review, and possibly a 5-year extension of any exclusivity. In addition, there is the new pathway LPAD that streamlines the approval process: it involves a much smaller and short clinical trial yet still ensuring the adequate safety for approval. Commenting on the development, the Chief enthused,
While we hope our work will help advance the development of new antibacterial and antifungal drugs, this isn't a problem that can be addressed by our agency alone. We're collaborating with agency partners, the broader scientific and policy community, and medical product sponsors to address scientific challenges. Bacteria will continue to evolve. They will continue to chip away at the usefulness of available treatments — including the medicines that we have relied on for years. Many of the existing antibiotics are simply old. They were screened out of nature where they resided in soil for centuries, engaging in a natural battle with various bugs. More judicious use of antibiotics in health care and agriculture settings can help slow the rate at which bacteria become resistant to antibiotics. But even with prudent use, we will need to continuously encourage the development of new therapeutic options to keep pace with these challenges. The steps we're taking, including the issuance of today's draft guidance on the LPAD pathway and the discussion of new incentive models with our partners at other agencies, are some of the additional steps we're taking towards strengthening the fragile antibacterial drug pipeline, as part of the larger effort to combat antibiotic-resistant bacteria.
The key ramification of the aforesaid catalysts is that it is serving as the industry tailwind for the various antibiotic innovators in our Specialty Report such as Melinta Therapeutics (NASDAQ:MLNT), Paratek Pharmaceuticals (NASDAQ:PRTK), Achaogen (NASDAQ:AKAO), and Cidara Therapeutics (NASDAQ:CDTX). The incentive improvement via a licensing fee is the major revenue growth driver to ensure that new antibiotics will be adequately compensated. The current QIDP program should continue to foster more innovation. The LDAP pathway will expedite approval, lower regulatory hurdles, and improve the compensation structure. Consequently, these ongoing developments will improve the fundamentals for these antibiotic innovators. Ultimately, the aforesaid catalyst will deliver hopes to patients as well as to potentially shift the market's sentiment (to reward shareholders).
Final Remarks
In all, the bioscience market rallied Tuesday with a renewed investor optimism. Many firms continued to move further north to post more gains for investors. Ocular topped our featured list, not because of its gains but what's likely to occur ahead. The reformulation of the blockbuster Eylea, if successful in the clinical trial as we prognosticated, can either deliver gargantuan profits for shareholders or induce an acquisition by Regeneron. Last but not least, the recent initiatives by Dr. Gottlieb and his team of experts at the FDA to protect our antibiotics for patients while unlocking value for the infectious disease innovators.
Author's Notes: We're honored that you took the time to read our market intelligence. Founded by Dr. Hung Tran, MD, MS, CNPR, (in collaborations with Analyst Vu, and other PhDs), Integrated BioSci Investing ("IBI") is delivering stellar returns. To name a few, Nektar, Spectrum, Atara, Madrigal and Kite procured over 184%, 159%, 213%, 243%, and 83% profits, respectively. Our secret sauce is extreme due diligence with expert data analysis. The service features a once-weekly exclusive Alpha-Intelligence article, daily analysis/consulting, and model portfolios. Of note, there is an IBI version of this article that is a higher-level intelligence with extensive details, in which we published in advanced and exclusively for our subscribers. And, we invite you to subscribe to our marketplace now to lock in the current price and save money for the future.
Disclosure: I/we have no positions in any stocks mentioned, and no plans to initiate any positions within the next 72 hours.
I wrote this article myself, and it expresses my own opinions. I am not receiving compensation for it (other than from Seeking Alpha). I have no business relationship with any company whose stock is mentioned in this article.
Additional disclosure: Our research articles are best used as starting points in your own due diligence. We are not registered investment advisors and our articles are not construed as professional investment advice.