This research report was jointly produced with High Dividend Opportunities co-author Jussi Askola.
Introduction
Valuation matters… In fact, it matters tremendously. Too many analysts forget that returns are dictated just as much by pricing as by fundamentals. As such, to simply say that a given stock will underperform because it has a perceived poor outlook is meaningless if no regards is given to pricing.
We believe that most analysts are making this exact mistake when looking at CBL & Associates Properties (CBL), as being a lower-quality Mall REIT that has faced strong headwinds - but they are forgetting that it is trading at an extremely cheap share price and the outlook is constructive.
Most analysts see the challenges and come to the conclusion that they would "not touch it at any price." We, on the other hand, take a very different stance following our contrarian philosophy, which says that "everything has a price". In other words, we believe that even the most uncertain and distasteful assets can produce solid returns as long as the price is low enough; and lower quality malls are no exception to the rule. Having said that, CBL is far from having a deteriorating outlook. In fact, as we explained in several previous reports, CBL's outlook is constructive.
Until just a month ago, our CBL investment had been on a straight decline with an ever-deteriorating market sentiment. The sentiment got to such a ridiculously low level that the company was trading at just 2.4 times FFO and a 19.2% yield in May 2018. Such a valuation was highly opportunistic in our view, and pushed us to average down on our investment at a price of $4.18 per share. As we noted in our last article entitled:
This 19.2% Yielding REIT Is Off To A Good Start
This stock has been beaten to the point whereby the stock is basically priced for bankruptcy. Now, if CBL manages to return to positive growth next year (or even just stabilize growth), and essentially proves Mr. Market wrong, we expect massive FFO multiple expansion (=upside)."
Today, as we look back at it one month after averaging down, we are for the first time starting to see the upside materializing in our CBL investment: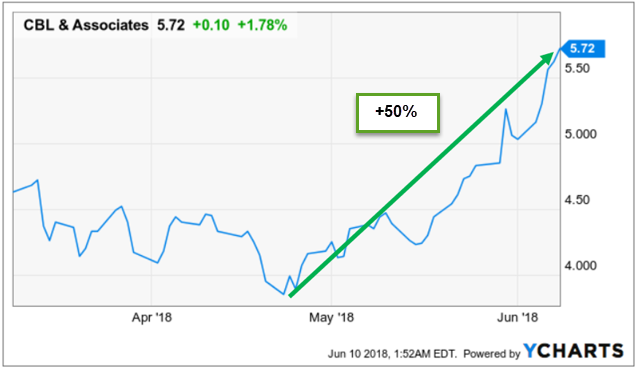 The stock is up about 50% from its lows in just about one month. Clearly, it is still way too early to scream victory as we bought the stock at several intervals, but the price movement illustrates well how valuation dictates returns. Averaging down on a losing investment is difficult to many, but in this particular case proved to be very profitable in a short amount of time. We have always reminded our readers that the market sentiment is very quick to change, and we are seeing it in action today.
After the 50% price appreciation, are we continuing to hold our CBL investment? Yes, we are, and here is why.
A Short Recap Of Our Thesis
It does not take a genius to understand that the U.S. retail market is overbuilt. The U.S. has about 23.6 sq ft of retail space per person available, according to estimates from PwC. That's more than twice the amount in Australia, and roughly five times that of the UK and other European countries.

Source: Quartz
While the different (American) consumer behavior can explain part of the divergence, as more and more shopping start taking place online, traditional malls are set for some pain. This is very clear and uncontestable. Some malls will have to get torn down, and others will need significant changes to sustain their current shoppers. Most of the pain is expected to be taken by lower-productivity malls and as such, the market was quick to reprice CBL at an extremely low price. This is what initially got us interested. As contrarian investors, we live and breathe the fact that "good things tend to come when expectations are very low."
Noting that the fundamental strength of CBL was being underrated, we concluded that the fears were clearly overblown. While the market is painting class B malls as "ghost properties," CBL has actually done a great job at improving the quality of its asset base to fight the growth of Amazon (NASDAQ:AMZN)-like firms.
Many of the lowest quality assets have been sold and/or redeveloped for the better.
Keys of problem properties have been given back to lenders.
Leases with questionable tenants have not been renewed.
Tenant base has been diversified with more restaurants and entertainment.
CBL was able to get very favorable debt extension terms, and even at lower rates.
Consequently, the fundamental outlook has very much improved over the last 4 years with increasing sales per square foot, higher traffic, higher rents, and less problem properties.

Source: CBL
It is not all flowers and roses for CBL. But put simply, because of the very cheap valuations and improving outlook, if we are long enough this will earn us a very satisfactory return. (For the detailed thesis, click HERE). This will happen in the form of a very generous dividend payments (currently yielding 14%), and upside coming from FFO multiple expansion. Considering that CBL was priced at just 2.4x FFO back in May, we noted that:
At just 5 times FFO, this would result in a share price of $8.70, taking the midpoint of expected 2018 FFO. This is ~110% capital appreciation from today and the company would still be very cheap at just 5 times FFO."
Getting to the higher FFO multiple will require some positive news, and this is exactly what provided the latest 50% increase in share price.
Dividend Maintained, Strong Sales, Successful Refinancing, Less Bankruptcies
May was a tough month for CBL bears as positive news kept getting rolled in on a weekly basis. Generally speaking, bears were expecting a dividend cut, declining sales, difficult refinancing of debt and increasing bankruptcies. The exact opposite happened this month showing that CBL may be at a turning point.
The dividend was maintained at $0.80 per year and remains covered with very ample cash flow at an FFO guidance midpoint of $1.75 per share in 2018.
Retailers continue to surprise the markets with improving same-store sales figures in 2018. During the first quarter, CBL reported that its sales per square foot (for reporting tenants under 10,000 sqft) increased by 4.1% – putting it on track to match the National Retail Federation's forecast for a 3.8–4.4% sales increase in 2018.
CBL managed to successfully extend the maturities of two loans totaling $115 million maturing next year. The loans were extended by 5 years with an increase in interest rate of just 25 basis points. The terms of the deal appear very satisfying to CBL compared to what the market was expecting after the company lost its investment grade rating.
Finally, the management of CBL expressed increased optimism for the remaining of the year at the REITWeek Conference. The CEO notes that retailer bankruptcy activity has lessened and that it expects to use only $10M-$13M of reserves related to retailer bankruptcies, compared with the $10M-$20m of reserves that's included in the company's yearly forecast.
These news did not come as a surprise to us as they are really nothing out of the ordinary and yet, it was enough to send shares 50% higher – showing once again how the pessimism had gotten extremely excessive.
Here we would like to note that what most CBL analysts got wrong is that they did not realize that the management gave a very conservative guidance for the year 2018. In fact, management had factored in all possible bad news and even more in their guidance, and this is what got us even more bullish.
More Upside Ahead
As CBL keeps executing its plan, we expect more such positive news to come and surprise the market to the upside. Even after the recent spike in the share price, CBL remains highly undervalued at just 3.2 expected FFO and a well-covered 14% dividend yield. The dividend coverage is close to 200%.
Our initial thesis is playing out as planned, and we remain confident in our long-term prognosis. If the shares can increase by 50% following some minor positive reports, just imagine how the market could react when CBL gets back on track to positive growth potentially in 2019 or 2020. The FFO multiple and the price could very well double from where it is today.
Expect more short-term volatility as CBL keeps improving its portfolio, but taking a longer-term perspective, we forecast massive upside to unfold in the next few years.
Final Thoughts
What separates us at High Dividend Opportunities from most other analysts:
First off, we are not scared to buy what others are 'avoiding at all cost' especially when we see the potential of an improving outlook.
Secondly, we are able to take a longer-term perspective while others worry about daily price fluctuation.
Finally, our mission is to identify high-dividend stocks trading at very cheap valuations, hold them for the long term, and get paid a very generous income while the stock recovers, with the objective to achieve capital gains in addition to the high yield.
While our CBL investment is still far from being a "home-run," the latest 50% gain tells us that averaging down was the right move in May. Nothing really extraordinary happened in our view. The sentiment just reversed, and the latest price action suggests that CBL is just finally getting some credit for its valuable portfolio improvements.
As Benjamin Graham's famous quote says:
The market is a voting machine in the short run, but a weighing machine in the long run."
In the case of CBL, this quote is particularly powerful. Today, the market is stuck in a beauty contest phase between bulls and bears. Over the next years, we will really see which rationale proves to be correct. We continue to believe that CBL's outlook will improve and that its valuation multiple will have to expand away from the "bankruptcy-awaiting" levels. This will result in material share price appreciation of up to 100%. Until then we earn a sizable 14% yield, which we expect it will be maintained.
If you enjoyed this article and wish to receive updates on our latest research, click "Follow" next to my name at the top of this article.
About "High Dividend Opportunities"
High Dividend Opportunities is a leading and comprehensive dividend service ranked #1 on Seeking Alpha, dedicated to high-yield securities trading at bargain valuations. Our objective is to identify the cheapest high-dividend stocks with a positive outlook; We buy and hold for the long term to achieve high income with the potential for substantial capital gains.

The service includes an actively managed portfolio currently yielding 10.3% - with a selection of the best high-yield MLPs, BDCs, Property REITs, Preferred Shares, CEFs and ETFs. Subscribers benefit from "Live Alerts" to buy securities at attractive prices. We invite income seekers for a 2-week free trial to to help you identify the future out-performers in the high yield space. For more info, click HERE.
Disclosure: I am/we are long CBL.
I wrote this article myself, and it expresses my own opinions. I am not receiving compensation for it (other than from Seeking Alpha). I have no business relationship with any company whose stock is mentioned in this article.