Earlier this year the stocks of major video game publishers like Electronic Arts (NASDAQ:EA) and Activision Blizzard (NASDAQ:ATVI) sold off (red arrow in chart below) over fears about the popularity of games like PlayerUnknown's Battlegrounds (PUBG) and Fortnite.

The stocks have since recovered after good earnings reports (green circle in chart above). However, there are still some good lesson investors can learn about the video game industry that can help investors keep things in perspective the next time a big gaming hit (or two) comes out of nowhere.
Gamers Want New Content
One of the most important things to keep in mind is that the video game industry runs on constantly producing new and exciting content. How many people are playing Pong or Space Invaders today? Not only do gamers want new content but the genres of games that are popular change over the years as well.
The table below shows the top 5 games for the past 5 years.
| | | | | | |
| --- | --- | --- | --- | --- | --- |
| Rank | 2018YTD | 2017 | 2016 | 2015 | 2014 |
| #1 | Far Cry 5 | COD: WW2 | COD: Infinite Warfare | COD: Black Ops III | COD: Advanced Warfare |
| #2 | Sea of Thieves | SW: Battlefront II | Battlefield 1 | Madden 16 | Madden 15 |
| #3 | MLB18: The Show | Super Mario Odyssey | The Division | Fallout 4 | Destiny |
| #4 | Kirby Star Allies | NBA 2K18 | NBA 2K17 | Star Wars: Battlefront | GTA V |
| #5 | GTA V | Mario Kart 8 | Madden 17 | GTA V | Minecraft |
(Source: Data from NPD via Forbes. Excludes PC digital sales and Nintendo digital sales)
We can see how each year the games change and all though some series have consistently remained popular (there's been Mario themed games since the early 1980s) there is a good amount of change from year to year. Going back even farther, to 2005 we can see even more change. In 2005 the top 10 console games were Madden 2006 (PS2), Pokemon Emerald, Gran Turismo 4, Madden (Xbox), NCAA 06, Star Wars: Battlefront, MVP Baseball 2005, Star Wars Episode III, NBA Live 06, and LEGO Star Wars.
Games, genres, and franchises fall in and out of favor. For example, two of my favorite gaming franchises Command & Conquer and the BattleTech/MechWarrior series are basically dead at this point.
Also take a look at the last hugely popular game to take the casual gaming scene by storm. The chart below shows the growth of Pokemon GO users since its release until the end of 2016.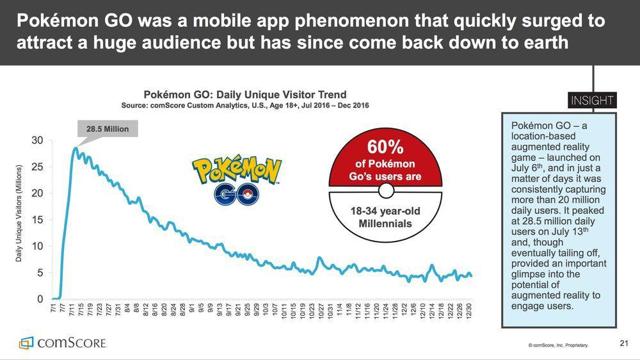 (Source: ComScore via BGR)
The point is that the video game industry needs to constantly develop new content. The developers of both PUBG and Fortnite will eventually need to develop compelling follow-up releases just like every other publisher. They could end up being timeless hits like Mario or a flash in the pan. Just because a certain game or games are a huge hit doesn't mean that is the end of things. In fact, that brings us to our next point.
Keeping Hit Games in Perspective
The global video game industry is pretty big. It's projected to reach around $137.9B in sales this year. To put things in perspective EA is expected to generate about $5.6B in revenue this year and ATVI about $7.16B. That's only 4% and 5.2% respectively of the global gaming market. Despite being an absolutely massive hit PUBG is only on pace for about 1% of the overall gaming market. Fortnite with its wider audience is presently bringing in around $300M per month which puts it on a run rate equal to 2.6% of the total industry.
The video game industry is highly fragmented unlike say the movie industry where the top three studios control almost 60% of the market. A huge movie release, or a dominant studio, has the potential to muscle out competing content. The video game industry is just too fragmenting. A massive, global hit in the video game world may grab just 1% to 2% of the market.
It's also a growing market. Gaming revenue is projected to grow at a compound rate of 11% from 2012 to 2021. That means companies are selling into a fast growing end market. There is plenty of space in the market for new entrants and new hits can be created without cannibalizing the sales of existing game franchises.
Summary
While the "fear" of Fortnite and PUBG seems to have passed, the important lesson for investors is to realize what could cause those fears to come true in the future. Right now, the video game market is highly fragmented and growing. There is little to fear that hit by another publisher may by itself cause significant market share losses for other publishers. In the future, if video game sales stagnant or start to fall then a smash hit could cause significant share loss amongst other firms. Also, if the gaming industry consolidates to a point where only a few major firms dominate most of the sales, the potential for "winner takes all" scenarios starts to rise.
Disclosure: I am/we are long ATVI, EA, TTWO. I wrote this article myself, and it expresses my own opinions. I am not receiving compensation for it (other than from Seeking Alpha). I have no business relationship with any company whose stock is mentioned in this article.