Omeros Corporation (OMER) is a biopharmaceutical company which markets Omidria, for use in cataract surgery or intraocular lens replacement, and is developing a pipeline of drugs including OMS721. When I last wrote about OMER the company was in need of a bit more cash; it seemed likely Omidria would lose pass-through reimbursement causing revenues to plummet and bringing into question OMER's ability to run several clinical studies on its promising pipeline members. A fair bit has changed in six months and this article aims to take a look at OMER's current situation with a focus on the development of OMS721 and marketing of Omidria.
Dynamic financial situation
OMER did lose pass-through reimbursement as we entered 2018 and Q1'18 revenues from Omidria were only $1.6M down from a high of $21.7M in Q3'17. Net loss widened to $30.1M in Q1'18 compared to $16.6M in the prior quarter. On a positive note the company confirmed Omidria was one of a handful of drugs that had secured a two year extension of pass-through reimbursement beginning October 1, 2018. That still means OMER will spend Q2'18 and Q3'18 burning cash at a rate of about $30M per quarter were Omidria revenues to remain stable at $1.6M. In reality the recent addition of Omidria to the Veterans Health Administration National Formulary might see those revenues creep up a bit. OMER reported cash, cash equivalents and short-term investments of $72.8M at the end of Q1'18 with an additional $45M funding, drawn from the company's existing CRG loan, expected on May 18, 2018. That draw should put pro forma cash and equivalents at $117.8M which should be enough to see OMER through three to four more quarters even if OMER never sells another vial of Omidria (of course that is not likely).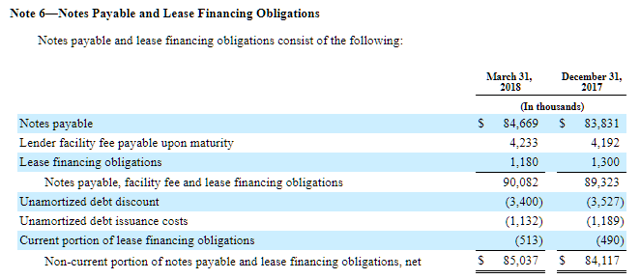 Figure 1: OMER has already drawn $80M from the CRG loan facility in October 2016, OMER planned to draw an additional $45M in May, 2018. Source: Recent 10-Q.
While OMER's chances of running low on cash are in the rear view mirror for now, OMER's additional draw of $45M from the CRG loan facility should put the amount owing on the loan at over $130M. The interest-only repayment period for that loan expires on December 31, 2020 although the possibility of extending the interest-only period to September 30, 2022, exists should OMER achieve certain milestones. With Omidria revenues likely to return to prior highs soon after pass-through reimbursement resumes in Q4'18, it seems possible that OMER won't need to draw on the loan facility any more. OMER also has the option of conducting an offering and this seems likely should the company produce positive clinical data or make regulatory progress with OMS721. OMER's financial situation then is secure enough for the focus to return to OMS721 and Omidria.
Omidria patent infringement lawsuits
On May 24, 2018, OMER announced it had settled the patent infringement lawsuit it had brought against Lupin Ltd. and its subsidiary Lupin Pharmaceuticals, Inc. Lupin had filed an abbreviated New Drug Application (ANDA), seeking marketing approval for a generic form of OMER's Omidria. OMER also fended off Par Pharmaceutical, Inc. and its subsidiary Par Sterile Products, LLC, back in October, 2017.
As part of the agreement, Lupin acknowledges and confirms the validity of each of the patents listed in the Orange Book for OMIDRIA... - May 24, 2018, press release from OMER.

As part of the agreement, Par acknowledges and confirms the validity of each of the patents listed in the Orange Book for OMIDRIA ... - October 5, 2017, press release from OMER.
The list of patents in both settlements includes U.S. Patent No. 9,486,406 which has a listed expiration date of October 23, 2033, in the Orange Book. A six month extension due to completion of the pediatric study of Omidria puts the effective expiration at April 23, 2034. Under the terms of the agreement between OMER and Par, Par was prohibited from launching an Omidria generic until April 1, 2032. At the time, OMER had not secured six months additional exclusivity for conducting a pediatric study, and so the last Orange Book listed patent was set to expire on October 23, 2033. That agreement then, would have allowed Par to be the only generic on the market for about 18 months. It is not surprising then that Par agreed to this settlement, the first ANDA filer claiming that the Orange Book listed patents are invalid, unenforceable or non-infringed (paragraph IV certification), usually only gets 180 days exclusivity. The Par agreement also stipulated that Par would pay a 15 percent royalty, on net sales of any Omidria generic, to OMER until the latest expiration of OMER's US Omidria patents. With the six month pediatric extension it looks like the Par deal would give the company more like 2 years of being the only generic on the Market.
It appears that the Lupin settlement might include similar provisions to the Par settlement, meaning Lupin might also be able to launch a generic around 2032, rather than 2034 but in any case OMER can enjoy exclusivity for many years to come with Omidria.
As in the settlement with Par, this agreement with Lupin includes Lupin's acknowledgment and confirmation of the validity of all asserted patents for OMIDRIA as well as overall terms and market entry date similar to those set forth in the Par agreement. - May 24, 2018, press release from OMER.
The only generic competitor left now is Sandoz Inc. It seems however that Sandoz's chances of launching a drug are not good, since they are apparently making similar claims to Lupin.
In June 2017, we filed patent infringement lawsuits against Sandoz and Lupin. We believe the assertions in the Sandoz and Lupin litigation are substantially similar to those previously filed by Par Pharmaceutical, Inc. and its subsidiary, Par Sterile Products, LLC, and do not have merit. - Comments from OMER's recent 10-Q.
I see a favorable settlement with Sandoz as a potential catalyst for OMER. The Par lawsuit was not settled until after two years from the notice that they had filed an ANDA (such timing is common). Both Lupin and Sandoz notified OMER of their ANDA's in May, 2017, and just 12 months later we have a settlement in the Lupin lawsuit. This quicker than expected settlement follows the grant of a seventh US patent (No. 9,855,246) in January 2018 covering Omidria, which OMER used to amend their complaint against Lupin in February, 2018 (effectively, OMER strengthened their case). The seventh patent was also used to amend the complaint against Sandoz in March, 2018. I have a feeling we are not far from a settlement in the Sandoz suit.
Can OMER secure accelerated approval for OMS721?
With Q1'18 earnings OMER announced it was looking to file a Biologics License Application (BLA) for its anti-MASP-2 antibody, OMS721, in hematopoietic stem cell transplant-associated thrombotic microangiopathy (HSCT-TMA). The company has produced some interesting data in the indication to date, albeit with comparison to historical controls. That data is only from a phase 2 trial, but OMER is seeking accelerated approval. Were accelerated approval granted, the company would then conduct a confirmatory trial for full approval.
If OMER does submit a BLA later this year in hopes of accelerated approval, it might be useful to know how long the market might be left waiting for an announcement which could cause OMER to soar or plummet (depending on whether accelerated approval is granted or denied). The FDA instituted accelerated approval regulations in 1992 and keeps a document listing accelerated and restricted distribution approvals on its website.
I analysed the document and drew from it only data regarding accelerated approvals of new BLA (this is the scenario OMER is hoping for). I disregarded accelerated approvals of New Drug Applications (NDA), supplementary BLA (sBLA) and supplementary NDA (sNDA). I also disregarded restricted distribution approvals.
I identified 20 BLA granted accelerated approval from 1993 to 2003. The average time from the FDA's receipt of the BLA seeking accelerated approval to the date of accelerated approval among those 20 BLA was 9.35 months (range: 2.5 - 34 months).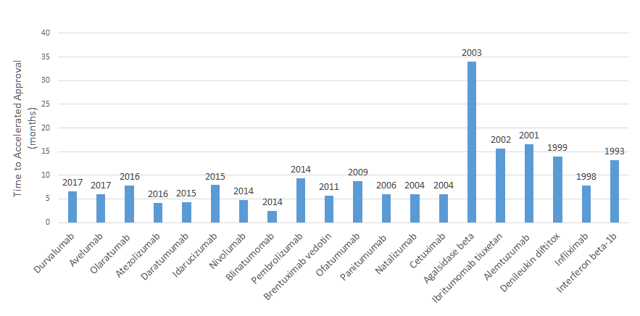 Figure 2: Twenty BLA granted accelerated approval between 1993-2017. Time to accelerated approval is the date of accelerated approval minus the date on which the FDA received the BLA. Numbers above columns denote the year of approval. Drug names are non-proprietary names. Supplementary BLA were not included in the analysis. Source: Chart constructed by Biotech Beast, data from an FDA document.
Plotting the data on a chart (Figure 2) I noted that approvals since 2004 tended to always fall below 10 months. Around 2002 the FDA began attempting to review 90 percent of standard NDA/BLA within 10 months, and 90 percent of priority NDA/BLA within six months. Although there is no formal goal review time for the accelerated pathway it makes sense that it would tend to be as quick, if not quicker. OMER then might expect accelerated approval in about five to 10 months, following submission of a BLA for OMS721 in HSCT-TMA, if the FDA feels OMS721 deserves accelerated approval.
The phase 3 aHUS trial
While OMER is pursuing approval for OMS721 in HSCT-TMA off the back of phase 2 results, the company is also generating phase 3 data with OMS721 in aHUS. Unfortunately OMER didn't say much about the phase 3 aHUS trial on the most recent earnings call. Examining the entry for the aHUS phase 3 study of OMS721 on the European Union Clinical Trials Register (EUCTR) provides some information of use. It appears the trial is currently running in Europe in Lithuania and Poland. According to both sub-entries, the company plans to enroll 40 patients in the European Economic Area (EEA), seven in Lithuania and 20 in Poland. OMER plans to open one site in Lithuania and four in Poland. These entries also note countries of recruitment including the US and Taiwan.

Figure 3: Planned enrolment of the phase 3 aHUS study in Lithuania (left) and Poland (right). Source: EUCTR entries for Lithuania and Poland.
Examining the clinicaltrials.gov entry for the phase 3 aHUS study suggests the trial is being run at two Omeros Investigational Sites in Los Angeles and Chicago. This is quite vague compared to the 29 study locations listed in the company's clinicaltrials.gov entry for its phase 2 study of OMS721 in thrombotic microangiopathies. That being said OMER has a history of being slow to update its clinical trials entries, for example the phase 3 aHUS study was only listed following a short report from ArtDoyle pointing out that there was no entry. Further, while the clinicaltrials.gov entry for the phase 2 TMA trial lists 29 sites in the US and elsewhere such as Europe or Asia, the phase 3 aHUS study only lists the two sites in LA and Chicago despite the fact the study is now running in Poland and Lithuania. This discrepancy is easy to explain, OMER hasn't updated the phase 3 aHUS entry on clinicaltrials.gov since July 26, 2017, whereas the EUCTR entries were not created until August, 2017.
OMER has previously stated an interim analysis will be performed on forty of the eighty patients. That interim analysis will surely function as an important catalyst for OMER to add to one's calendar. I can't provide any certainty as to the timing of that catalyst however, due to the lack of clarity from OMER on the enrollment status.
OMS721 in IgA nephropathy
OMS721 is also being developed for the kidney disease IgA nephropathy (IgAN). On March 1, 2018, OMER announced that enrollment was underway in the company's first of two phase 3 trials of OMS721 in IgAN, called ARTEMIS-IGAN. That name won't be much good to investors though. True to character, OMER doesn't seem to have listed the trial on clinicaltrials.gov, nor on the EUCTR, nor on the Australian New Zealand Clinical Trials Registry, nor on an international registry of clinical trials. We are forced then to rely on what has been shared about the design of the phase 3 IgAN study based on press releases from OMER. In OMER's January 3, 2018, press release, the company notes the trial is estimated to enroll 140 patients in each of the OMS721 and placebo groups.
To estimate how long it might take to enroll that study, a comparison to the NEFIGAN study of targeted-release budesonide is useful. NEFIGAN was run at "62 nephrology clinics across ten European countries." The results from the NEFIGAN study publication state that "297 patients were screened between Dec 11, 2012, and Dec 26, 2013, and 207 patients were enrolled into the run in phase." This suggests it takes 1 year to enroll 207 patients if you run an IgAN trial at 62 sites. Now note that this study required patients to be at least 18, and have persistent proteinuria despite RAS blockade (examples of RAS blockers include ACE inhibitors and angiotensin receptor blockers). Overall the NEFIGAN study has similar criteria to OMER's phase 3 study (also 18+, requiring optimized RAS blockade). The minimum proteinuria required for randomization to treatment or placebo in the NEFIGAN study was 0.75 g/day and so is less strict than OMER's phase 3 trial (which requires 1 g/day).
We might conclude that OMER can complete enrollment in the ARTEMIS-IGAN study in about 1.5 years, because it has to enroll 280 not 207 patients, and has slightly stricter enrollment criteria regarding proteinuria) assuming the company opens up 62 trial sites/centers. Enrollment apparently started in March 2018, putting the completion of enrollment in H2'19 unless OMER opens up a lot more centers than the NEFIGAN study did.
OMER is also running a second phase 3 study in IgAN, this second trial will recruit patients with baseline proteinuria greater than 2 g/day. The company has not provided much information on that trial so investors will have to wait for further updates from the company. The possibility that the trial could enroll prior to the first phase 3 study in IgAN is encouraging.
This trial would require significantly fewer patients than our trial in the IgA general patient population; would include biopsy data to assess the disease-modifying potential of OMS721; would likely enroll even more quickly than our broader study and would provide a third option to achieve full approval on 24 week proteinuria data alone. In addition, this trial could provide an even faster past the market in this indication and we believe that we're the only company to which FDA has provided this options. - Gregory Demopulos, Chairman and CEO of OMER, Q4'17 earnings call.
Lastly, OMER is expected to announce results from a placebo-controlled phase 2 study of OMS721 in IgAN patients not taking steroids, mid-year, 2018. The first lot of data will come from 12 US patients (six in each of the placebo and OMS721 arms). Additional data from that phase 2 study will come in early 2019 from patients enrolled in Hong Kong. Previous phase 2 data from OMS721 in IgAN were not placebo controlled so these results should give a clearer picture of the activity of OMS721, although there is the possibility OMS721 is not active in the absence of steroids. Such a possibility seems less likely since previous phase 2 data suggest IgAN patients could taper or eliminate their steroid usage on OMS721.
Conclusions
I began recommending a long in OMER back in March, 2018, when the Consolidated Appropriations Act, 2018 was passed by the House of Representatives (the bill included a provision to extend pass-through reimbursement for select drugs which lost pass-through at year end 2017, which included Omidria). Since that time OMER has generally performed quite well, particularly with the update suggesting the company might soon file a BLA for OMS721 in HSCT-TMA. I expect OMER to continue to perform well and additional phase 2 data in IgAN is the near-term catalyst to drive that performance. I also think better than expected increases in revenues from Omidria, due to addition to the VA Formulary, could cause the stock to run at the next earnings. Finally, I think a settlement with Sandoz in the Omidria patent infringement lawsuit could also cause the stock to run. For these reasons I don't think it is time to close out a long in OMER despite the gains in recent months. There are risks however, by failing to list its phase 3 studies for IgAN in clinical trials databases and failing to update the aHUS trial entry, OMER has again opened itself up to short reports from short sellers. Unimpressive phase 2 IgAN data mid-year could also cause the stock to sell off.
Disclosure: I/we have no positions in any stocks mentioned, and no plans to initiate any positions within the next 72 hours. I wrote this article myself, and it expresses my own opinions. I am not receiving compensation for it (other than from Seeking Alpha). I have no business relationship with any company whose stock is mentioned in this article.