Thesis
Enterprise Products Partners (EPD) is a master limited partnership ('MLP') with a focus on natural gas and natural gas liquids. They have earned a reputation for being a blue chip MLP due to their history of consistent and generous distribution increases in addition to a strong balance sheet. Shares trade at a 5.8% yield in spite of a recent run up in price. Still, future growth is almost certain to be nothing like the past - what does this mean for their distribution? I analyze the key metric for EPD and give my verdict on shares.
What They Do, Simply Explained
EPD owns about 50,000 miles of pipelines for natural gas, natural gas liquids ('NGLs'), crude oil, petrochemicals and refined products. They also own about 260 million barrels of NGL, petrochemical, refined products, and crude oil storage capacity. EPD differs from another "blue chip" MLP I looked at last week, Magellan Midstream Partners (MMP), in that it does not get a huge chunk of its revenues from crude oils, instead seeing the majority of gross operating margin coming from natural gas and NGLs: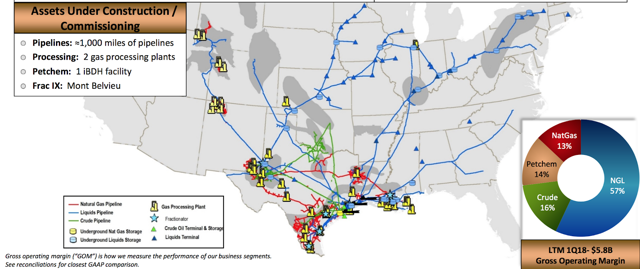 Natural gas is used for heating, cooking, and electricity generation. In contrast, crude oil is often used to make gasoline or jet fuel. Natural gas liquids are extracted out of natural gas thus it makes sense that EPD will help to transport NGLs in addition to natural gas. NGLs come in five forms: ethane, propane, normal butane, isobutane, and natural gasoline. Some examples of the uses of NGLs include:
Ethane is used as a key building block to make plastics.

Propane is used for heating in engine and industrial fuel.

Normal butane is used to make synthetic rubber.

Isobutane is used in the production of motor gasoline.

Natural gasoline is used to make motor gasoline.
While some may fear that movements toward renewable energy may hurt the natural gas business, the reality is that any such movement would occur very slowly and EPD will be the last in the totem pole to be affected, especially considering the variety of uses for NGLs.
The Right Place At The Right Time
The big growth catalyst of recent years has been that in the Permian Basin in West Texas and New Mexico. The Permian Basin has seen the largest increase in drilling activity in the country, notably seeing the number of active rigs increasing from 134 in April 2016 to 427 in February 2018. As we saw above, this is very favorable for EPD as they have a large bulk of pipelines located in the Permian. In addition to the Permian Basin, EPD also has significant assets in Eagle Ford and Haynesville. These are highly attractive locations as industrial giant Baker Hughes has placed over 50% of their rigs in these three regions alone: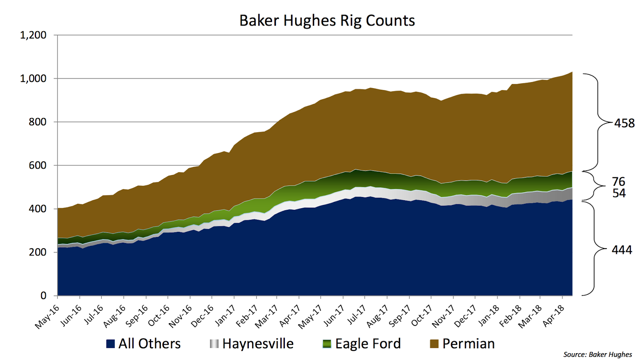 (2018 Investor Presentation)
The unprecedented activity means that there comes a high demand for pipelines. After all, all the products need to be transported out of the area somehow! This has led to a high surge in exports, which EPD expects to continue increasing: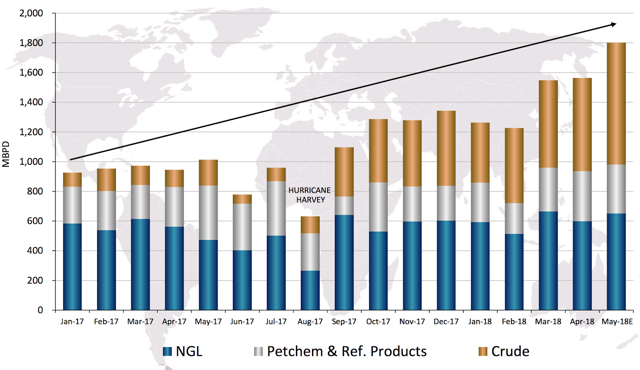 (2018 Investor Presentation)
This is a standout example of what it means to be at the right place at the right time. Owning assets in critical locations is crucially important because it makes reinvesting capital more profitable, as we will see below.
MLPs Are Not Oil Stocks
A big concern of any MLP shareholder is the volatile price of oil. EPD has historically seen less volatility related to the price of oil, as we can see that distributable cash flow per share only dropped 3.2% annually even as the price of oil cratered from nearly $100 per barrel to the $40s: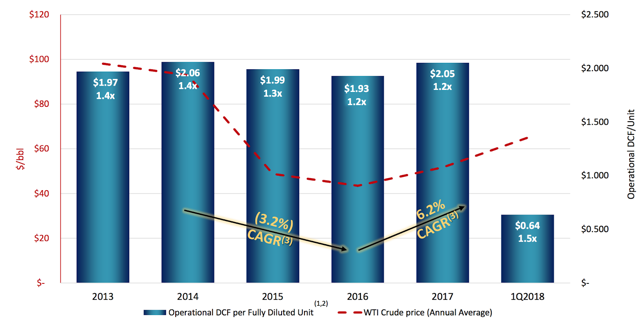 (2018 Investor Presentation)
I am highly attracted to businesses with recurring revenues and thus am encouraged to see these results. Plus, with oil prices looking to be once again on the rise, EPD may actually benefit from their low correlation to oil prices.
No IDRs
EPD eliminated half of its incentive distribution rights ('IDRs') in 2002 and the rest in its merger with its general partner in 2010. This gives EPD a huge leg up over other MLPs, which still have IDRs because to the perspective of a shareholder, IDRs are like debt ahead of the capital structure. Your company is making enough to increase their common stock distribution but is unable to because it needs to pay its IDRs to its general partner- where's the fun in that? The fact that EPD has no IDRs is one less important thing to worry about.
No FERC Impact
Earlier in March this year, the Federal Energy Regulatory Commission ("FERC") announced changes to its 2005 Policy Statement for Recovery of Income Tax costs, which would no longer allow MLPs to recover an income tax allowance in the cost of service of their pipelines. This temporarily sent the Alerian MLP index falling down 10% before closing down 5%. The big question coming out of the announcement was: will my MLP be affected negatively by this decision?
EPD shareholders do not need to worry, as EPD has indicated that "the cost-based tariff rates that are in effect for all of our interstate pipelines are based on a cost of service for those pipelines whereby the disallowance for the recovery of an income tax allowance will not have a material effect, if any, to the posted tariffs." (Businesswire)
Dividend History
EPD has grown their distribution for 55 consecutive quarters and for the most part have maintained a 1.3 times distribution coverage ratio. EPD has a sparkling 19-year dividend growth history: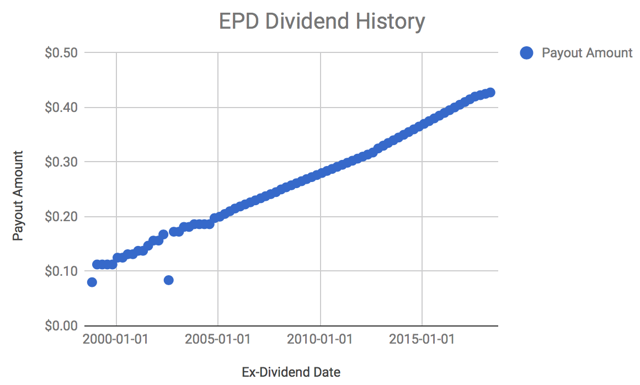 (Chart by Author)
EPD last reported distribution coverage of 1.5 times, but as just mentioned, their coverage traditionally has hovered around 1.2 to 1.3 times. I should note that MLPs rarely intentionally see a compression in their distribution coverage through aggressive distribution raises, thus future dividend increases are more likely to come from increases in distributable cash flow rather than a decrease in their distribution coverage.
Balance Sheet
EPD has a 93.4% fixed rate loan portfolio. Due to their financial discipline, they have a high Baa1/BBB+ credit rating and maintained a low cost of debt: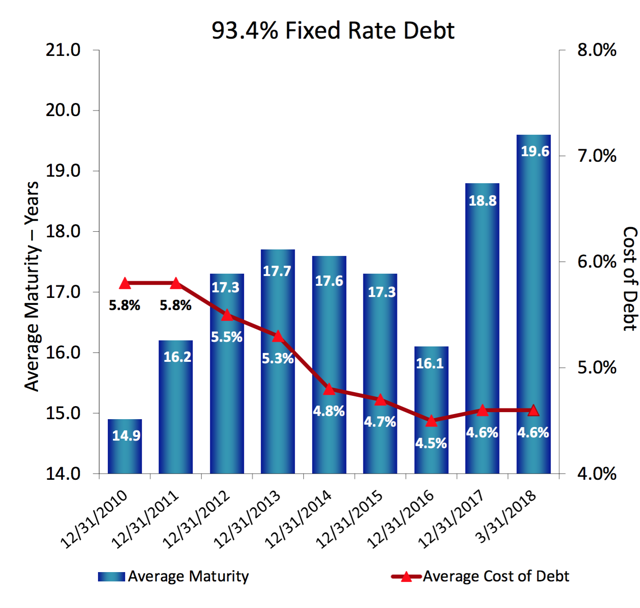 (2018 Investor Presentation)
Leverage has been coming down in recent years, which makes sense as they have significantly slowed down growth capex: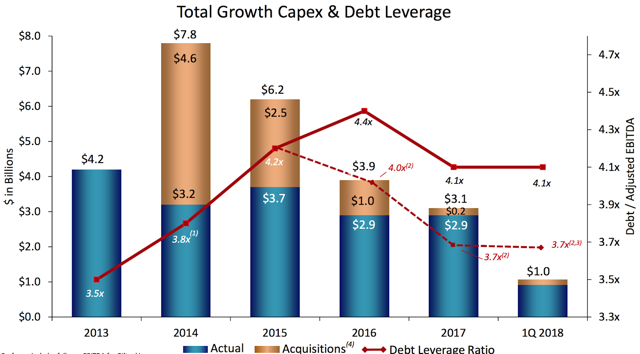 (2018 Investor Presentation)
Debt to adjusted EBITDA sits at 3.7 and debt to EBITDA at 4.1 times. Management has indicated that their goal is to remain between 3.75 and 4 times. Because in the past three years their leverage ratio sat squarely at or above the high end of this range, they have relied extensively on equity issuance to fund their growth projects: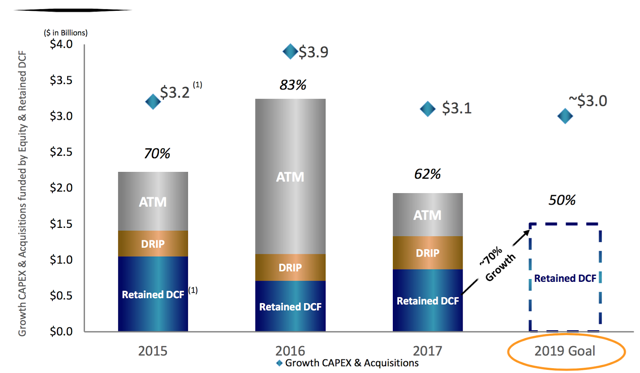 (2018 Investor Presentation)
Management has relayed their goal to be entirely "self-funding" by 2019, implying no need to issue equity. I think readers may have misinterpreted this to also mean that they will not be issuing new debt - I need to clarify any misunderstandings. Self-funding only refers to avoiding equity issuance. EPD does fully intend to continue relying on debt to fund a good portion of their capital expenditures. The main difference is that instead of primarily debt and equity as seen above, it will be debt and retained cash flows.
In the same release they also indicated that they will be slowing down distribution growth for the near future. I should stress to readers that the slowing distribution growth should be viewed in isolation as a net negative, but readers should also realize that this is very realistic considering that EPD is now faced with a tough financing environment: rising interest rates, leverage at the high end of their intended range, and equity trading at depressed prices.
This naturally means that future shareholder returns must come primarily from underlying earnings instead of growth because they will not be able to fund such aggressive capital expenditures as easily as before (less debt firepower and higher borrowing rates). The clear takeaway is that distribution growth will not be anything like that in the past, and the big tradeoff is less reliance on equity issuance.
The Critical Metric: Are They Really Growing?
Because EPD is continually adding on to its asset base, I believe that the most important metric in evaluating MLPs is their return on assets ('ROA'). For this metric, I divide their distributable cash flow into their total assets. I choose to use distributable cash flow because this is theoretically supposed to be their free cash flow assuming no asset growth.
This metric enables us to see if they are able to maintain the same amount of profitability even after purchasing new assets. This would in turn give hints as to whether their existing asset base is still performing strongly, and also even more importantly, the potential return on invested capital should they simply reinvest back into their existing assets. ROA for EPD is seen below:

(Chart by Author, data from 10-K)
As we can see, ROA moved up steeply higher going into peak oil prices in 2015 before coming down hard in 2016. Some part of the decline in ROA may also be potentially due to new projects not yet coming online. The most important thing I am seeing here is a rather high ROA, hovering almost around 10%. This is promising and indicates the superior placement of their assets in the Permian Basin among others. This lends confidence that management will be able to continue to find profitable uses for retained capital.
Valuation
Distributable cash flow per unit is expected by analysts to be around $2.25 in 2018. Trading around $29.20 per share, EPD sells for about 13 times distributable cash flow. Based on its $1.71 annualized payout, EPD sells for a 5.8% dividend yield. This is an attractive valuation considering their strong assets and their strong balance sheet (even if leverage is on the high end on their self-imposed strict 4 times range). Shares become a strong buy if the price dips to $24.40 per share, or a 7% yield. As we can see below, shares have indeed traded at that level twice in the past year: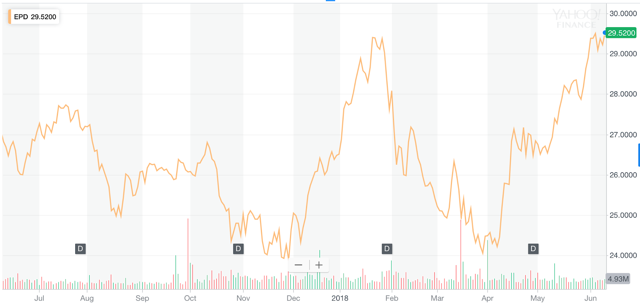 This valuation was easily attainable for quite some time. I wish I looked at this stock in detail much earlier. Kudos to my fellow authors who were able to pull the trigger at the bottoms.
Insider buying
CEO Teague has recently made several large purchases, totaling just over $1 million in the month of March:

While I would prefer to see insider buying from the board of directors in aggregate, this purchase does help show that the head at the helm thinks his stock is undervalued.
Conclusion
The big question here is whether EPD will be able to continue to find accretive growth projects to drive growth in distributable cash flow. Without growth projects, the distribution is unlikely to see meaningful growth. In spite of headwinds such as potentially higher borrowing costs, inability to issue equity, and less potential for debt multiple expansion, I believe that due to EPD already having a strong presence in the right areas as well as having low borrowing costs, they are likely to be the MLP, which is able to capitalize on growth projects moving forward.
Whereas lower quality MLPs do appear to be facing real problems moving forward, I do not see a situation where lower quality MLPs succeed and EPD does not. Their 5.8% yield, while not obscenely cheap, is certainly attractive for such a high quality payout.
If you liked this article, please scroll up and click "Follow" next to my name to not miss any of my future articles. I have a reputation for replying to every comment, leave a comment below!
Disclosure: I/we have no positions in any stocks mentioned, and no plans to initiate any positions within the next 72 hours.
I wrote this article myself, and it expresses my own opinions. I am not receiving compensation for it (other than from Seeking Alpha). I have no business relationship with any company whose stock is mentioned in this article.
Additional disclosure: I am currently working with Rida Morwa of High Dividend Opportunities. This article however is my opinion only and does not reflect the opinion of Rida or HDO.