Introduction
China has been the largest auto market in the world for the past decade. Still, China's auto industry, especially the marketing and distribution channels, continues to grow at an incredible speed, largely fueled by recent developments in technology, the economy, and policy. While there are many attractive investment opportunities in this sector, most of them remain in the private market and they haven't reached the stage of public listing. This article aims to examine two public companies, Autohome (NYSE:ATHM) and Bitauto (NYSE:BITA), to explore some of the opportunities that investors can explore in the secondary market.
The Growing Auto Industry In China
Looking at data published by China Association of Automobile Manufacturers, new car sales in China have been growing at 5.6% for the last 5 years compared to 2% in the US. But vehicle per capita for China as of 2016 was only 0.16 compared to 0.9 for the US. If we view the US market as a benchmark and also count for the difference in the two countries' populations, we have reasons to believe that there is still a long way to go for China to reach the level of a developed country, and there are abundant growth opportunities.
Table 1: New and Used Car Unit Sales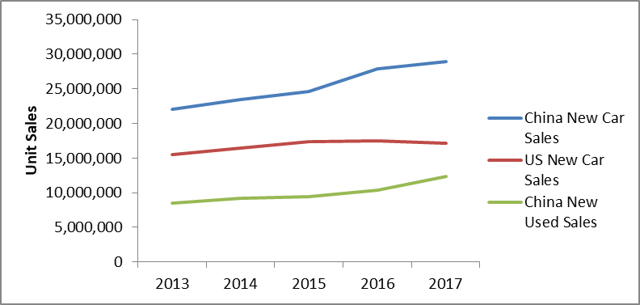 Source: Compiled by Eversight.ai using monthly published data CAAM and BEA
Along with the new car market, another promising area in China is the booming used car market. The market has been historically underdeveloped due to many reasons, such as lack of a record system, valuation models, and restrictions from government policies. A lot of these pain points are slowly being addressed by many newly founded companies, and as a result, we start to see a growth spurt in 2016/2017 in used car sales.
Business Model Overview
Marketing channels like Autohome and Bitauto play a hugely important role in connecting the supply side, which are automakers and car dealers, to the demand side, namely the buyers. These two companies emerged in early 2000 as the leading auto info & marketing websites and their business models share many similarities. Both monetize ads as they sell ad space on their website and mobile site to automakers. Dealer subscription also contributes sizable revenue as dealers pay to market their inventory on the platforms. Both platforms run a transaction platform business, which provides buyers a one-stop service from research to purchase and financing the purchase.
| | | |
| --- | --- | --- |
| | Bitauto | Autohome |
| Ads, marketing & subscription | √ | √ |
| Transaction Platform(new+used) | √ | √ |
| Auto Financing | Both self-operated financing and leads generation | Only leads generation |
As we compare the two companies, Bitauto appears to be more vertically versatile, whereas Autohome is more dedicated to its marketing business. Despite the industry leadership in ads and marketing, Autohome is a new player in many areas of the auto industry such as platform and services. In an industry that's evolving rapidly, Bitauto seems to have a first mover's advantage and better positioned for future changes.
Autohome Leads Marketing & Subscription
Since the two companies report ads/marketing/subscription differently among the business segments, I've grouped all three into one big bucket. The graph below shows the revenue and YoY growth for the two companies for the past 8 quarters.
Table 2: Ads, Marketing, and Subscription Revenue & Growth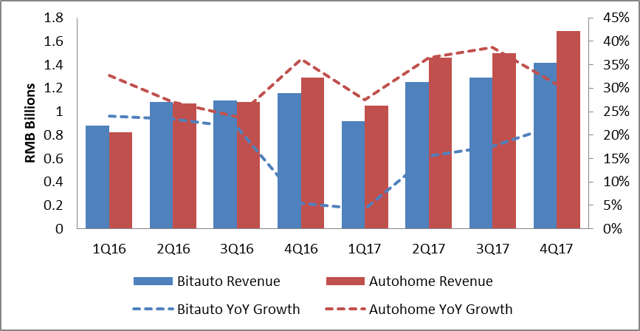 Source: Data compiled using SEC filings of the companies
When we look at some of the underlying factors that drive the marketing business, Daily Active User (DAU) count is one of the good measures for mobile traffic, and subsequently ads volume and pricing. It's clear that even after we combine the DAU of two Bitauto mobile apps (Yiche + Autoprice), Bitauto's DAU growth and momentum still seem to lag behind that of Autohome by a large margin.
Table 3: Mobile Daily Active Users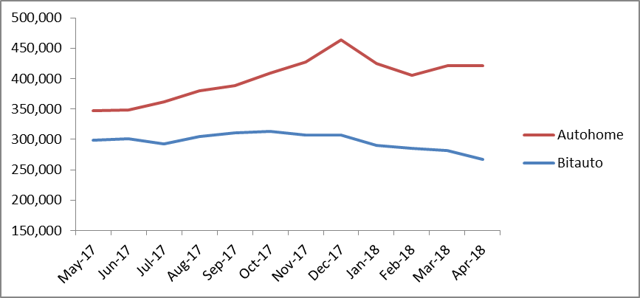 Source: Proprietary Data from Eversight.ai
The graph below informs us of the competition in the dealer subscription space. It seems that Bitauto leads the competition in terms of signed dealers. However, both seemed to have experienced a drop in dealer count in the beginning of 2018.
Table 4: Listed Dealer Count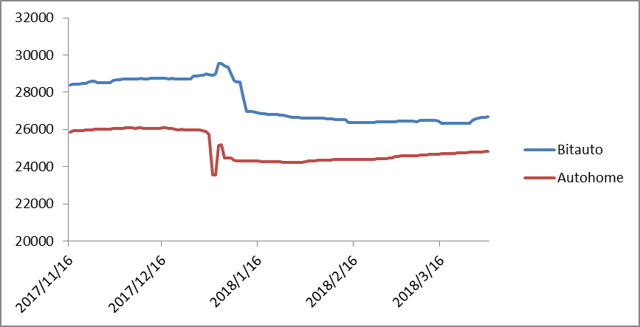 Source: Proprietary Data from Eversight.ai
Transaction Services, the Key Separator
A transaction platform allows the content distributors to quickly convert auto researchers into buyers. It also helps companies collect user preferences for future marketing campaigns. Bitauto owns taoche.com in addition to the auto mall portal on Yiche.com. Autohome runs a similar auto mall on its web and mobile site.
A key component that sets Bitauto apart from Autohome is Bitauto's self-operating auto financing business. Yixin, Bitauto's subsidiary that leads the auto finance space among online platforms, contributes remarkable revenue generation power to Bitauto's playbook. Autohome, on the other hand, acts as an intermediary that introduces buyers who want to finance their purchases to the institutions that offer such options. In 2017, more than 70% of the RMB 3.8bn revenue that Bitauto received from its transaction service business indeed came from Yixin's financing arm. Autohome currently doesn't generate such stable cash flow like Yixin, given its facilitation model, and its revenue from financing and platform combined added up to only RMB 0.5bn in 2017.
I believe that having an in-house financing unit gives Bitauto a strategic advantage over Autohome. It allows Bitauto to build an ecosystem that spans across marketing, financing, and after purchase services. Not to mention the fact that an integrated platform removes many painful operational layers for buyers and provides a far better purchase experience. Although Autohome is also working towards building a similar ecosystem (so-called "4+1" strategy), it may take them quite some time to catch up to the industry leaders.
Financials and Valuation
Even though both companies have been in the industry for more than 10 years, the financials of the two companies seem to suggest that these two companies are in different stage of their lives. Autohome presents solid and stable growth in both top line and bottom line figures, whereas Bitauto is more like a company that just got listed. While Bitauto's revenue grew nearly 50% in 2017, net loss also tripled year over year.
Table 5: Revenue and Profit Comparison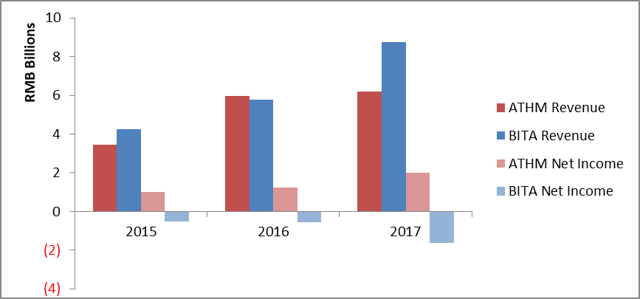 Source: Data compiled using SEC filings of the companies
Despite the strong top-line growth, investor fled from Bitauto's stock after the company released its annual report. What seemed concerning was the huge operating expense Bitauto spent in 2017, which basically ate up all the gains from the top line. As we take a deeper look at the cause of this spending spree, it turned out that the company spent over RMB 1bn in stock-based comp in 2017 as Yixin went public. Additionally, marketing and salary cost also popped up quite significantly. Most of this can be attributed to the fast expansion of Yixin and lack of consolidation between Yixin and Yiche's business.
Table 6: Stock Return for the Past 6 Months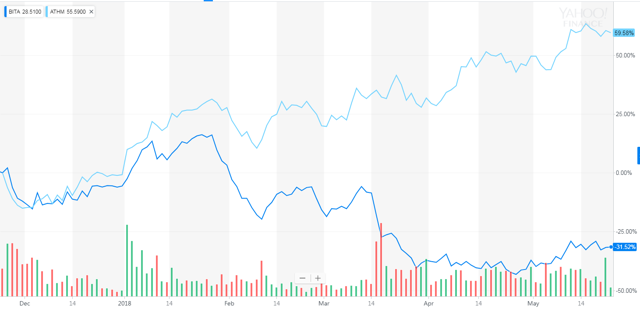 Source: Yahoo Finance
Conclusion
Given Autohome's solid performance, it certainly is a great investment opportunity for investors looking for stocks on the defensive end. However, to me, Bitauto presents a more promising upside in the long term given its growth prospect and company's vision of building an ecosystem. Additionally, after the recent sell off, the share appears to be undervalued. To achieve profitability, Bitauto will need to consolidate and reduce expenses that currently get "double-counted" as Yixin and Yiche.com operate on separate staffing models. Bitauto's management seems to be aware of this already, and we shall closely monitor their progress.
Disclosure: I/we have no positions in any stocks mentioned, and no plans to initiate any positions within the next 72 hours.
I wrote this article myself, and it expresses my own opinions. I am not receiving compensation for it (other than from Seeking Alpha). I have no business relationship with any company whose stock is mentioned in this article.