After listening to PepsiCo's (PEP) first-quarter earnings conference call and recent annual shareholders meeting, you can bet that long-term shareholders will back management in sorting out the troublesome North American beverage market. Analysts seem worried by the fact that volumes have now declined in this key market and inflation is starting to affect margins. Not only this, astute investors are well aware of the fact that although the company's North America beverage unit makes up just over 30% of the company's top line sales, the market (with respect to how the stock trades) can usually "tie" itself to this segment of the business.
Management's response to the volume numbers was to throw money at the problem by beefing up the marketing budget in this segment. This seems to be an underlying trend in the consumer staples sector at present. Savings from the new tax deal has enabled companies to invest more behind their brands. Speaking of brands, the question is whether the gross margin contraction which we will likely see this year is a sign of a weakening brand which is losing market share. This is why caution is warranted at present. As former Fed chair Ben Bernanke pointed out not long ago, the stimulus economy due to being back at practically full employment should have wound down by now. He consequently expects trouble by 2020 and I can see his point.
Many consumer staple stocks expect to spend their way out of trouble, but the macro picture may not hold up as well as PepsiCo would like. Earnings guidance, though, for 2018 was reiterated on the earnings call. The macro picture probably affects a company like PepsiCo more than most in that if discretionary spending was affected, we would surely see margins go down temporarily. The 15% increase in the dividend, though, is bound to attract attention. This company is working really hard whether it's new products or better price/mix/pack situations to give the customer what it is looking for. Short term, I sense volatility, but long term, I would back the company here to right its ship. Therefore from a dividend standpoint, here is what I'm looking at at present.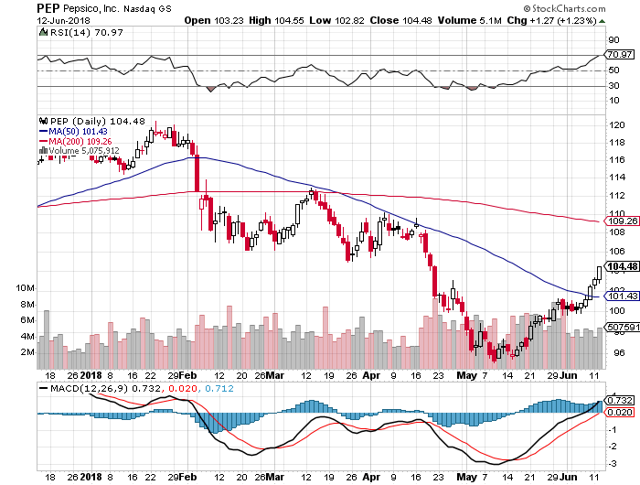 This company has grown its dividend every year since 1973. Although the payout has gotten a nice recent double-digit increase, the 5-year average annual increase comes in at around 9% which is healthy. Based on a trailing 12-month average (including the recent payment of $0.928), the yield comes in at about 3.19%. Free cash flow is going to come in a little lighter this year due to primarily the $1.4 billion pension charge which was seen in the first quarter in the operating cash flow segment of the cash flow statement. Spending is expected to also increase this year to about $3.6 billion which again will adversely increase free cash flow. Therefore, I'm projecting a very high free cash flow dividend payout ratio this year. Maybe something in the region of 80%+. I don't expect to see a significant difference in the amount of shares the company will buy back this year (only $1.54 billion bought back in 2017), meaning all things being equal, we will be looking at a $5+ billion dividend payout this year in total to shareholders.
High payout ratios limit a company to keep on increasing that dividend by double-digit percentages. The company's interest coverage ratio is 9 which is healthy and the $33+ billion of treasury stock on the balance sheet should put investors' fears at bay in relation to the $43+ billion of debt on the balance sheet.
I'm confident though that the company's expanding top line will ultimately drop down to the bottom line. PepsiCo did $63.52 billion in sales last year and we saw another 4.23% increase in the first quarter. Analysts believe the company can grow sales by around 3% on average over the next few years which is encouraging and well ahead of what the company did over the last 5 years. Although I believe one will pick up this stock cheaper over the next part of the year, PepsiCo remains a strong long-term hold.
Disclosure: I/we have no positions in any stocks mentioned, but may initiate a long position in PEP over the next 72 hours.
I wrote this article myself, and it expresses my own opinions. I am not receiving compensation for it (other than from Seeking Alpha). I have no business relationship with any company whose stock is mentioned in this article.