Much ado has been made about the growth in the gaming sector. Investors have been rewarded thus far for financing the big 3 U.S. listed gaming plays: Activision Blizzard (ATVI), Electronic Arts (EA), and Take-Two Interactive (TTWO).
All 3 companies are trading at sky-high multiples in every traditional valuation metric. You can really see their price/sales multiples surge in the chart below.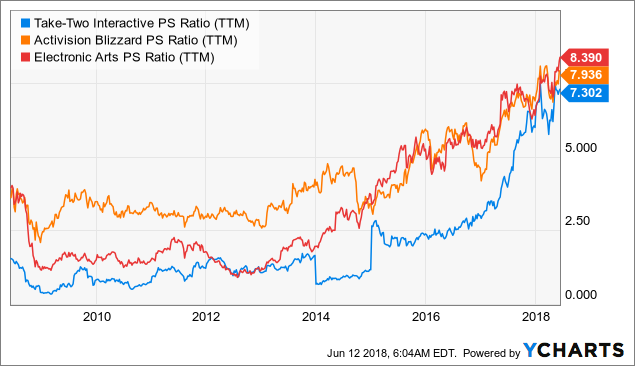 The question becomes, what have these companies done to earn such a rich valuation? Almost invariably, companies trading in this range have stellar growth histories and exciting forecasts. Potential market reach often justifiably overshadows the need for near-term profits.
In this article, I review the revenue and earnings growth of Take-Two Interactive and compare it to that of the industry. I go back all the way to 1997, its 1st year as a public entity.
Take-Two owns Rockstar Games and 2K, which are known primarily for making Grand Theft Auto, NBA 2K, BioShock, Civilization, and Red Dead.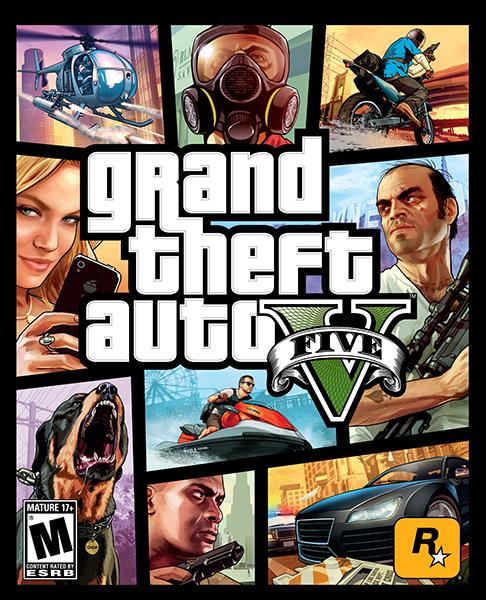 Image: Rockstar Games
Industry Growth
Newzoo claims the industry grew to $116B in sales in 2017, up 10.7% on the year. They think we will see something like an 8.2% compound annual growth rate through 2020.
I found another Newzoo press release stating industry wide sales were $5.1B in 1997 and $22B in 2007. That's a healthy 10-year CAGR of 15.7%. Yet, from 2007 to 2017, the industry grew at an even higher CAGR of 18.1%. One would expect companies in the gaming sector to be proliferating in kind.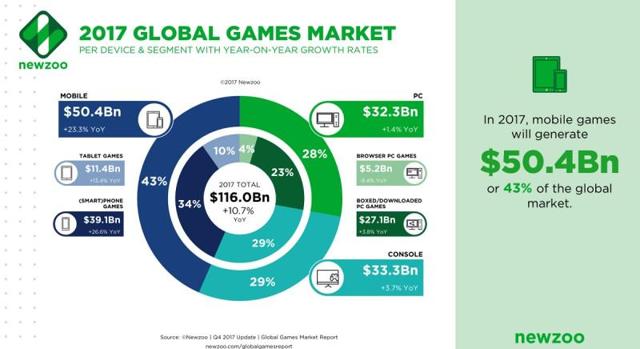 Image: Newzoo
Mobile has outgrown the PC and console segments recently and now makes up 43% of the total market. Augmented and virtual reality seem primed to keep the growth engine churning.
Take-Two Growth
I dug up TTWO's revenue and earnings figures since '97, which actually includes 22 fiscal years of data; in 2009-10, they modified their fiscal year to end after March.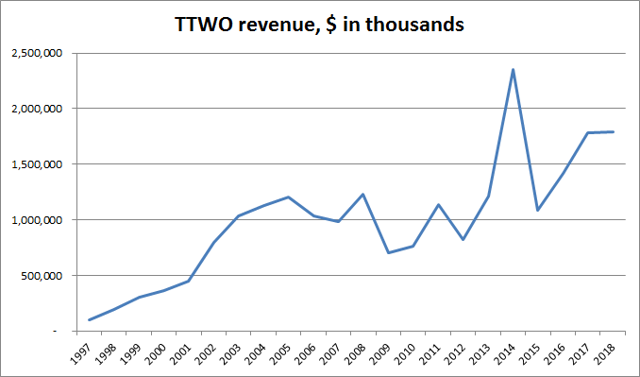 Image: author's spreadsheet
In its first 10 years as a public company ('97-'07), sales went from $97M to $982M, a 26% compounded annual growth rate. In its last 10 years ('08-'18), sales improved from $1.2B to $1.8B, only 3.8% CAGR. Wow, that seems sub-par.
To be as fair as possible, I looked for a favorable growth rate to compare: the most recent 5-year CAGR for the company is 8.1% while the industry has grown at 11.9%. Surprisingly, it seems that the company has failed to keep pace with the industry.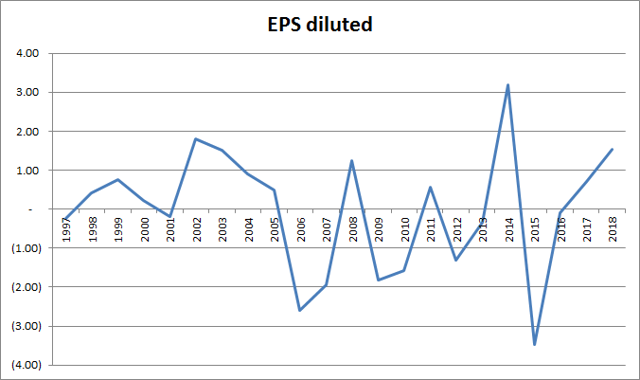 Image: author's spreadsheet
EPS is erratic and seems to actually be increasing in volatility. Contrary to what I expected, the company seems to be under-performing, even compared to its own standards. Over its first decade as a public company, the company earned profits in 7/10 years. Over the last decade, only in 4/10 years.
Growth Projections
The company gave some financial guidance for FY '19 in their last earnings report. I took the midpoint of the ranges they provided and calculated the implied 1-year growth rate in the table below.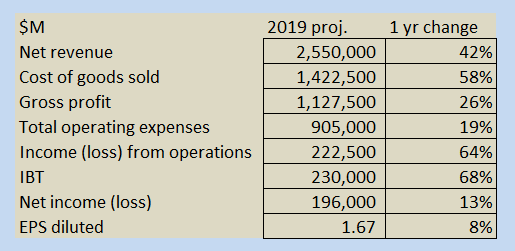 Image: author's spreadsheet
Management is projecting a new record in revenues this fiscal year, mostly due to the much anticipated release of Red Dead Redemption 2, but also new installments of NBA 2K19 and WWE 2K19.
These numbers, if delivered, would certainly be an improvement over historical financials. They are easily on pace to earn net profits for 3 consecutive years, something they've only done once before. But fiscal 2020 has only one new title release planned, so we may see another dip in revenue.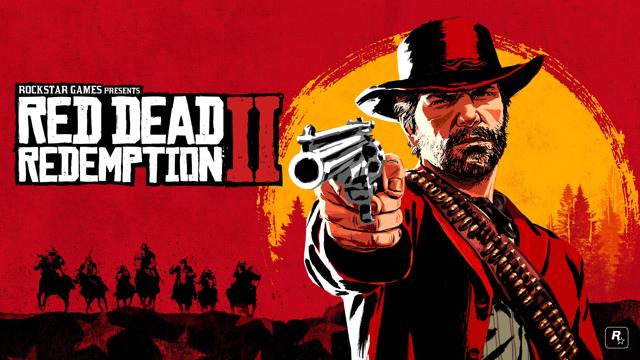 Image: Rockstar Games
Strategy or Risk?
From the most recent 10-K, the company elaborates on its strategy:
"We focus on building compelling entertainment franchises by publishing a select number of titles for which we can create sequels and incremental revenue opportunities through add-on content, microtransactions and online play."
They probably say this because they are very dependent on the success of a few titles. In fact, it is the first item mentioned in the "Risk Factors" section. Grand Theft Auto alone was almost 40% of last year's revenues, and the top 5 selling titles accounted for about 91% of revenues.
A more skeptical individual might wonder if this lack of diversification in titles is responsible for the turbulent earnings history.
Mobile, which is now the largest segment of gaming, is not even broken out into its own line item in the supplementary financial statements. From the most recent 10-K, "Console" was 82% of revenues while "PC and other" made up the remaining 18%. It's starting to make sense why the company isn't keeping up with competitors in terms of financial performance.
Conclusion
The company currently trades at 74x last year's earnings and 7.3x sales. The forward earnings multiple is only slightly better at 68x. Sales and earnings growth is way too weak to merit such a premium. It seems a significant portion of TTWO's value must be attributed to potential. Otherwise, the stock is grossly over-valued. No doubt the Fed has insisted investors buy risk, and we are probably seeing its manifestation here.
Yet we must ask, if the internal prospects for growth are so good, why is the company buying back its own stock at all-time highs (to the tune of $155M in FY '18 and already $150M in Q1 '19)?
This company has underperformed for a full decade now. This is a company that has been public for 21 years now, and their longest streak of positive earnings occurred in the 4 fiscal years '02-'05.
Perhaps, the company's lack of diversification is a significantly under-appreciated risk. At this point, the company is way behind in mobile. I began to wonder if shorting the stock might be profitable. The issue is that shorting on valuation alone is betting on a change in investor psychology, something that I don't do anymore.
For me, I'm steering clear of the stock unless/until a more complete short thesis arises. An opportunity may be on the horizon: BMO Capital recently downgraded the stock citing lofty expectations for the upcoming release of Red Dead Redemption 2. With such a premium valuation, the stock would tank on any bad news here.
Disclosure: I/we have no positions in any stocks mentioned, and no plans to initiate any positions within the next 72 hours.
I wrote this article myself, and it expresses my own opinions. I am not receiving compensation for it (other than from Seeking Alpha). I have no business relationship with any company whose stock is mentioned in this article.