This article was first published in Trend Investing on April 12; therefore all data is as of that date.
Havilah Resources [ASX: HAV] [GR: FWL] - Price = AUD 0.20
Havilah controls more than 14,000 square kilometres of mineral tenements in the Curnamona Craton in northeastern South Australia. Havilah's cost-effective exploration over the last decade has been very successful in delineating a JORC Resource metal inventory of 1.4 million tonnes of copper and 3.6 million ounces of gold, plus appreciable associated molybdenum, cobalt, tin, and uranium.
Havilah Resources has the following projects:
Note: Post-publication update. On June 4, Havilah Resources announced: "North Portia divestment for $14.7 Million and 2% NSR royalty. Will allow greater focus on higher value, lower risk Mutooroo copper-cobalt-gold project. Minimal impact on Havilah's substantial JORC copper-cobalt-gold resource inventory. Minimum guaranteed royalty payments of $300,000 per quarter from 1 December 2020. Current Portia 15% gold revenue stream remains until 30 November 2018."
Havilah Resources 5-year price graph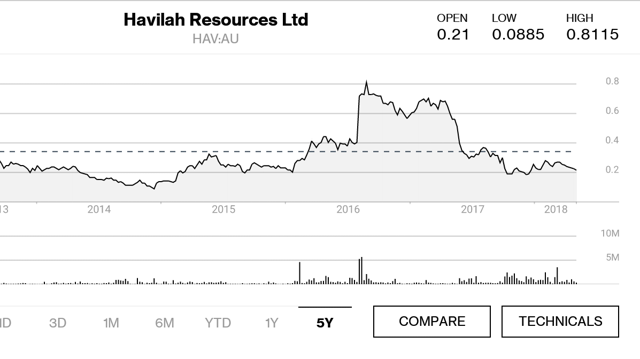 Source: Bloomberg
Summary of Havilah Resources
Havilah's copper and gold summary (excludes cobalt)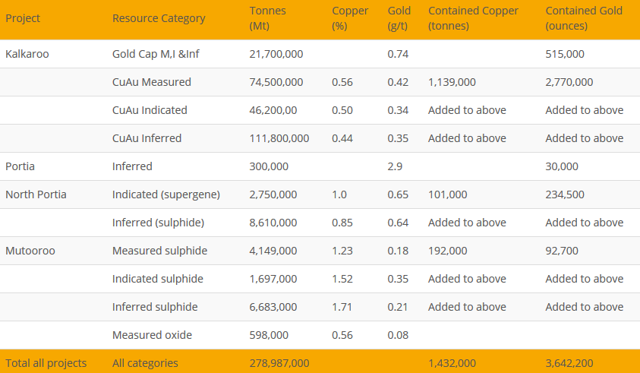 Note: Kalkaroo is Havilah's flagship mineral project and is one of the largest undeveloped copper and gold deposits in Australia, containing 1.13 million tonnes of copper and 3.3 million ounces of gold in Measured, Indicated, and Inferred JORC Resources. It can potentially sustain a substantial bulk open pit mining operation at an average annual production rate of 34,000 tonnes of copper and 108,000 ounces of gold over a period of at least 14 years.
Note: North Portia contains an Indicated + Inferred JORC Resource of 11.3 million tonnes of 0.89% Cu, 0.64 g/t Au, and 500 ppm Mo for a total contained 101,000 tonnes of copper, 234,000 ounces of gold, and 5.68 million kg of molybdenum.
Havilah's cobalt summary
| | | |
| --- | --- | --- |
| | Average Grade | Contained cobalt (tonnes) |
| Kalkaroo | 0.012% | 23,200 |
| Mutooroo | 0.13% | 17,100 |
Havilah Resources project location map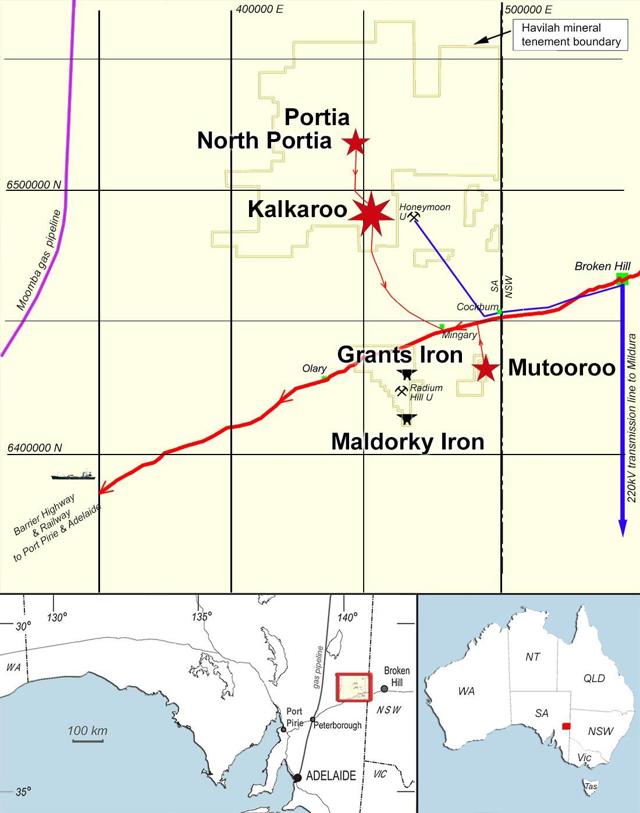 The Mutooroo project has the greatest cobalt potential; therefore, I will focus on that.
Havilah's promising Mutooroo copper-cobalt project near Cobalt Blue [ASX: COB] (OTCPK: CBBHF)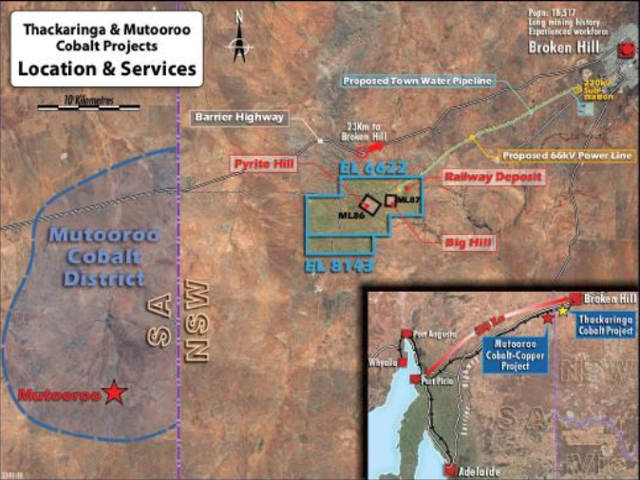 Broken Hill regional cobalt miners map (Mutooroo is not shown but would be at the bottom left if shown)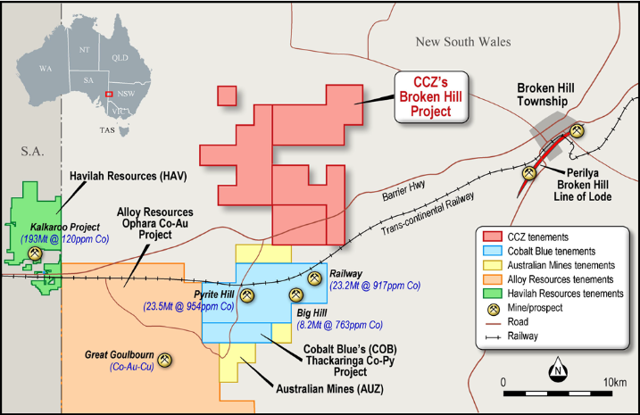 Havilah's tenements lie on the South Australian border near to Broken Hill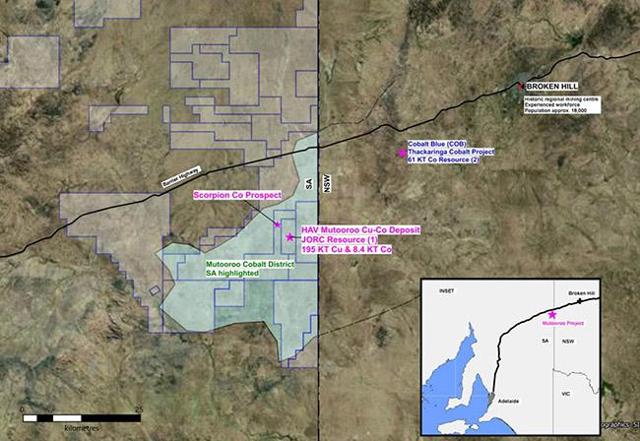 Mutooroo Copper-Cobalt project
The 100% owned Mutooroo copper-cobalt project is about 60 kms west of Broken Hill in South Australia and nearby the Kalkaroo copper-cobalt project. The Mutooroo project has the better cobalt grade (0.13%) for 17,100 tonnes of contained cobalt. The project covers a massive 1,574 km² and is still mostly unexplored. The ore type is similar to that of Thackaringa; hence, Havilah is collaborating with Cobalt Blue to test their ore. The company is working towards a PFS for Mutooroo in 2018.
Havilah states:
Mutooroo is a lode-style massive sulphide copper-cobalt deposit located about 60 kms west of Broken Hill. It contains a Measured+Indicated+Inferred JORC Resource of 13.1 million tonnes of 1.48% Cu for a total contained 192,000 tonnes of copper, 8,432 tonnes of cobalt, 93,000 ounces of gold and 2,500,000 tonnes of sulphur.

The deposit transitions from an outcropping gossanous secondary copper zone that was exploited by the early prospectors during the late 1800's, to massive sulphide mineralisation below 25-30 metres depth. The latter is typically composed of pyrrhotite (60%) - quartz fragments (25%) - pyrite (5%) - chalcopyrite (5%) with local fragments of variably altered country rock.

Drilling has shown remarkably wide and continuous sulphide zones at comparatively shallow depths. To date, only about one third (approximately 700 metres) of the known mineralised strike has been drilled by Havilah.
The current cobalt resource now stands at 17,100 tonnes of contained cobalt (@0.13% grade), up from the previous 8,432 tonnes, with only 1/3 of the mineralized zone drilled as of late 2017. In 2018, Havilah plans to continue to drill some of the unexplored areas where they can see the remains (outcroppings) from the old time miners where they left the sulphide ore behind. Or as described in this video - "The lode is clearly defined by a series of old mine shafts... in a North-South direction for about 2.1 kms". Importantly, this means they already know the ore is sulphide and at least some or all of the mineralized zone is well marked out. The old-timers were chasing the high-grade copper near surface but did not know how to deal with the sulphide ore, so it was left behind and lies about 25-30 metres below surface.
Note: In a April 26, 2018 release, Havilah has found more signs of cobalt at Mutooroo - "Up to 1,630 ppm (0.16%) cobalt in rock chip samples from Scorpion Prospect 4 kms northwest of the Mutooroo copper-cobalt project. One of many prospects, highlighting the potential for significant massive and disseminated sulphide hosted cobalt mineralisation in the Mutooroo Cobalt District."
Sulphide ore outcroppings at Mutooroo (left behind by the old timers in 1897-1914) clearly define the mineralized zone of sulphide ore within ~25-30 metres from the surface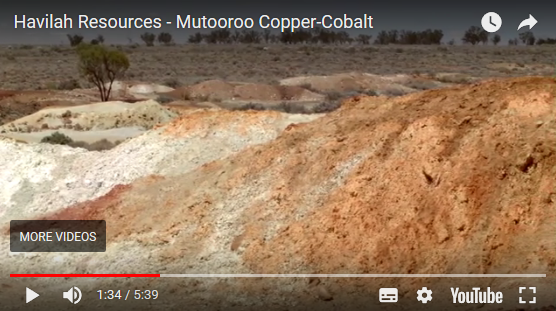 Mutooroo's North-South direction mineralized strike zone of at least 2.1 kms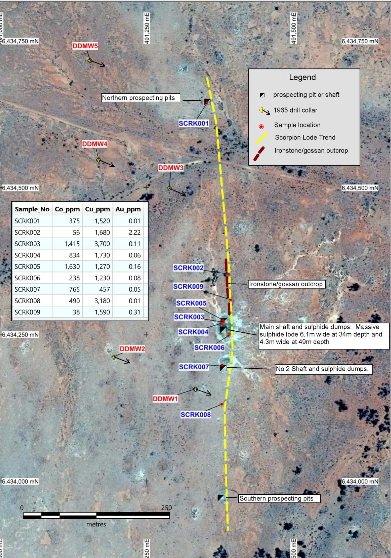 Havilah has drilled only 1/3 of the mineralized strike zone at Mutooroo. Therefore, it is very likely the resource is at least 3x larger.
The pyrite ore is very likely to be found amenable to processing using Cobalt Blue's processing technology, and Cobalt Blue is currently assessing Havilah's ore. This also raises the possibility that Havilah will use Cobalt Blue's future planned processing plant and IP under some sort of tolling or JV agreement, thereby minimizing CapEx for Havilah.
Infrastructure And Access
All of Havilah's projects are well accessible by road and rail. They are also within a short drive from the town of Broken Hill, which will provide a ready and skilled workforce.
Management
Ken Williams - Non-Executive Chairman
Mr. Ken Williams has extensive experience in corporate finance and risk management, complementing the technical skills of the other directors. He held senior roles in the treasury operations at Qantas Airways Limited and Normandy Mining Limited before becoming Chief Financial Officer of Normandy and was Group Executive Finance & Business Management at Newmont Australia Limited. Mr. Williams is also a Director of ASX listed company, AWE Limited and a member of the Board and Chairman of the Investment Committee of Statewide Super SA. Mr. Williams is a resident of Adelaide and a member of the Australian Institute of Company Directors.
Dr. Chris Giles - Technical Director
Dr. Chris Giles is an experienced exploration geologist having worked on exploration teams that have been directly responsible for the discovery of several operating gold mines in various parts of the world, including Indonesia, East Africa, and Australia. He has been jointly responsible for the formation of Havilah and the development and execution of the company's exploration and corporate strategy. Dr. Giles is a resident of Adelaide and a Member of the Australian Institute of Geoscientists.
Walter Richards - CEO
More than twenty years of experience in various financial controller roles with Newmont Mining Corp. as Regional Vice President - Finance in Africa, during which the Ahafo and Akyem gold mines were developed. Walter has very relevant experience given where Havilah sits in relation to a number of development projects and has introduced many beneficial changes to Havilah's corporate management and financial reporting and control.
Largest Shareholders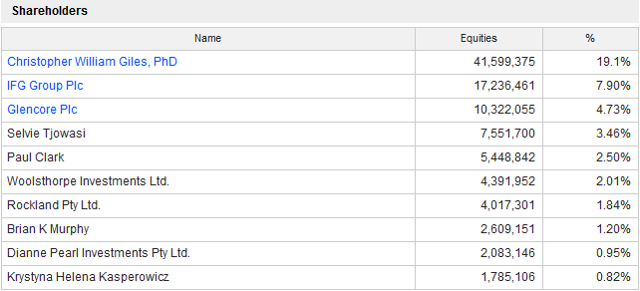 Note: It is good to see considerable insider ownership as well as Glencore [LSX: GLEN] [HK: 805] (OTCPK:GLCNF) listed in the top ten shareholders.
Valuation
As at 30 April 2018, Havilah Resources' cash at bank was AUD 1.759m. The company has 3.5m debt (owed to Investec Group). Current market cap is AUD 45m, with 218m shares issued.
Given the project is hosted in a sulphide ore that should keep CapEx and Opex costs down.
It is perhaps a bit too early to accurately model Havilah. However, clearly, if they can continue to advance their projects towards production (in addition to their current Portia gold producing mine) even with some JVs, the stock would re-rate significantly higher.
Catalysts
May 2018 - Results from Cobalt Blue on Havilah's Mutooroo sulphide ore suitability for processing by Cobalt Blue.
2018 - Drill results and permitting for Mutooroo. Resource upgrade and PFS for Kalkaroo.
2018 - Decision to mine and commencement of overburden removal (subject to PFS results and timely permitting).
2019/2020 - Potential to expand gold production at North Portia.
2021/2022 - Copper-gold-cobalt-molybdenum production from Kalkaroo.
2021/2022 - Copper-cobalt production from Mutooroo.
Beyond 2020 - Iron ore production from Grants iron (within the Mutooroo area) and/or development of the massive Jupiter Iron Oxide Copper Gold target.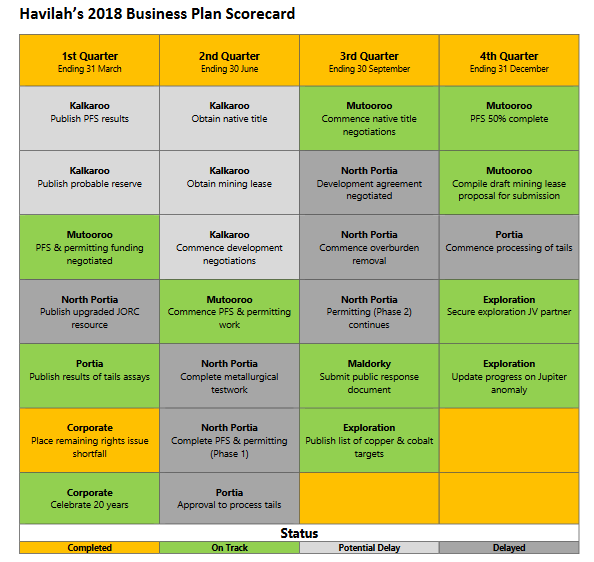 Competitors
Australian Copper Miners Compared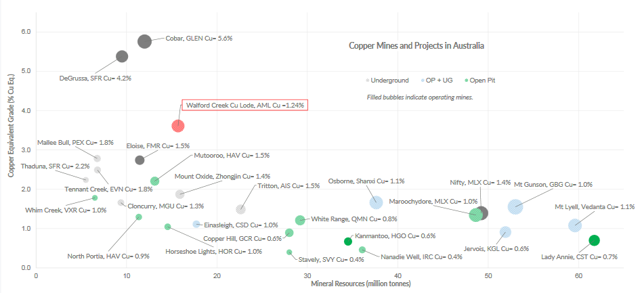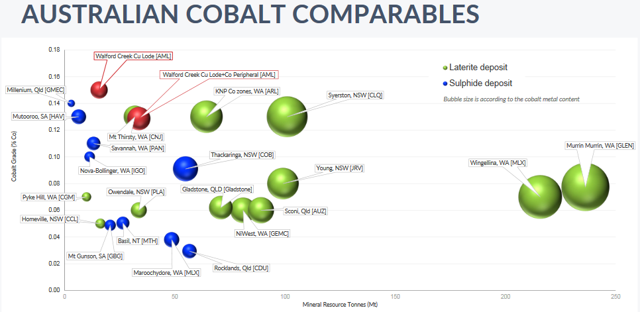 Havilah's Mutooroo shown top left (note: grade is Cobalt "equivalent", so includes the copper and gold)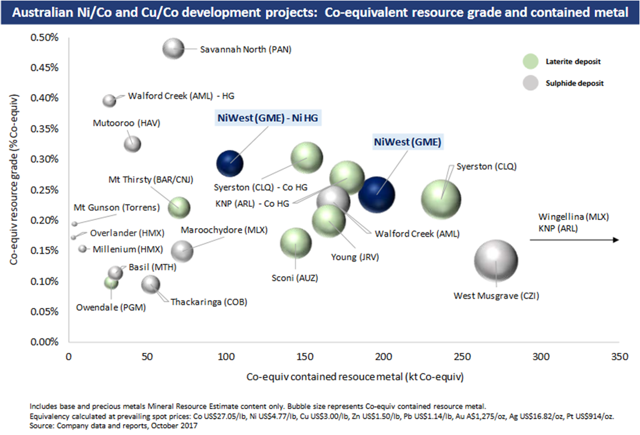 Risks
Cobalt, copper, or gold prices falling.
The usual mining risks - Exploration risks, funding risks, permitting risks, production risks.
Debt - The company has a small debt, so must meet payment obligations.
The company may not be able to increase their current resources.
Management and currency risks.
Sovereign risk - Minimal as the projects are in Australia.
Stock market risks - Dilution, lack of liquidity (best to buy on local exchange), market sentiment.
Investors can view the latest company presentation here.
Further Reading
Conclusion
Havilah's flagship Kalkaroo has 1.13 million tonnes of copper and 3.3 million ounces of gold at average grades and is at the advanced PFS stage. But the most exciting for me is their very promising Mutooroo copper-cobalt project. Sure Mutooroo has copper (192,000t), gold (93,000 Ozs), iron, and sulphur at reasonable grades; but they also have 17,100 tonnes of contained cobalt (@0.13% grade). The sulphide ore is at 25-30 metres depth, but only 1/3 of the strike length has been drilled, meaning the resource is very likely to grow at least 3-fold from here.
Valuation is very attractive at AUD 45m market cap given the very large resource inventory built up over the past 10 years. For a relatively low expense, I see Havilah expanding Mutooroo to ~50,000 tonnes or more of contained cobalt with valuable by-products (copper, gold, iron, sulphur). By about 2021/2022, it is quite probable Havilah will utilize Cobalt Blue's IP and future processing plant saving them a few hundred million dollars in CapEx.
All going well within 3 years, Havilah should be producing the following - North Portia (2.5% royalty on all metals), Kalkaroo's copper and gold, and Mutooroo's copper and cobalt. Then throw in some iron ore, tin, and sulphur as added extras. This is why I say "Havilah Resources has huge potential".
All comments are welcome.
Trend Investing
Thanks for reading the article. If you want to go to the next level, sign up for Trend Investing, my Marketplace service. I share my best investing ideas and latest articles on the latest trends. You will also get access to exclusive CEO interviews and chat room access to me, and to other sophisticated investors. You can benefit from the hundreds of hours of work I've done to analyze the best opportunities in emerging industries, especially the electric vehicle and EV metals sector. You can learn more by reading "The Trend Investing Difference", "Recent Subscriber Feedback On Trend Investing", or sign up here.
My latest Trend Investing articles are:
Disclosure: I am/we are long HAVILAH RESOURCES [ASX:HAV], GLENCORE [LSX:GLEN], COBALT BLUE (ASX:COB), AUSTRALIA MINES (ASX:AUZ), CASTILLO COPPER [ASX:CCZ], ALLOY RESOURCES LIMITED [ASX:AYR].
I wrote this article myself, and it expresses my own opinions. I am not receiving compensation for it (other than from Seeking Alpha). I have no business relationship with any company whose stock is mentioned in this article.
Additional disclosure: The information in this article is general in nature and should not be relied upon as personal financial advice.