Is there such a thing as The No. 1 Stock In The World? Almost surely not.
If one judged it by total return over the years, that would offer absolutely no guarantee of future performance.
If a Dividend Growth Investing practitioner judged it by income production, again, there would be no proof that the dividend would continue to grow at the same rate (or at all).
And if perceived future performance was the primary factor, that would be mere speculation. I mean, there is no way to prove the future.
Nevertheless, as investors, aren't we always trying to choose the best investments for our portfolios, our families, our futures?
Besides, trying to identify No. 1 is fun!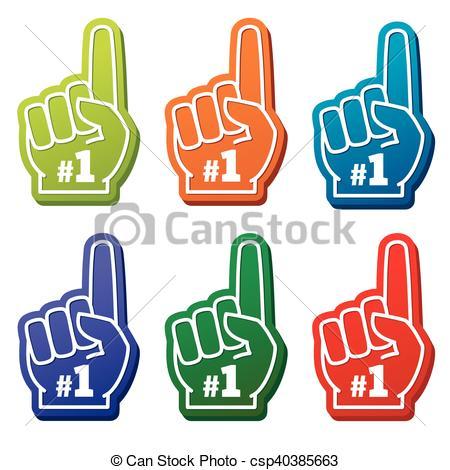 Three years ago, I put together a Seeking Alpha panel in an attempt to do just that. What resulted was a popular three-part series filled with interesting candidates for fellow investors to consider. (Part 1, Part 2, Part 3.) Each year since - most recently last month - I have reviewed the selections.
In the comment stream of that last review, it was suggested that we update the project... and I thought it was a great idea. A lot has changed since 2015 in the stock market, in America and throughout the world.
So, here we go again, as I asked 13 panelists to answer the same two questions:
1. If you could only own one company in your portfolio and you were buying it today, which would it be? Why?

2. If you had $25,000 to invest TODAY on one company and you planned to hold it for 10 years or more, which company would you buy? Why?
Otherwise, the only guidance or rule I gave them was that they had to choose common stocks (as opposed to an ETF, mutual fund or preferred stock).
Meet The Panel
Eight of the 15 participants in the 2015 collaborative project took part again: SA contributors Adam Aloisi, Eddie Herring, Eric Landis, ScottU, and Nicholas Ward, blogger Buyandhold 2012, and frequent commenters kolpin and Paul Leibowitz. (Note: The other 7 were invited back but chose not to participate for various reasons.)
Five others also joined the fun: contributors Ian Bezek, Dividend Sensei, Julian Lin, and RoseNose, as well as frequent commenter scoots.
I wanted to put together a panel representing different age groups, experience levels, investing styles and areas of expertise. Eddie, Paul, Rose, and scoots are retired; Eric, Ian, Scott, Nicholas, kolpin, and Julian are "youngsters." Most panelists consider themselves DGI practitioners, but a few do not. Sensei has written about energy-sector dividend payers for years, Ian worked for a hedge fund, and scoots comments knowledgeably about tech stocks. Buyandhold says he has never sold any stock in nearly a half-century of investing; Adam, a full-time investor and former industry analyst, is far less passive. Back in 2014, Eric and Scott helped choose what has come to be known as the Dividend Growth 50; they are the only panelists to have contributed to all five of my annual collaborative projects.
Once I received all of their responses, it became obvious that I needed to break this into two parts. Today, we will deal with Question 1: If you could only own one company in your portfolio and you were buying it today, which would it be? Why? Part 2, to be published next week, will deal with the hypothetical $25K investment.
First, I will present a data-filled table with each panelist's selection. Then, I will share their responses to the always-important question: "Why?" Finally, I will chime in with a few observations.
| | | | | | | |
| --- | --- | --- | --- | --- | --- | --- |
| COMPANY | PANELISTS | YRS | YLD | 5DG | PRICE | M*FVE |
| Johnson & Johnson (JNJ) | Nicholas, kolpin, B&H, Paul L | 56 | 2.9% | 6.7% | $122.79 | $130 |
| Altria (MO) | Eric, Scott | 49 | 5.0% | 8.3% | $56.31 | $64 |
| | Julian, scoots | NA* | NA* | NA* | $1,146.95 | $1,200 |
| Coca-Cola (KO) | Eddie | 56 | 3.6% | 7.4% | $43.46 | $49 |
| McCormick (MKC) | Ian | 32 | 2.1% | 8.7% | $101.20 | $99 |
| Honeywell (HON) | Adam | 7 | 2.0% | 12.4% | $151.00 | $150 |
| Brookfield Infrastruc. Partners (BIP) | Dividend Sensei | 11 | 5.0% | 11.7% | $37.83 | NA** |
| AT&T (T) | Rose | 34 | 6.0% | 2.2% | $33.38 | $40 |
(Key: YRS is consecutive years of annual dividend raises; YLD is dividend yield. 5DG is annual dividend growth over the last 5 years; PRICE is as of market close 6/6/18, which was the deadline I assigned the panelists; M*FVE is Morningstar's Fair Value Estimate. *Alphabet does not pay a dividend; **Morningstar does not cover BIP.)
JNJ: Four Score
Four panelists chose Johnson & Johnson as their answer to Question 1, and here's what they had to say...
Nicholas Ward:
It's hard to find a better investment than Johnson & Johnson, and I recently bought shares at $121.64. JNJ has increased its dividend for 56 consecutive years. In terms of reliable EPS growth, it doesn't get much better. (See FAST Graphs illustration below.) JNJ has posted 8%+ EPS growth 4 of the last 5 years, and 2018's figure is expected to represent double-digit growth.
You'd think the market would put a premium on this sort of predictability, right? Well, JNJ is down about 15% from recent highs and is at its lowest P/E ratio since late 2015. I think the talc powder lawsuits have something to do with this, and I still believe that remains a potentially large risk for this company, but all equity positions come with risks.
Looking forward, JNJ is trading with a 15x multiple and a 3% dividend yield. JNJ's 20-year normal P/E ratio is 19.4. I think it's fair to say that this company's best growth days are behind it, so I don't think shares should trade for nearly 20x; however, I do think that 17x is fair.
When you combine JNJ's nearly 3% dividend yield with its EPS growth trajectory and the potential for multiple expansion back toward fair value, it's easy to envision JNJ generating double-digit returns over the next couple of years with relatively little risk.
As boring as my answer may seem, my pick for Question 1 is still JNJ - the same company I selected in 2015. I believe that it is still one of the most broadly diverse companies a DGI practitioner can own.
Rather than detail JNJ's attributes ad nauseam, I will simply reiterate that JNJ appeals to me based on healthcare's secular growth story as the Baby Boomer population ages and continues to live longer than generations past. It's one of the most well-run and conservative healthcare companies with a wide moat, substantial cash flow, strong brand recognition, and broad consumer base.
Paul Leibowitz:
I want a credible shot at a minimum 8% annual return. The one company I choose needs to survive longer than any of us and generate ample dividend income to eliminate or reduce the number of shares that need be sold for living expenses. Financial strength, safety, and reliable earnings growth matter equally. Added requirements are: recession resistance, reduced sensitivity to rising interest rates, and superior inflation-beating total returns.
Key attributes are: (1) evolutionary and revolutionary proprietary products that are essential no matter how much the world changes; (2) a history of large investments in R&D to generate new products; (3) exceedingly large barriers to entry due to high regulatory standards/oversight and product development costs; (4) international sales; and (5) low to no dependence on government funding. To my way of thinking, only pharma/medical device companies meet all those attributes.
As the world's largest and most diversified healthcare company, JNJ's business is never entirely at risk. For the past 20 years, through two recessions and the global financial meltdown, JNJ's operating EPS increased annually. It has a fortress-like balance sheet and a wide, durable moat. In the unlikely event JNJ would break itself up, we'd wind up with several excellent companies.
Now is a good time to buy because JNJ is just about at fair value and is forecast to end 2018 with 11% growth in operating earnings. My expectation is that both JNJ's 10+ year and lifetime annual total returns will be in the range of 8-10%. I'll take it.
There are only two stocks with AAA credit ratings, Johnson & Johnson and Microsoft (NASDAQ:MSFT), and I prefer JNJ. Beta is 0.59 - it means that the stock is not volatile. The forward P/E is 14.1. The expected 5-year PEG ratio is 1.93; I will not buy a stock if the PEG ratio is higher than 2.00. JNJ has substantially outperformed the S&P 500 over the long term. And it is a Dividend Aristocrat. If I could only own one stock and had to buy it today, JNJ would be the one.
Big MO
Two panelists selected Altria, and here's why...
Eric Landis:
Considering I own 50+ companies, this is a difficult question to answer, as there are so many excellent companies in the market. However, one sticks out as an excellent value right now. Altria is one of the best dividend growth stocks of all-time, and I think will continue to be. The company has produced 8% or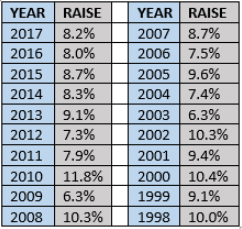 better EPS growth every year since 2009, along with similar dividend growth.
Shares are 25% off all-time highs, bringing the yield up to 5%. The lowered corporate tax has resulted in expected EPS growth of 18% in 2018 to $4 per share. Management has continued to guide for an 80% payout ratio, meaning another 10%+ dividend boost is likely later this year.
Altria also owns more than 10% of Anheuser-Busch InBev (BUD), providing MO with over $800 million in dividends to put towards share repurchases or other growth initiatives. Finally, Altria owns the U.S. distribution rights to iQOS, which will likely be approved for sale later this year. I think the Philip Morris (PM) "heat-not-burn" product is the future for reduced-risk tobacco use, and it could be an important tool in helping the company overcome declining cigarette sales.
With a future dividend hike in the pipeline and a yield already at 5%, I think downside is minimal. That yield, along with future high-single-digit growth, should provide investors with double-digit annual total returns going forward.
ScottU:
I would never imply that someone would fill a portfolio with simply one company. But if I had to choose - and that is exactly what this exercise is asking us panelists to do - I would lean on what I consider safer companies that offer some value. I considered JNJ here, but, in the end, I chose Altria.
While it is undeniable that core product usage has been in decline, the company has long produced outsized returns for investors. Yes, the shares are down more than 20% from all-time highs, but that has allowed that P/E ratio to drop considerably.
According to Bank of America Merrill Lynch, Altria will grow earnings by 8% over the next 5 years, and its one-year price target today is at $70/share - an upside of roughly 25%.
Google This!
Despite offering no dividend, Alphabet was the choice of two panelists...
scoots:
Most think of Alphabet as a search engine, so they take it for granted. But there is a lot more under the hood of this company than is evident (including its driverless automobile - Waymo).
How many are aware GOOGL owns YouTube, a magnificent property, or Nest (a smart home appliance business), or a live-streaming operation that hosted Beyonce's recent appearance? Then, there is Android, Google Play, Google Maps, Google Chrome, Google Cloud, and, most importantly, its stupendous advertising arm.
And of course, as the following graphic from smartinsights.com shows, Google is by far the King of Search.

Management never rests, devoting funds to research and development. In fact, some analysts get perturbed because these funds aren't immediately made available for dividends or buybacks. GOOGL very well could pay a dividend one day, just as Apple (AAPL) and Microsoft do now.
So, what we have in GOOGL is a virtual mutual fund in the TIE area: Tech-Internet-eCommerce. What more diversification could one want in this vital realm?
As for valuation, GOOGL's P/E ratio is near 30, its forward P/E is around 26, and its PEG ratio of 1.45 is quite tolerable for a fast-growing company with a longer-term viewpoint. It has an excellent record of beating analyst predictions, and there is only minimal debt on the balance sheet. Its profit margins comfortably exceed those of its industry and sector cohorts.
According to marketwatch.com, the current analyst sentiment for GOOGL is 36 Buy, 3 Overweight, 5 Hold, 0 Underweight and 0 Sell.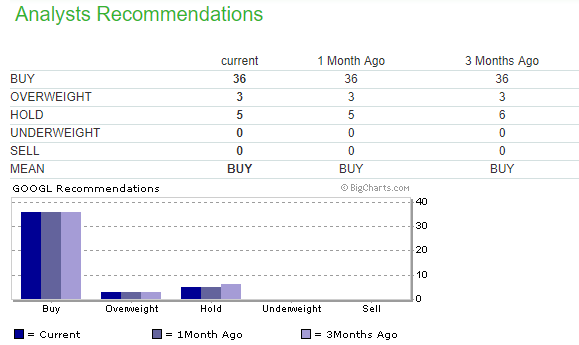 Julian Lin:
Yes, I realize Alphabet's $782 billion market capitalization is larger than most countries' GDPs - and that, at some point, great size obstructs meaningful growth. But this is more guideline than steadfast rule; I think GOOGL is definitely the exception.
Its core advertising business continues to grow as it benefits from the movement of businesses toward the internet, which in turn leads to a transition from traditional to online advertising. While GOOGL already has more than $100 billion in revenues, the growth is far from over. Alphabet also has a $102 billion cash hoard.
Even when growth slows, GOOGL should still command an earnings multiple of 18-21 due to its abilities to innovate and release new ideas from its "other bets" category. (Waymo, anybody?) Being able to buy near this multiple as Alphabet compounds earnings in the next decade should take shareholders for a nice ride.
My one gripe: As I recently wrote, Alphabet should return cash to shareholders via share buybacks and a modest dividend. Alphabet can afford a $50/share payout out of earnings alone, but I'm only asking for $1/share. Investors buy stocks because cash as an investment is a poor way to invest capital. GOOGL shareholders should demand the same of their cash.
Five More Candidates For No. 1
Eddie Herring on Coca-Cola:
I reviewed my comments from 2015 as to why I chose KO, and my reasons have not changed one iota. To the question of only owning one stock in my portfolio, I took that to mean from now until the cows come home. I stated I needed a moat, I needed steady income, and, among other things, I needed a company that could survive poor management. I think KO has done just that.
If I can only have one company in my portfolio, I'm going to look for a quarterback who's a game manager - i.e. one that won't get me beat. I'm not trying to run up the score, I simply want to walk out a winner.
One comment in the stream of the 2015 article said: "They couldn't have picked a more mature, slow-growing company than Coke. People are definitely trending away from pop." Hey, people have to drink something - be it water, tea, pop, orange juice, diet drinks, smart water, vitamin water, energy drinks. Coke has them all. And the company can adapt. If tastes change, change with them, just simply put another bottle with another type of liquid in their hand.
If I can only own one stock, KO is that company that lets me sleep well at night.
Ian Bezek on McCormick:
The market is undervaluing McCormick's earnings going forward, particularly related to the French's/Frank's Red Hot acquisition last year. Earnings are set to jump from $3.72 in 2017 to $5.37 over the next 12 months. Despite that, the stock is up only a couple percent since the deal closed, probably because the prices of other packaged foods companies have slumped dramatically.
However, this now leaves MKC stock at 18x forward earnings. Since 1991, the stock has only traded under 18x trailing earnings twice - for brief periods in 2001 and 2008. Given that we're not in a major recession now, I don't expect MKC stock to last long at 18x this time either. Getting back to its normal median PE ratio around 23x would have the stock at $124 next year.
Contrary to what naysayers contend, MKC's moat continues to broaden - gross and operating profit margins have consistently ticked higher over the past 15 years. The company's product offerings are on trend, as younger consumers are focused on more interesting and exotic flavors. MKC also spends a ton of money (for a food company) on R&D, allowing it to control much of the activity within new flavorings and restaurant menu offerings in its industrial/food service market. As an extremely stable company with a long history of treating shareholders well, it is a great choice for an investor who could only own one company.
Adam Aloisi on Honeywell:
For the answer to Mike's first question, I'm sticking with my pick from 3 years ago, Honeywell. My rationale now is about the same as it was then: If one is putting all of one's eggs in a single basket, one should own a company with perceived secular tailwinds but without concentrated risks related to a niche or one-trick business focus, uncontrollable input cost dependency, or sudden customer change of habit.
Honeywell's diversity of businesses in mission-critical economic spaces, with a technological backdrop that provides perhaps as solid a fundamental corporate foundation from a risk/reward perspective as one can find in the current market.
Though the stock hasn't been my best performer over the past few years, it has done exactly what I had expected it to - provide solid, market-beating total return coupled with dividend growth somewhat in excess of bottom-line performance. It's why I continue to own HON and have for the past 6 years.
While the 2% current yield (about the same as it was 3 years ago) isn't a huge attraction to the cash-flow-oriented investor, the dividend has grown 44% over the past 3 years, with a probable replay over the next three years.
Dividend Sensei on Brookfield Infrastructure Partners:
If I had to choose just one company to own for decades, it would have to be Brookfield Infrastructure Partners. This limited partnership is managed by Brookfield Asset Management (BAM), the world's oldest, largest, and most successful investors in hard assets like real estate, utilities, and infrastructure.
Brookfield invests in wide-moat, cash-rich utility assets all over the world (35 assets on five continents), and it then collects its highly recurring stream of steady cash flow to pay generous, safe, and fast-growing distributions. You can think of it kind of like a mix of an MLP and a global utility.
Brookfield's management has a long-term goal of 12% to 15% total return for its investors; since its IPO in 2008, BIP has managed to generate 20% total return off the back of 11% annual payout growth.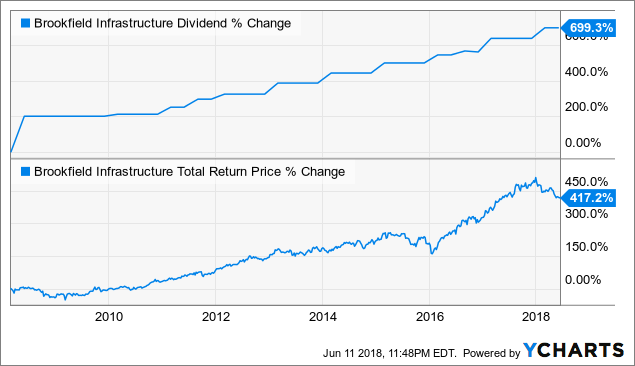 Going forward, I don't expect anywhere close to the performance of the last 10 years. However, given that BIP's organic growth projects (expanding existing assets) are enough to ensure management's 5% to 9% annual payout growth, and with acquisitions being an extra growth kicker, I have little doubt that Brookfield Infrastructure will hit its long-term total-return target.
With over $4 billion in current liquidity and with an estimated $100 trillion in global infrastructure spending needed by 2040, BIP has the single longest and strongest growth runway of any stock I know. And given that it is currently about 10% undervalued, yields 5%, and offers safe 12% to 15% total returns for decades to come, I consider it the ultimate "buy and hold forever" stock. I happily own it.
RoseNose on AT&T:
Pure and simple, T is an income-producing investment - with a 6% yield and with 2% dividend raises in each of the last 8 years. I am now heading more towards that stage of investing, and I do not necessarily need any type of growth stock. With the telecom sector out of favor, AT&T, Verizon (VZ) and others are a good place to look.
T currently has a big headwind with the DOJ fighting the proposed merger with Time Warner (TWX). A judge's ruling is scheduled for June 12.
I don't see T's price going much lower; it has more upside than downside, helped by its yield.
My 4 Cents
I gave the panelists a June 6 deadline, which explains why Rose's explanation about her choice of AT&T included the line: "T currently has a big headwind with the DOJ fighting the proposed merger with Time Warner. A judge's ruling is scheduled for June 12." As we now know, Judge Richard Leon sided with the companies and rebuked Trump's Justice Department, allowing the merger with no conditions. The acquirer's stock price often slumps initially after these big deals get final approval, but I wouldn't be surprised if T ends up having a very good second half of the year from a total-return standpoint. And who knows... maybe AT&T even will increase its dividend by more than a penny per quarter for 2019!
Back in 2015, I was really impressed with Adam's case for Honeywell. But did I buy HON when it was super-cheap? Nope (which rhymes with "I'm a dope"); I waited until 2017 to finally initiate a position. Similarly, Ian has been beating the drum for McCormick for quite some time, but I kept dragging my feet before taking the plunge just recently.
I love Alphabet's business model. I understand why DGI practitioners won't buy it, but with my income stream built, I do believe I eventually will own this dominant, iconic brand. Will GOOGL initiate a dividend before I buy it, or vice versa?
Arguments could be made that none of these companies is very overvalued, and a few seem like pretty good buys. I recently have bought shares of JNJ, MO, HON, and MKC. Johnson & Johnson appears especially compelling now, so I'm not surprised 4 panelists went in that direction.
Conclusion
The idea of this exercise really wasn't to convince anybody that one of these stocks is No. 1. And I obviously am not claiming that any investor should have a one-company portfolio. My intent in organizing this collaborative project was to share ideas, give readers insight into how respected colleagues judge "the best," and to encourage conversation and debate on an interesting topic. I think the panelists did a fine job, and I already am looking forward to presenting their hypothetical, long-term, $25K investments in Part 2.
Disclosure: I am/we are long JNJ, MO, T, KO, HON, MKC.
I wrote this article myself, and it expresses my own opinions. I am not receiving compensation for it (other than from Seeking Alpha). I have no business relationship with any company whose stock is mentioned in this article.