Investment Thesis
Investing in real assets such as Real Estate Securities, Infrastructure Securities, and Natural Resources Securities offers a route to have a consistent revenue stream. The downside is that most individual investors do not have the capital available to purchase a mortgage-backed security outright. Brookfield Real Assets Income Fund Inc. (RA) provides a perfect opportunity to get into this asset class.
Portfolio Overview
RA is a closed end fund, or CEF, that was formed on December 5th, 2016 by merging three pre-existing funds together. Brookfield rolled their Brookfield Mortgage Opportunity Income Fund Inc. (BOI), Brookfield High Income Fund Inc. (HHY) and Brookfield Total Return Fund Inc. (HTR). This provided the original base of assets for RA.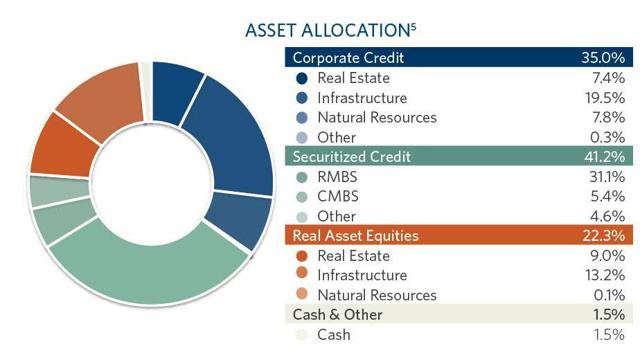 Source: RA Factsheet
RA reports its portfolio breakdown across three major categories: Corporate Credit, Securitized Credit and Real Asset Equities. Of the three categories, individual investors would have the easiest entry into the final category. Most investors do not have the capital to invest in residential or commercial mortgage-backed securities or securitized credit. RA splits its capital relatively equally between these areas. However, I feel that the greatest risks arise from their fixed assets.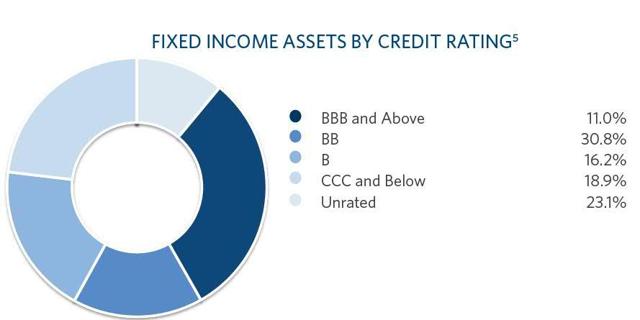 Source: RA Factsheet
RA invests primarily in speculative grade fixed assets. This generally provides a higher risk/reward profile and helps cover the monthly paid dividend. The highest liquidity that RA has to flex with the market is in its investing in real asset equities.
Two of the top assets held within the fund are Enterprise Products Partners LP (EPD) and Energy Transfer Partners (ETP). Master limited partnerships, or MLPs, that invest heavily in real assets with regards to midstream pipelines have faced considerable headwinds, presenting a unique opportunity for the managers of RA to shift some of the fund's assets into this section. I would like to see further investment into this section of real assets to take advantage of these headwinds.
Performance
RA has only existed as a CEF for just over a year. This provides only a short window to observe its success: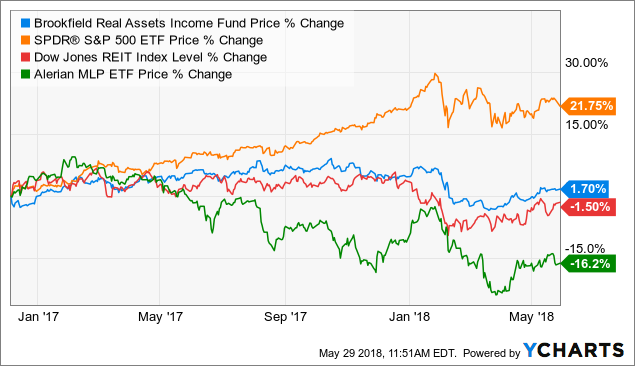 Since its inception, RA has not outperformed the market as a whole but has readily outperformed two other real asset-focused sectors. MLPs and Real estate investment trusts, or REITs. MLPs are set to benefit from rising oil prices and as a whole offer high yields and solid fundamentals. REITs are popular for strong companies that offer strong yields with growing payouts - a perfect example is Realty Income Corporation (O).
I expect RA's performance to improve over time, as energy assets improve and as the fund's managers fully streamline the fund. Having a fund created from the combination of three prior funds can take time to fully streamline them into one fund that performs strongly.
As a whole, REITs and MLPs have suffered the past few years. However, overall, this has forced the cream of the crop to the surface. Furthermore, yields in the MLP market especially have risen across the board, leaving an opening for management to actively find the right securities to invest in.
While RA's price since inception has only risen 1.7%, it has a monthly payout that rewards shareholders. Currently, RA sports a 10.55% yield and pays out $0.199 on a monthly basis.
Investor Takeaway
RA offers a chance to get a large diversity of real asset exposure without having to upfront purchasing mortgage-backed securities or corporate debt. RA currently offers a chance for investors to buy now before a recovery in prices occur due to rising oil prices.
RA is structured to provide high immediate income, which I feel is extremely important. If you personally run into issues investing, or need to see an immediate return, high immediate income investments can provide this flexibility.
Disclosure: I am/we are long EPD. I wrote this article myself, and it expresses my own opinions. I am not receiving compensation for it (other than from Seeking Alpha). I have no business relationship with any company whose stock is mentioned in this article.