Overview:
Line (NASDAQ:LN) is one of the world's largest messaging platforms in the world. While the company historically had a fairly big focus on mobile gaming, that portion of the business is now in decline and is becoming less important to the story over time. Line has 165mm MAUs in its key countries, with 75mm of those users in Japan and 90mm of those outside of Japan (in countries like Taiwan, Indonesia, etc.; data as of 1Q18)
Investment Thesis:
Line is currently being underappreciated by the market due to its status as being in between a legacy mobile gaming company and a fully developed messaging/payments/commerce ecosystem along the lines of what Tencent (OTCPK:TCEHY) has been able to achieve. Line is undervalued when accounting for its MAUs and where peers trade and is also substantially under-monetized: Line is in the very early innings of monetizing its user base by adding complementary services such as payments, commerce, etc. by following the same playbook Tencent has used. Additionally, if you decompose Line's ARPU into Japan and ex-Japan, it is evident that there is ample opportunity to dramatically increase the ex-Japan ARPU as compared to the ARPU levels seen at peer companies; put another way, Line's Japan ARPU has room for improvement relative to comps in the developed markets, while Line's ex-Japan business has an opportunity to improve ARPU by an order of magnitude over time. As Line successfully builds its ecosystem, increases ARPU, and continues growing MAU over time, the market will ascribe a higher multiple to the business closer to where peers trade.
Comparison to Peers:
The tables below illustrate the points made above.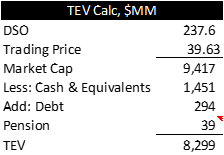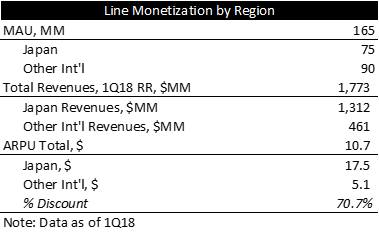 Accelerating Business Model Shift:
As noted above, Line has reached, and is in the midst of, an inflection point in shifting its business model to more closely match Facebook (NASDAQ:FB), Tencent, etc. In the most recent quarter, display ads grew by 81% YoY, driven by a larger impression count and steady pricing.
From the 1Q18 Call:
Revenue for display ads, previously known as performance ads, grew 81.0% year-on-year, thanks to the increasing impressions and ad unit price holding strong. Account ads, previously known as messenger ads, have shown firm growth in the revenue led by official accounts and LINE@ accounts.
Some of the other interesting business lines and potential ways to monetize Line's large user base that have recently been launched are:
Baito, a part-time job matching service, similar to Indeed or Monster in the U.S.
Line Emoji sales – additional way to monetize messaging
Line Pay – Line's iteration of a Venmo-like application – transaction volumes increased from $22bn Yen in 1Q17 to $173bn Yen in 1Q18; additionally, volumes increased 20% QoQ in Japan.

Line has also signed 52,000 merchant locations where Line Pay can be used to make purchases (i.e., vending machines, etc. which are very popular in Japan)

Line Insurance – aiming to sell insurance products to Line's large user base
Line Securities – aiming to offer brokerage services and themed investments to users – this is akin to a Robinhood-type service
Lending – offering credit to Line users – similar to Goldman's (NYSE:GS) Marcus or LendingClub
Virtual Currencies – this is an additional call option that could prove quite valuable if virtual currencies become more popular over time and if Line executes well on this opportunity

See here for some additional info on the cryptocurrency business: Line Pay App to Launch Cryptocurrency Services - CoinDesk

AI – this segment is going to involve integrating Line with IoT and with smart home devices similar to Amazon (NASDAQ:AMZN) Alexa, etc.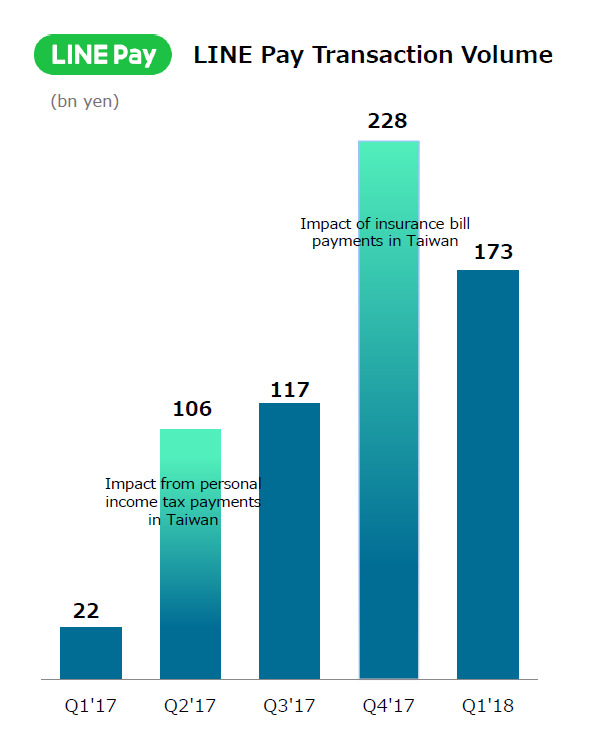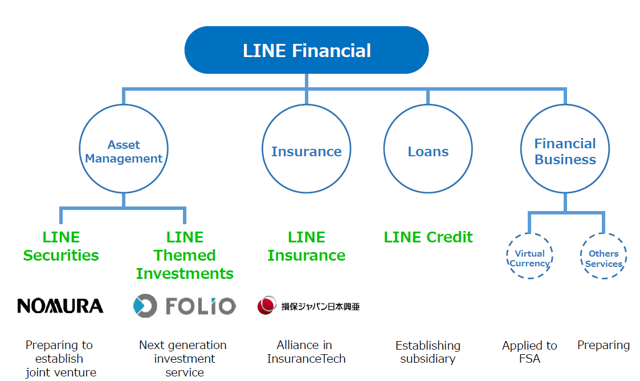 What's It Worth?
It's tough to precisely come up with a value for Line, given it has a number of different nascent business lines that produce limited operating income today, but could become material profit streams over the next 18-36 months. Simplistically, taking an average of Line's peer set on a TEV/MAU basis implies the stock could roughly double over time – granted, this will take some time (perhaps 18-36 months) as Line will need to demonstrate continued user growth and ARPU expansion, as well as some green shoots in some of the complementary business lines like insurance, lending, AI, etc.
Catalysts:
Over the next few quarters, it should become more apparent that Line's business model has improved dramatically and is more similar to Facebook or Tencent.
ARPU expansion over time coupled with continued MAU growth – these two combined can produce a lollapalooza effect for the valuation of the business – i.e., ARPU Growth x MAU Growth x Resulting Multiple Expansion can result in substantial stock-price appreciation
Risks:
The main risk is execution – Line has an amazing opportunity to build a dominant platform, but the company needs to execute well to avoid being outwitted by competitors.
Note: If you enjoy my analysis, please go ahead and click follow to get updates on future articles (click the orange button next to my name at the top).
Disclosure: I/we have no positions in any stocks mentioned, and no plans to initiate any positions within the next 72 hours. I wrote this article myself, and it expresses my own opinions. I am not receiving compensation for it (other than from Seeking Alpha). I have no business relationship with any company whose stock is mentioned in this article.
Editor's Note: This article discusses one or more securities that do not trade on a major U.S. exchange. Please be aware of the risks associated with these stocks.