Intro
Coal shipments compose the second largest demand source for dry bulk shipping, representing approximately 25% of all cargoes. Any shift in demand for seaborne coal would consequently have an impact on demand for dry bulk vessels. This would in turn impact charter rates for these vessels which compose the operating revenue side for companies engaging in this space.
Shipping companies do not exist in a vacuum. They are subject to the macro environment in which they operate. For this reason, it is crucial to understand the dynamics of the overall market for certain commodities. Here, we will take a look at coal in order to better understand how it may impact the dry bulk market going forward.
Overview
Dry bulk shippers specialize in transporting cargoes, typically commodities, such as iron ore, coal, grain, and other materials around the world.
Companies with exposure to dry bulk include Diana Shipping, Inc. (DSX), DryShips (DRYS), Eagle Bulk (EGLE), Genco Shipping (GNK), Golden Ocean Group Ltd. (GOGL), Navios Maritime Holdings, Inc. (NM), Navios Maritime Partners L.P. (NMM), Scorpio Bulkers (SALT), Safe Bulkers, Inc. (SB), Star Bulk Carriers Corp. (SBLK), and Ship Finance International Limited (SFL).
Iron ore is typically transported on large Capesize vessels. Smaller vessels, such as the Panamax class, carry the bulk of the grain trade. But, for a variety of reasons, coal shipments can be found on both large and small vessels making it a key commodity for several dry bulk classes.
Here, we will examine current trends and forecasts for key markets in an effort to determine just where the coal market is headed.
Background
Coal is dying, right? The Paris Agreement and numerous other regional and global accords have ensured that it will play a smaller part in the future of energy.
As such, coal demand will wither away, and, consequently, dry bulk shippers will see a mainstay of vessel demand fade into the sunset.
But is that really the case?
This is probably one of the most asked questions regarding dry bulk demand, so let's find the answer.
For a few years prior to 2017, there was a good reason why many believed coal was on the way out. Coal output was falling among several key producers.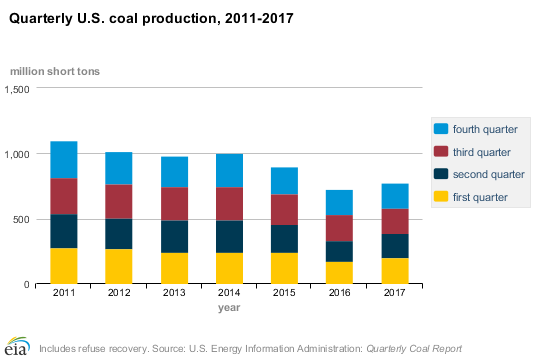 Source: EIA
Green technology was taking market share at an increasingly rapid pace, and trade dynamics suggested that a sustained decline was underway with exports from major markets falling.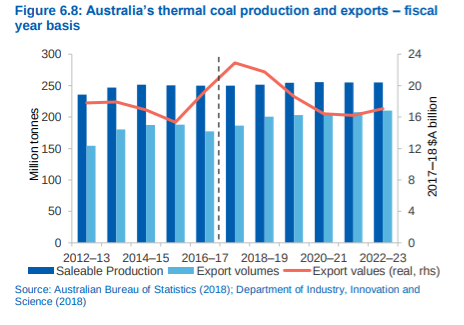 Source: Australia Resources & Energy Quarterly March 2018
But 2017 saw a reversal of these trends with demand for both met and thermal coal rebounding.
Global Demand
So, was 2017 just an anomaly, or is this a reversal which is the beginning of a sustained trend?
First, let's address the renewable energy aspect of the equation. According to the IEA, three nations will account for approximately two-thirds of global renewable energy expansion through 2022, China, India, and the USA.
But, even with this growth, renewables, in the form of solar and wind, will still represent a small fraction of overall energy generation.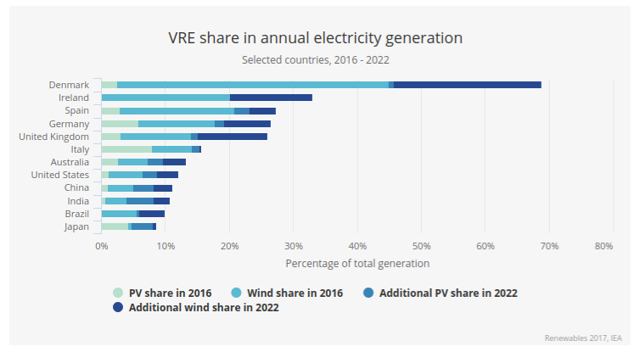 Source: IEA
India and China have several coal plants under construction, and demand there is likely to build, and we'll get to that, but let's first take a look at how renewables will impact the demand for coal in the USA.
While the USA is a net exporter, it might be of interest to see how things might progress in order to discern how other developed nations that are net importers might proceed.
Yes, there are scheduled closures of coal plants for the USA. In fact, coal-generated power accounted for approximately 310 GW at its peak but had fallen to 260 GW in 2017. Another 25 GW is scheduled for retirement in the near future. Surely, coal demand will suffer, right?
But the EIA predicts:
Although no new coal-fired power generation capacity is built in the AEO2018 Reference case, coal-fired electricity generation is expected to remain relatively flat as coal plant retirements slow and utilization of the remaining coal fleet increases from 56% in 2017 to near 70% by 2030-similar to the average utilization rate in the early 2000s.
But we may be entering a period where the reference case is a bit optimistic. In another scenario, the Low Oil and Gas Resource and Technology case, high prices for natural gas, which could be the result of both increasing oil prices and massive global demand growth for natural gas, will result in fewer coal plant retirements and greater utilization. This could actually lead to a boost in coal demand.
The fact is that, even with expected increases in renewable generation, forecasts indicate that it will be tough to kick the coal habit even for a technologically advanced and wealthy nation such as the USA.
The EU and USA have the lion's share of coal plants over 40 years old. This means that the potential for major declines in coal demand based on capacity closures rests in these regions. If capacity closures are offset by increasing utilization in the USA, these retirements could mean very little regarding overall demand for coal. Therefore, the EU could be the one area where we see overall demand declines.

Source: Global Coal Plant Pipeline
But while developed Europe might be able to kick the coal habit, as the UK did for a full three days earlier this year, they acknowledge that Developing Nations Can't Afford to Go Cold Turkey on Coal.
While congratulating the UK for managing three days without coal, the press also overlooked the fact that Britain can afford to ramp down its use of coal now because it's reaped the benefits of the fossil fuel for more than 150 years. Coal was the backbone of the modern British economy through most of the 19th and 20thcenturies, powering the country's industrial revolution. This irrefutable fact explains why developing nations are increasingly voicing their frustration that wealthy countries want to deny them the same chance to use their natural resources to bankroll economic growth.
China and India are probably the most discussed regions when addressing coal dependence.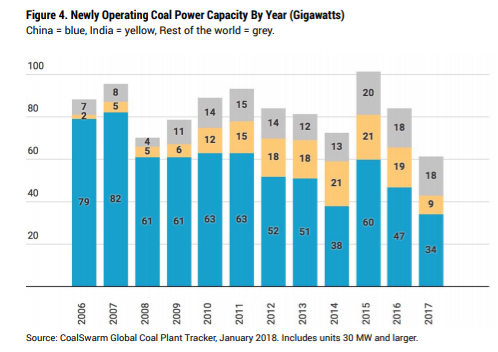 In fact, they account for a vast majority of newly operational plants over the past decade, with several more still in the construction phase.
While much has been made of recent announcements to scrap coal plant plans, it is still noteworthy that coal represents the largest segment of new capacity in the development and construction phase.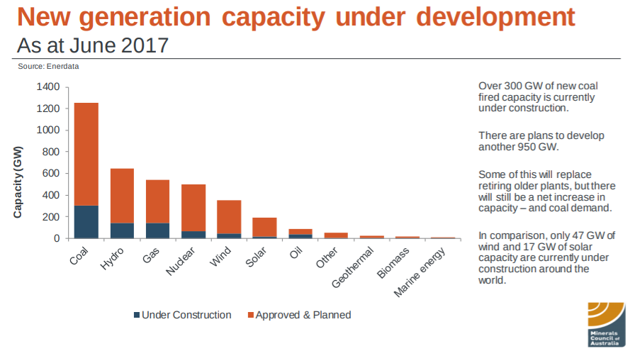 Source: Minerals Council of Australia
Chinese coal demand likely peaked in 2013, but China has been turning to imports to a greater degree as policies designed to shut down domestic coal operations recently were implemented. But in an abrupt turn of events, China, starting in April, restricted the importation of coal in several ports leading to an approximate 30% decline from the previous months. It is unclear as to how long these restrictions may continue, but there is some speculation that it was an effort to increase domestic coal prices to aid struggling miners which managed to hang on to only the most efficient operations. But even with these restrictions, Chinese coal imports were up 9.3% in the first four months of the year.
While India has ample supplies of domestic coal, state-run industry has been inefficient in bringing that to market. Recently, efforts toward greater privatization to increase domestic output have gained some momentum but there is still a long way to go as Q1 saw another 15% jump in imports.
But some suggest that increasing domestic Indian coal production will be futile. India is the largest importer of US steam coal, and this is simply because a large portion of its newer coal-fired power plants require higher quality coal with greater energy content than domestically mined coal.
China and India's rising coal imports are contributing to higher demand across Asia this year, which recently pushed benchmark Australian coal cargo prices above $100 per tonne, a price not seen at this time of year in more than half a decade.
Side note on met coal: Though we haven't talked much about met coal so far, India would be the place to have that discussion. With India's steel production set to rise strongly in the coming years, and a lack of meaningful metallurgical coal deposits, India's metallurgical coal imports will continue to grow. India will likely become the world's largest importer of metallurgical coal by 2020, and imports are forecast to rise at annual rate of almost 9% in the period to 2023.
The growth in India's met coal imports will more than outweigh any forecast declines in other met coal importers such as the EU, Japan, or China leading to a projected 1.3% CAGR through 2023.
Side note on air quality: India and China have both struggled with air quality issues, and I predicted several months ago that there could be a policy directed shift that would favor cleaner coal. S. Korea appears to be taking the lead here with an eye on sulfur content.
From July, South Korean utilities will be restricted to burning coal with an average sulfur content of 0.4 percent over the course of the year, part of government measures to combat air pollution.
Such a low sulfur limit effectively knocks out much of the thermal coal from Australia and Indonesian coal suffers from a low calorific value. This tends to favor rivals such as Russia and South Africa.
The effects of this policy may already be showing up as utilities are stocking up for the future. Customs data for the first four months of 2018 shows that South Korea imported 14.1 million tonnes from Australia, down from 14.3 million for the same period in 2017. From Indonesia, imports dropped to 11.3 million tonnes from 12.2 million, while those from Russia jumped to 8.2 million from 6.8 million and South African shipments rose to 3.7 million from 3.5 million. Curtailing short-haul shipments out of Indonesia in favor of S. Africa could produce some attractive ton-mile demand gains for shippers.
Turning back to thermal coal demand, outside of India and China, Africa and other SE Asian nations are set to add significantly to energy demand, much of which will be made possible through coal.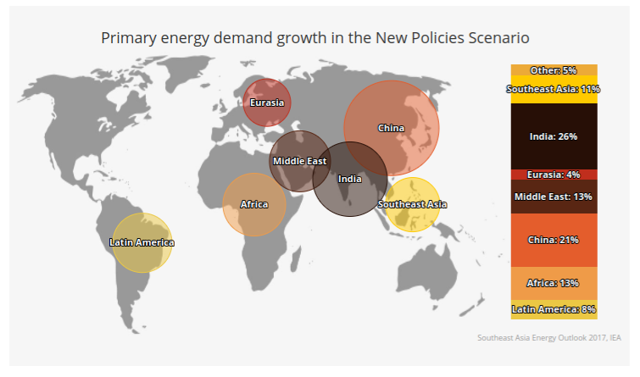 Source: IEA
Many African countries, including Mozambique, Botswana, South Africa and Zimbabwe, are known to have vast reserves of coal. Investment in coal-powered plants in these (and neighboring) countries could mean the difference for millions of people between being able to turn on the lights at night or living in darkness. These coal-rich countries are looking to capitalize upon their resources - much like the same Western countries who are now pushing a renewables-only model did for more than a hundred years.
Developing countries are gaining international support for their right to fully exploit their natural resources, particularly from the United States. In March, US Energy Secretary Rick Perry announced the creation of a global fossil fuel alliance, which would see the US and other partners export clean coal technology to developing nations, allowing them to quickly expand electricity access while keeping emissions relatively low.
In SE Asia, several nations have set an ambitious goal to electrify their countries by 2030.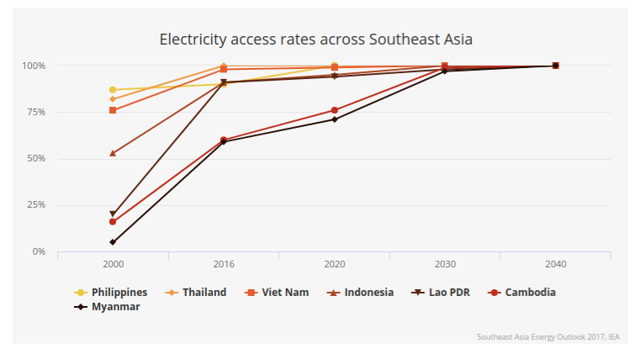 Source: IEA
Meeting increasing electricity demand requires a huge expansion in the region's power system, with coal and renewables accounting for almost 70% of new capacity.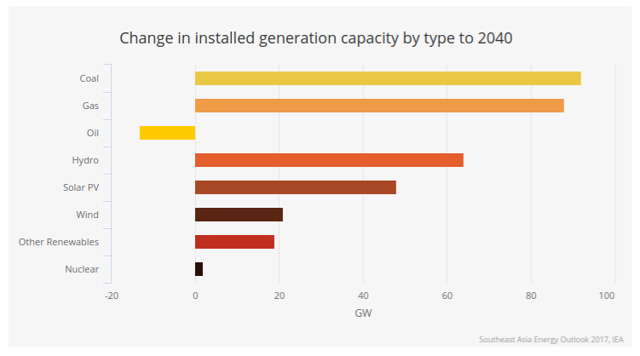 Source: IEA
The IEA reports:
The mix of fuels and technologies varies country-by-country, but overall reflects an emerging preference for a combination of high efficiency coal plants and increased deployment of renewables. By 2040, renewables account for the largest share of installed capacity (nearly 40%), but coal takes the most prominent role in the generation mix (40%) and 70% of the new coal-fired capacity uses high efficiency supercritical or ultra-supercritical technologies.
Finally, it looks as though we may also be seeing a key long-haul route flourishing. China is now considering a plan to increase its purchasing of American coal as part of its most recent pledge to make significant efforts to narrow its trade deficit with the US. The US to China route represents a significantly longer voyage than those originating from Indonesia, Australia, etc. which could contribute positively to ton-mile demand growth.
Conclusion
Dry bulk is in the second year of a recovery phase following a historically bearish market. Some have expressed concern that this recovery may be stifled as dry bulk demand could be adversely impacted by waning coal use.
This dry bulk recovery is based on vessel demand outpacing vessel supply. Demand for coal plays a large part in maintaining this dynamic, and, therefore, changes in this market need to be watched carefully.
However, the demand outlook for this key commodity looks fairly stable. This should provide some solace to dry bulk investors that the overall market is still very much in recovery mode.
This favorable backdrop will prove to be a tailwind to companies operating in this space.
Final Summary
While the developed world is attempting to curtail coal use, developing economies aren't afforded that same luxury. Coal will continue to play a vital role in several regions based on affordability, accessibility, and recent/current investments.
Coal is expected to remain the largest source of electricity generation in the long term.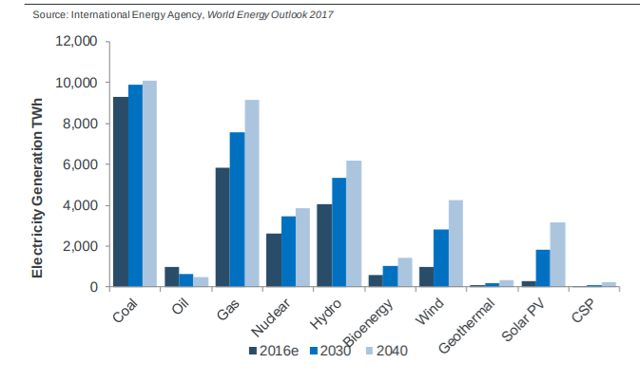 Source: MCA
In fact, coal generation is projected to increase over the next 20+ years.
Yes, the days of massive demand growth for coal are likely behind us, but to suggest that demand for the fuel is going away anytime soon appears to be a combination of wishful thinking and shortsightedness.
In fact, consumption demand for thermal coal is still projected to grow at 0.8% CAGR through 2023.
Going forward, South East Asian nations will become more important sources of demand. Nations such as Thailand, Vietnam, the Philippines, and Malaysia are forecast to import increasing amounts of thermal coal to satisfy growing power generation needs.
Demand for seaborne supplies is likely to be maintained in coming years because of investment decisions made in previous years to build coal-fired plants, particularly in Asia, even as we face closures in developed regions such as the USA and EU.
In the short term, the most important item to watch will be how Chinese restrictions proceed. This policy was designed to prop up prices and domestic miners, but no indication has been given as to just how long this will last. If it's temporary, it presents a minor disruption. But if it continues for a sustained period or is even expanded, it could pose a problem.
In the long run, the rate at which developed economies, mostly in the EU, close coal fired plants will be an area to watch. Utilization rates climbing to offset closures like we are projected to see in the USA would be the best case scenario.
Another area of interest will be prices for natural gas. This winter is likely to see the strongest demand for natural gas on record, and this could spike prices and even create a shortage in some regions. Recent years have seen a glut of natural gas, but those days may be coming to a close as 2016 and 2017 saw robust demand side gains. As the natural gas market trends toward equilibrium, prices should increase further increasing the attractive economics of coal.
Thank You
If you found this article helpful and/or would like to easily refer back to it in the future, please click the "Like" button and it will be saved to your favorites.
If you would like to stay up to date on my latest analysis, I invite you to follow me on Seeking Alpha (click the "Follow" button next to my profile picture at the top) as I continue to cover all aspects of maritime trade.
Finally, if you are wondering what is the best way to invest in maritime trade please visit Value Investor's Edge.
Value Investor's Edge
Value Investor's Edge is a top-rated research service dedicated to offering actionable trades and strategic income opportunities. We now cover a variety of deep value and income-driven sectors, while maintaining our focus and very profitable record of shipping industry coverage. Members receive exclusive access to over a dozen reports per month, including regular shipping and commodity macro analysis from James Catlin, exclusive content by top-tier deep value analyst J Mintzmyer, industrial and MLP ideas from Michael Boyd and international insights from Ian Bezek. This winning team has developed a dedicated following of highly knowledgeable investors and industry professionals who also share their own thoughts and ideas. For more information on Value Investor's Edge, simply click the link.
Disclosure: I am/we are long SALT, GNK, GOGL, NMM.
I wrote this article myself, and it expresses my own opinions. I am not receiving compensation for it (other than from Seeking Alpha). I have no business relationship with any company whose stock is mentioned in this article.
Editor's Note: This article covers one or more microcap stocks. Please be aware of the risks associated with these stocks.