The Fed has achieved both its labor market and inflation targets and it seems that there is nothing in the way of future monetary policy normalization. The FOMC will therefore most likely deliver its seventh interest rate hike of the cycle which will increase the target corridor for the Fed funds by 25 bps to 1.75%-2.0%. The expected Fed fund rate increase is already largely priced in (see chart below) and I believe that the updated projections of FOMC participants will therefore attract more interest.
Chart 1: Market versus Fed fund rate expectations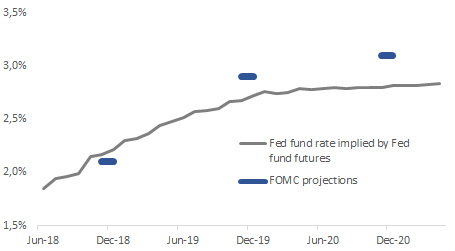 Source: FOMC March statement, CME group
The May employment report significantly outperformed expectations, with a 223k increase in nonfarm payrolls, a pickup in wage growth and drop in unemployment rate to 48-year low of 3.75%. The members at the meeting in March expected an unemployment rate of 3.8% only at the end of 2018 – the figure that has been reached already. Given the current labour market dynamics, an unchanged rate until the end of the year is unlikely and I expect that the Fed will therefore lower the unemployment rate projection slightly. A lower unemployment rate path should pose at least some upward pressure on the inflation projections.
Chart 2: US unemployment rate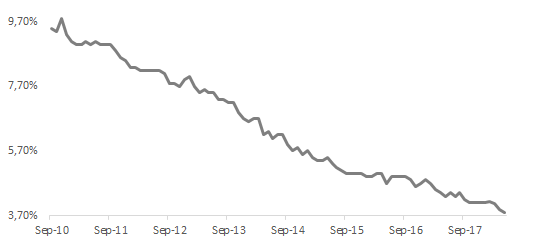 Source: St. Louis Fed
While GDP in the Q1 increased by 2.2%, it seems clear that the USA economy growth strengthened in the second quarter. After a brief period of softness in March and April, growth data is once again surprising to the upside and the Atlanta Fed GDP tracker is implying 4.6% yoy GDP growth in the second quarter.
Chart 3: Atlanta Fed GDP growth expectations for the second quarter (yoy)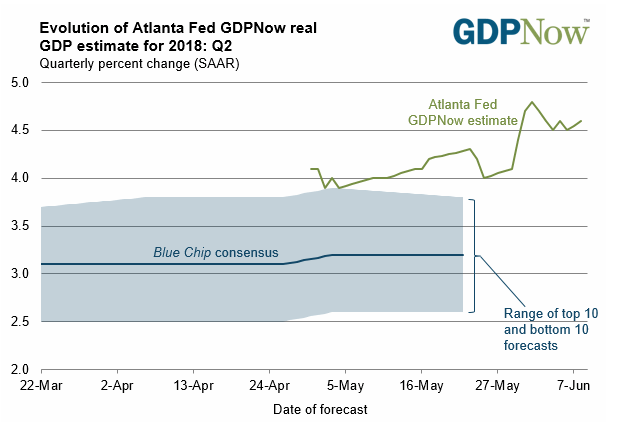 Source: Federal Reserve Bank of Atlanta
Inflation has also moved higher. Core PCE inflation in April increased by 1.8% yoy which is an acceleration of 0.4pp on a YTD basis and just within two tenths of the Fed's 2% target.
Chart 4: Core PCE inflation (yoy)

Source: St. Louis Fed
All taken together gives me enough reason to believe that FOMC has now enough evidence that fiscal policy is boosting growth and that inflation is returning to target. Recent public remarks by several FOMC members evolved in rather hawkish direction.
Brainard stated at the end of May: "Continued gradual increases in the federal funds rate are likely to be consistent with sustaining strong labor market conditions and inflation around target. This outlook suggests a policy path that moves gradually from modestly accommodative today to neutral – and after some time, modestly beyond neutral."
Evans stated at the beginning of April: "I am optimistic that we are going get to 2 percent; it would be surprising if we didn't, I just want to make sure we do. In that environment, a gradual increase in our interest rate range objectives is appropriate."
Williams stated at the beginning of June: "But obviously, if we see the inflation pressures, wage pressures, all starting to build, that would argue for a somewhat faster tightening of monetary policy.''
Finally, Chair Powell stated in May: "Fed policy normalization has proceeded without disruption to financial markets, and market participants' expectations for policy seem reasonably well aligned with policymakers' expectations in the Summary of Economic Projections (the black dots), suggesting that markets should not be surprised by our actions if the economy evolves in line with expectations."
The median funds rate represents the median expectations of the 15 FOMC participants and is therefore the best approximation of their future votes and Fed's monetary policy decisions. Given the upbeat public remarks and encouraging data, I believe that June median dot will show a total of four interest rate hikes, up from the three projected at the March meeting.
With that said, 10Y UST should have no problem surpassing 3% in the aftermath of the Fed meeting. The US dollar is set to appreciate at least slightly versus the euro from the current levels as increase in rate hike expectations implies further interest rate differential widening between the Euro zone and the US.
Disclosure: I/we have no positions in any stocks mentioned, and no plans to initiate any positions within the next 72 hours.
I wrote this article myself, and it expresses my own opinions. I am not receiving compensation for it (other than from Seeking Alpha). I have no business relationship with any company whose stock is mentioned in this article.