Market Intro


CNBC: Tuesday Close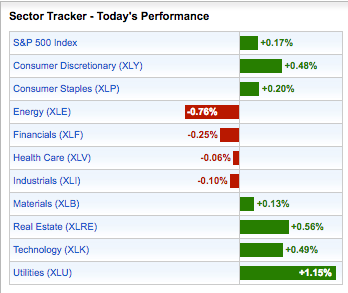 Bloomberg Economic Calendar, Thursday truncated
US stocks (SPY, DIA, QQQ, IWM) held up well on Tuesday, with most sectors tracking in the green as they headed into today's FOMC announcement. Energy (XLE) took a hit, while most other sectors fared modestly positive. The VIX has lingered right around the 12 handle for the last couple sessions, and that continues into Wednesday morning. It will be difficult for vol to jump for very long if small caps and the NASDAQ keep leading the larger indices higher.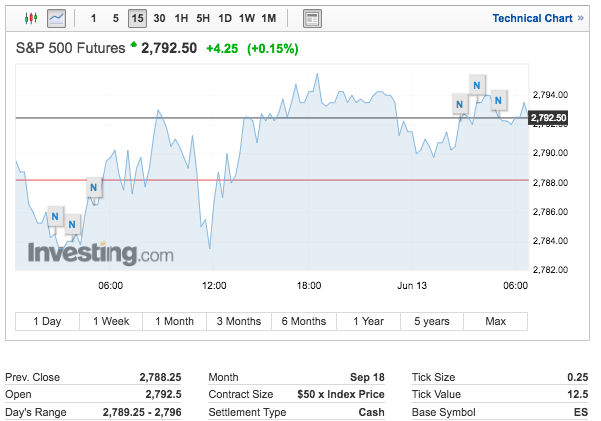 The pre-market leading into Wednesday did not provide much in the way of fireworks. This, however, is not altogether different from the action we saw at these same levels around the first week of March. There were some pretty sharp retreats for stocks… and vol ramps from this same area.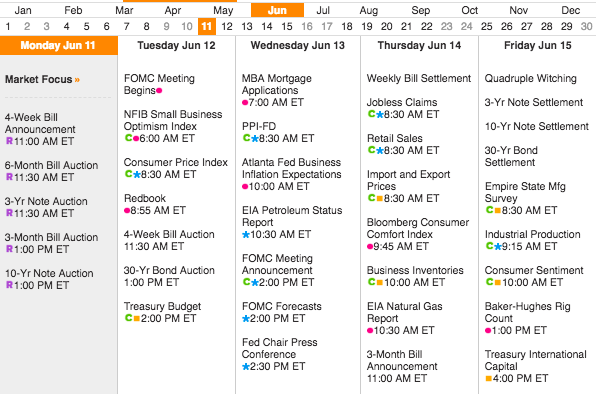 The Fed is set to raise its target funds rate another quarter point today. Yesterday's CPI print came in on the hot side, and today's Producer Price Index also came in at the top of its estimated range:

Can rates (SHY, IEF, TLT, LQD, JNK) adjust higher without their vols creeping up? That's the question that will play a much larger hand in determining equity vol levels over the coming year.
Shout Out
Last Friday, Georgy Uspenskiy released an instablog post on SA, A Small Overview of the Big Picture, that offers his perspective on the state of the VX term structure, the S&P, implied correlations spreads, and the state of the VXX.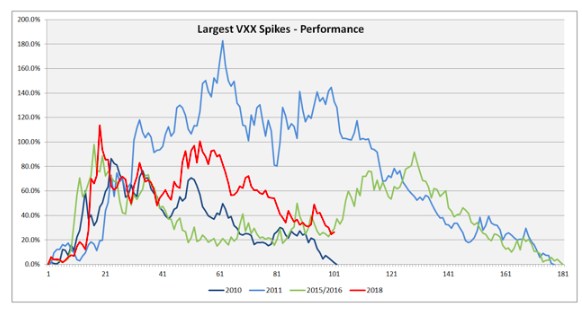 Georgy uses historical context in making his arguments, such as above in demonstrating how the current VXX spike has played out relative to three others (keep in mind that VXX was released as a product in January 2009, so its history is limited).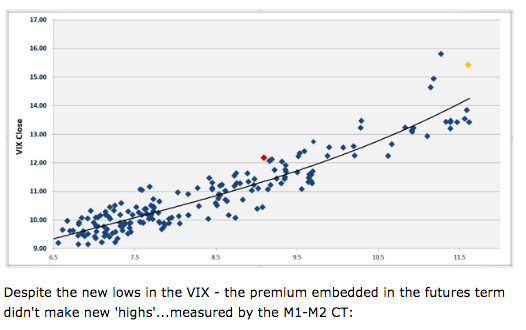 The piece also uses statistical displays to provide support for Mr. Uspenskiy's assertions. While there can be so many variables that cause the term structure to take on a particular shape, it is excellent to get a clearer visual sense for where we stand at present.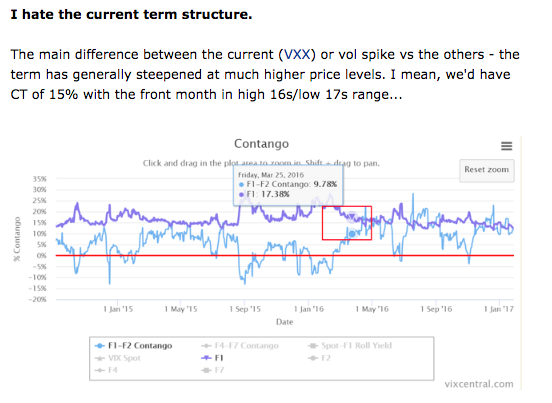 Readers may well appreciate Georgy's prescriptive style and pinpoint focus on a particular product (VXX). He also has a section describing his own positioning as a result of the data he shares.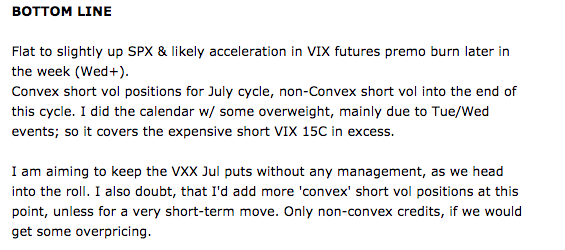 When digesting a relatively technical piece with several moving parts, having a "bottom line" can help readers understand what the net takeaway should be.
Great job putting this thorough analysis together Georgy, and I'm sure I speak for all TBOT readers when I encourage you to keep 'em coming!
Term Structure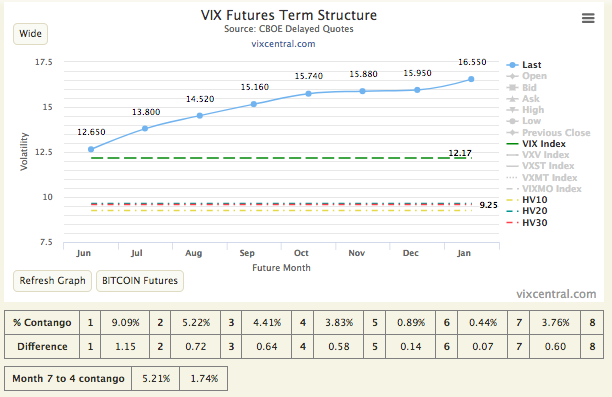 My recommendation is that readers consider the ramifications of 10-, 20-, and 30-day vol all hovering within perhaps half a point or so of one another: recency bias.
Don't get me wrong, I think the positive vol risk premium as measured by spot VIX – 20d HV is reasonably attractive. The M2 looks set to drop hard if we don't get some action here soon, which would be helpful to positions such as SVXY.
Still, when three separate measures of HV are clustered so tightly, it suggests that traders could be caught off guard quite easily. Given the actual (low) level of these metrics, I am suggesting that a short-term spike could give vol longs (UVXY, TVIX) a tradable spike.
For now, I'm only thinking about drops that get bought, such as last year's Tech Wreck (Friday, June 9-Monday, June 12, 2017 depending on how you think about it).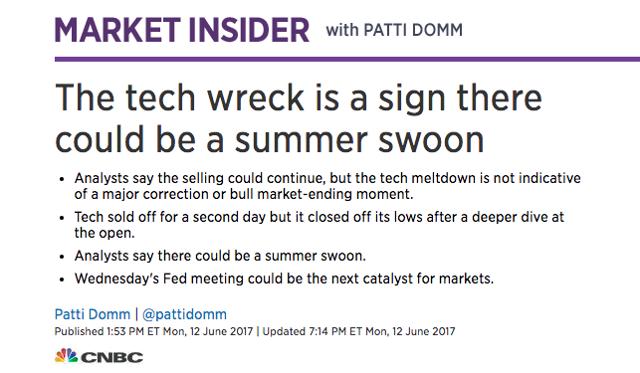 Of course, in hindsight, we know that the precipitous drop in tech was nothing to get too worked up about. But it did lead to some good long-vol trades, and precipitated some market trepidation in August a couple of months later.
My suggestion: While I'll admit that the current environment is pretty awesome for trading vol from the short side, consider feathering into a long-vol position to take advantage of short-term bumps in the road.
To be clear: I'd sell those bumps for the time being. But short vol looks to be getting a little too cozy from my perspective. I see some pops in realized vol hitting, especially as we near the upper end of the S&P range going back to late January.
Conclusion
If this is your first time reading Market Volatility Bulletin, thanks for giving it a try. If you're a regular, we thank you for your ongoing contributions in the comments section.

Thanks to Alan, who in the prior MVB used the comment section to notify readers to a topic of interest. The article is interesting, as the Fed expert Lou Crandall asserts that we may be near the end of the Fed's reductions in the monetary base. The thinking goes that the money markets may be tightening up more quickly than the Fed would like to see, and as such, retaining a larger monetary base may be opted as the more desirable decision.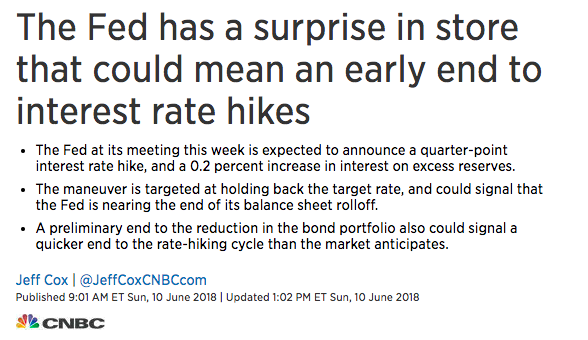 Broadly, I encourage readers to share not only their own thoughts but also links to other sources that they find compelling or worth bringing to the attention of others.
Thank you for reading.
Please consider following us.
Disclosure: I/we have no positions in any stocks mentioned, and no plans to initiate any positions within the next 72 hours. I wrote this article myself, and it expresses my own opinions. I am not receiving compensation for it (other than from Seeking Alpha). I have no business relationship with any company whose stock is mentioned in this article.
Additional disclosure: I actively trade the futures and options markets, potentially taking multiple positions on any given day, both long and short. I also hold a more traditional portfolio of stocks and bonds that I do not "trade". I do believe the S&P 500 is priced for poor forward-looking returns over a long timeframe, and so my trading activity centers around a negative delta for hedging purposes.