Tesla Shorts Betting On Competition Decreasing Demand Are In For Some Trouble
Tesla is the most shorted stock on the market right now. But is this short a risky one? One of the major arguments in the bear thesis is the onslaught of competition waiting to displace and dethrone the maker of the bestselling EV in the US. The problem is that in a relatively new segment like BEV's, "Me Too" competitors will actually boost overall demand for Tesla, not harm it. Finally, for even the most brand loyal consumers, a lack of supply and dealer motivation is keeping consumers from buying these so called "Tesla Killer's".
What's Good For The Category Is Great For Tesla
There is strong opinion to suggest demand for Tesla vehicles will necessarily decrease due to competition from established automakers. This would be true in a mature and saturated category such as facial tissue or laundry detergent, for example. Each player has satisfied peak customer demand with peak production, and a new entrant who gains market share would have to take market share away from these existing players.
The majority of consumers are familiar with the category and no education is required to inform the consumers of the features, advantages, and benefits (FAB) of facial tissue and laundry detergent. You could walk down the street and ask any 10 random people to describe these items and you'd get 10 correct answers. By contrast, the same cannot be said about the Battery Electric Vehicle (BEV) automotive segment or even the EV segment as a whole which also include plug in hybrids (PHEV).
There are a tremendous number of consumer misconceptions and information gaps when it comes to BEV's, such as current maximum range, charging time, charging locations, charging schedules, charging options, battery degradation, resale value, total cost of ownership (TCO), common repairs, maintenance schedules, safety, performance and a host of other buying decision factors that would make someone even consider them as an option, including the existence of the category altogether!
"A recent survey found that what's stopping car buyers from choosing electric vehicles is the perceived lack of charging stations, something 85% of respondents mentioned, followed by the high costs (83%), and concerns over the range (74%).

That's unsurprising, but what is more surprising is that those are not actually the main issue slowing down electric vehicle adoption. According to the same survey, 60% of the more than 2,500 American drivers said they were "unaware of electric cars".
(source: Electrek)
I can attest to this statistic. Being an industry analyst, i know quite a bit about the category but unfortunately can only name one personal friend/family member that knows enough about the category to consider wanting to buy one, and that's only because he previously owned a Lexus CT200h. The fact that 60% of people don't even know EV's exist means there is plenty of work to be done in educating the masses.
The BEV Discovery Process
So how does a consumer make a purchase decision on an automobile? Consumers who are looking for a new vehicle will generally start with the vehicles purpose, such as grocery-getter, or work vehicle, commuting, or recreational vehicle, etc. This will lead to the next step, deciding on a class and style of vehicle, be it a compact hatchback, mid size SUV, or sports sedan, etc.
Next, they'll research the brand they are already familiar with and had a good experience with and compare it against competing brands that they are also familiar with or fans of. If none of these brands offer an EV in that class and the user wasn't specifically looking for an EV drive train, they may never find out about the category and the FABs of EV's. This keeps them locked in an internal combustion engine (ICE) information bubble and, as a consequence, will never discover EV's or Tesla's offerings.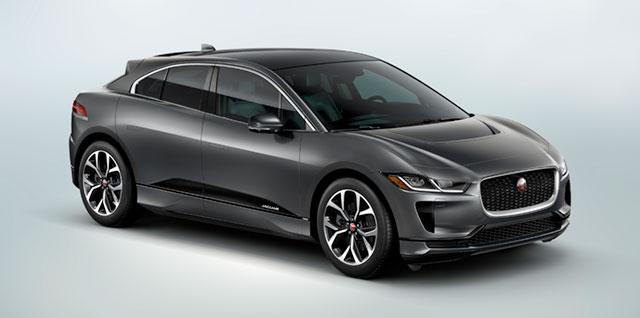 (Image Source: jaguar.ca)
Now if we imagine for a minute, a person's favorite brand is Jaguar, and they are looking for an SUV/crossover, they will discover the E-Pace, F-Pace, and the I-Pace, a BEV . After discovering the FAB of each of the offerings from the Jaguar website or salesperson, the customer learns that the I-Pace's shocking performance is thanks to electric motors having instant torque, it's incredible handling is due to the low COG from the battery placement, and the lower TCO is from the lack of a ICE maintenance and fuel costs. They also learn that plug in BEV's can be easily charged nightly with no more trips to the gas station, at a fraction of the cost of gasoline. They have just been sold on BEV.
All Publicity Is Good Publicity
The consumer is now familiar with the FAB of the category and is open to a BEV as an option. This opens up the likelihood of them shopping the jaguar I-Pace against other EV SUV's. This leads to what I call the "Tesla Killer" effect. Through some preliminary research the consumer stumbles upon a media outlet comparing the I-Pace to the model X as a "Tesla Killer" or jumps on Jaguar's YouTube channel to find a head to head comparison between the I pace and the Model X. They do some research on the Model X and discover it has longer range, a more extensive charging network, faster charging speeds, very little battery degradation, is already available, has an IIHS 5 star safety rating, and more storage capacity.
We have now uncovered the typical scenario where a competitors entry introduced a brand loyal, ICE customer, to a product offering from Tesla through general BEV category education. Even if the brand loyalty was strong enough for the buyer to purchase the I-Pace over the Model X, this owner has now become a new advocate and walking bill board for the BEV category who is now qualified to explain the FAB of the category to anyone who happens to ask, thus fueling category demand as a whole.
With every person in their network they introduce to the category, it leads to another network that discovers the category, boosting overall demand for the category over current ICE offerings, and eventually leading to learning about Tesla and it's products.
This phenomenon of brand discovery via category discovery is disproportionately unique to Tesla because the media automatically draws comparisons to Tesla anytime a new entrant comes to market i.e. "Mercedes EQ can be a Tesla Model X killer?" This is understandable since the market leader always has the target on their back. Porsche is so sick of the comparisons it had to come out and say the Mission E was not a Tesla killer, same with Polestar and the Polestar 1, which is also not a Tesla Killer. Even when the CEO's are trying not to draw comparisons, they end up promoting Tesla.
EV Demand Exceeds Existing Supply
Next we need to see if Tesla's market share is in danger. With a number of vehicles being introduced into the market in the next few years, the question we need to answer is, will all these models be competing over the slice that Tesla owns or is the pie big enough for everyone to have a slice? Now that we understand how competitors boost overall category demand, we can take a look at the size of this pie.
Excess Demand
Global plug in vehicle sales reached 1.281M which accounts for 1.34% of global passenger vehicle sales. US plug in sales reached just under 200K vehicles which accounted for 1.16% of US vehicle sales. But what do we know about EV demand?
American appetite for electric vehicles is heating up. A new AAA survey shows that 20 percent or 50 million Americans will likely go electric for their next vehicle purchase, up from 15 percent in 2017.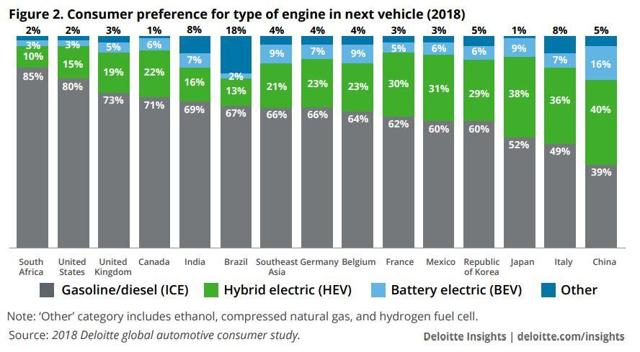 (Source: Deloitte)
Similarly, Deloitte found that 18% of US drivers prefer an EV as their next vehicle, with ranges of 13% all the way up to 56% in some countries.
Let's calculate EV demand using AAA's US figure of 50 million Americans. The average length of vehicle ownership according to the IIHS is 6.6 years. To be conservative let's assume demand does not increase above 20% over the 6.6 years even though it is expected to continue to rise YOY. On average, 7.58M of those 50 million drivers will want to replace their vehicle with an EV every year. Used vehicles account for roughly 36% of all sales so let's assume that only 4.85M/yr will want to buy new. However, only 17M new vehicles were sold in the US last year. So if we take 20% of those sales we get 3.4M. To be conservative we'll stick with the lower of the two, 3.4M.
Immediately we can see a disparity here because only 325K EV's are forecast to be sold in the US in 2018 yet 3.4M drivers want an EV this year. For the sake of argument let's assume that Model 3 hits it's production target of 5K/wk for the second half of 2018 and sells out, we can add another 130K EV's sold. That still leaves a discrepancy of 2.945M vehicles in US demand which is still 50% larger than the total number of EV's sold worldwide.
Insufficient Supply
Let's get even more conservative and fast track the delivery of the jaguar I-pace being manufactured by Magna in Graz and pretend they dedicate all 200K capacity to the I-Pace alone (instead of the 4 different models it's actually going towards), and they ship all 200K to the US. We're still only at 655K EV's produced this year but the I-Pace isn't even the model 3's category so not really any sales lost there.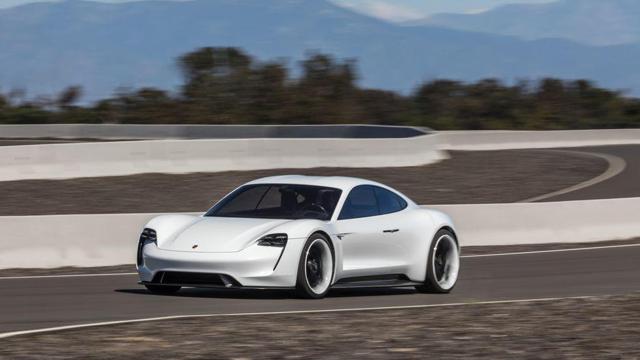 (Image Source: cnet.com)
How about we fast track the Porsche Mission E , another "Tesla Killer", which isn't due out till 2019, and say it sold the equivalent of it's total US sales for all models in 2016 of 54K units. Nope, we're still just shy of 700K and the newly named Taycan is definitely not in the same vehicle class as the Model 3.
I don't think we need to keep going with this exercise to understand the point. The popularity of EV's are growing much faster than the competition is arriving and the ones that have already arrived can't even keep up with demand, such as brands like Hyundai who have been facing a global battery shortage.
Most of the existing competition are simply compliance cars with total vehicle production targets of only a couple thousand units a month creating back order waiting lists of a year or more in some regions, such as the Chevy Bolt's one year waiting list in Canada.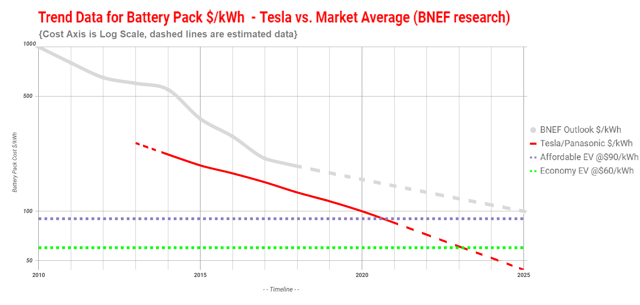 (Source: CleanTechnica)
BMW said it won't even mass produce EV's till at least 2020 due to it's current battery costs not being profitable, which isn't a problem for Tesla who, with the help of Panasonic, is on track to break the $100/KWh battery cell barrier later this year.
Don't Bet On Dealerships
On top of excessive demand coupled with insufficient supply, another reason why Tesla demand won't suffer is because dealerships are just not ready to sell EV's and won't actually put these newly marketed offerings into the driveways of their customers.
In 2014 a Consumer Reports survey found,
Relatively few dealers had a large selection of plug-in cars. Most had only one or two plug-in vehicles on hand. Only 15 of the 85 dealers we surveyed had more than 10 vehicles on-hand. This severely limited the number of colors and trims available.

Salespeople who had few electrics to choose from generally fell into two opposite camps when asked why. The most common answers, given by 21 dealerships, were that the cars were very popular or sold out. The next most common answers were "lack of consumer interest" and "nobody buys them." A middle camp said it was because automakers don't build very many or that electric cars are new technology.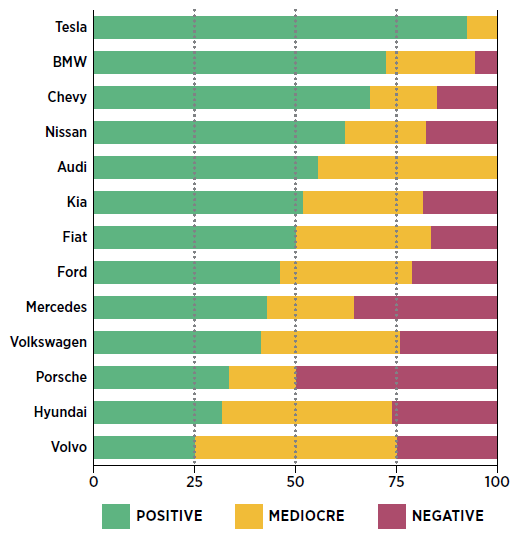 (Source: Sierra Club)
Two years later, a 2016 EV secret shopper survey by Sierra Club scored the level of EV sales satisfaction of 13 automakers in ZEV states and found that
...nearly half the time EVs were not displayed prominently, and that the plug-in cars were often hard to find on a dealership lot. Many volunteers told us that salespeople they spoke with neglected to inform them of state and federal incentives that could lower the cost of an EV. Some people even found themselves unable to test-drive an EV because the dealership had failed to charge it.
The following year a 2017 IPSOS study found the same troubling issues. The Drive reports,
The first issue shoppers will run into is ill-informed sales staff. Ipsos found that many staffers knew little about the electric cars they had available or gave false information. This also meant that most salespeople pushed the shoppers towards other vehicles they knew more about––mostly hybrids and gas-powered cars.

"Lack of inventory was a major problem as well, with the few EVs available stored in the back of the dealership lot rather than in the showroom. Customers also requested or scheduled a test drive, but salespeople were reluctant to offer them.
I know what you must be thinking, "But wait, these are old surveys. Surely things are better now." You would think so right? You'd be wrong. A more recent study published just this May 2018, performed surveys in very EV friendly countries like Denmark, Finland, Norway, and Sweden and found similar results.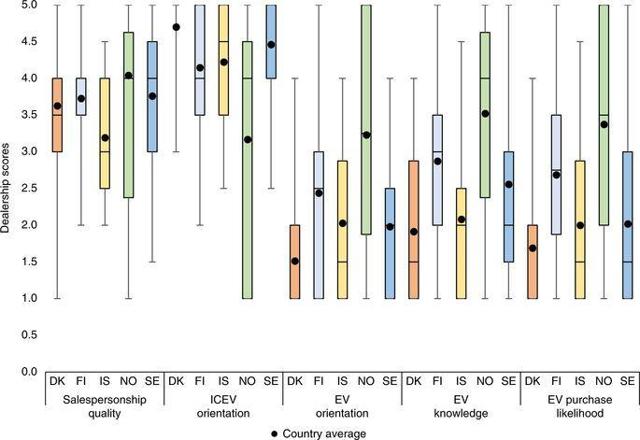 (Source: Nature Energy)
BBC reports,
"Researchers, who posed as car shoppers in Scandinavia and Iceland found that sales personnel strongly pushed petrol and diesel powered cars.

Around 77% of dealerships that sold EV brands didn't discuss their existence with the potential customers."

"According to the study these are the four most common ways in which dealers steer customers away from EVs:

Dismissive of EVs - "the economics of fuel efficiency doesn't make sense..."
Misinforming the customer - "it only goes 80km.."
Neglecting to mention EVs - "you can only get this in diesel or petrol.."
Depicting EVs as inferior - "it will ruin you financially..."
Dealerships aren't closing the loop between these automakers new offerings and consumers actually purchasing the vehicles.
Clearly the popular gloom and doom scenario, that there isn't enough demand to go around without competition stealing market share from Tesla, doesn't have any data to support this narrative. What the actually industry needs is more options, at more price points, representing more classes of vehicle to satisfy this 20% in category demand that is only being met by 1% market penetration.
Conclusion
The BEV landscape has a story to uncover for consumers unfamiliar with the segment. As automakers introduce more of their customer base to the category, they automatically learn about who the market leader is and why it's products are topping the sales charts. They learn about Tesla's history, their mission, their constantly improving product, safety ratings, reviews, recommendations, and the brand loyalty of it's customers. This introduction leads to cross shopping the brand with Tesla, where ultimately Tesla will win with some help from absent competitor inventory supply and uncooperative and reluctant independent dealers. Competition is not only good for Tesla but it's necessary. Beware of the short thesis that is relying on competition to harm demand for Tesla's products.
Disclosure: I am/we are long TSLA. I wrote this article myself, and it expresses my own opinions. I am not receiving compensation for it (other than from Seeking Alpha). I have no business relationship with any company whose stock is mentioned in this article.