Shares of Tanger Factory Outlets (SKT) have gone straight up after the big down day that occurred after they lowered FFO guidance. The rally has many bulls claiming victory when in fact this is just a repeat of the pattern that has occurred each of the last two years. A new Amazon (NASDAQ:AMZN) service is on the horizon that has the potential to steal sales from apparel retailers (which Tanger has large exposure to).
New Amazon Threat
There is a new threat from Amazon on the horizon that torpedoes one of the bulls' biggest arguments for apparel retailers: People like to go to stores to try on clothes before they buy.
The new threat comes in the form of Amazon Prime Wardrobe, which allows you to order multiple items, try them on and return what you do not keep. People can see the damage that has been caused to apparel retailers by Amazon/online shopping in general and this new Prime Wardrobe program will likely accelerate the shift to consumers buying more apparel online. Prime Wardrobe was announced in June 2017 and is currently still invite-only, but could be nearing a larger roll-out given we are coming up on one year since it was announced.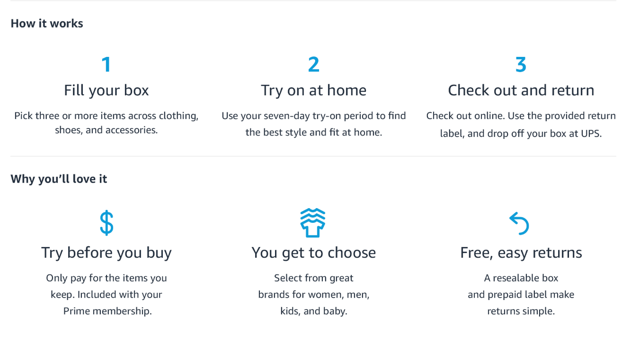 Online Apparel Sales
The following chart from The Economist shows the projections for online sales for various product categories. Clothing and accessories are projected to have the largest gain over the next five years and programs like Amazon Wardrobe, or other competing programs that might arise, will likely be a big driver behind the increase in online apparel sales.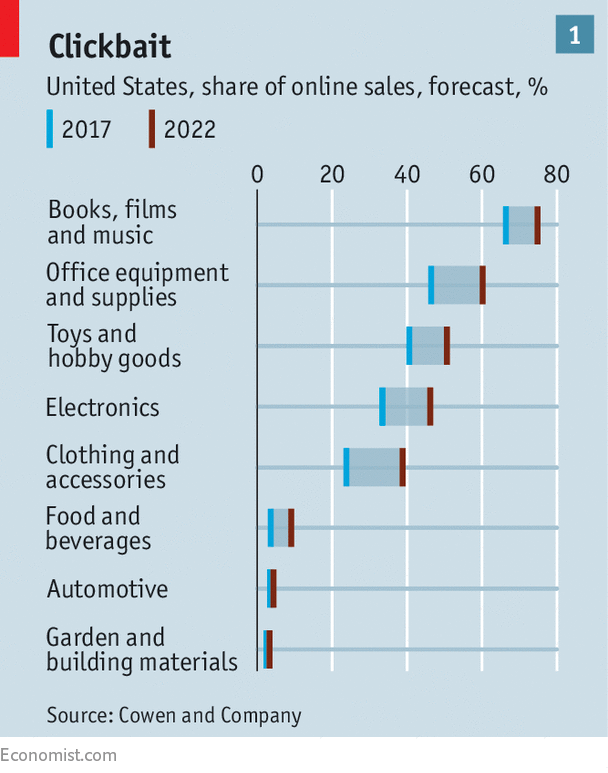 Summer Bump
In each of the last two years, shares of Tanger have seen a double-digit summer bump in the share price. This pattern has occurred once again this year, with the intraday low on May 2 being $19.86 and the high hit today at $23.01, which makes for a 15.86% gain. The gain this year is within the range of the double-digit gains that occurred each of the last two years.
| | |
| --- | --- |
| 2017 | 2016 |
| Intraday low in May 2017, on May 18th at $24.71 | Intraday low in May 2016, on May 19th at $33.71 |
| Intraday high the rest of 2017, on July 27th at $27.88 | Intraday high the rest of 2016, on August 1st at $42.20 |
| GAIN: 12.83% | GAIN: 25.71% |
2017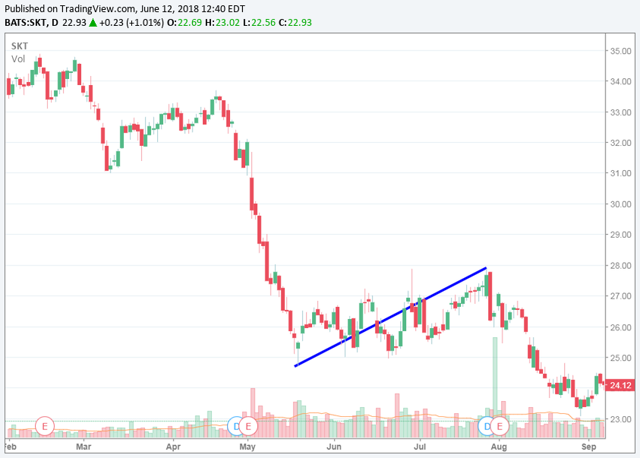 2016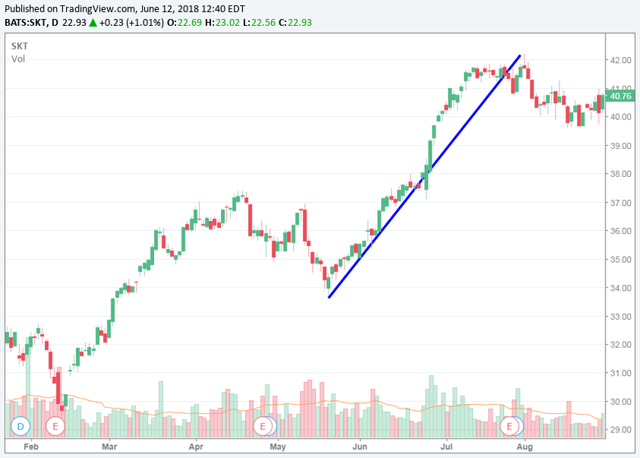 Technically Overbought
As you can see on the following chart, in the last couple of weeks, shares of Tanger have gone straight up. When looking at the RSI, you can see the last time Tanger was above 70 was when the stock was near all-time highs in June/July 2016. Shares of Tanger have been up 16 out of the last 19 trading days and the stock is ripe for a pullback and resumption of the downtrend that has been in place for the last two years.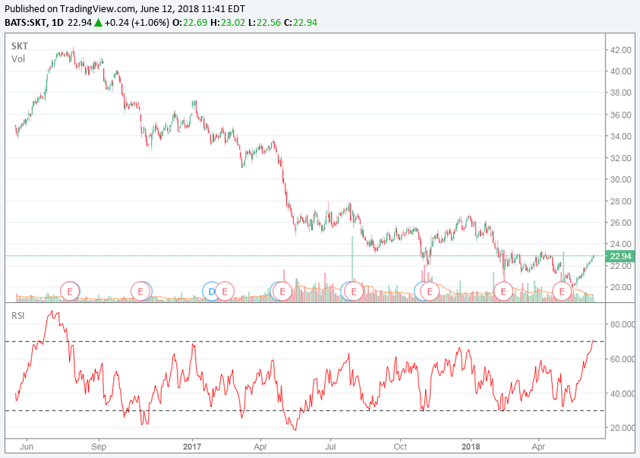 Closing Thoughts
With a new threat to apparel retailers from Amazon on the horizon, Tanger being technically overbought and the knowledge that Tanger lowered their guidance at the last earnings, now could be a good time to get out before the stock resumes its downtrend. Nothing has fundamentally changed since the last earnings report, and I see no reason at all to change my $15 price target that has been in place since October 2017.
Disclosure: I/we have no positions in any stocks mentioned, and no plans to initiate any positions within the next 72 hours.
I wrote this article myself, and it expresses my own opinions. I am not receiving compensation for it (other than from Seeking Alpha). I have no business relationship with any company whose stock is mentioned in this article.