Anyone paying even the least amount of attention to the tobacco industry is cognizant of the fact that Philip Morris (PM) is putting a full-court press on getting its IQOS smokeless product to surpass, supplant and replace tobacco products like cigarettes.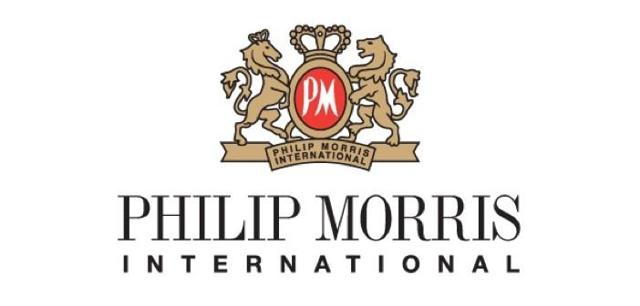 Philip Morris Targets India With Its IQOS Product
Philip Morris International Inc. is planning to launch its IQOS smoking device in India, four sources familiar with the matter told Reuters, as the tobacco giant seeks a foothold in a country with the world's second-biggest smoker population.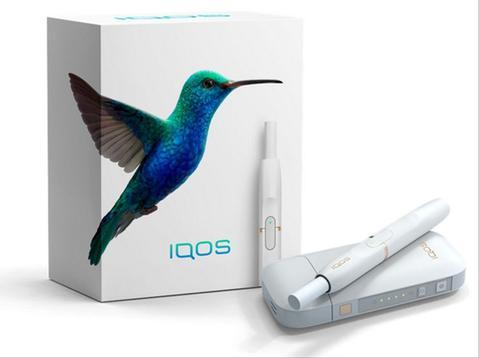 Source: Philip Morris
According to Philip Morris, the sleek, penlike IQOS heats but does not burn tobacco, producing a nicotine-containing vapor rather than smoke. This makes it less harmful than conventional cigarettes. The company's long-term goal is to one day stop selling cigarettes altogether.
India has stringent laws to deter tobacco use, which the government says kills more than 900,000 people every year. But the country still has 106 million adult smokers, second only to China according to the World Health Organization, making it a lucrative market for Philip Morris to target.

According to a government source, New Delhi would keep an "open mind" if Philip Morris approached it to discuss a device that helped people quit smoking. However, it also added that such devices, including e-cigarettes, could be banned if found to be harmful.

The company wants "to put together a strategy to achieve its acceptability as a reduced risk product", said one of the sources, adding that Philip Morris wanted to have a public relations strategy in place before moving ahead.

A Philip Morris spokesman said "we do not comment on our launch plans, but are committed to working hard to replace cigarettes with scientifically substantiated smoke-free products". Venkatesh did not respond to a request for comment.

But the company appears to have already started building a public case for iQOS in India.

On "World No Tobacco Day" last week, Venkatesh wrote a column for India's Economic Times newspaper, calling for "effective regulations" for alternative smoking devices.
Source: Reuters
This would indicate that an important strategy pursued by Philip Morris is to enlist establishment authorities in the health department and regulatory bodies in the quest to put it in a position of working with the government as a partner to reduce the consumption of smoked tobacco products in an effort to reduce the harmful health effects produced by smoking cigarettes.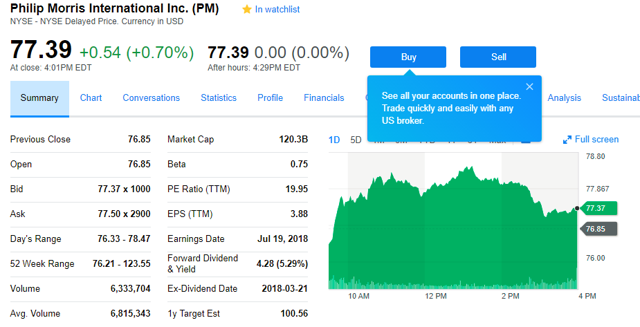 Philip Morris Declared A 6.5% Dividend Increase
Philip Morris, on June 8, declared a $1.14/share quarterly dividend, a 6.5% increase from the prior dividend of $1.07.
Its forward yield, based on Thursday's price, is 5.89%.
It is payable on July 11 for shareholders of record June 22. Investors interested in qualifying for the next upcoming dividend need to buy shares before the ex-dividend date of June 21.
Strong Dividend Growth
This happens to be the eleventh consecutive year in which Philip Morris has increased its dividend. It represents a total increase of 147.8%, which is a CAGR, or compound annual growth rate of 9.5%, since PM became a public company in 2008.
Accidentally High Yield, Equity On Sale
Retirees or near-retirees looking for exceptionally high yield may consider initiating a position in PM at a time when it is hovering near its 52-week low. Sporting an increased annual dividend of $4.56, at Thursday's closing price it is offering a substantial annual dividend yield of 5.89%.
Falling from a 52-week high of $123.55, it has given up 37.3% of market value. Perhaps you have a small position currently and have been thinking of averaging down your purchase price. Doing so at this time will raise your dividend yield substantially if you bought at the 52-week high some time ago.
Projections For The Bottom Line
IQOS's Strong Performance Continues
The strong performance of iQOS in Japan helped in increasing the total cigarette and heated tobacco unit volume by 30%.The market share of the Marlboro HeatSticks grew by 9 points to 13.9% in the fourth quarter, and reached 14.1% for the month of December, while the offtake share increased by 1.4 points to 19.9% in Q4. This was despite the capacity limitations of HeatSticks at first, and iQOS devices later. The supply is reported to no longer be an issue, placing the company in a good position to take on 2018. Korea, another key market for iQOS, also reported exceptional performance, with the fourth quarter market share of HeatSticks more than doubling sequentially to 5.5%, reflecting growth in existing launch areas, coupled with the impact of national distribution expansion.
Source: Nasdaq
Increased sales of IQOS and the heats that are used, are expected to be the biggest driver of company revenue going forward. It is Philip Morris' intention that the product eventually replaces all tobacco products in the future.
Impressive IQOS Performance Boosts Revenues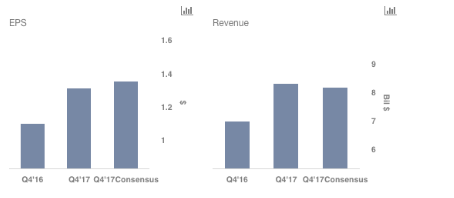 Source: Nasdaq
Back Of The Envelope Calculations
While cigarette volumes fell as expected in last year's 4th quarter by 2.1%, PM recorded heated tobacco shipment volume of 15.72 billion, an over 300% jump.
With 106 million smokers in India, if each smoker uses the equivalent of a pack a day of cigarettes, consumption per smoker would come to about 140 heats a week, or 7280 per year.
7280 X 106 million smokers = 771,680,000,000 or almost 772 billion heats.
Of course, PM would not have the market all to itself, but having first advantage would give it quite a leg up against competitors that follow it into this market.
The retail price of a pack of 20 heats comes to around $7.80. Manufacturers receive about 1/4 of the final retail price, allowing for a 100% mark-up by distributors, then another 100% mark-up for the ultimate retailer.
This would indicate revenue of around $1.95 per pack for Philip Morris (20 heats per pack). Potential pack sales might come to 38.6 billion. Annual revenue from India alone, if PM had the market all to itself might approximate $75.2 billion.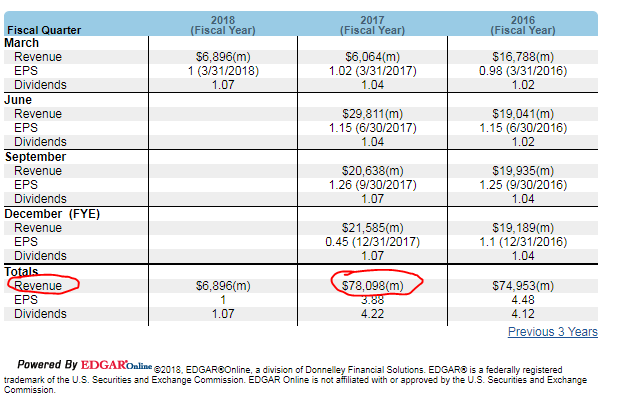 Source: Nasdaq
In 2017, PM had annual revenue of $78 billion. With such a huge market in India, it is possible that the company might someday in the foreseeable future double its revenues. And then there's China which constitutes the world's largest smoking population, by far.
Dividend History
Source: Nasdaq.com
Philip Morris evidences a very long history of continually raising the dividend. With each passing year, the dividend raises have easily been sufficient to keep investors ahead of inflation.
Should the company succeed in getting its new IQOS product to market in India, the second largest smoking market in the world, projected increases to revenue and profit falling to the bottom line are potentially great. Additional contribution to free cash flow should enhance the company's ability to sustain and grow its dividend for some time to come.
My rating: Accumulate for income and long-term capital appreciation
FTG Portfolio Close, Thursday, June 7, 2018


Thursday, the S&P 500 index closed lower by .07%. The Fill-The-Gap Portfolio that you have followed for almost four years closed higher by .34%, outperforming the S&P by .41%. The Nasdaq and Russell 2000 index of small stocks also closed lower.
The Fill-The-Gap Portfolio
The FTG Portfolio contains a good helping of dividend growth stocks, like AT&T, which has been in the portfolio for a good length of time. The portfolio was built with the express purpose of benefiting from this and other strategies.
Three and a half years ago, I began writing a series of articles on December 24, 2014, to demonstrate the real-life construction and management of a portfolio dedicated to growing income to close a yawning gap that so many millions of seniors and near retirees face today between their Social Security benefit and retirement expenses.
The beginning article was entitled, "This Is Not Your Father's Retirement Plan." This project began with $411,600 in capital that was deployed in such a way that each of the portfolio constituents yielded approximately equal amounts of yearly income.
Constructed beginning on 12/24/14, this portfolio now consists of 23 companies, including AT&T Inc (T)., Altria Group, Inc. (MO), Consolidated Edison, Inc. (ED), Verizon Communications (NYSE:VZ), CenturyLink, Inc. (NYSE:CTL), Main Street Capital (MAIN), Ares Capital (ARCC), British American Tobacco (BTI), Vector Group Ltd. (VGR), EPR Properties (EPR), Realty Income Corporation (O), Sun Communities, Inc. (SUI), Omega Healthcare Investors (OHI), W.P. Carey, Inc. (WPC), Government Properties Income Trust (GOV-OLD), The GEO Group (GEO), The RMR Group (RMR), Southern Company (SO), Chatham Lodging Trust (CLDT),Iron Mountain, Inc. (IRM), Roku (NASDAQ:ROKU), Helios and Matheson (NASDAQ:HMNY) and LTC Properties (NYSE:LTC).
Because we bought most of these equities at cheaper prices since the inception of the portfolio and because most of our stocks have increased their dividends regularly, the yield on cost that we have achieved is 8.28% since launch on December 24, 2014. Current portfolio income, including recent dividend raises by AT&T and Realty Income, and our newest addition of AT&T shares, and LTC Property now totals $34,098.78, which is $1,162.92 more annual income than the previous month. This represents a 3.53% annual income increase for the portfolio.
When added to the average couple's Social Security benefit of $32,848.08, this $34,098.78 of additional supplemental income brings this couple annual income of $66,946.86. This far surpasses the original goal set to achieve a total of $50,000.00, which is accepted as a fairly comfortable retirement income in many parts of the country. That being said, this average couple now has the means to splurge now and then on vacation travel, dinners out, travel to see the kids and grandkids and whatever else they deem interesting.
Taken all together, this is how the FTG Portfolio generates its annual income.
FTG Annual Dividend Income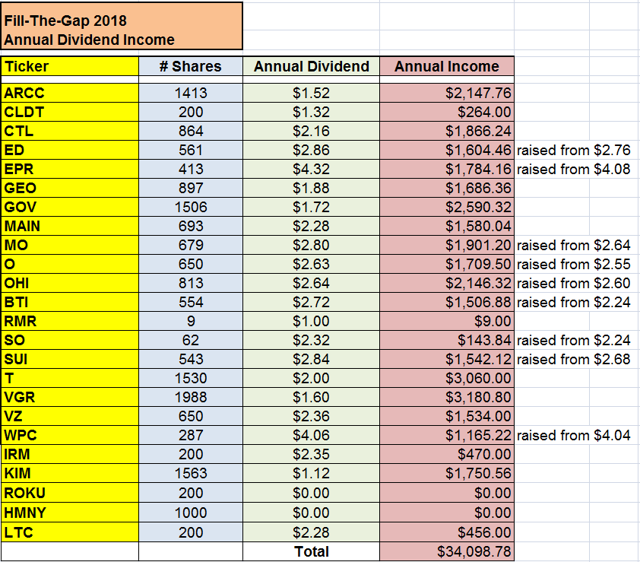 Source: Author's chart
Dividend data source: Yahoo Finance
Strategy Session
The FTG Portfolio currently contains three tobacco names, including Altria, British American Tobacco and Vector Group. We anticipate adding Philip Morris to the portfolio shortly due to its strength in the alternate-smoking category. If the stock sells off another point or so, we'll be able to snag an even 6.0% yield.
Takeaway
Some companies are passed over by investors for their sin-city characteristics. Other companies are given a pass due to investor misperception. There are some investors that look at the tobacco sector as a dying industry, realizing that the number of smokers and rate of smoking has been decreasing for a number of years. Philip Morris falls into both of these categories.
However, it's important to understand that Philip Morris, in particular, has made it its mission to replace traditional cigarette products with IQOS which is less harmful to the consumer. Because it heats rather than burns tobacco, it does not produce the dangerous tar that traditional cigarettes do. It does, however, still contain the nicotine that creates the customer addicted to its products which leads to repeat sales, increased revenues and bottom line profit.
Disclaimer: This article is intended to provide information to interested parties. As I have no knowledge of individual investor circumstances, goals, and/or portfolio concentration or diversification, readers are expected to complete their own due diligence before purchasing any stocks mentioned or recommended.
Thanks for reading. Interested in more dividend strategies and ideas?
I run Retire 1 Dividend At A Time to help investors stay focused on their portfolio income and long-term goals.
My promise to you: With every exclusive article, email, instant-text, and chat, I'll help guide you to:
Increased income for retirement, one dividend at-a-time.
Under-valued stocks for a greater margin of error and higher capital appreciation.
Methods to safely diversify your portfolio.
Strategies to build, grow and protect your income for retirement.
Join today with a two-week free trial to get started on the next step of your investing journey!

Disclosure: I am/we are long ALL FILL-THE-GAP PORTFOLIO STOCKS. I wrote this article myself, and it expresses my own opinions. I am not receiving compensation for it (other than from Seeking Alpha). I have no business relationship with any company whose stock is mentioned in this article.
Editor's Note: This article covers one or more microcap stocks. Please be aware of the risks associated with these stocks.