Toys "R" Us is now in its death throes, at least in the U.S.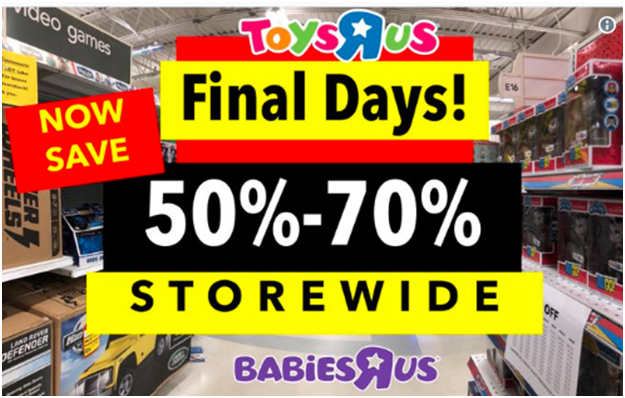 Source: Toys "R" Us Twitter
The question is: What is coming after the company has been put six feet under and the stores are going dark and quiet?
A number of experts have predicted that the demise of Toys "R" Us will have a dramatic impact on the U.S. toy market - some even said that about 15% of the toy purchases normally made will disappear. This is unlikely. What people forget is that at least 90% of all toy purchases are event-driven - Christmas, birthdays, sickbed visits, family reunions, etc. Grandparents will not stop giving their little darlings a toy when they visit just because there is no longer a Toys "R" Us nearby. Parents will not say to their children that "there are no toys this Christmas because Toys "R" Us shut down." The toys normally sold by Toys "R" Us will simply over time migrate to other retailers and this development will in all likelihood be pretty swift.
National buyers at the major retailers believe that most of this migration will be completed this year at a pattern approximately as this:
| | |
| --- | --- |
| Quarter | Migration |
| 1st Q 2018 | no Toys "R" Us sales will be picked up by other retailers |
| 2nd Q 2018 | half of the toy sales typically made by Toys "R" Us will go to other retailers |
| 3rd Q 2018 | 80% of the sales typically made by Toys "R" Us will be made elsewhere |
| 4th Q 2018 | 95% of the sales will be made elsewhere |
Source: Klosters Retailer Panel
What is important in this context is seasonality. In the case of toys, we are looking at this pattern:
| | |
| --- | --- |
| Quarter | Percent of yearly toy sales |
| 1st Q 2018 | 10% of yearly toy purchases are made in this quarter |
| 2nd Q 2018 | 15% of yearly toy purchases are made in this quarter |
| 3rd Q 2018 | 20% of yearly toy purchases are made in this quarter |
| 4th Q 2018 | 55% of purchases are made in this quarter |
Source: Klosters Retailer Panel
In other words, the highest negative impact of the Toys "R" Us closures occurs during the weakest purchase periods and it virtually disappears once the all important Q4 rolls around. However, there is some evidence that the hoarding caused by Toys "R" Us going out of business prices will affect seasonality this year, but this is thought to be relatively marginal.
This migration to other retailers is already happening. According to the Klosters Retailer Panel, market shares held by the retailers - both brick-and-mortar and online -developed as follows since Toys "R" Us declared bankruptcy last year: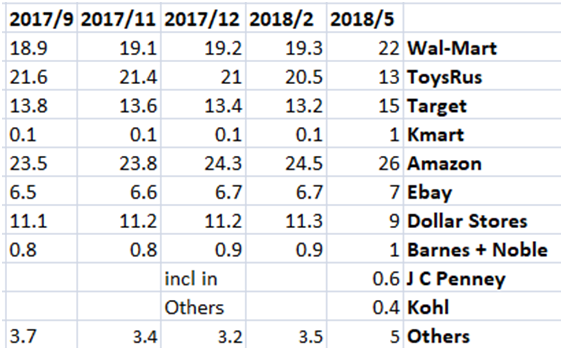 Source: Klosters Retailer Panel
There are two surprising shifts in market shares - dollar stores and others. The former have been absolutely hammered by the low prices at which Toys "R" Us liquidated its inventory. As the clearance process winds down I expect the Dollar Stores to recover again. The market share of the latter - if you add in J.C. Penney (NYSE:JCP) and Kohl's (NYSE:KSS) - nearly doubled because the channel offers the choice which used to be the main attraction at Toys "R" Us for this consumer group - a consumer group whose main concern is less price than quality and innovation. Unless Target (NYSE:TGT) and Walmart (NYSE:WMT) get their skates on, this shift could well gain further momentum as we get closer to Christmas.
At this point in time, there are five brick-and-mortar retailers expected to benefit most from the void left behind by Toys "R" Us: Walmart, Target, J.C. Penney, Kohl's, and Barnes & Noble (NYSE:BKS). The first two are obvious candidates on their strength of number of stores, the proximity of these stores to those of Toys "R" Us, and long-term history in the toy space.
Both J.C. Penney and Kohl's have a significant toy presence, but, more importantly, are go-to destinations for mothers purchasing children products - apparel, etc. Of the two, Kohl's is the more potent candidate - more stores and a children business which is more than double that of J.C. Penney. Also, Kohl's management in a recent announcement stated that they will significantly expand their toy space come September.
However, J.C. Penney is ahead of the curve in that it had begun to forcefully put its chips on to the toy business already late 2016 when they tested expanding their toy space and followed up in the middle of last year, with toy shops in all of its stores. Barnes & Noble, while a factor in the toy space, is less likely to benefit from Toys "R" Us. One major factor in this assessment is its consumer profile - mainly young adults who go there primarily to have a cup of coffee, browse the magazines, and buy the occasional book.
The chart below gives the overall metrics of these five stores:
| | | | | |
| --- | --- | --- | --- | --- |
| Retailer | Number of Stores | Number of Toy SKUs* | Size of Toy Space linear feet | 2017 Toy Sales $mm |
| Walmart | 3550 | 623100 | 710 | 5145 |
| Target | 1828 | 14837 | 978 | 3590 |
| J.C. Penney | 875 | 10215 | 71 | 150 |
| Kohl's | 1155 | 7626 | 234 | 100 |
| Barnes & Noble | 633 | 2381 | 424 | 240 |
*both on shelf as well as online, including third-party vendors
Source: Klosters Retailer Panel
My sources tell me that all of these, with the possible exception of Barnes & Noble, are gearing up to significantly expand their toy presence by September. In the case of J.C. Penney and Kohl's, this is likely to take the form of greatly expanded shelf space combined with pretty aggressive price promotions. They can afford to do this because the resulting higher foot traffic can be expected to result in higher sales in other product categories - e.g., apparel - as well. In the cases of both Target and Walmart we are likely to see a fundamentally different approach. Their toy shelf space has over the past few years seen pretty consistent erosion benefiting other product categories that either offer better growth opportunities or higher profit margins - groceries, electronics, cosmetics, toiletries, etc. This is unlikely to change. However, what we are likely to see is a major effort to ramp up the online sales and promotional effort and to bring in new vendors to underpin this effort.
In other words, the two retailers where we probably will see the greatest efforts to capitalize on Toys "R" Us departure will be J.C. Penney and Kohl's. It is therefore interesting to see how the leading publicly quoted toy companies are lining up at the starting gate:
| | | |
| --- | --- | --- |
| Manufacturer | SKUs at J.C. Penney | SKUs at Kohl's |
| Mattel | 165 | 54 |
| Hasbro | 53 | 112 |
| Funko | 20 | 40 |
| VTech/Leapfrog | 4 | 31 |
| Spin Master | 6 | 28 |
| JAKKS Pacific | 0 | 0 |
Source: Klosters Retailer Panel
While all of them, with the exception of JAKKS Pacific (NASDAQ:JAKK), have a presence at both retailers, Mattel (NASDAQ:MAT) and Hasbro (NASDAQ:HAS) are basically tied as far as traditional toys are concerned, and Funko (NASDAQ:FNKO) totally dominates the collectibles category.
While this analysis suggests that the pain caused by Toys "R" Us' demise will be limited in terms of sales, this does not mean that there will not be serious collateral damage. The departure of Toys "R" Us shifts leverage decisively from the manufacturers to the remaining retailers and they are going to exploit this to the fullest possible extent.
Amazon (NASDAQ:AMZN) has already started. They have advised their first-party vendors that they intend to price-match Walmart and the vendors will be obligated to make up the difference. Also, all unsold inventory can at the complete discretion of Amazon be returned to vendors for a full refund. Furthermore, there is already now heavy price pressure on vendors.
All three - Target, Walmart and Amazon - are in the process of extracting new concessions from vendors in terms of pricing, credit conditions, promotional allowances, delivery delay penalties, etc. There is little doubt that this will affect vendors' gross margins and hence their bottom lines. However, they really do not have too many choices - the retailers have made it clear that it is their way or the highway.
I spoke to a senior executive at a medium-sized non-public toy manufacturer and asked her what strategies she would pursue given this new retail environment. Her response was that her company would:
Aggressively diversify the company's retailer base to include specialty stores plus now also Kohl's and J.C. Penney.
Make a very major effort to leverage the company's international business by entering new high-growth markets and to so increase its non-U.S. business from the current 25% to about one-third within the next two years.
Spend considerably more money on social media to encourage direct consumer interaction via the company's website.
While the departure of Toys "R" Us does not mean the end of the toy business, it probably means the end of the toy business as we now know it.
Disclosure: I/we have no positions in any stocks mentioned, and no plans to initiate any positions within the next 72 hours. I wrote this article myself, and it expresses my own opinions. I am not receiving compensation for it (other than from Seeking Alpha). I have no business relationship with any company whose stock is mentioned in this article.
Editor's Note: This article covers one or more microcap stocks. Please be aware of the risks associated with these stocks.