In this article, we want to present a new baby bond issued by Cowen Inc. (COWN). It is a surprise to see the company use this symbol, as it was the ticker symbol of an old issue that was redeemed on Jan. 8 this year.
Our goal is purely to inform you about the product while refraining ourselves from an investment recommendation. Even though the product might not be of interest to us and our financial objectives, it is definitely worth taking a look at.
The New Issue
Before we get into our brief analysis, here is a link to the prospectus. For a total of 3.6M notes issued, the total gross proceeds to the company are $90M. You can find some relevant information about the new baby bond in the table below:
Cowen's 7.75% Senior Notes due 2033 pay a fixed interest at a rate of 7.75% (NASDAQ:COWNL). The new issue has no Standard & Poor's rating, is callable as of June 15, 2023, and is maturing on June 15, 2033. COWNL is currently below its par value at a price of $24.91 and has a 7.84% yield to call and a 7.78% yield to maturity. The interest paid by this baby bond is not eligible for the preferential 15% to 20% tax rate. This results in the "qualified equivalent" YTC and YTM sitting around 6.53% and 6.48%, respectively.
Here is the product's yield-to-call curve:
The Company
As per Reuters:
Cowen Inc., formerly Cowen Group, Inc., incorporated on June 1, 2009, is a financial services company. The Company provides alternative investment management, investment banking, research, sales and trading, and prime brokerage services. The Company operates through two segments: alternative investment and broker-dealer. The alternative investment segment includes hedge funds, private equity structures, registered investment companies and listed investment vehicles. The broker-dealer segment offers industry focused investment banking for growth-oriented companies, including advisory and global capital markets origination and domain knowledge-driven research, and a sales and trading platform for institutional investors. The Company's alternative investment platform, which operates under the Ramius name, offers investment products and solutions across the liquidity spectrum to institutional and private clients. Ramius offers investors access to strategies to meet their specific needs, including long/short equity, activist equity, event driven equity, event driven credit, global macro, customized portfolio solutions, managed futures, healthcare royalties and private real estate.
Below, you can see a price chart of the common stock, COWN: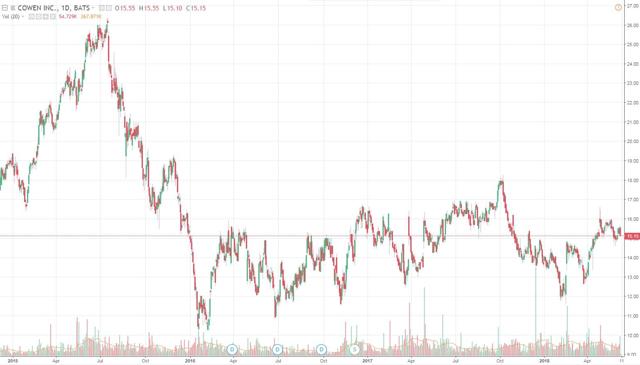 Source: Tradingview.com
Dividend Policy
As per the company's 2017 Annual Report:
We have never declared or paid any cash dividends on Class A common stock or any other class of common stock. Any payment of cash dividends on stock in the future will be at the discretion of our board of directors and will depend upon our results of operations, earnings, capital requirements, financial condition, future prospects, contractual restrictions and other factors deemed relevant by our board of directors. We currently intend to retain any future earnings to fund the operation, development and expansion of our business, and therefore we do not anticipate paying any cash dividends on common stock in the foreseeable future.
In addition, with a market capitalization of $561M, COWN is one of the smallest national investment brokerages.
Capital Structure
Below you can see a snapshot of Cowen's capital structure as of its last quarterly report in March 2018. You also can see how the capital structure evolved historically.

Source: Morningstar.com, company balance sheet
The Cowen Family
COWN has one more outstanding baby bond: Cowen Inc. 7.35% Senior Notes due Dec. 15, 2027 (NASDAQ:COWNZ), and a traditional convertible preferred stock, listed on the Pink Sheets: Cowen Inc. 5.625% Series A Cumulative Perpetual Convertible Preferred Stock (OTC:CWGRP).
In the table below you can find some information about COWNZ:
If we compare the newly issued baby bond with the other baby bond issued by the company, COWNZ, we can see that the new one has a better yield to worst (equal to its yield to maturity) of 7.78% compared to the 7.43% yield to maturity of COWNZ. However, it should be noted that this spread of 0.40% is a result of a six years difference in the maturities, which seems insufficient for such a large amount of time between the two maturity dates. That's why I give an advantage for the "old" baby bond, COWNZ.
Furthermore, there are three corporate bonds, issued by the company:

Source: FINRA
However, the longest term one has a maturity date in 2022, which makes any comparison here unsustainable.
Sector Comparison
The image below contains all baby bonds that pay a fixed interest rate, with a par value of $25, issued by an in-investment brokerage company.
By Years to Maturity and Yield to Maturity:
By Yield to Call and Yield to Maturity:

Source: Author's database
The Full List:
Fixed-Rated Baby Bonds
The next chart contains all baby bonds that trade on the national exchanges, pay fixed interest, and have a maturity date of between 10 and 25 years, with a positive YTC.
By Years to Maturity and Yield to Maturity:
By Yield to Call and Yield to Maturity:

Source: Author's database
Special Considerations
Nothing out of the ordinary.
Use of Proceeds
As per the prospectus:
The Company intends to use the net proceeds from this offering for general corporate purposes, including any potential acquisitions, and repurchases, repayments or redemptions of our debt securities or other indebtedness.
Conclusion
In this article, I gave you a brief overview of Cowen's new baby bond, COWNL. With these articles, we want to pay attention to all new preferred stocks and baby bonds, and they are a good guide to what to expect from your income portfolio.
Trade With Beta
Coverage of Initial Public Offerings is only one segment of our marketplace. For early access to such research and other more in-depth investment ideas, I invite you to join us at Trade With Beta.
Disclosure: I/we have no positions in any stocks mentioned, and no plans to initiate any positions within the next 72 hours. I wrote this article myself, and it expresses my own opinions. I am not receiving compensation for it (other than from Seeking Alpha). I have no business relationship with any company whose stock is mentioned in this article.