A perfect storm in Brazil
Since the beginning of the year, South American stock markets have been under severe pressure due to rising US interest rates, a stronger USD, and tightening liquidity conditions. Unsurprisingly, investor sentiment towards these assets has changed dramatically.
Brazil was not immune to those headwinds. In addition, the country's economy has been hit hard by a string of general strikes. Truck drivers were protesting over higher diesel prices. According to media reports, the drivers' strike virtually paralyzed the country's economy. In fact, Michel Temer, Brazil's president, asked the army forces to unblock roads. Even though the government decided to lower diesel prices at the end of May, the protests continue.
Unsurprisingly, it is highly likely that the strikes will have a negative impact on the country's GDP. According to Bloomberg, the consensus for Brazil's GDP growth has been already cut by 20bps since mid-April, from 2.7% to 2.5%.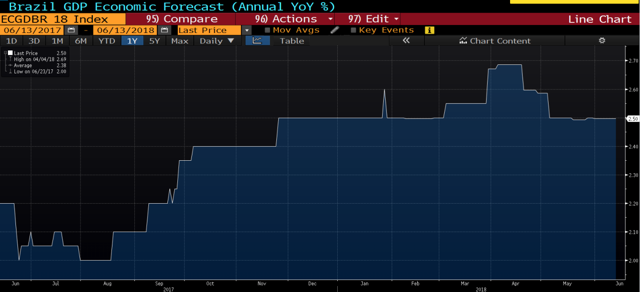 Source: Bloomberg
Notably, banks with a presence in Brazil are even more pessimistic on the country's GDP growth. For instance, Santander (SAN) lowered its forecast for Brazil's GDP to 2% from 3.2%.
In addition, higher diesel prices and the impact of the strikes will most likely put pressure on Brazil's CPI. Inflation has been a huge issue for Brazil lately. As shown below, the country's CPI spiked to almost 11% in 2015, and since then, it has been gradually declining. Even though economists currently expect the strikes to have a moderate impact on CPI of around 30-40bps, it is still a risk factor worth keeping an eye on.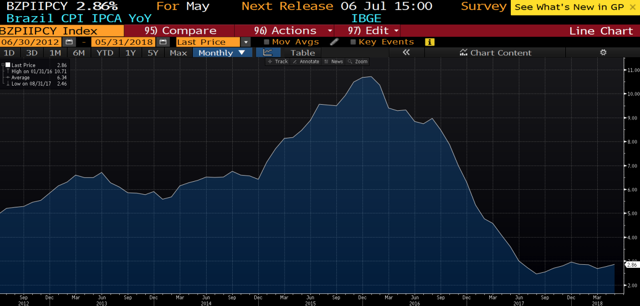 Source: Bloomberg
Most importantly, the strikes triggered a sharp rise in Brazil's political risks. As shown below, the CDS on the Brazilian 5-year sovereign USD-denominated bond spiked from 150bps in March to 265bps in June. While it is lower than in 2015-2016, when Brazil suffered from one of the worst political crises in its history, such a significant increase is still a big shock for markets.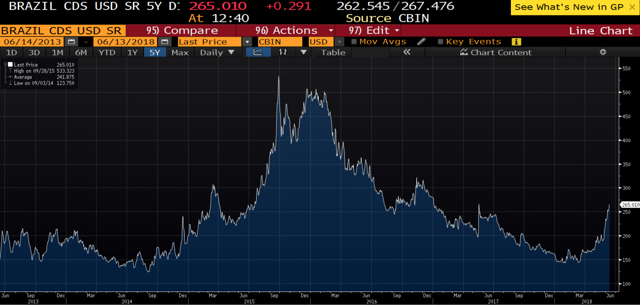 Source: Bloomberg
Without any doubt, the biggest near-term risk for Brazilian assets is the outcome of the upcoming presidential elections, which are scheduled to be held in October. The strikes have once again highlighted that, being a part of volatile emerging markets, Brazilian assets are highly sensitive to political risks.
We have recently written on Itau (ITUB), arguing that it is a premium-quality banking franchise with decent growth and an attractive dividend yield. We did mention that the elephant in the room remained the upcoming presidential elections in Brazil which could cause a sharp sell-off in Brazilian assets. Even though the sell-off occurred sooner than we expected, we still think it is worth taking a look at the worst-case scenario for Itau as this exercise could help investors to identify potential entry points.
Itau: Q1 Recap
Unsurprisingly, given the strikes and rising political risks, Itau's 1Q results were largely ignored by the market. However, it was a solid set of numbers. Credit growth, which remains a key driver of the bank's NII given a falling interest rate environment, continues to accelerate as the bank's total loan book was up 0.4% q/q and 2.9% y/y. More importantly, management confirmed its guidance for 4-7% credit growth in 2018.
The bank's net interest margin was flat at 9.9%. Brazilian banks' margins have been under pressure due to a falling interest rate environment. For starters, the Brazilian Central Bank has cut its benchmark SELIC rate by 775bps since September 2016. However, it appears that Itau's margin has finally bottomed out. We believe a stable NIM, coupled with 4-7% loan growth, bodes very well for the bank's net interest income.

Source: Company data
Cost of risk declined by 40bps q/q, underpinning the fact that asset quality has indeed turned the corner.

Source: Company data
The headline NPL ratio was stable at 3.3%, which is also a good sign, in our view.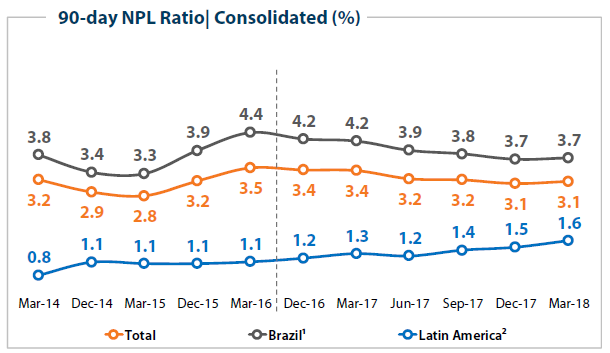 Source: Company data
Profitability and capital are key
One may argue that Q1 results look like ancient history now, especially given the strikes and a spike in political risks. While it is a valid point and a slowdown in GDP will most likely have a negative impact on Itau's loan growth and asset quality, we do not agree with 'the sky is falling' panic.
The most important thing here is that Itau enjoys a robust return on equity due to its dominant market position and a stable business model. For instance, Itau's return on equity has not fallen below 18% in any quarter since 2013, which is an impressive achievement, in our view. Even during the 2014-2016 recession, when Brazil was facing one of the most severe economic downturns, the bank's RoE was at an impressive level.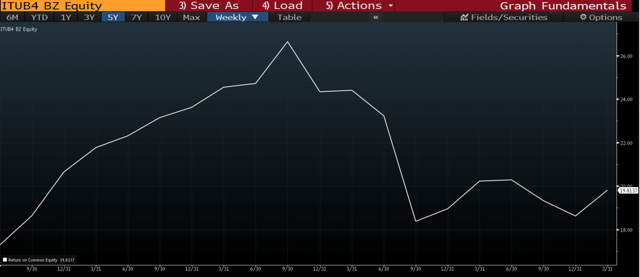 Source: Bloomberg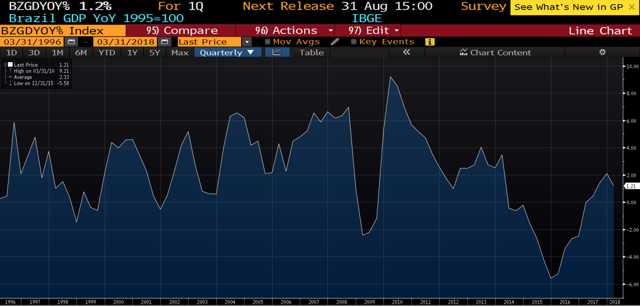 Source: Bloomberg
In addition, Itau is now a much better capitalized bank. Although the bank's Tier1 ratio fell to 14.5% in Q1 from 16.1% in Q417, Itau still has one of the highest capital ratios in Latin America.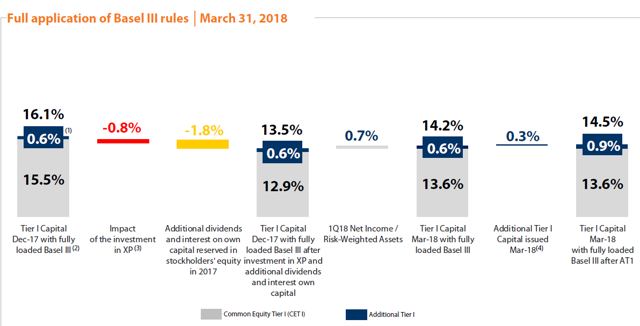 Source: Company data
It may come as a surprise to some investors, but despite being an EM bank, Itau has an official dividend policy. Last September, the bank introduced a minimum target Tier-1 capital of 13.5% and removed previously set payout limits. The table below shows expected dividend payout ratios under different RWA (risk-weighted assets) growth and profitability scenarios.

Source: Company data
The bank paid out more than 70% of its FY2017 earnings in dividends or BRL2.71 per ordinary share. The payout corresponds to a 6.8% dividend yield, based on the current share price. Even if the bank's RoE falls to 17.5% and RWA growth stays at 5-7%, Itau could pay out 50-70% of its earnings in dividends. As noted earlier, the bank's RoE has not fallen below 18% in any quarter since 2013. According to our estimates, a 50-70% payout ratio would correspond to a 5-8% dividend yield.
Looking at the worst-case scenario
To access the stock's downside in the worst-case scenario, we are taking a look at Itau's price-to-book ratio. As shown below, the stock's P/B reached 1.2x at the beginning of 2016. Itau's BPS printed at BRL19 in the first quarter, implying that downside is more than 50% in this scenario.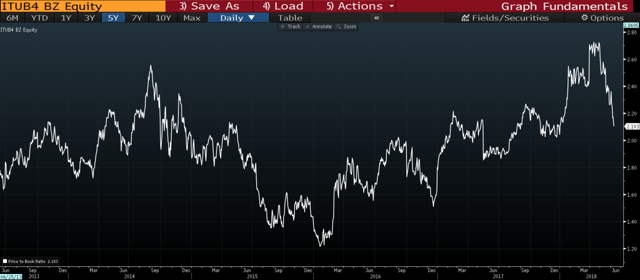 Source: Bloomberg
While such a downside does look scary, it is important to note a couple of things. First, in early 2016, Brazil suffered from a severe political crisis, which resulted in the impeachment of president Dilma Rouseff. In addition, the country's economy was hit by falling commodity prices.
While the upcoming presidential elections could deteriorate investor sentiment towards Brazilian assets, it is highly unlikely that Itau will be trading at a 1.2x P/B for a prolonged period, in our view. A 1.6x P/B looks more reasonable as with a 5% long-term growth rate, it would correspond to a 14% cost of equity. A 1.6x P/B implies around 30% downside from current levels.
Final thoughts
Being an emerging economy, Brazil will remain highly volatile. As noted earlier, if the worst-case scenario unfolds, there is substantial downside for Itau's shares. Similar to the beginning of 2016, there could be an over-reaction in the short term. With that being said, we still believe that Itau has an asymmetrically positive risk/reward in a longer-term perspective. In our view, the fact that the bank's RoE has not fallen below 18% in any quarter since 2013 should give investors additional comfort.
If you would like to receive our articles as soon as they are published, consider following us by clicking the "Follow" button beside our name at the top of the page. Thank you for reading.
Disclosure: I/we have no positions in any stocks mentioned, and no plans to initiate any positions within the next 72 hours. I wrote this article myself, and it expresses my own opinions. I am not receiving compensation for it (other than from Seeking Alpha). I have no business relationship with any company whose stock is mentioned in this article.